This is my work-in-progress BOB. I keep changing it around, and I also use it for camping, so I often take some things out that I wouldn't need for camping but would like to have in a bug-out situation.
Right now it is a little heavy on food, but that's because I am about to go camping and will be hungry. I normally keep a Swiss cooking kit in there, but the MREs and other food that I have right now don't require cooking, so it has been removed. I also have a run-of-the-mill U.S. Army canteen, but it escaped the photo session. It rides on the belt on the pack so I can reach it easily.
The bag is a Spec-Ops brand T.H.E. pack from L.A. Police Gear
The bottom pouch contains all my food: Chef Boyardee; ham and chicken salad with crackers; peanuts; and some home-made MREs with drink mixes, snacks and some breakfast bars.
The top pouch houses various "survival" equipment: 200' spool paracord; zip ties; toilet paper; small survival kit in a vacuum pouch; Army Ranger Survival manual and blank notebook in vacuum package; vaseline cotton balls; firestarting material in waterproof case; and extra waterproof bags, just in case
The main pouch contains: metal cup; poncho; knife; MRE; Mountain House meal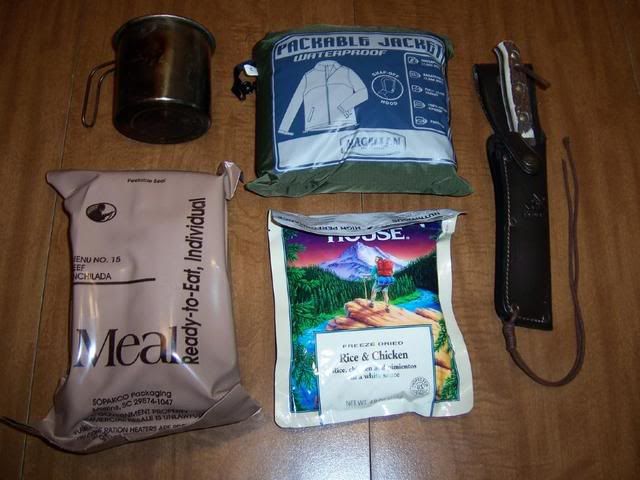 Also in the main pouch: PUR water filtration system; Maglite; rope; waterproof bag with change of clothes; another MRE; and a notebook in a waterproof bag
For shelter I have a Kelty Gunnison 2 person tent and a sleeping pad
The pack is not very heavy, but I don't have a real comprehensive BOB. Any suggestions would be greatly appreciated.
One thing to note: I do have other gear for different seasons. This is my summer kit, which is why I don't have a sleeping bag or coat or anything like that.
Also, if I had my BOB I would also have my GHB with me, so some stuff (like compass, sunscreen, Gold Bond, maps, back-up knife/flashlight/firestarter, duct tape) are in there. If this is not an ideal way to arrange things, please, let me know what you suggest.