The first post was just a teaser, here's the real meat and potatoes, my new and updated Squad Level Aid Bag.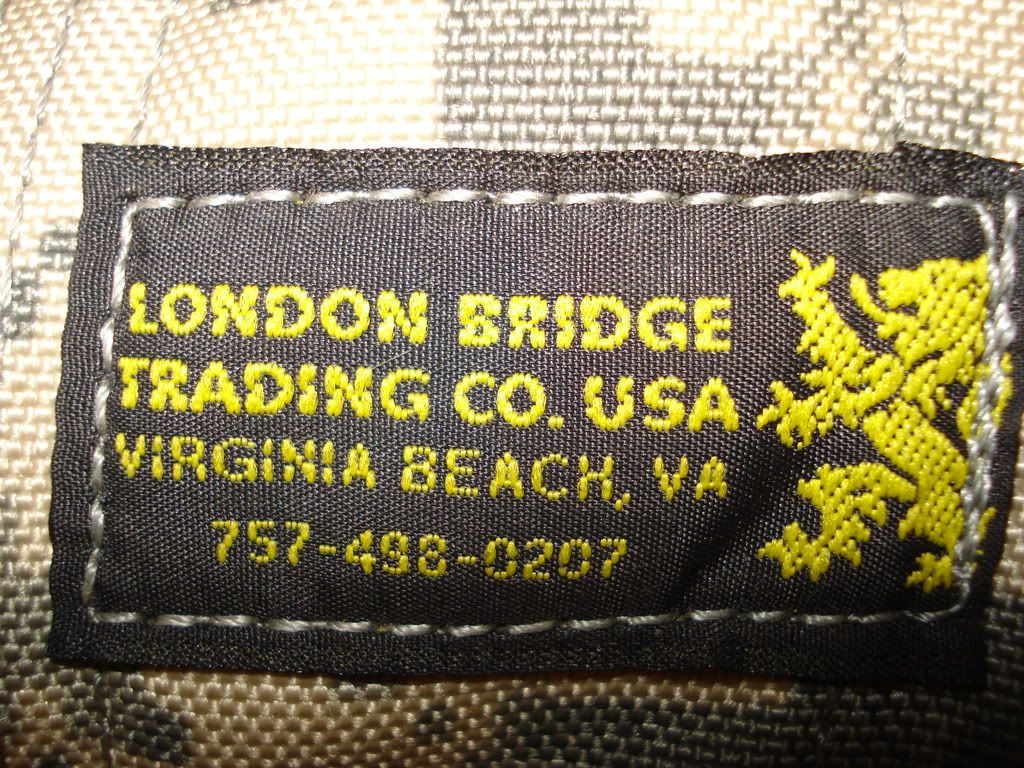 The bag itself is a
STOMP II
made by London Bridge Trading Company.
Front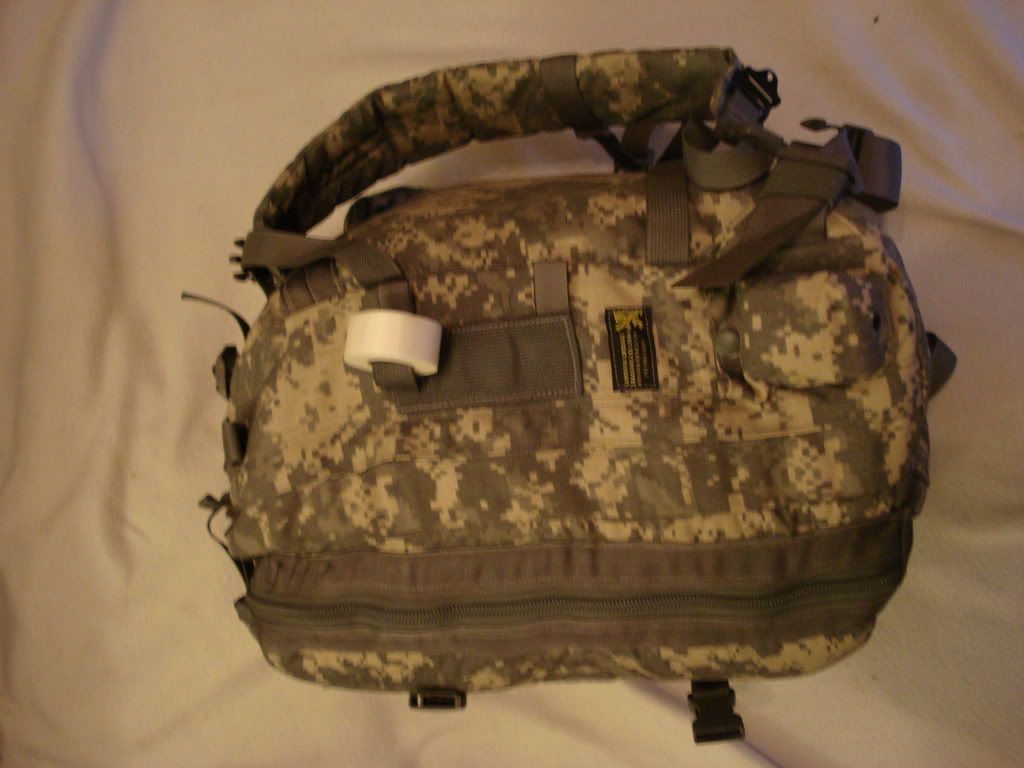 Left Side. Note the attachment points: no idea what I'm going to do with those yet.
Back. This thing even comes with a chest and waist band.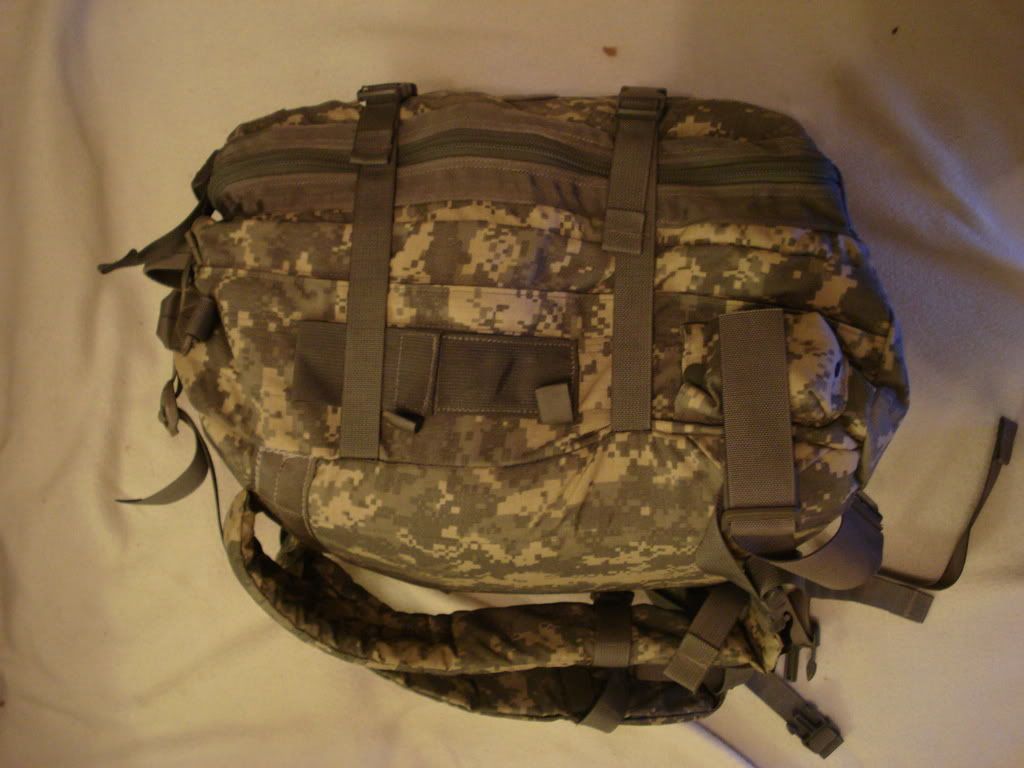 Right side (mirrors left)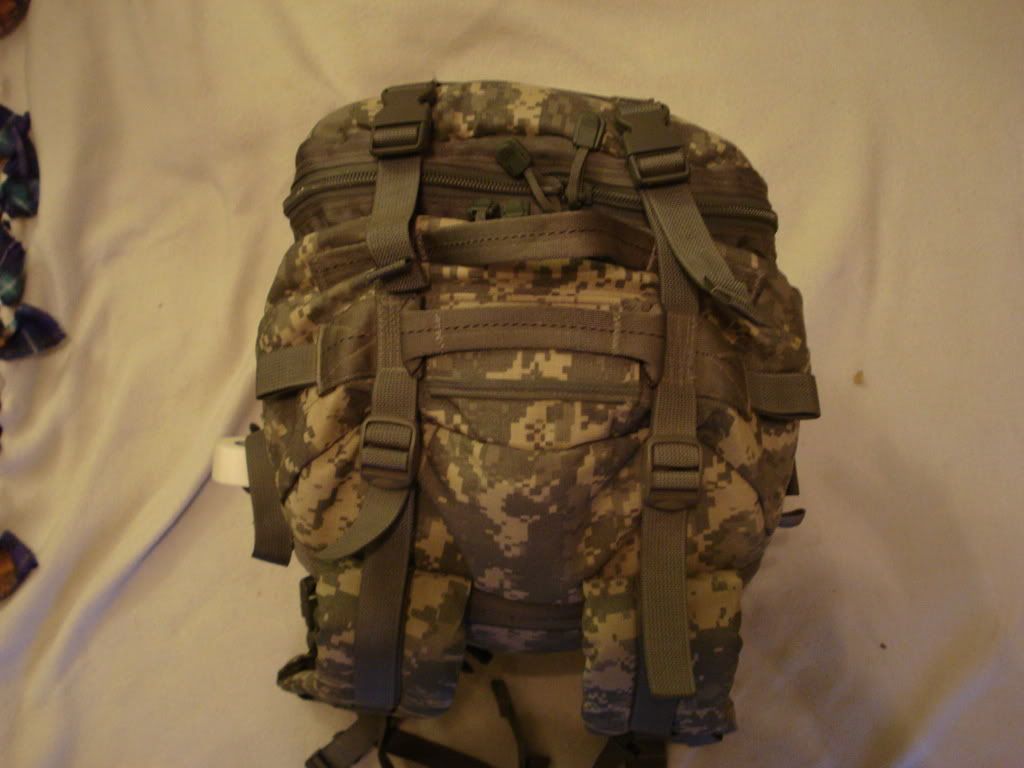 Top. Note the two compartments, lug handle and adjustments.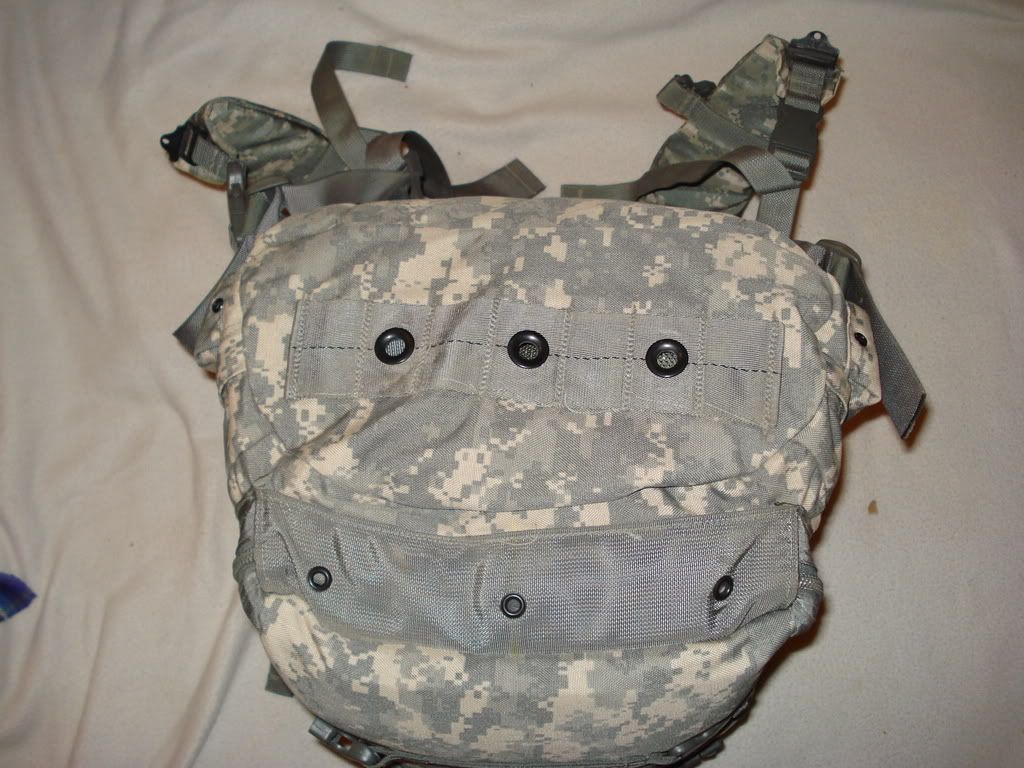 Bottom (big holes are for drainage)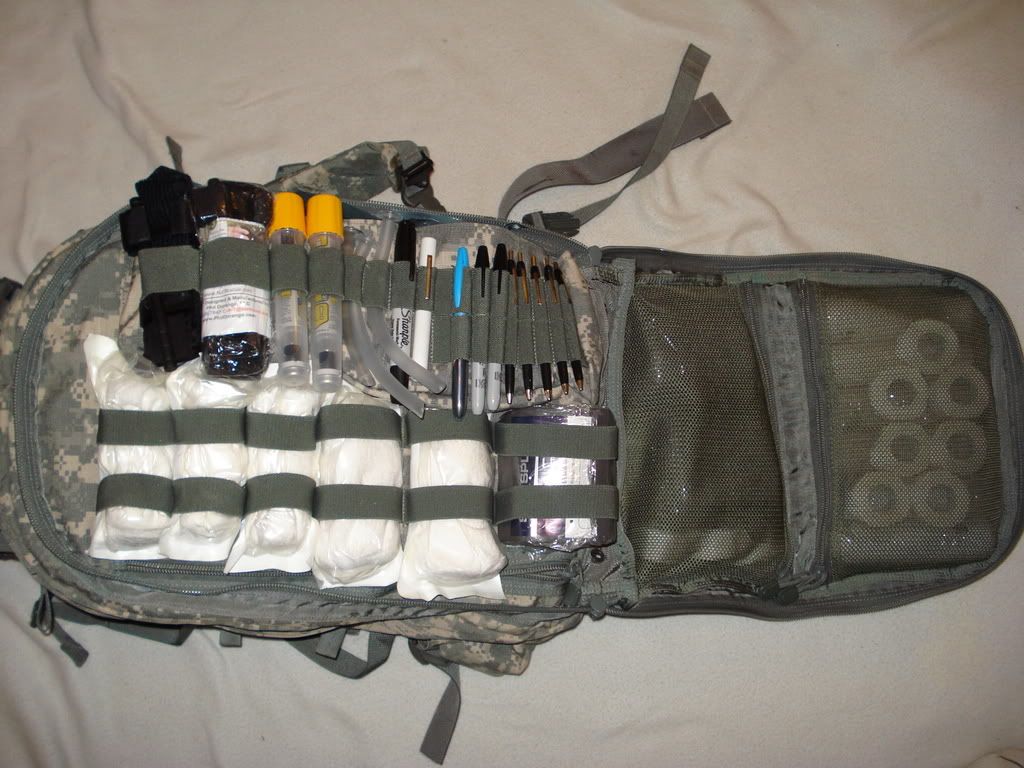 Front flap open.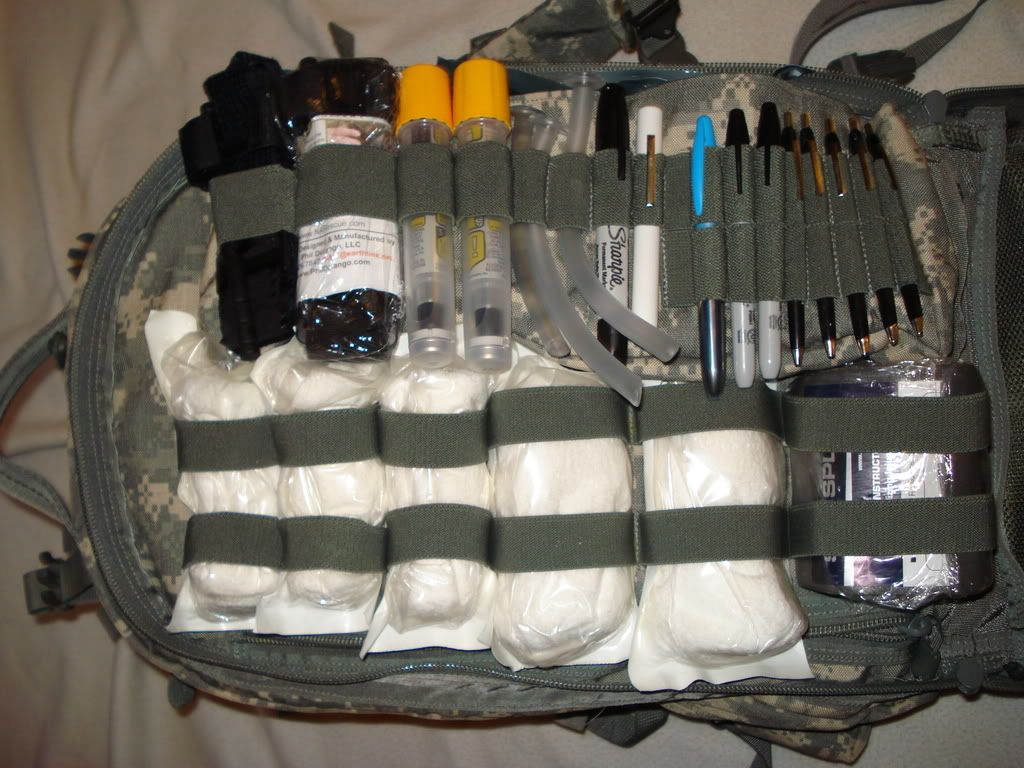 Close up of loops. Basically this section is full of retention loops of all sizes. There is also a zippered compartment and 4 holding cells which I'll display later.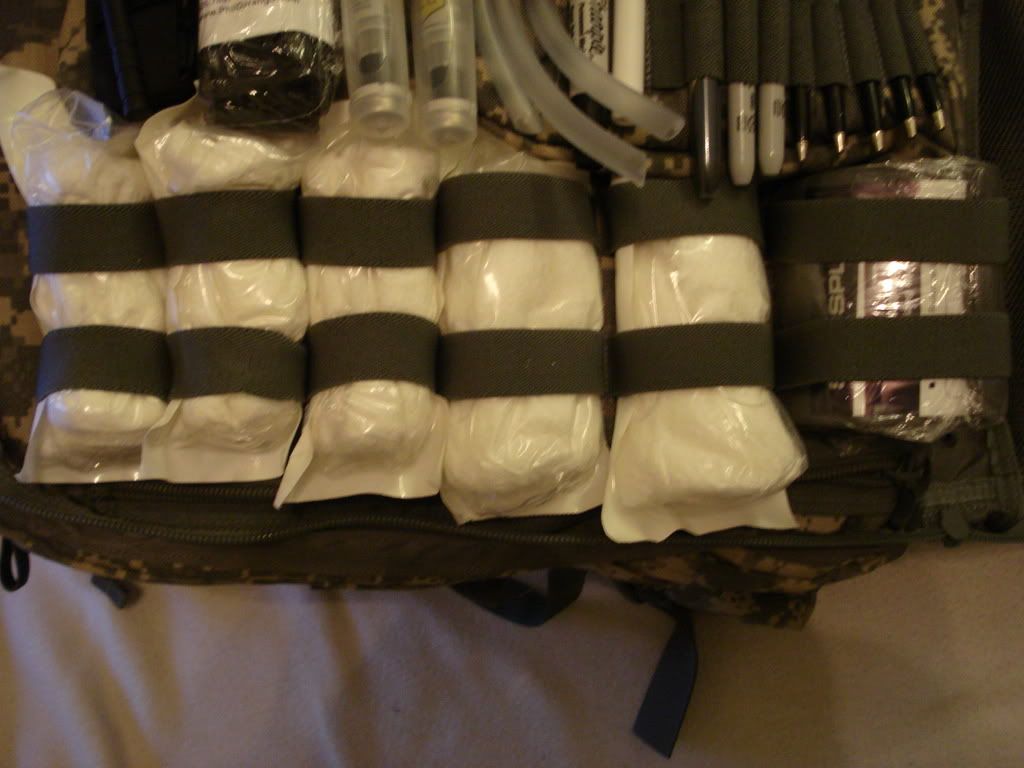 Close up of the bigger loops section. Here's what you're looking at:
7 rolls of Kerlix and one SAM splint (left to right)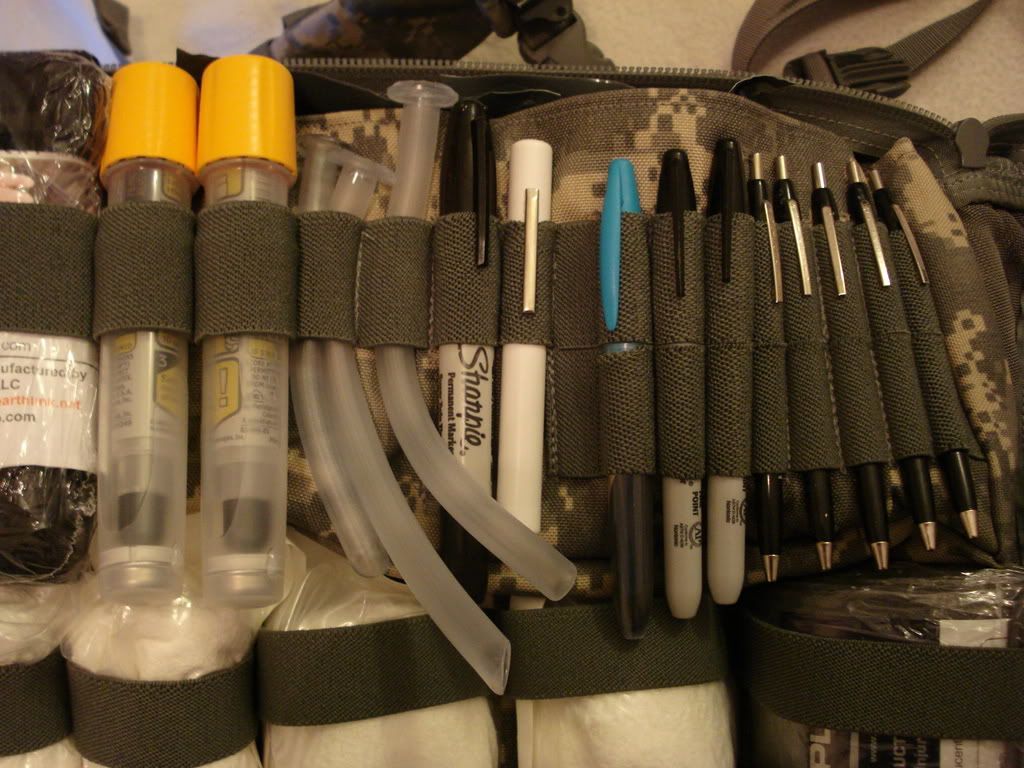 This is the right side of the loop system, starting from the smallest loops working my way to the right:
5 pens
2 Sharpie Black Markers (fine tip)
1 Sharpie Blue Marker
1 Pen light
1 Sharpie Black Marker with fine point and chisel point.
2 Large NPA's
1 Medium NPA
2 EPI Pens
1 C.A.T. Tourniquet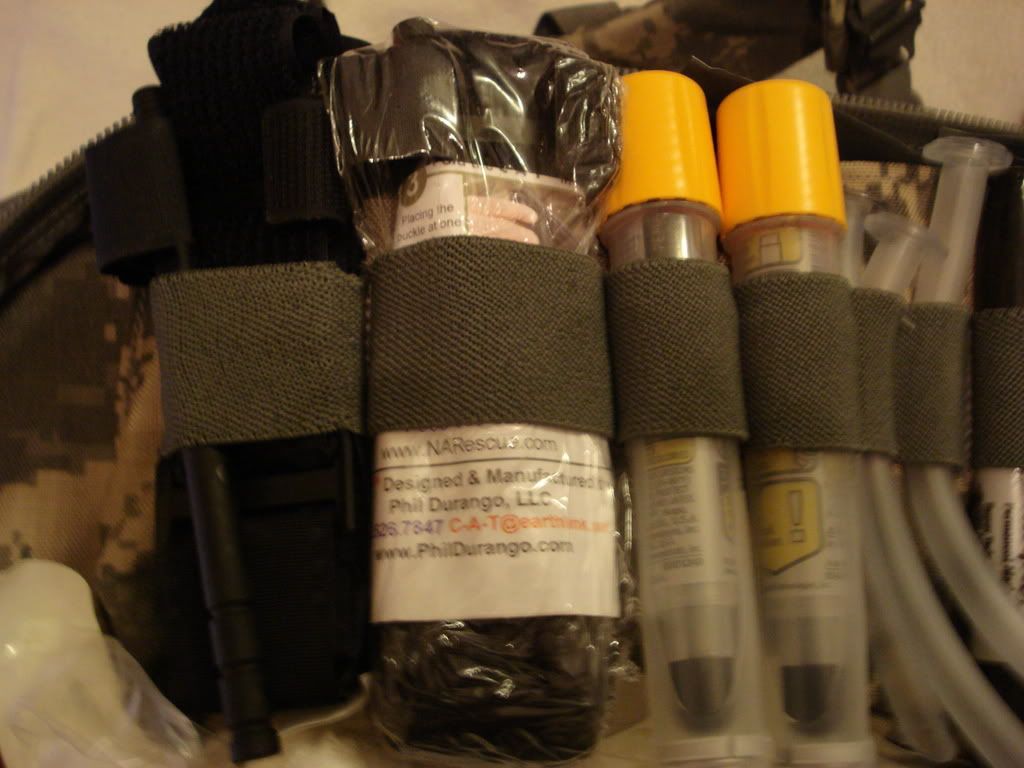 Left side of the smaller loops:
3 NPA's
2 EPI Pens
2 C.A.T. Tourniquets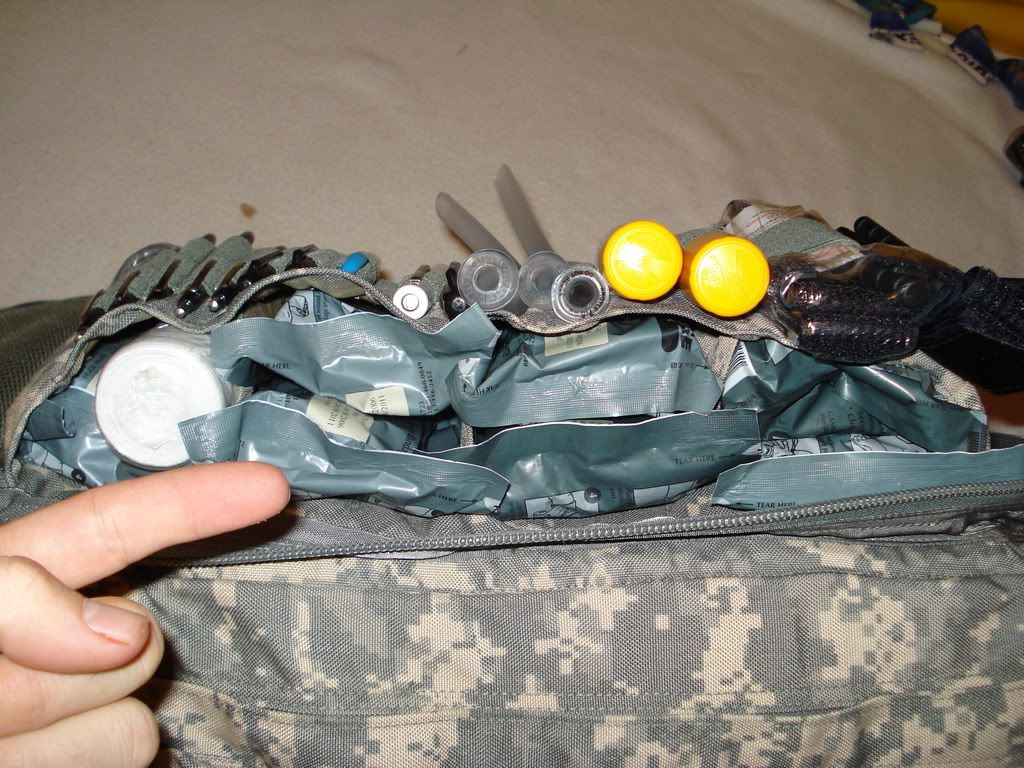 Underside of the looped compartments.
Underneath the loops shown above is a 4 celled, expandable system.
This section is perfect for holding
-7 Israeli bandages (better known as the IZZY) bandage
-1 ACE Bandage (which I've removed to help the bag close.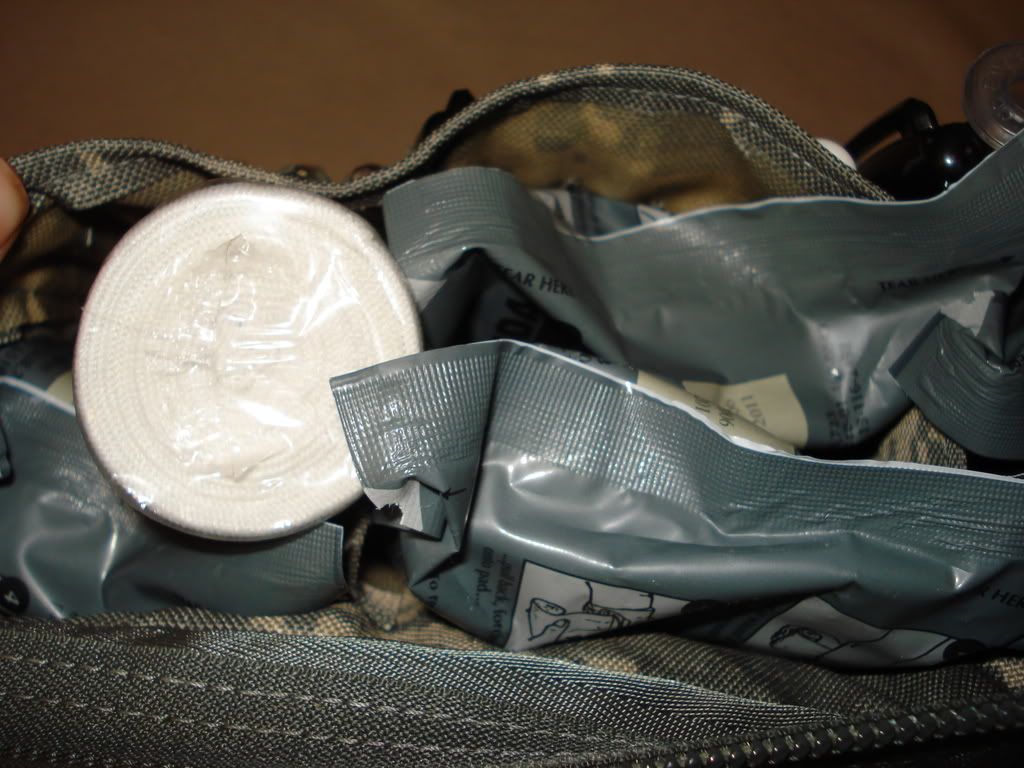 Close up of cell system.
Underneath the loop structure, underneath the Kerlix is a small zippered compartment that's just big enough for:
-2 Spare Israeli Bandages
-2 Spare C.A.T. Tourniquets (not exactly sure if I'll leave this section as is or modify its contents.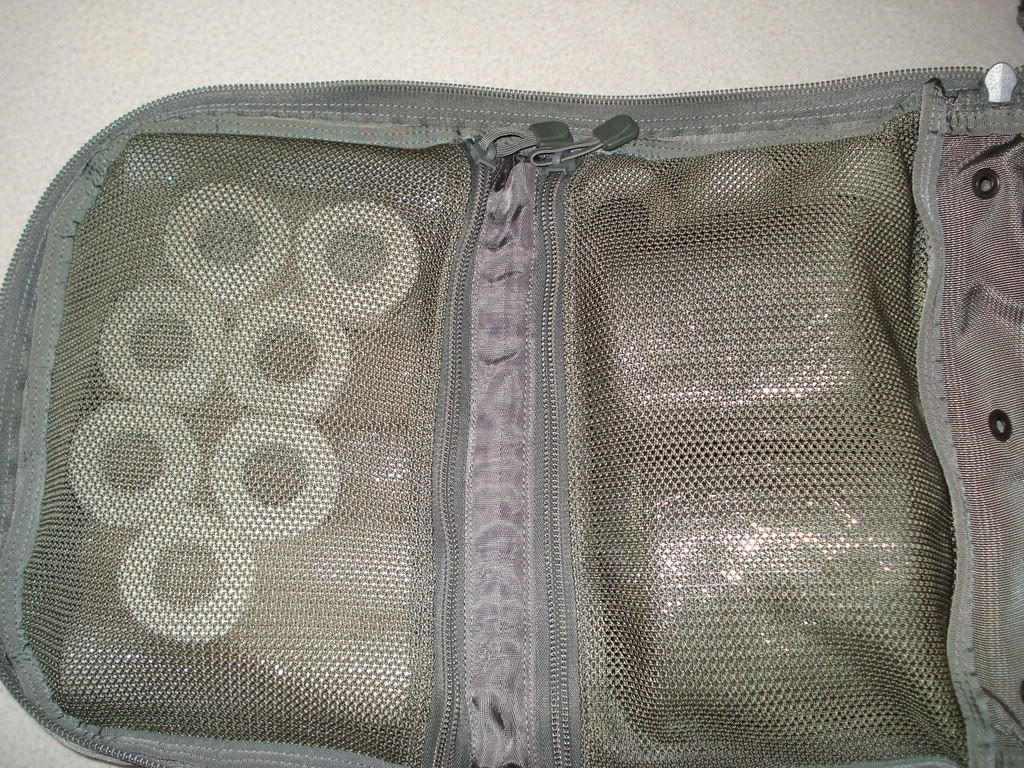 Underneath the main lid of the bag you'll find two mesh covered zippered pouches.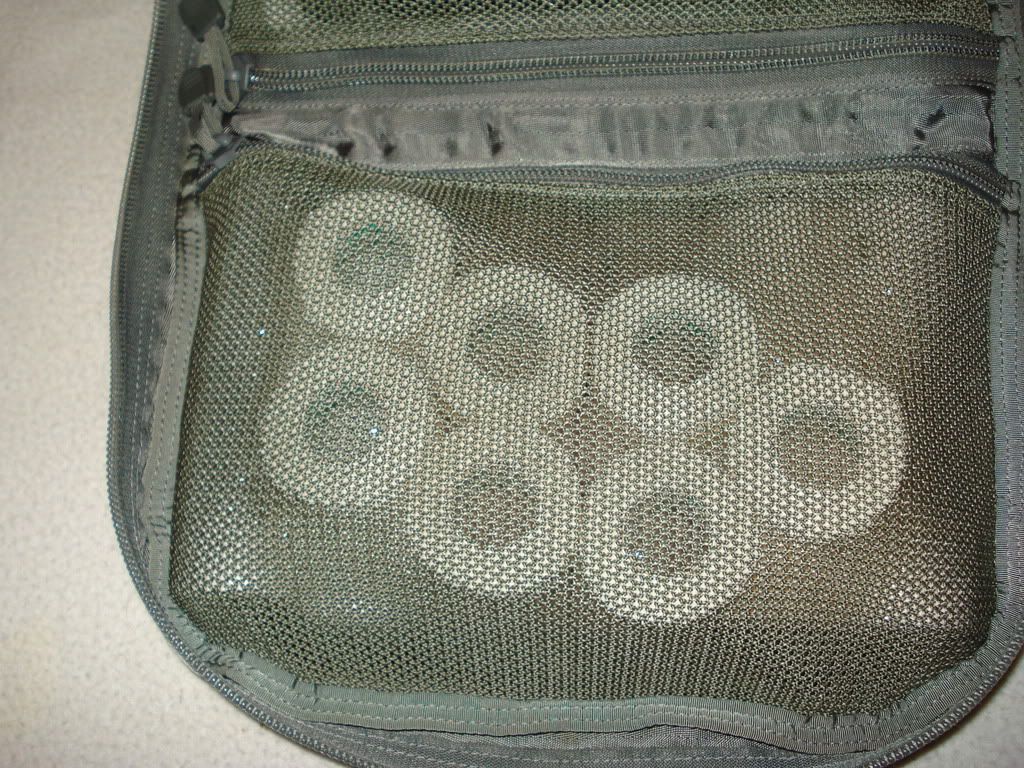 Here's the first pouch: can you guess what's inside yet?
-7 rolls of 3M tape
-6 ACE bandages in 3 different sizes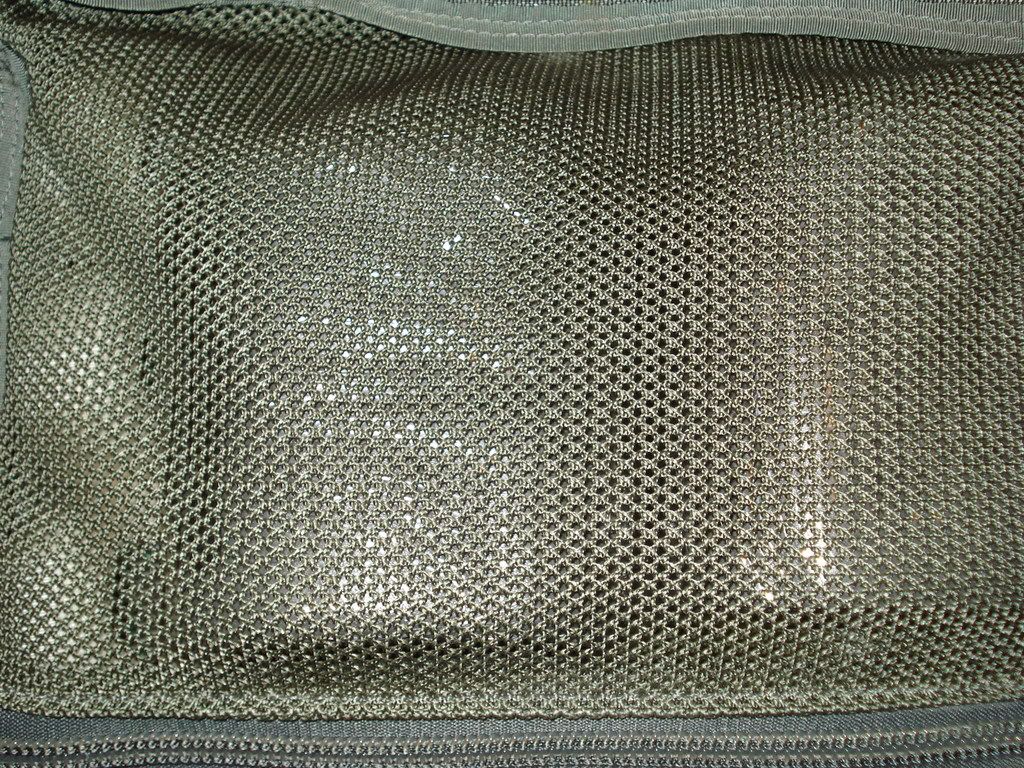 Inside the opposite pouch you'll find: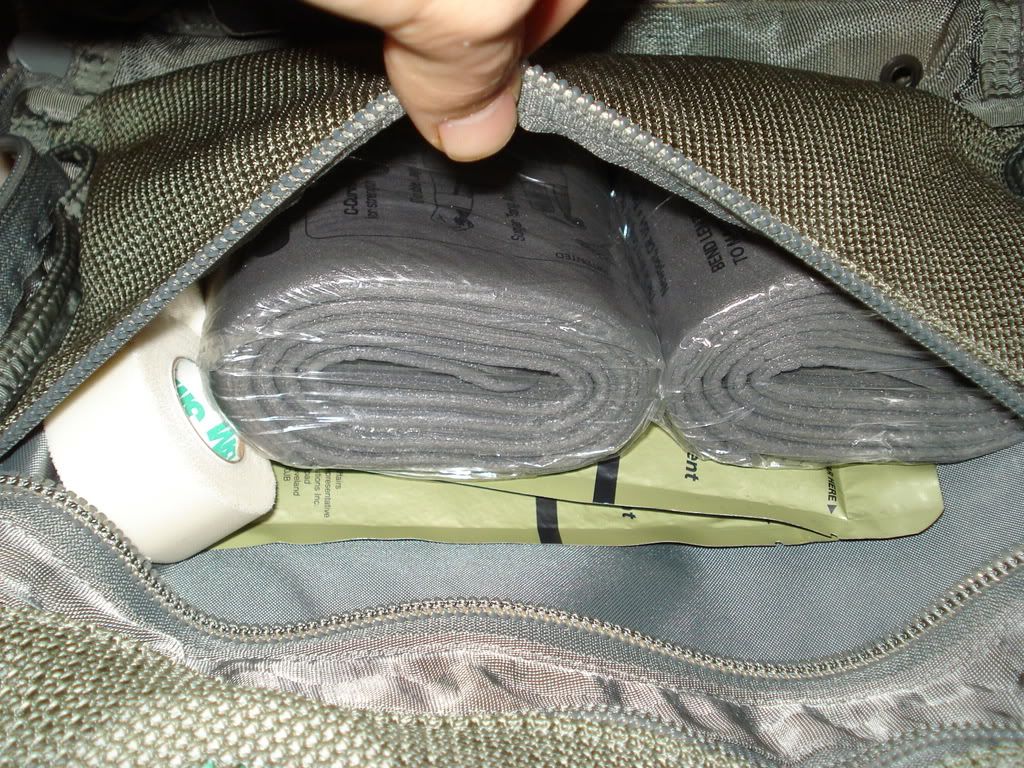 -2 SAM Splints
-2 Large Quik Clot Packets (Granular)
-3 Rolls of 3M tape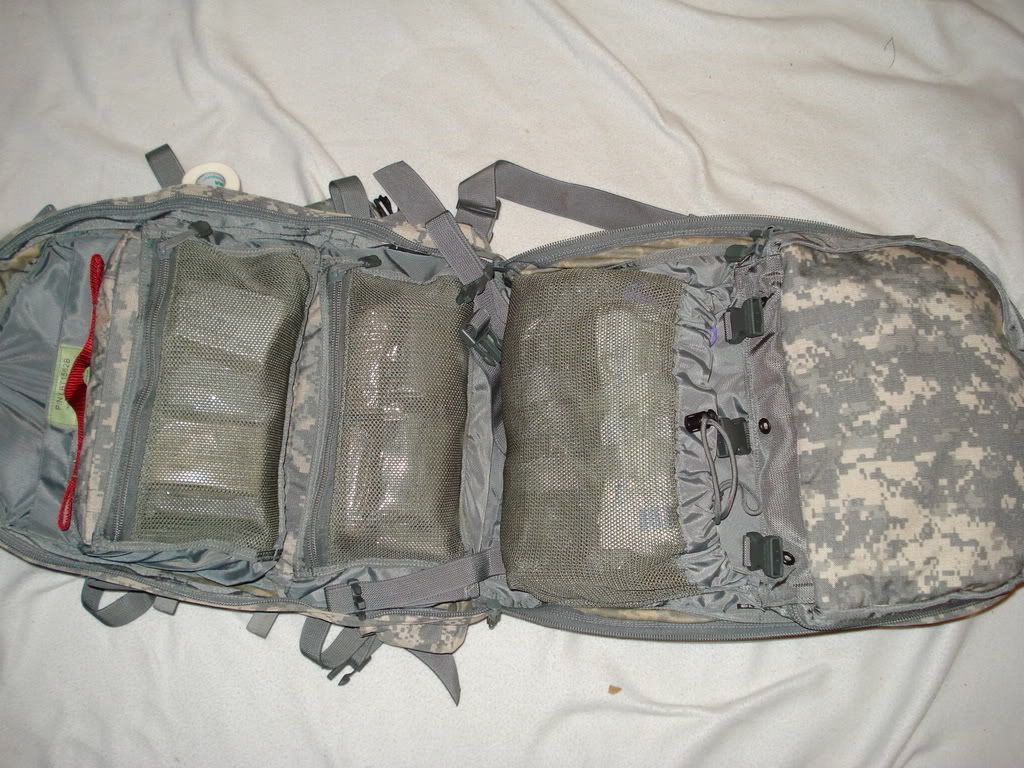 This is a view of the main compartment of the bag.
Here's the underside of the middle compartment that's connected to the lid of the bag. You'll see two pouches here.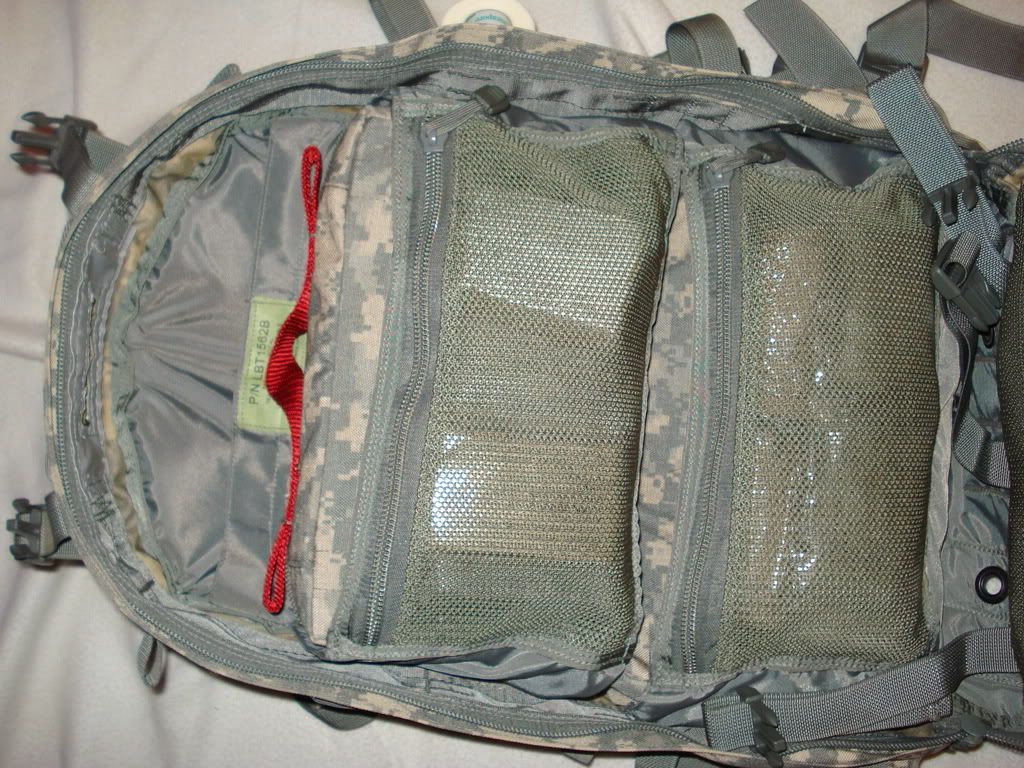 Here's a view of the opposing side of the central compartment.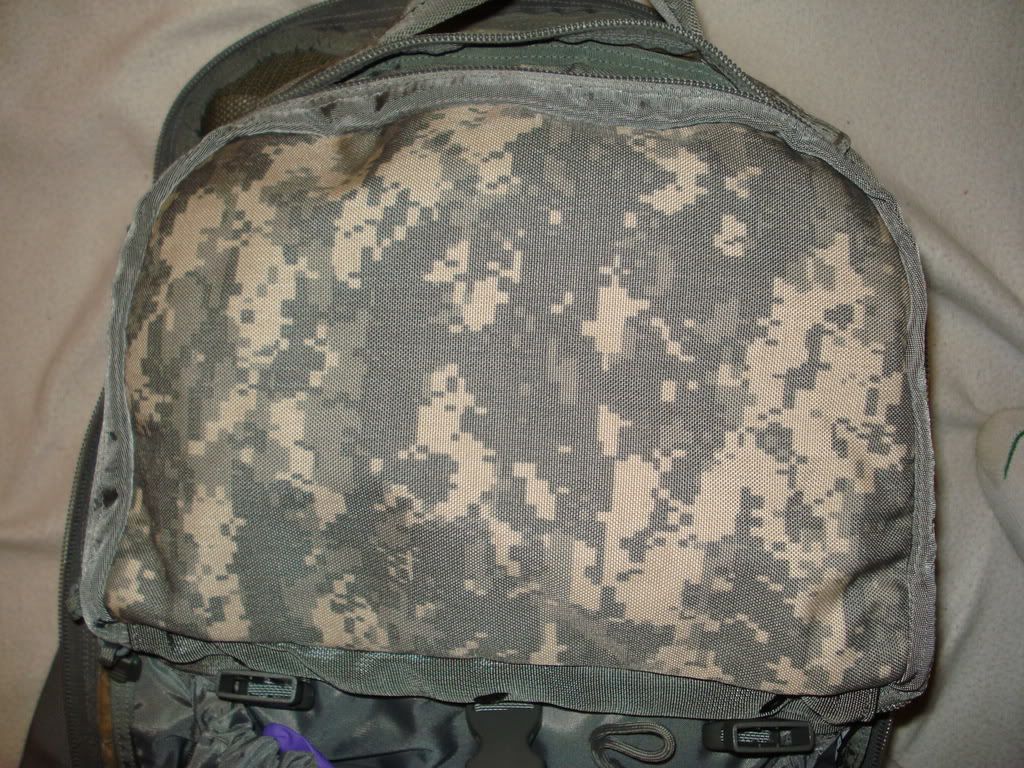 Closeup of the previously shown zippered compartment.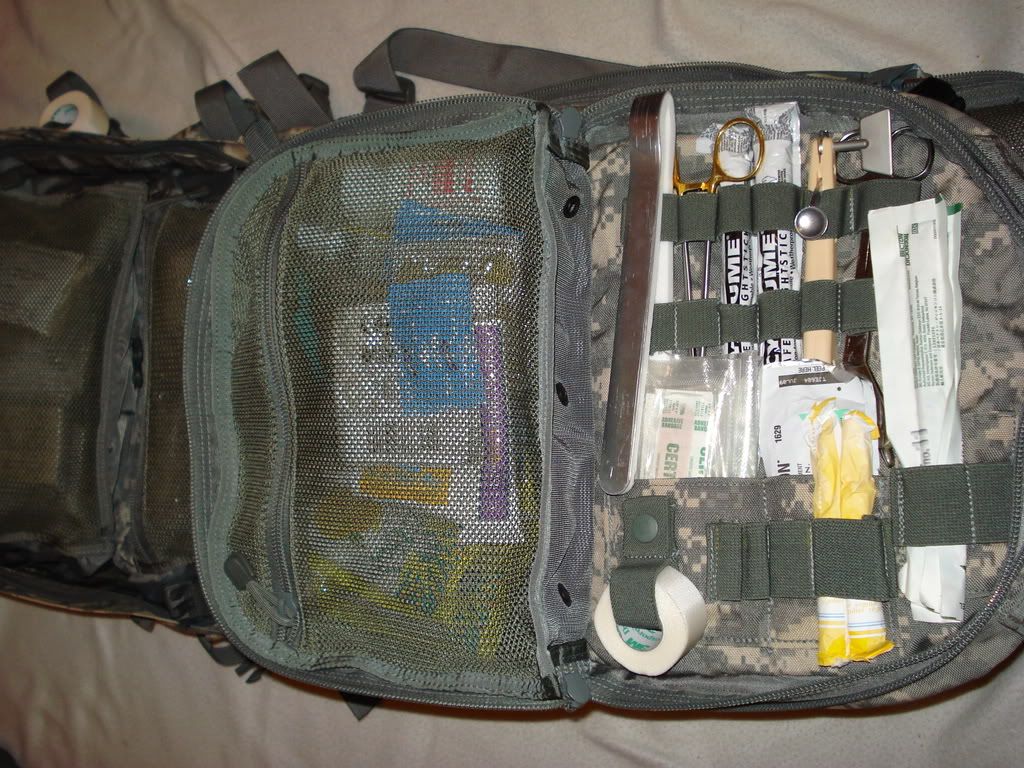 Pouch opened.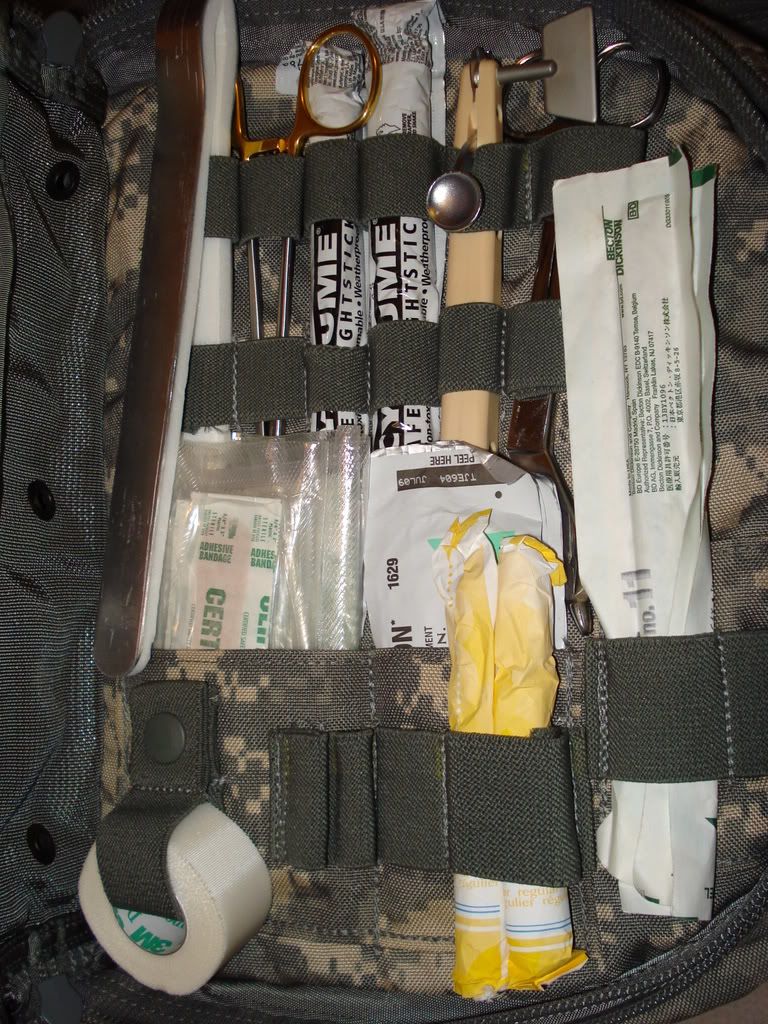 Details of the interior which include:
-Finger Splint
-Forceps
-2 White 8 Hour Lightsticks
-Ring Cutter
-Scissors
-Buncha bandaids
-Buncha #4 silk sutures
-2 Open and toss scalpels
-Roll of 3M tape
-2 Tampons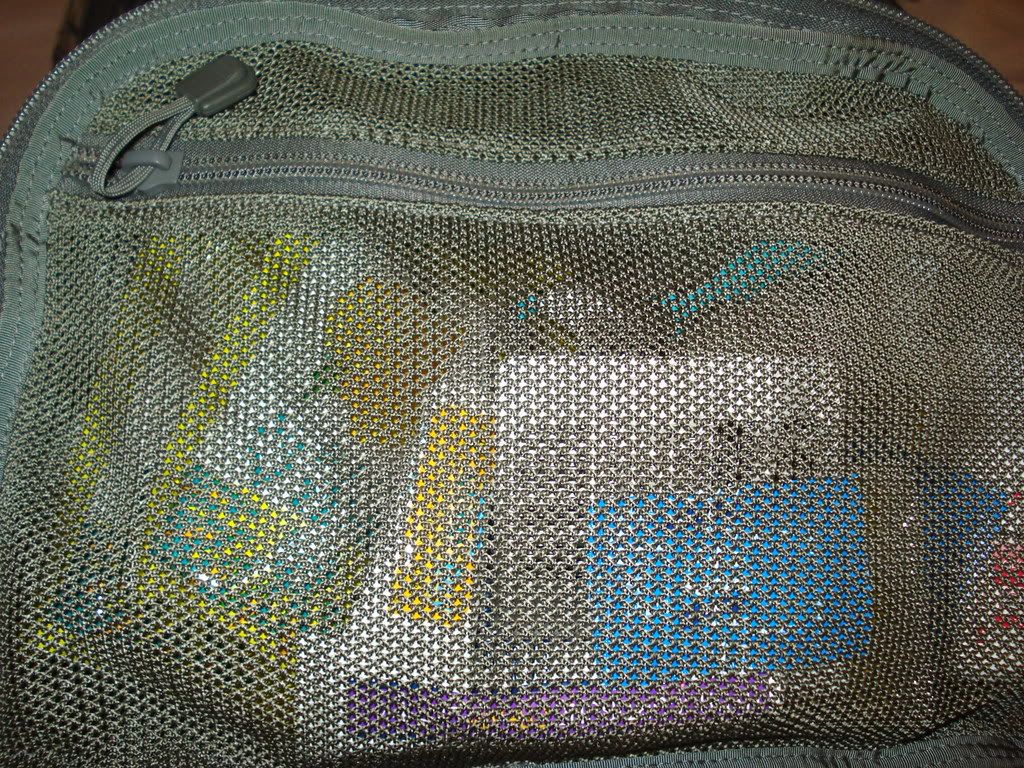 Underneath the lid of the pouch is another zippered mesh pouch containing: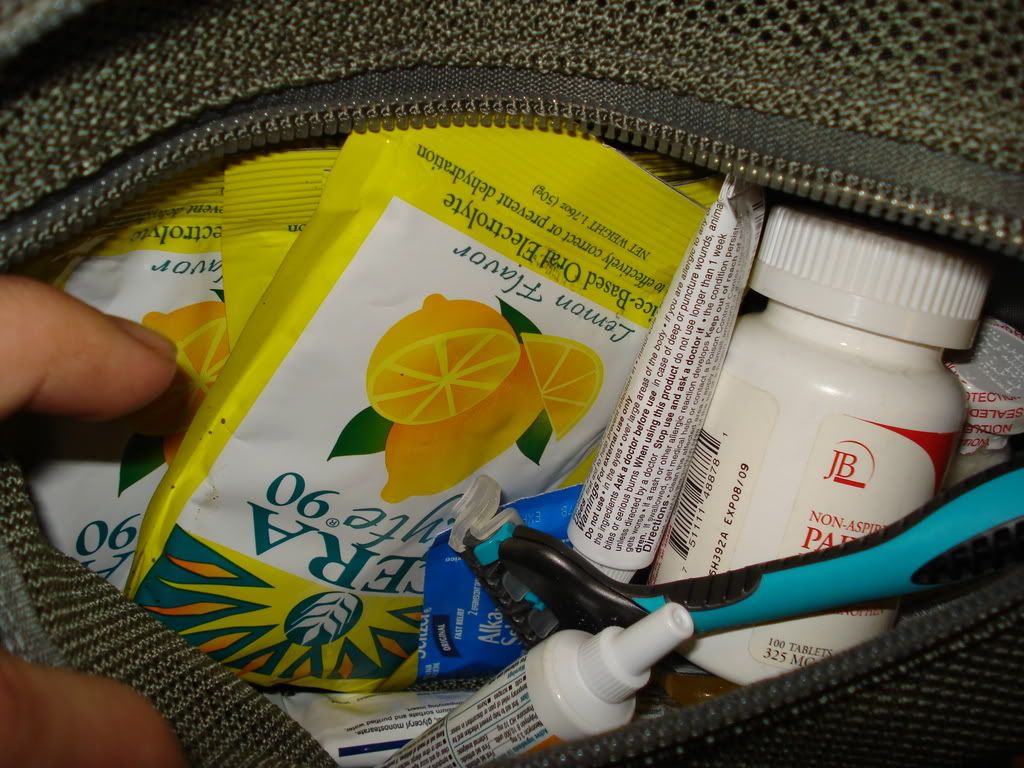 My medications to include:
Asprin
Non-Asprin
Benadryl
Moltrin
Immodium
Cough Medicines
Anti-Acids
Neosporin
Anti-Fungal
Topical Anteceptic
Alka-Seltzer
Several rehydration aids
Razor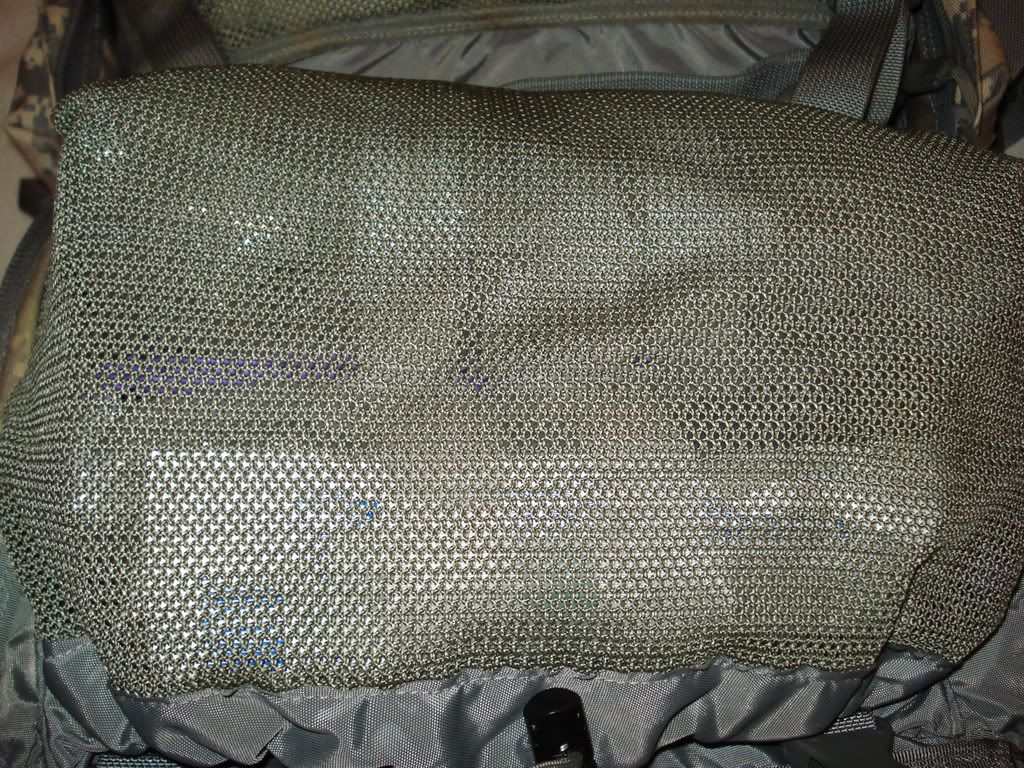 Underneath the padded cell is a compartment for IV solution bags (basically it's a large bag with draw strings and buckles to keep your IV's secure).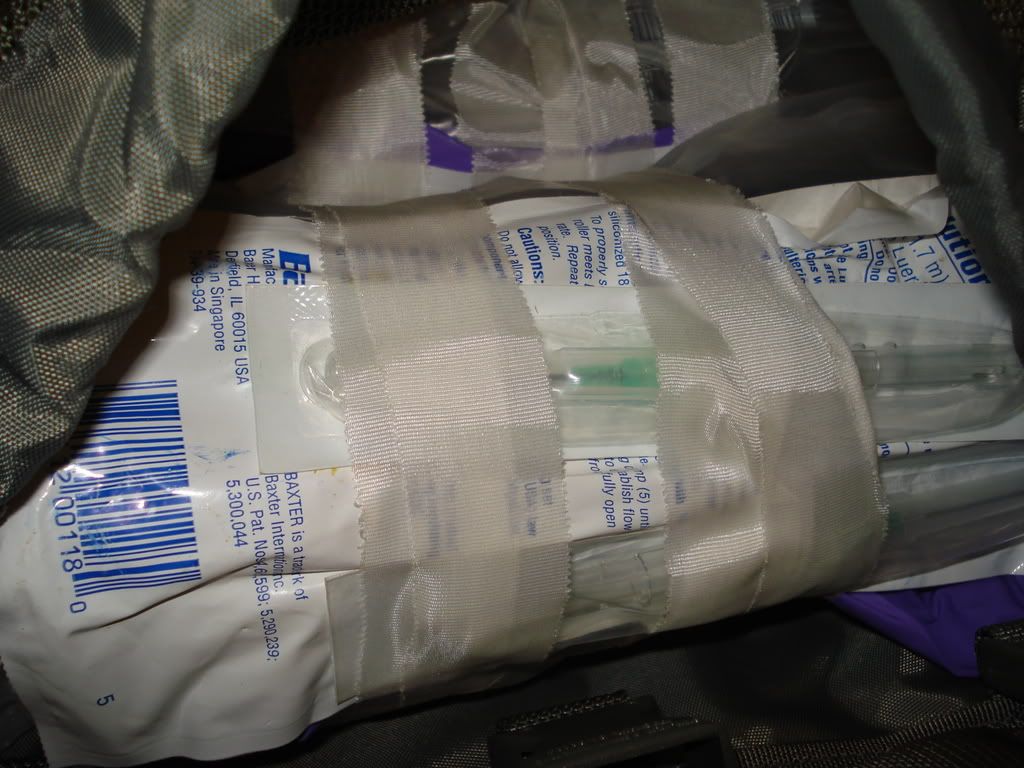 Inside the above chamber.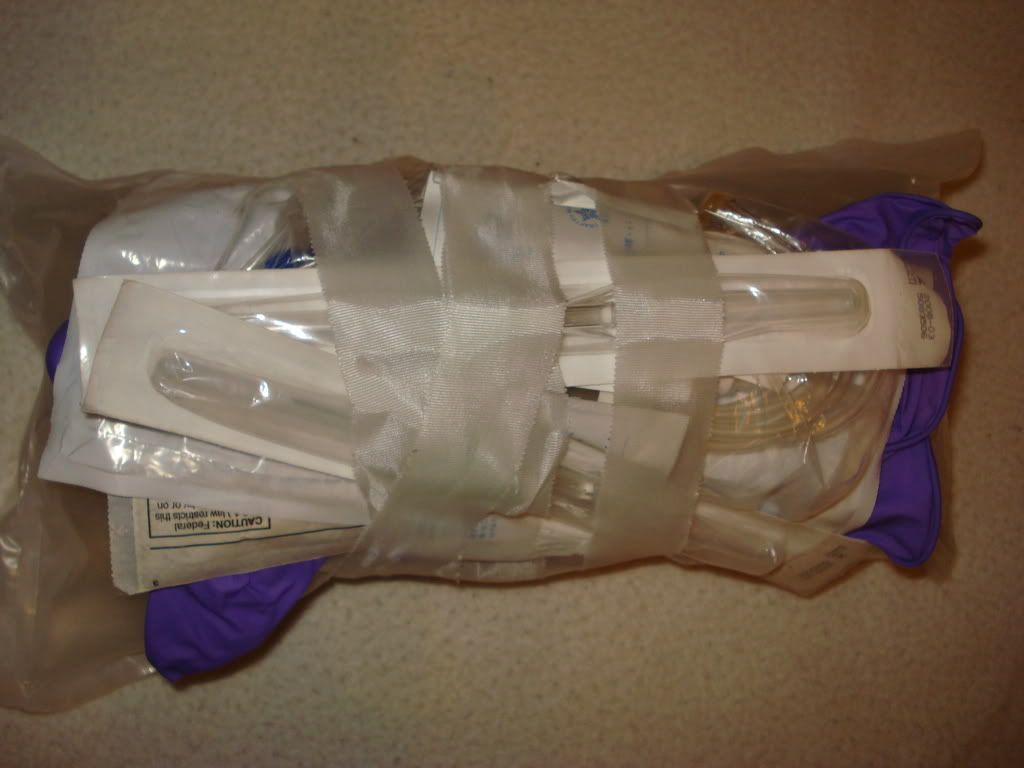 I borrowed these IV bags from an EMT friend of mine. For the demonstration I've shown how you're supposed to fast pack your IV's so, in the event that someone needs one, you can readily grab everything you need to administer an IV on the spot.
What you're looking at is:
-2 Catheters
-2 Alcohol Prep Wipes
IV Tubing
1000ML of Lactated Ringers
Grobes
Penrose Drain (used as a tourniquet)
Tape to secure it all (when, if removed properly, can secure the catheter)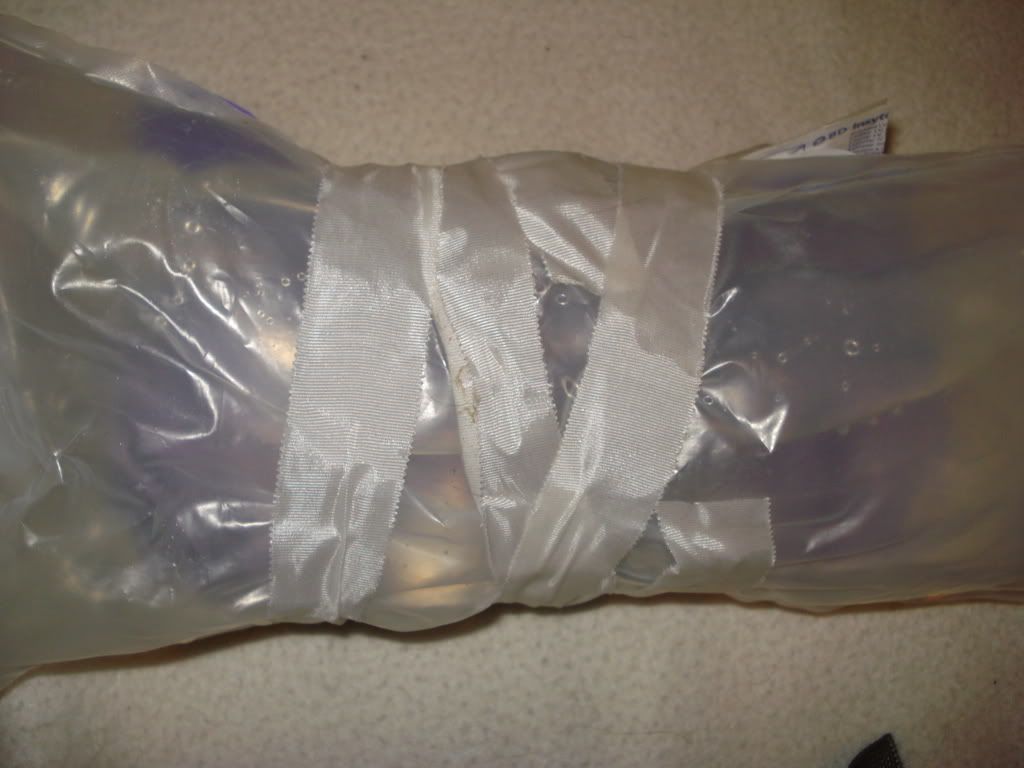 Back of bag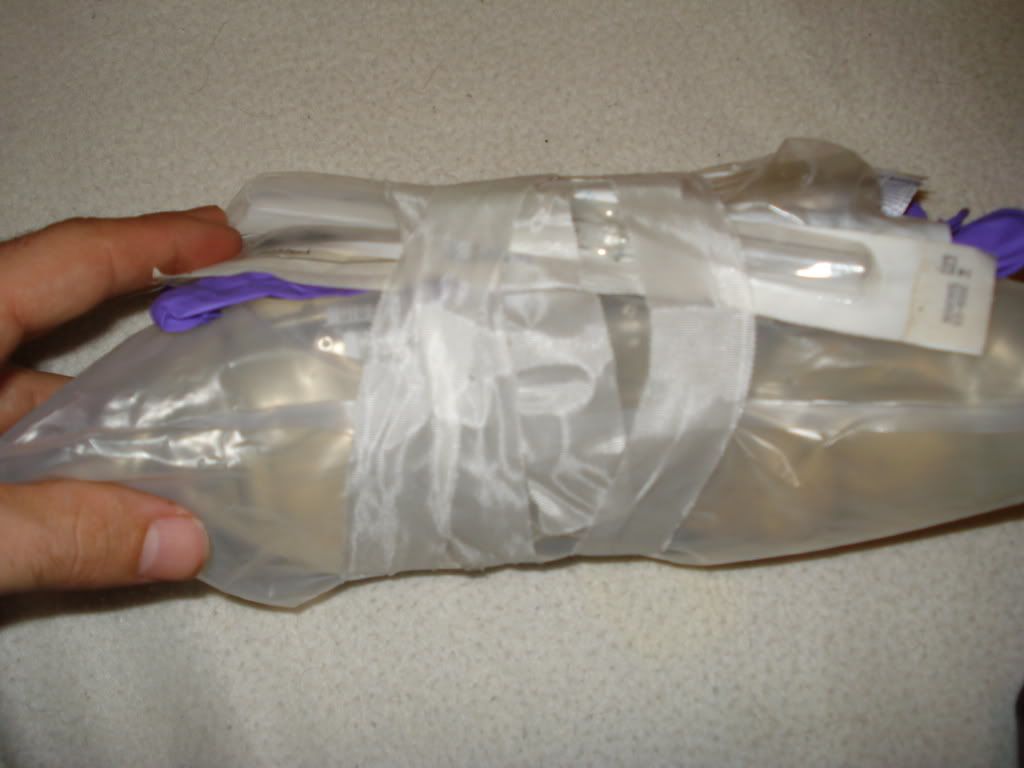 Side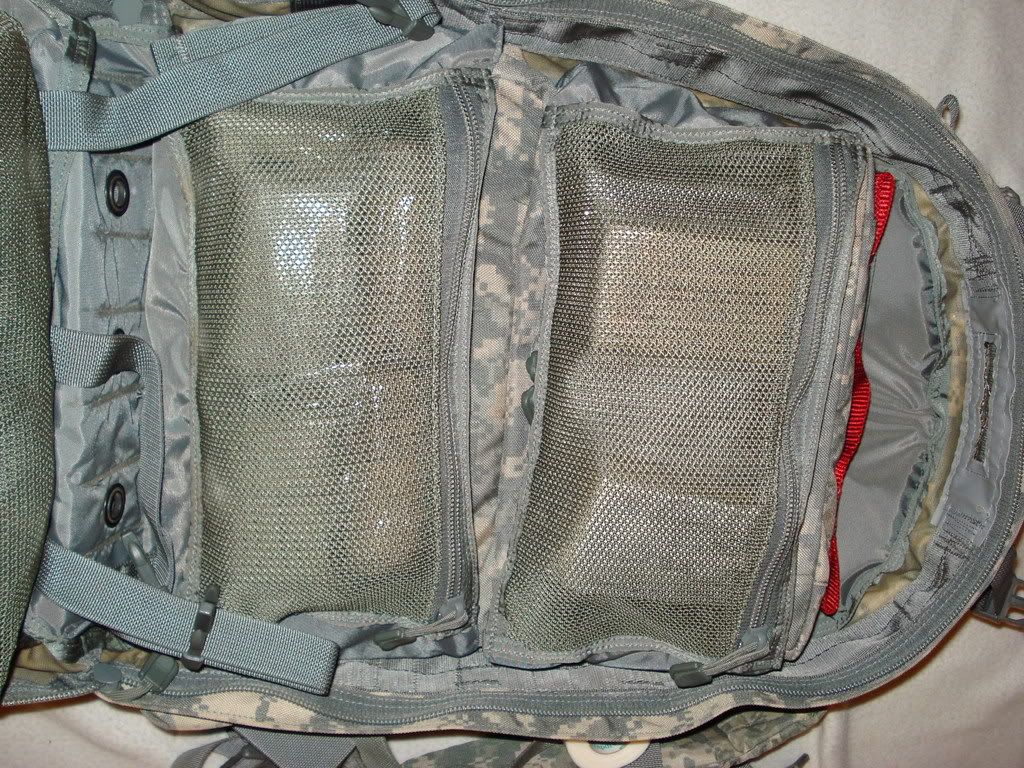 Here's the back of the main cell. What you're looking at is two zippered mesh pouches, three slit pouches and two removable pouches (note the red and blue handles) for various gear. Their original intent was an airway kit and an injectibles kit, but I'm modifying them slightly. More to come once I figure out what to put in here.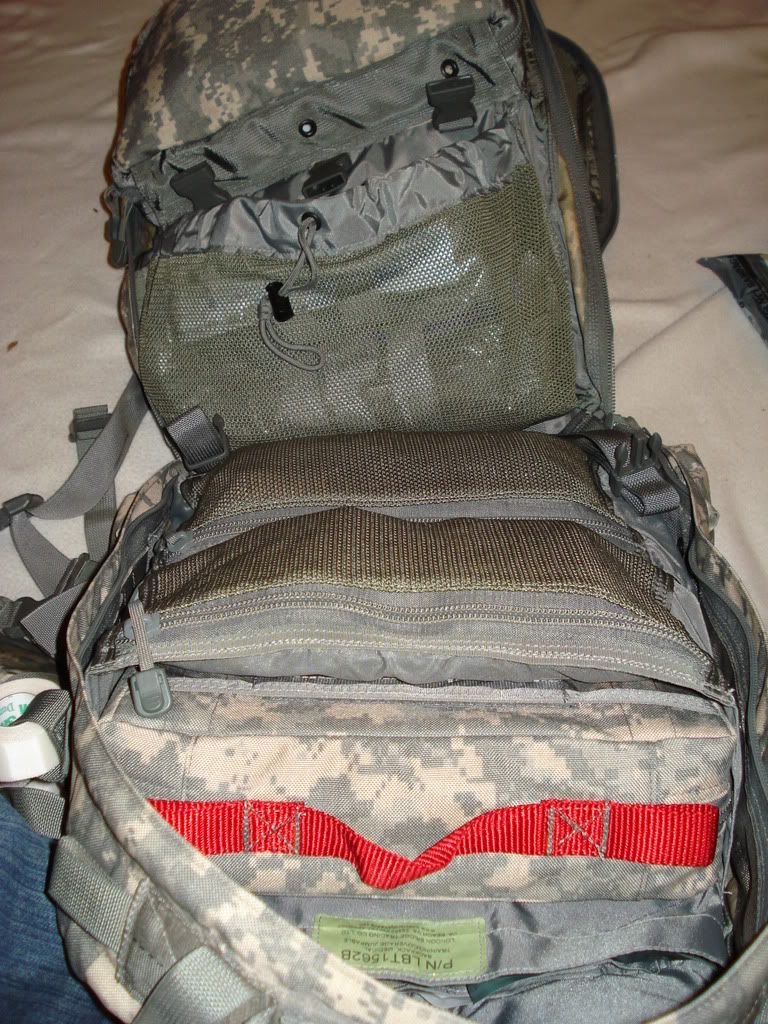 Closeup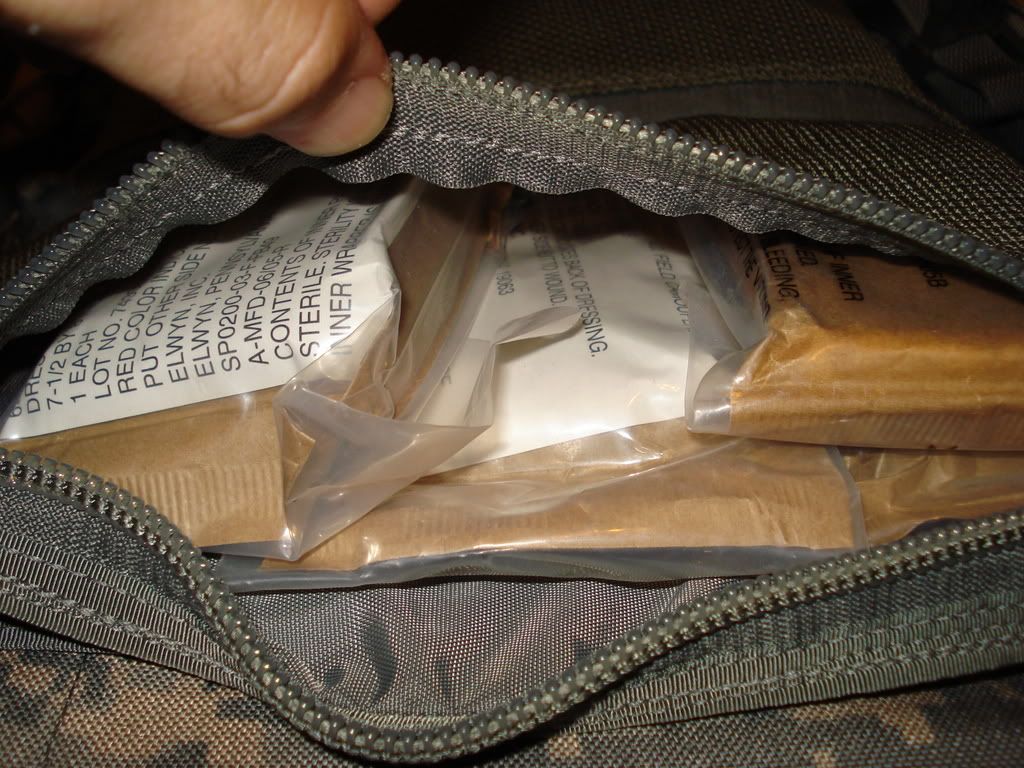 Inside the first zippered pouches I have
-2 Large Abdominal Bandages
-2 Regular compression bandages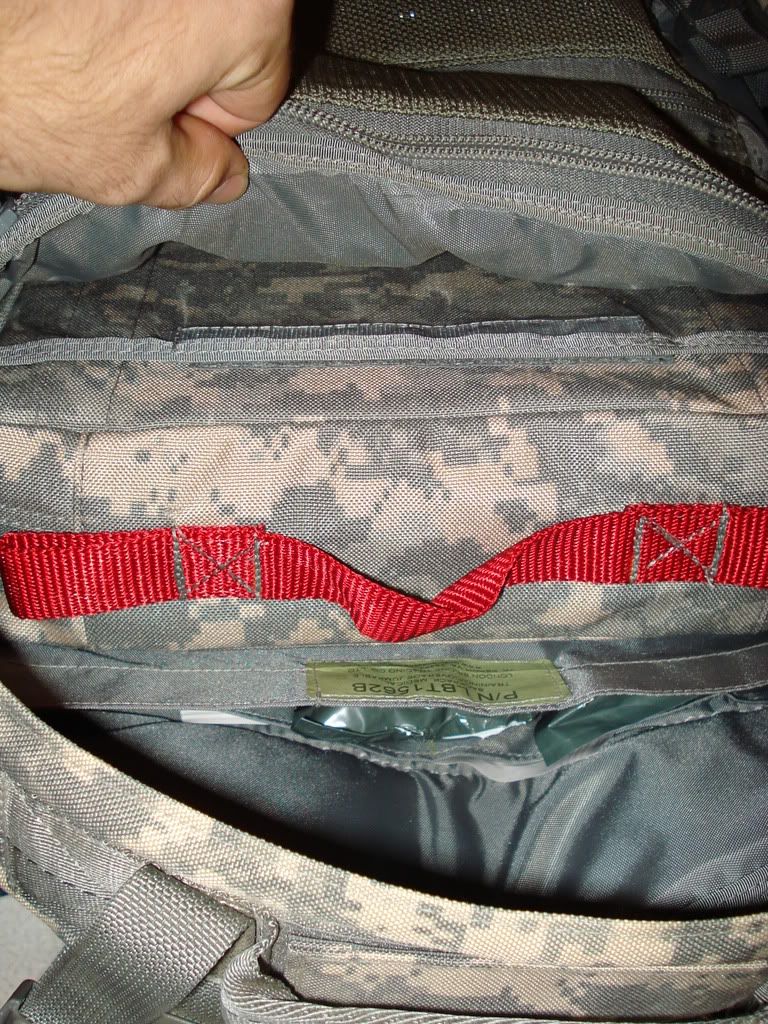 Here's a shot showing off the top removable pouch I've yet to fill up.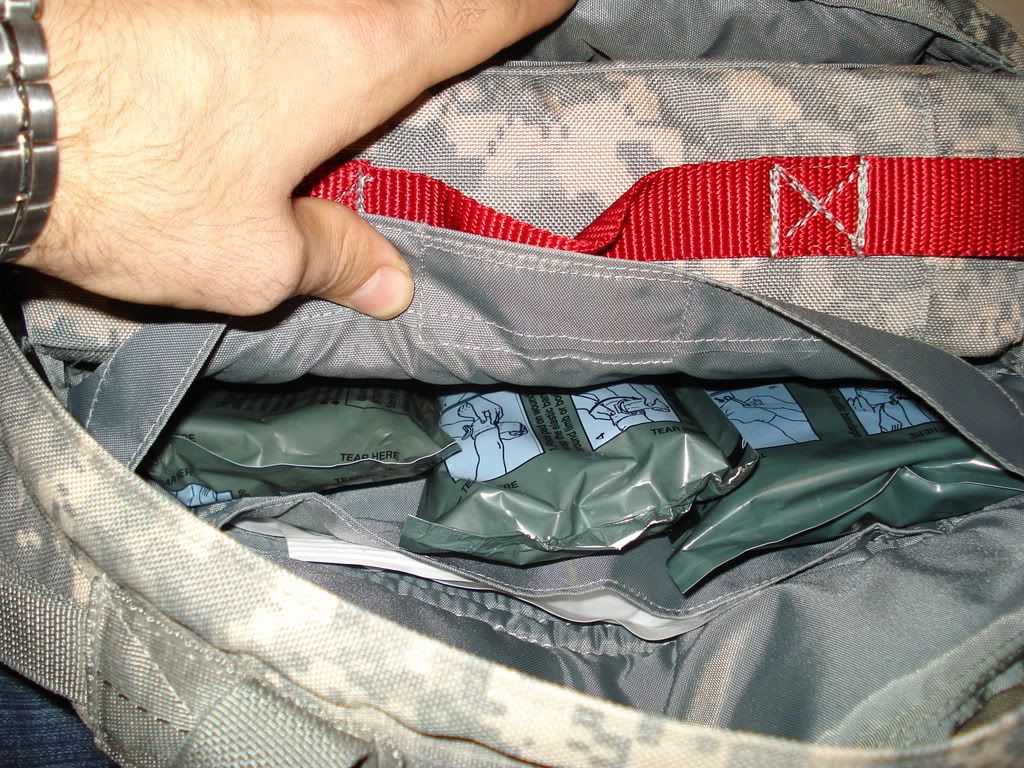 Underneath the pullout compartment a system of dual slit pouches. As it stands I have in them
-5 large Isareli Bandages
-3 ACS's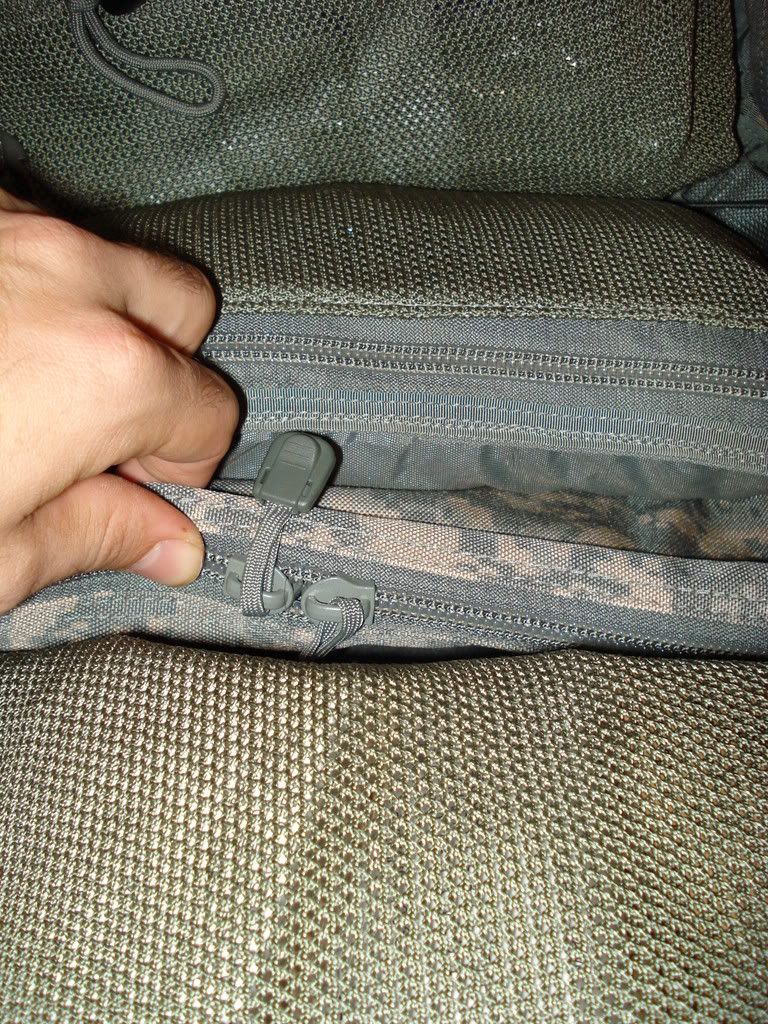 Displaying the removable airway kit and zippered pouch above containing:
-8 Cravats
-2 Rolls of Coban
Well guys, that's about as far as I've gotten with this bag, what'cha think so far?