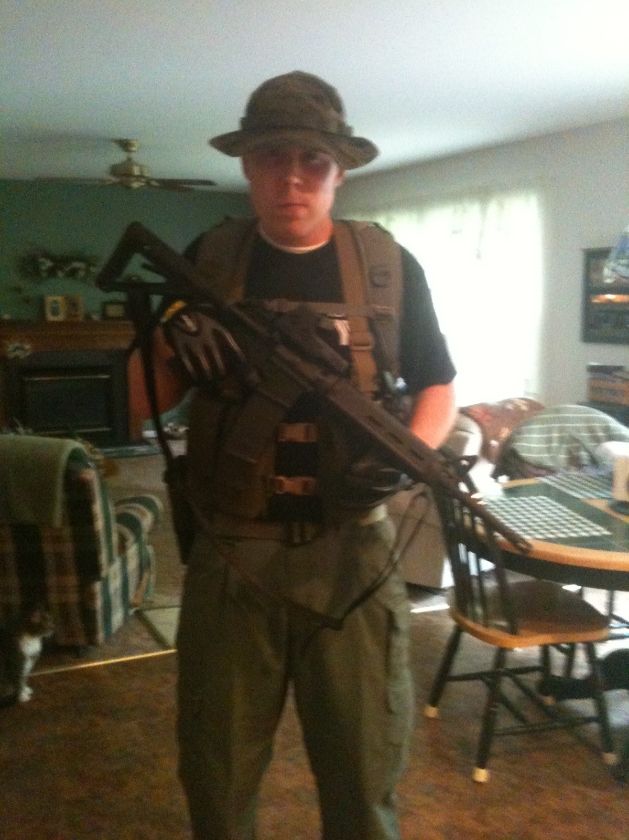 Light is Might in the Fight and that's Right.
http://varifleman.wordpress.com/2011/01 ... ats-right/
" onclick="window.open(this.href);return false;
A light setup for bugging out in a bug-outable situation requiring the overt carrying of a rifle. Yes, it is far far more likely for a bug out scenario to occur that would require some discretion and a well concealed pistol (ie natural disaster, fire, storm a-coming, etc) but if needed, I've pieced together this minuteman rig. Its a real light and handy kit.
- AR-15 rifle: PSA chrome lined 4150 upper, Spikes tactical lower, Eotech 552, Streamlight TLR-1s, Blackhawk two point. Along with 5 30rd Pmags.
- Level IIa soft armor (issued to me by my agency but not worn in picture).
- G23 with a 13 rounder in the gun and a 15 round G22 mag as backup. In a SERPA.
- Ka Bar large TDI fixed blade, but I assume this would be used far more for chores than for actual hand to hand fighting. In fact, I hope to never have to use any of these weapons in anger, but
especially
that knife. Knife v. knife = I get cut more than likely.
- Surefire G2-OD with Malkoff M60LF dropin.
- Tactical Tailor MAV two piece with 5.11 pouches.
- old tiger stripe boonie hat. a well worn, durable hat.
- black poly/cotton t shirt
- Propper tac pants.
- Mechanix gloves. A cheaper alternative to tactical whiz-bang gloves.
- Camelbak backpack without the water bladder and loaded with a few essential items. I like nalgenes instead for hydration.
- 5.11 6" boots. Pretty comfy and broken in.
- Slightly mean face (Issued).
- tactical attack kitty guarding my six.