I just finished rebuilding my battery bank and changed over to using a modified APC SU3000NET XL Smart UPS instead of putting hours on my "real" inverter/charger (and having it potentially exposed to a EMP). It's taken me about a month, mainly doing it on weekends, total cost was about a grand including the second-hand AGM batteries.
I thought that I'd post a "how I did it" to help out somebody else to make their own.
One caveat: THERE IS ENOUGH POWER IN A BATTERY BANK TO COOK A RHINO. If you dont know what you're doing with electricity dont mess with it, you could kill yourself, your family, and/or burn down your house. Even when unplugged with no batteries there are high enough voltages stored in an UPS to easily stop your heart if you touch the wrong thing.
I used a "Smart Ups" because they give a nice clean sinewave, and they're line interactive (will correct under/over voltages w/out using the batteries). And you can find them readily on craigslist for pennies on the dollar. The "XL" means it's built to take an external battery bank and has beefed up components to handle a somewhat extended run time.
However they can't be used for continuous duty, mainly because of thermal limitations - they have to be modified to handle that. If you run a unmodified ups near full load you'll cook it within an hour or two.
Edit 11/21/14: I've recently discovered that the APCs line of SURTA UPSs and Eaton 9130 UPSs are full online double conversion machines, which means that it has two sections in it; a battery charger and a inverter.

For APC up to 2200VA has a 48V battery pack, however the 3000s and bigger use a 192V battery pack.
Eaton 9130s use a 72V or 96V battery pack depending if its a tower or rackmount model.

The rectifier operates full time producing DC, the inverter portion also operates full time, drawing power off the DC & producing a nice clean sinewave for the load. At the same time the battery charger is doing its job of keeping the batteries charged. The two portions work independently and the only connection is the DC bus which provides the load a rock-solid stable power source completely independent of the power line conditions. Just the thing that sensitive electronics need like mission-critical servers, or medical equipment.

If the power is lost the charger just drops offline leaving the inverter to just keep merrily making sinewave power until the batteries are discharged.

This means the inverter is designed and built to operate continually for years, decades even and don't have to be modified to keep from cooking itself.

So basically a SURTA UPS _IS_ a inverter/charger, just one with its own internal battery bank. The XL models are designed for charging/using really large external battery banks, the chargers are really slow though - only 3-6 amps. A SURTA is perfect, just the way it is, and a hell of a lot easier to find and cheaper than a "inverter/charger".
They also have to be reprogrammed so it knows there is an big external battery bank, the battery constant adjusted, and to make sure the float voltage is correct (they usually aren't).
If you dont reprogram it the UPS will just quit when it reaches what it thinks is the end of its runtime. You can also turn off the beep and a couple dozen other things, more on all this later.
I used a SU3000 that was built in 1999, this was a mistake because it turns out I couldn't adjust the float voltage via software - only the SUA series and newer will. I had to manually adjust the float voltage by changing out resistor R118 with a 100k trim pot. Taking the motherboard out, modifying it, and putting it back in was a colossal pain in the butt.
Here is a pic of the completed cabinet, it started out as a garage cabinet I got at Sams Club. There is a APC SU2200 Smart Ups sitting on top that I was originally going to use before I found the SU3000 on craigslist. Note the top air intakes and lower door exhausts. Even when sitting idle just floating the batteries the UPS generates a good bit of heat so constant airflow is required.
I wish I'd just gone ahead and bought a carbide tipped 4-3/4 hole saw for the 120mm holes, I dulled 3 Dewalt bimetal hole saws doing this.
I have two 120mm 55 CFM fans pushing air in and they're just barely adequate, if the UPS goes on battery power or doing heavy charging I have to open the cabinet. I did the in-top/out-bottom arrangement so the UPS and batteries are at the same temperature so the UPS will push the correct temperature-compensated float voltage.
The next thing I need to do is mount two more fans at the top of the door so they're blowing onto the UPS and tie them to the 24v fan that the UPS turns on when under load. I'll tape a bit of plastic on them so air doesnt escape back out through them but will flap up out of the way when they're on.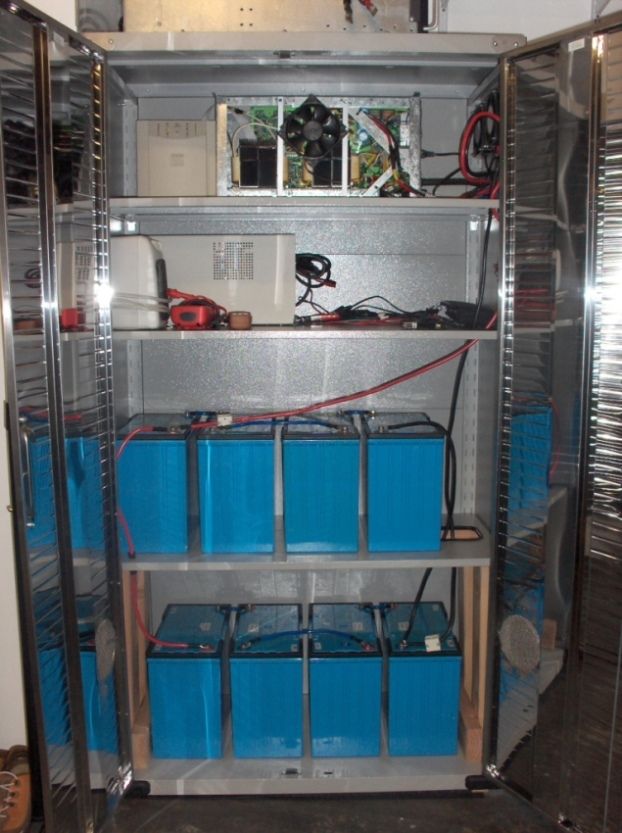 Here it is with the doors open, note the battery arrangement, its laid out in two 48v strings. If laid out in a 12v string it'd be 1080 amp-hours, as it is I have 270 amp hours @ 48v - same amount of power available just at a different voltage. Either way the bank will power a 1000 watt load for 13 hours continuously.
I tapped off the top strings positive and bottom strings negative so the bank stays balanced and each battery see the same amount of cable resistance. The cables are 6 AWG multi strand battery cable and have a 101 amp rating in "chassis wiring", which this is.
Each of those 135AH batteries are 96 pounds so the shelf had to be reinforced. You can't see it but there is also steel angle iron underneath the shelf. The cabinet bottom is also reinforced. It's shimmed up on the right because my garage floor isnt level.
The batteries are rated for 10 years at float service and/or 300 100% or 1300 30% discharge cycles. I think if I reduce the float voltage to 13.4 volts per battery and run a pulse desulphator I can extend that by quite a bit. The batts are already 2 years old and came out of a large datacenter so they should be well cared for.
You can't tell from the picture, but the cabinet is attached to the garage wall studs with two large lag screws and fender washers. 800 pounds of batteries and electronics would make a hell of a mess if tipped over in a earthquake. If the earthquake is big enough to collapse the garage thats a problem of a entirely different order.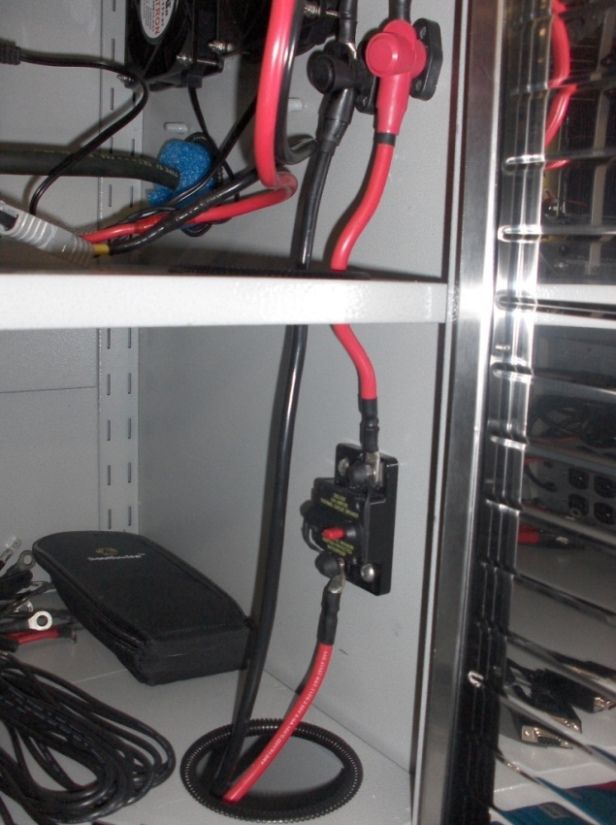 Here is a Blue Sea DC 48v 100 amp breaker/switch, it goes from the battery, through the breaker, to the power posts where the leads to the UPS is tapped off. The UPS is connected via 50A Anderson power connectors. Each battery string really should have it's own breaker, but at least one is absolutely mandatory.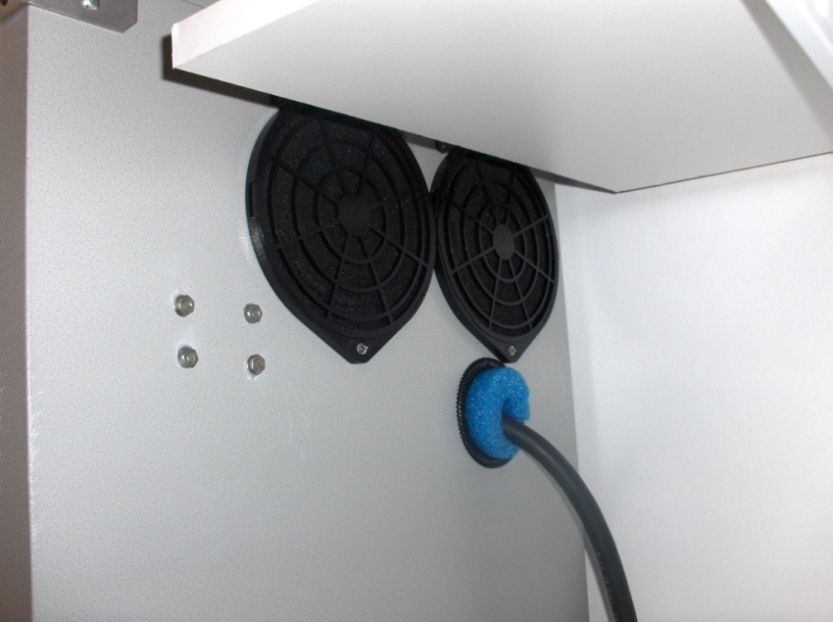 The air intakes, there are foam filters in the covers to keep out dust and garage bugs.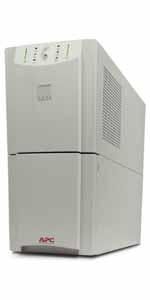 So this is what I started out with. (not my pic)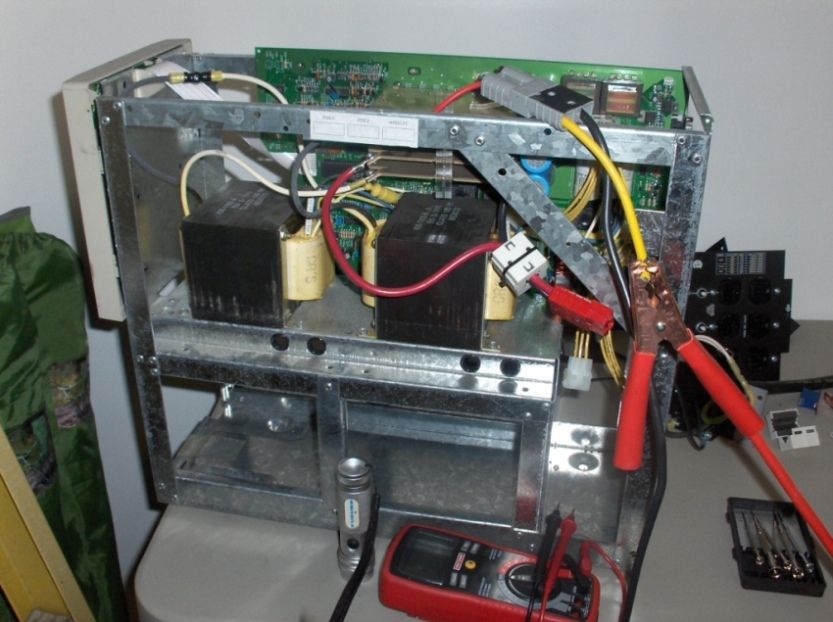 On the worktable.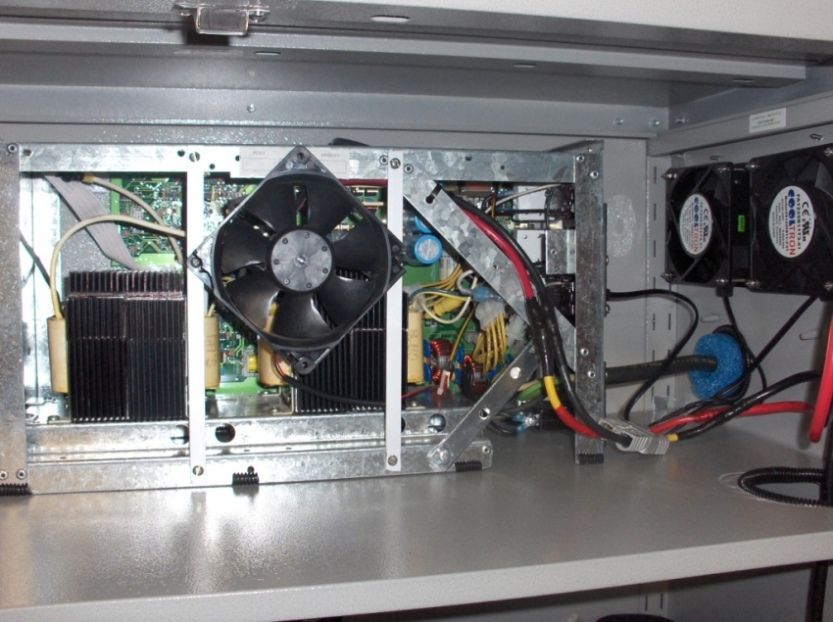 Chopped down end result, thermally the transformers are the weak link so I covered them with heatsinks attached via arctic silver thermal epoxy, in addition I put a layer of heatsink grease between the tranformers and the chassis so the chassis also acts like a heatsink.
Do yourself a favor and get heatsinks that fit without modification, using multiple heatsinks that I cut down from larger ones to fit was a pain in the butt. I also had to sand down the back of the heatsinks as they were definately concave and I wanted to get the closest fit and best thermal transfer I could.
The UPS fan is blowing directly on the inverter transistor heatsinks. Without heatsinks the transformers get (literally) blistering hot under an extended load. With the heatsinks and direct airflow they stay around 110 degrees F.
The cabinet fans are 120mm aluminum commercial 120v fans that are plugged into the UPS, they have a very long rated lifespan. There is foam around the power cord to force all the air down past the batteries.
With a 2000 watt load I measured a 86% efficiency, not as good as I'd hoped but not as bad as I'd feared, so all the above runtime estimates need to be derated by 14%.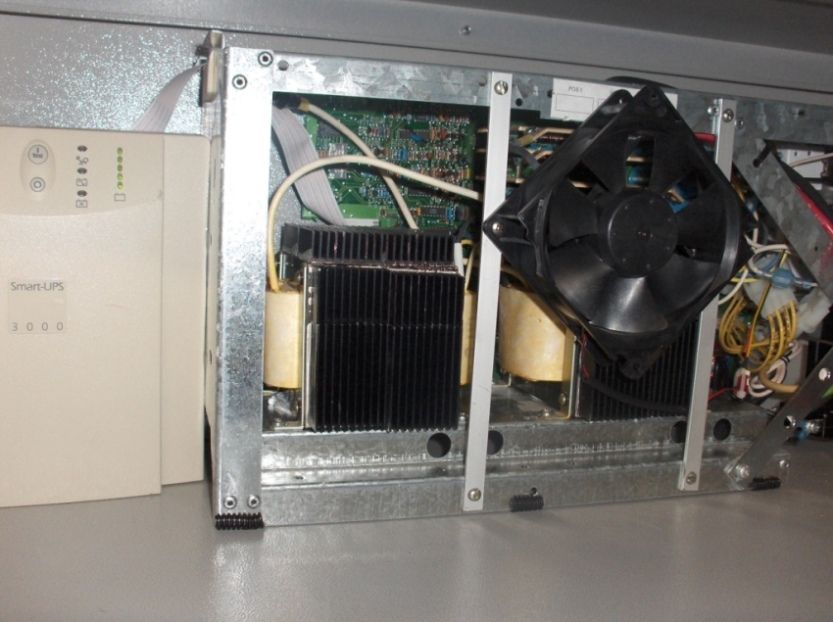 I took the front faceplate off and glued it sideways to make it easier to get to.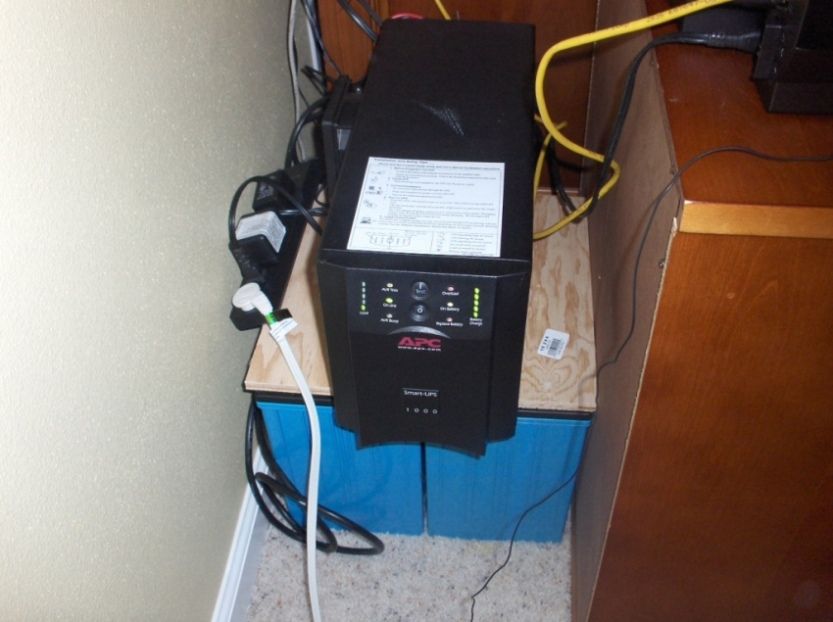 You dont have to do a huge battery bank, here is a SUA1000 thats attached to just two batteries, note the 120v fan I've attached to the side of the unit, this will run a 200 watt load for 15 hours, the batteries are attached via 45 amp anderson connectors.
There is another modified SUA1000 and a SUA750 in the house, I also added heatsinks to the transformers in these, however the transformers are much smaller in the SUA and newer series. The 1000's and 750's are 24v units, I think the 1500s are too but I havent modified one of those.
BTW, there is a 60 amp fuse between the two batteries that I reused from the original batteries, the plywood board the UPS is sitting an inch above the batteries, because I'm paranoid and I was worried about sparks the bottom is painted with a fireproofing paint, it's expensive so I didnt paint the top.
Charging, the UPS charger will only charge your bank at 2-10 amps (depending on model) thats not fast enough to top up your bank if you plug it into a generator so you'll need a separate battery charger, preferably something that'll charge it up in 6-8 hours maximum. For maximum battery life you'll need to charge no faster than C/8. You might want to google charging rates as its a big subject.
Eventually I want to put 2000 watts of solar on the roof and build a 600 watt thermoelectric generator for the wood stove to handle extended outages or a SHTF situation. For now though all I have is a 6000 watt contractor grade diesel generator and a 48v Iota 40 amp charger (that I REALLY dont like) and a whole lot of diesel and/or #2 fuel oil. I'd like to replace the Iota charger with a Midnite Solar 200 Lite charge controller and build a high power bridge rectifier with a pi filter to feed the charge controller directly from the generator.
PROGRAMMING
To get the best battery life and runtime you can the UPS has to be reprogrammed. The UPS has a internal protocol you can communicate with and modify to an extent. A good description and a list of the various things it in it is here:
http://www.apcupsd.com/manual/#apc-smart-protocol
" onclick="window.open(this.href);return false; .
You'll need a APC communication cable to talk to your UPS, it looks exactly like a standard serial cable but they've switched around the pinouts. You can also make your own if you google for the "how to". I just took one home from work
The first thing you need to do is make sure the battery constant is showing a good battery. The battery constant is what the UPS uses internally to calculate runtime, when a UPS (and battery) is new there is a set value, that value is changed as time goes by to show the degredation of the battery. The constant is particular to each model, most of them can be found here:
http://www.apcupsd.com/manual/#resettin ... y-constant
" onclick="window.open(this.href);return false; . My SU3000NET wasn't on the list so I corresponded with APC and got the correct value of 96, it was sitting at 86.
EDIT 11/22/14: If you set your battery constant to "FF" it will set your battery to "magic-super-duper-uber" battery and it'll give you the maximum possible runtime the machine can calculate per battery pack. Your calculated runtime will be wildly over-inflated but that's okay since the intent here is to prevent premature shutdown due to a bad calculated runtime. It'll still shut down when the battery voltage gets too low (~10.5V per battery) so you're not risking a over-discharge that'll damage your battery bank.
Changing the battery constant
Use hyperterminal (or telnet, or whatever) @ 2400 baud with 8-N-1 Xon/Xoff settings, under Advanced make sure FIFO is unchecked. There can not be any network cards in the UPS for this to work.
- Put the UPS in "Smart" mode by typing Shift-Y (capital Y) it should return "SM"
- Now put it in "Program" mode by typing "1", wait 2-3 secs and type "1" again. It should return "Prog"
NOTE:
It is very easy to turn your UPS into a nonresponsive brick if you type in the wrong thing while in Program mode, be careful.
- Enter a "0" (numeral 0) and the UPS reports the present value of the battery constant.
- If this value is not correct, press "+" or "-" until the correct value is returned IAW the linked list.
- "R" save your new value and exit program mode, it should come back with "Bye"
External battery bank count
- Put the Smart Program mode (Y, 1-1)
- ">"
- "+" or "-" to change the battery count, every additional 18AH at the system voltage is considered another battery. For example my 48v 270AH battery bank is considered 15 external batteries. Depending on your model you might not be able to go past 10 external batteries.
- "R" to save and exit
Float voltage
Google for your batteries correct float voltage, make sure you use the correct temperature, most float voltages are given at 25 degrees C, most peoples houses/garages are usually less than that. Gel, flooded, and AGM batteries will all work. AGM and especially Gel batteries are sensitive to overcharging. Flooded lead acid batteries require more maintenance (watering, periodic equalization).
What you're actually changing is the UPSs battery gain, you're making the UPS think the battery voltage is higher or lower than it actually is and it adjusts its float voltage accordingly.
The voltages the UPS will spit back are irrelevant, you need to have a decent digital voltmeter attached to the batteries.
Just .1 volt can make the dif between getting the maximum life out of your batteries or an early battery death. When adjusting, adjust it and then let it stabilize before further adjustments. It can take a LONG time for it to stabilize depending on the size of your bank.
- Smart Program mode (Y, 1-1)
- "B"
- "+" or "-" to adjust, anything other than + or - will drop it out of battery gain adjustment mode
- "R" to save and exit
Other useful commands:
"s" (lowercase) for sensitivity to line conditions
"k" (lowercase) "+"/"-"for alarm (0=5 sec delay, T=30 sec delay, L=Low battery only, N=No alarm)
"r" for calculated runtime
"t" system temperature, this is what it uses to calculate the temperature compensation.
"m" manufacture date
Hope this helps somebody, I can't take credit for any of the above, a lot of people have done all the intellectual heavy lifting prior to me, I just found it via Google. The big push for me to build this is that our wintertime power out here is terribly unstable and outages are common.
Now that I've got it built I'm going to tie it in full time to the fridge, garage freezer, and the furnace. I also want to put a "UPS only" oulet in 3 bedrooms, the living room, family room, and kitchen.
-------------------------------(Consolidated from further down the thread)-----------------------------------
Another note on heat management: At my 2000 watt load above the UPS/inverter is converting that at 86%, which means that 14% of the power drawn from the batteries is lost and that loss is expressed as heat in the components of the inverter.
If you do the numbers that means it's producing 280 watts of heat continously, thats a lot of heat to remove hour after hour.
Speaking of losses, there are considerable losses in putting power into a battery and getting it back out. For a typical flooded lead acid battery you lose from 10% to 40%.
When the batteries are discharged charging is fairly efficient with only 10% loss, but as you get near fully charged the internal resistance of the battery goes up and the losses can hit 40% until you hit the gassing voltage and then losses are 100% and you're breaking down the water in the electrolyte and causing corrosion on your lead plates. This is why precise control of your float voltages is so critical.
AGM batteries are a little bit more efficient, about 5% better across the state of charge spectrum.
A rule of thumb of 15% battery loss is commonly used for planning purposes.
So, when planning your charging sources you need to keep in mind all these cumulative losses. Using my setup as an example I'm losing 14% at the inverter, and 15% at the batteries for a total average loss of 29%, we'll round it to 30% because I'm also losing power to cable and connection resistance in my wiring.
So for every 1000 watt-hours I generate I'm only going to get 700 watt-hours back as usable power at the outlet. It's even less than that because the CHARGER has losses too. It sucks but the alternative of not having any power is worse. If its any consolation running a lightly loaded generator constantly is even LESS efficient (by a LOT).
That brings me to my next point I should have made in my above post: Cable and connection resistance.
Electrical resistance is opposition to the flow of electrons, think of it as friction that reduces both voltage and current. Copper cable has a certain amount of electrical resistance per foot, it's small but it's there and if you have lots of cabling it all adds up. Its why you should keep your cabling the same length on all battery strings and tap off the bank at opposite corners of the bank, so each battery "sees" the same voltage and one string doesnt get more power than the other (unbalanced). The exact same thing can happen within a string and is why you should tap off a battery string at opposite corners.
If the bank is unbalanced enough you can cook one string/battery and undercharge the other (and destroy through sulfation).
Thicker cable has less resistance than thinner cable. However as long as you keep things balanced and meet the minimum gauge cable needed by your power flow cable resistance can be ignored.
The real bugaboo is connection (and connector) resistance, its much much higher than the cabling itself. Each time you go from one continous piece of metal to another you introduce extra resistance and it REALLY adds up quick.
IMO the best connection for this is both mechanical and solder - a crimp that's been sweated, second best is a solder connection. I really dont like just crimp connections unless there is crimp grease or even Noalox or vaseline IN the connector before you crimp it. Crimp-only connections in damp, highly humid, or corrosive (like around a battery bank) environments tend to corrode and go high resistance, heat up, and eventually fail - they also have more resistance than a solder or solder/crimp join unless the crimp is perfectly executed (almost never).
So, to minimize losses solder the terminals onto your cable. Make sure your battery connection and cable terminals are absolutely clean & use a battery terminal grease at the connection to the battery, or you can use a product called Noalox that you can get at almost any hardware store. Like I said before even vaseline will work.
With my bank I used liberal amounts of Noalox and I torqued the terminals down good and snug - any excess grease will just squeeze out. At work we use a product we just call "spooge" thats a conductive grease. Noalox is mostly non conductive until you apply pressure to it, then the zinc particles align and touch and helps make the connection, and it keeps environmental air and contaminants away from the connection and inhibits corrosion. Its good stuff.
Making cables, one tip for soldering terminals to cable is to tightly wrap a strip of wet paper towel around the just the insulation. It'll act as a heatsink and help keep the solder from wicking up the cable strands and keep the insulation from melting/charring. Then put heatshrink on the end.
Use rosin core or flux (I prefer flux) and plenty of heat, you'll need a microtorch for cables of this diameter, a soldering gun just won't cut it. Bad solder joints are almost universally because the solderer didnt use enough heat.
Corrosive gasses from batteries, flooded lead-acid batteries release corrosive gasses when charging and especially while equalizing, in addition to heat management its another reason to have your cabinet air flow go first past your UPS/inverter and then down past your batteries before it's exhausted. AGM batteries dont gas like this and aren't a problem - unless you're badly overcharging them in which case you're going to need new batteries.
Battery bank sizing: Figure out your load and then how long you want to run it BEFORE you start buying components and batteries. In my case when I originally put the bank together w/ a Magnum inverter/charger I wanted to run my wifes power hungry dialysis machine (and a couple of lights) for two days without firing up the generator. My thoughts were that worse case was that the power was out and we were snowed/iced in and the either of the generators wouldn't start. I figured I could fix anything wrong within two days. Or put her in a hotel.
A bank thats only cycled to 50% depth of discharge will last much MUCH longer than one that is completely discharged and brought back up. Also, a battery that sits for any length of time in a deeply discharged state will start to convert the soft sulfate into a hard form that doesnt convert back when you charge it back up, which means you permanently lose battery capacity (ignoring desulfators for the moment). Battery care and feeding is a huge subject and kind of outside the scope of this thread.
Battery bank composition: The batteries in your bank should be the same age and model so they all have the same internal resistance at the same state of charge, otherwise you risk unbalancing your bank and overcharging some while undercharging others and potentially ruining all of them.
Sorry for the novel length lecture, things just kept occurring to me that I should have put in the original post.
Edited several times to consolidate and clean it up for posterity