Part 2
Soon after settling into our bed, Roxxors commented that she could not get warm. I was extremely warm myself. Soon after I pulled the wooby (GI poncho liner) out and we wrapped her up in that inside the 0 degree 2 person sleeping bag. I also told her to put on my wool watch cap since I was not using it and her hat was a big furry thing. She finally drifted off to sleep.
0245 (estimated time as I checked after this event) I awoke to the sound of my tent flapping in high winds. I could see out of the screen window that my rain-fly was not there. Winds were at "storm level". I rushed out of the bed and put on my headlamp, poncho and boots (with just my merino t-shirt and long underwear) to fix the rain-fly. With my headlamp I could see it was snowing and snow covered the ground around me.
The ground was so wet that the metal stakes I used to peg the fly down ripped right out of the soft dirt. Luckily, on the non-wind side of the tent my fly was still attached. I pulled it back over my tent and tried to secure it with the stakes set at a greater angle; this lasted about 5 minutes. What I should have done was set out guy-lines earlier but I just didn't do it. I went back into the tent and found the tent bag. Roxxors was a bit frightened and asked if I needed help. I told her to stay inside of the tent and hunker down. I pulled the orange guy-lines out and my neck knife Mora.
I did not want to set more stakes into the weak and loose earth and gravel on the one side of the tent the wind was hitting so I dragged over a huge wood and steel tubing picnic table that would hopefully diffuse some of the wind and I could secure the fly to with guy lines. I secured the other side with the better (grass) ground with metal stakes – which by now I was not trusting. I had also noticed that the metal stakes holding down the tent corners we up to and my large tent was askew. I squared it off and reset those stakes.
Thinking I was done with my work I looked about and saw the communal area Scurvy had worked hard on was destroyed. I saw that Reco's awning had disappeared – maybe he took it down earlier? I wanted to make rounds and check in with all but I felt doing so in my underwear and a headlamp right now would be weird. I decided to hunker down and wait it out.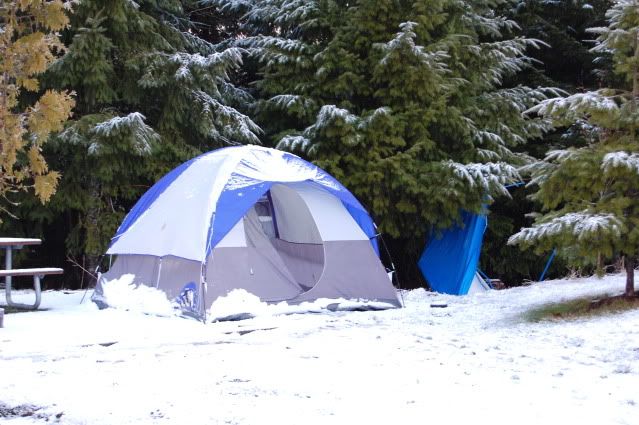 Reco's tent and where his EZ Up awning really was.
I sat back down in the "foray" of my tent and waited to see if things held. I lit a cigarette, wiped up water that got into the tent, took a visual accounting of the gear, and checked the time and weather info on my iPhone. I also reassured Roxxors everything was fine but, honestly, this was a 10 second by 10 second situation. I was not sure.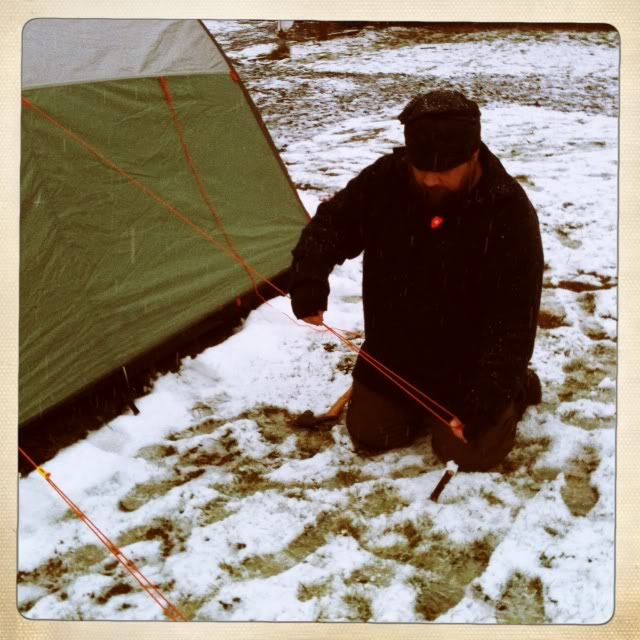 Next morning post windstorm securing guy-lines and restaking the whole mess.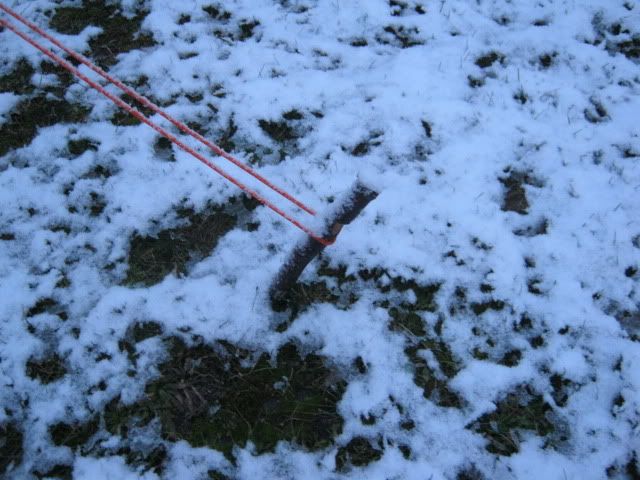 One of my new stakes made with my hunter's axe.
I finally crawled back into bed when Roxxors also let me know she figured out the reason she was so cold was because she was sick. I had just gotten over a cold, well, technically I still had a cold, and now it was on her. I did not sleep much the rest of the night.
Occasionally the wind would die and all you could hear was ice chips hitting the tent. Sometimes even that would stop. Then, you could hear a literal howl coming along the trees towards your tent. It was truly frightening, you felt the gust coming and could hear it and then your tent would "blorp" over 3-4 feet and shake for about a minute and it would stop – only to happen again in 10 minutes. Every noise sounded like my rainfly giving way again.
REI Kingdom 6 tent in some foul weather.
I laid there for the next 2 hours when Roxxors finally got up right before dawn. She had heard Scurvy stirring about. I could hear them outside the tent exclaiming about the damage and checking to see if Reco and his wife were OK. The weather was better in the morning, I laid in the bed for about another hour half in and half out of sleep. Roxxors made me coffee and brought it to me and I drank it while slowly getting dressed and geared up for what would be a recovery.
I was quite happy to see my tent faired very well after I had secured it properly. After some hot cereal of ground oats, quinoa, rice cereal and dehydrated strawberries and more coffee I talked to Reco and Scurvy and we were coming up with something. Scurvy had repaired the communal area as best he could and we recovered Reco's awning which flew off in the windstorm and landed about 20 yards down the way into the trees. I was to work on a fire again in the communal area when the Ranger showed up on her rounds and checked in on us.
Reco and Scurvy working on our wrecked communal area.
She said she was quite amazed to see we had made it through the night and we were in a 24 hour high wind and snow warning right now (until Sunday morning as a matter of fact). Also, no zombies had been sighted in over 24 hours so that was good news. She said that, since there was the foul weather warning that she would let us rent the "meeting hall" they had next to our area and she would let us sleep in it if we wanted to. We just need to keep one tent up (mine) and clean the place up. $75 for the rental fee.
Think of all the things we carry on us every day. Knife, pistol, cord, cool $150 keychain 9 in 1 tools, jet engine lighters… Guess what got us a kitchenette having, wood stove equipped and heated meeting hall? Roxxors debit card. Some tent site fees were refunded and that money went to Roxxors as she signed off on the meeting hall – renamed "The Mead Hall".
Let's look at some factors that went into the decision:
1) Roxxors was sick as was I.
2) Reco and his wife had a very compromised shelter.
3) We had people who had never gone camping in anything but "decent weather" was with us.
4) The weather was – rain/sun/snow/ice/rain/snow/sun/snow/rain/ice every 15 minutes for the rest of the weekend.
We were high-fiving over The Mead Hall.
By 9am we were moved into The Mead Hall and some of our other members were showing up for the day. They reported the roads were pretty clear now between us and Portland but there were still some zeds getting reported in the outer areas between us and the coast. It was education time.
I did a quick tutorial on simple batoning of wood with a small knife. I then did a demo on making char cloth. Others went on patrol to scout out our immediate area and look for any signs of anything, other than the environment, that would be dangerous to us. We also made a few candle lanterns out of cans to idle the time.
At supper we ended the night with grilled assortment of sausages and stone soup (mainly of pork, elk, and chorizo), some mead, some bourbon and a few beers. We turned in pretty early. We planned to play poker but we were all just too tired so we sat around one of the tables and enjoyed each other's company until it was time to turn in (about 9:30).
Stone Soup - pork country ribs, ground elk, all before the black-eye peas were added.
Lessons Learned (aka points reiterated):
1) Cold and wet is probably the worst common condition to be in. You could do worse but you need to go out of your way. I hate raining and 34 degrees. This is normal here in the winter.
2) My wool blanket shirt ROCKS.
3) Merino wool Rocks. Not only did I stay warm and dry but even my crotch stayed clean and "fresh" which usually does not happen.
4) Did some work with my leukku (big knife) and those things have some applications. The best use for it was in the kitchen as I was parting some solid pork country ribs with it. Thinner than some would like in their BFKs it was perfect for all the things I used it for and excelled at taking meat pieces apart for stew.
5) Have a plan B (and C-R)
6) I am getting better at making tent stakes. I turned 4 out in about a minute just using my axe.
Every hour switched between this
...and this: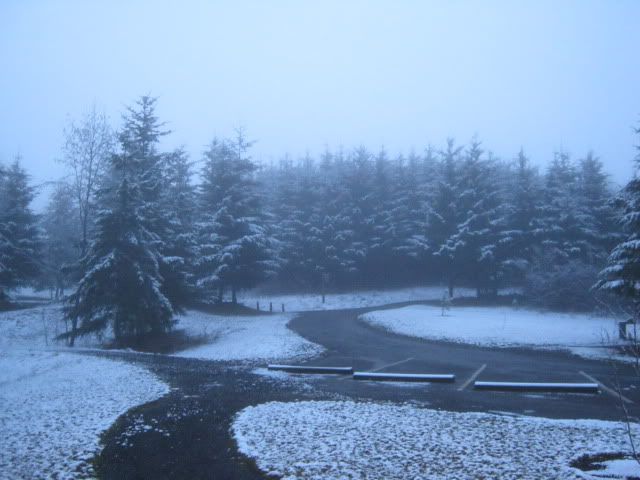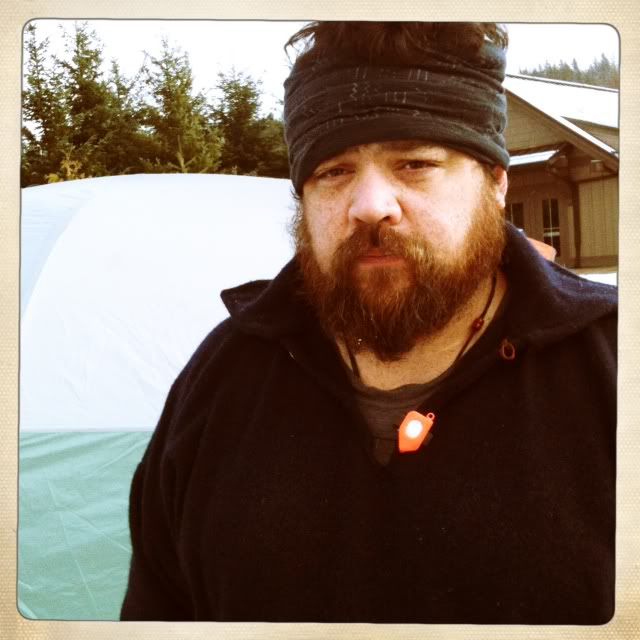 Satruday morning Ninja-Elbow - tired, disheveled, warm in wool blanket shirt and in need of some more coffee, pancakes, peanut butter and bacon.