A few years ago I ended up with a 2006 Scion xA as my daily driver for college. I've always loved playing in the dirt, so my little import with air dams and low-pro tires just wasn't cutting it for me anymore. Here's what it used to look like:
BEFORE:
The final straw for me was when I hopped onto a curb and broke a rim. I had to do something to make my car more capable... and I was surprised at how capable it turned out to be.
The first step was to remove all the low-hanging plastic crap with a pair of shop shears and a sawzall. Then I got some 205/60/15 tires on steel rims.
Here's a shot of the front valance, above a regular parking berm. The new tires gave me about an inch of lift, and I added coil spacers for another inch.
Other modifications include: semi-gutted interior, custom water fording snorkel, exhaust, 'tweaked' IAT sensor, K&N air filter, Antilock Brake Disable switch, roof rack, fog lights, driving lights, reverse flood light, air horn, dual-color military dome light, safety hood pins, external 12V power port, sideband-capable CB radio with a 200 watt amplifier, digital trunking radio scanner, onboard air with hose, tool kit, and extra supplies.
AFTER: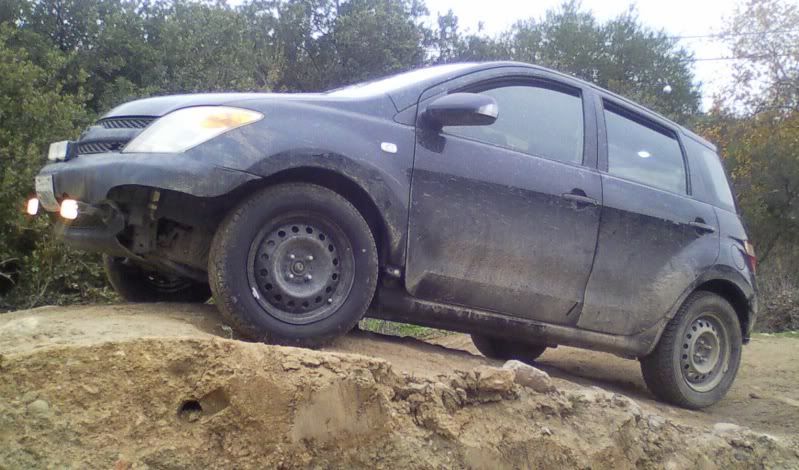 Future modifications planned, as soon as I can afford them
235/70/15 All Terrain Tires
38mm front and 50mm rear track spacers
2.5" aluminum front strut spacer
Front end subframe / engine cage and skidplate.