An Apocalyptic (Winter) Mock BugOut-Part III
I grabbed my BOB off the back of the 4 wheeler as fast as I could, they were only maybe 75-100 metres away and probably running towards me fast. I threw on the Bergen not bothering with the waist belt and sprinted SW towards A building as fast as I could go considering I was carrying 80lbs of rucksack, tacvest and shotgun.
It was a well placed roadblock/ambush, I was headed down what I thought was a rarely used snow covered back road home from the farm "community" I had been the past few days doing some "security consulting" work. They were a small group of survivors at a large mixed farm and they have been having increasing incidents of thefts with the last being more of a well coordinated raid which they miraculously managed to fend off.It didn't take long for the
thin veneer of civility
to come off society after that fateful July day when the nuclear exchanges started, to say we were in a "WROL" situation would be an understatement.
http://www.zombiehunters.org/forum/viewtopic.php?f=14&t=80601&start=288#p1816465
It was 1930ish when I turned onto Boyle Rd off Old River Road so as to cross the Welland river bridge when just before it three armed males dropped some type of log barricade in front of me. I'm assuming I surprised them possibly due to riding without lights. I spun around about 25m in front of them and took off from where I had come from, that's when they opened fire and I went about 50m more then the ATV engine began to sputter and lose power as obviously it had been hit so I steered it off road into a front yard of a house where the machine came to a halt. Yelling of "get em" and "lets go" from where the brigands were motivated me to get out of there.
Past the house and into a lightly wooded area I ran: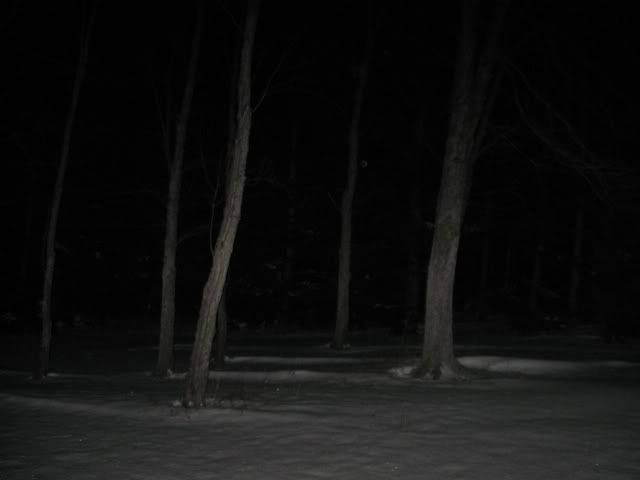 I kept going trying to put as much distance between them as I could, after about 500m I stopped and dropped to see if they were in pursuit but could barely hear anything other then my intense breathing and heart pounding, I felt like I was going to puke from that effort and the shock of it all. After a 5 minute listening halt it become evident that the brigands were not in pursuit, perhaps my ATV and some of my gear on it distracted them. F***, I had about 25lbs of beef on it for payment from the farmers
I knew where I was and how to get to my "home" but it was going to be quite a hike so I plotted a course and headed out, I went cross country for a while: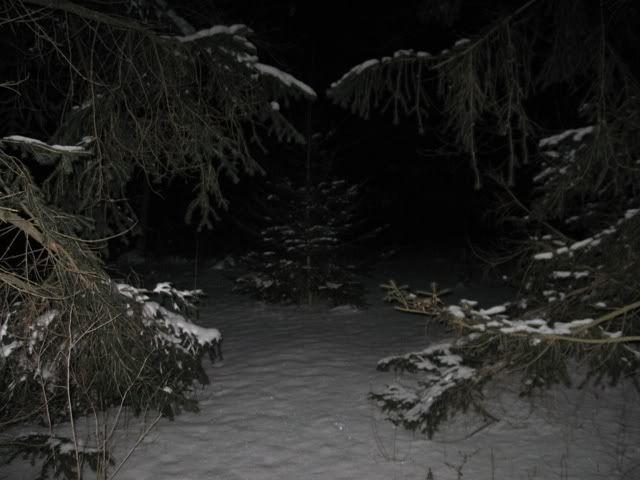 After about 3 Km's I was done for the night, my knee took a hit ditching the ATV and I didn't want to destroy it. I found a secluded copps of woods and dropped ruck in a nice tent sized clearing after "dog legging" it around into it so as to hopefully spot anyone following me: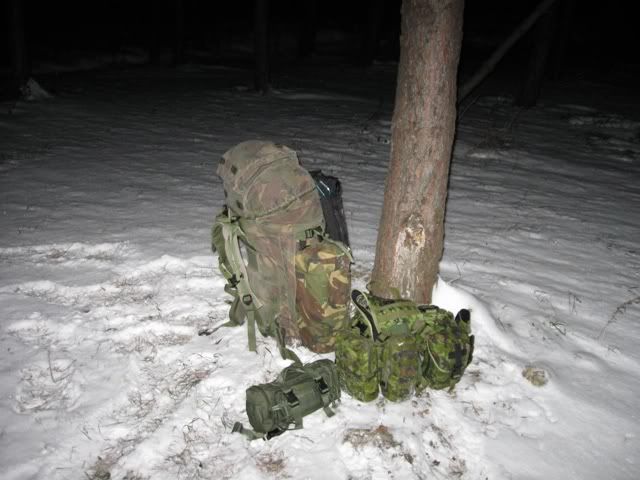 I had my "second tier" BOB with me which I carried on the ATV and it didn't have all my absolute best kit, the pack was a British Army (long back) Bergen in DPM: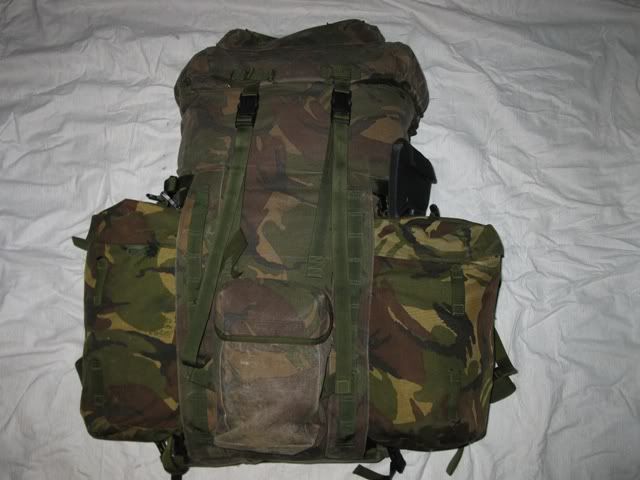 In it was sleep and shelter kit:
Starting top L going clockwise:
Snugpak SF sleep system, a light and medium sleeping bag that zips together (comfort -15 & extreme -20), Kifaru small stove, Kifaru Paratipi, Paratipi poles, tent pegs, 7 mil plastic groundsheet, Exped 9 DLX air mattress
Clothing kit: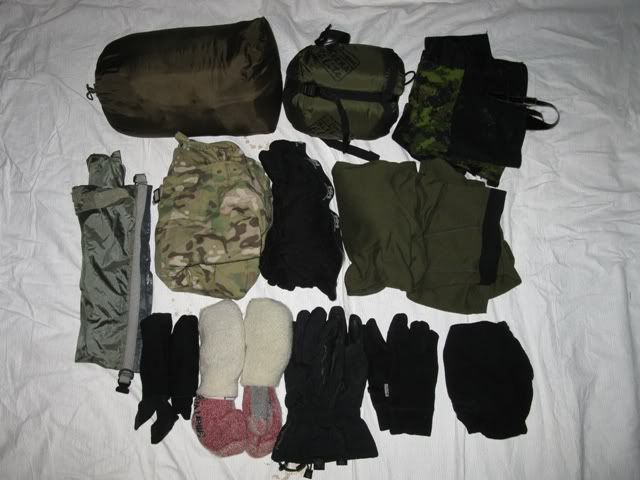 Starting top row going right: Snugpak Ebony "puffy coat" rated to -15, Snugpak "salopettes"-puffy bib pants, Outdoor Research CADPAT gaiters
2nd row: Dry bag, Multicam BDU pants, Thermal underwear bottoms, Thermal underwear top, Underwear
Bottom row: Liner socks, thick merino wool socks, Goretex glove shells, fleece glove lines, Balaclava
Food, cook and lighting kit:
Top row L to R: Swedish mess kit, 500ml fuel in nalgene bottle, candle lantern, neoprene lantern case, 3 x candles, Ravioli's and SPAM
2nd row: Canadian IMP's stripped with two days breakfast, lunch and supper meals in each bag.
Other gear: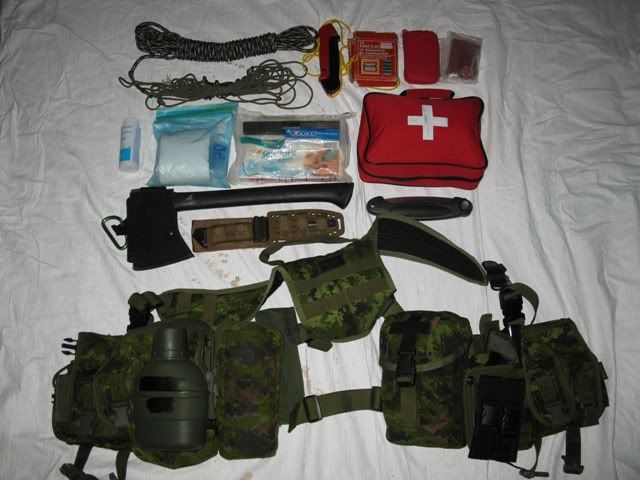 Top L to R: 25m cord & 25m paracord, ice rescue picks, handwarmer fuel rods, handwarmer, airmattress patch kit,
2nd row: Footpowder, TP & hand sanitizer, Toothbrush, paste & wipes, FAK,
3rd row: Gerber hatchet, Gerber LMF II Knife, Gerber folding saw
bottom: TT MAV rig, with thermal canteen and tactical FAK + other admin/ammo pouches
Quickly got the Paratipi up and set up the small stove and laid out my sleep gear:
Got busy collecting up wood for the small stove, went for standing dead wood and everything looked real dry:
Got everything inside and fired up the small stove: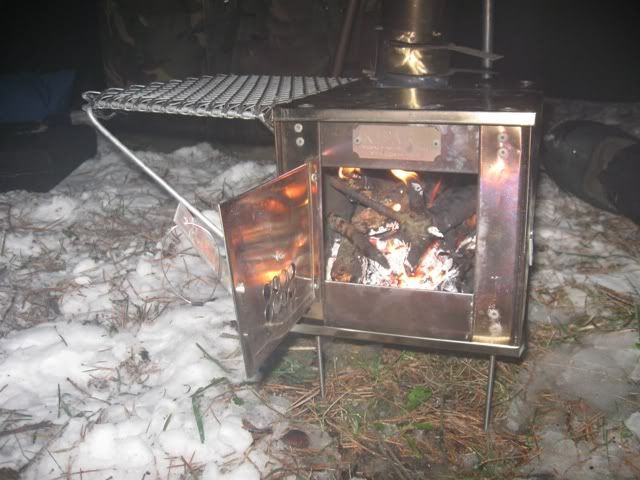 Once it got burning the Paratipi quickly warmed up, looks really nice burning in the dark tent (feels nice too compared to winter cold tenting!):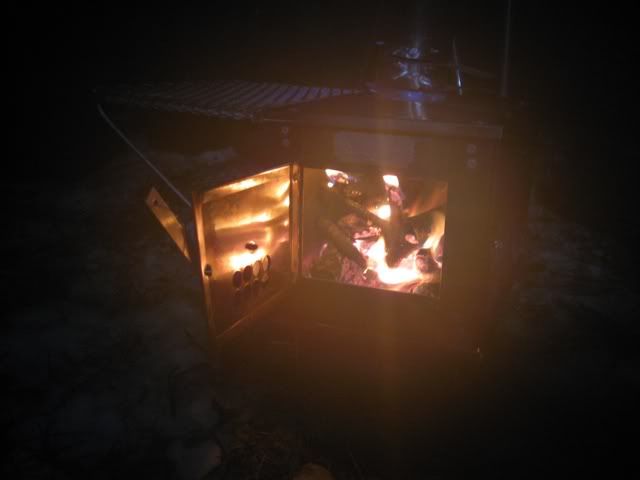 I had no water on me but plenty outside so once the stove was going I collected up snow and packed it hard into the Swedish mess kit pot and lid/bowl, it takes a fair bit of snow to get that pot filled up (13" of snow unpacked=1" water):
I heated up the IMP supper and Chef Boyardee Raviolis and made some hot drinks from the boiled down snow: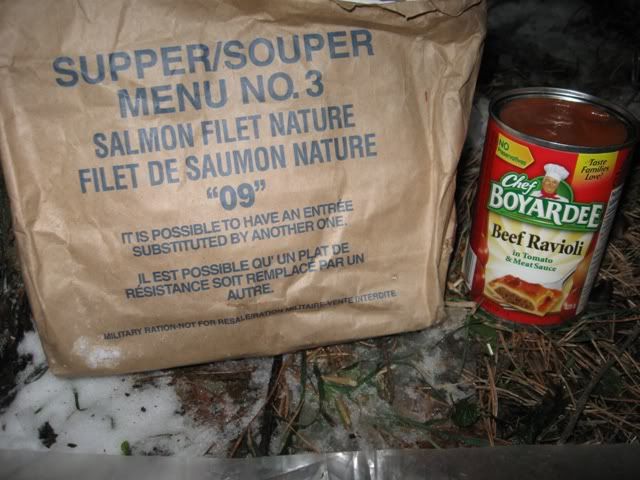 I had not heard anything like the sound of pursuing Brigands since pitching camp, I decided they had not chased me and went to sleep for the night. It was a noisy night between Coyotes and Owls. Between 0300 and 0400 to the east I did hear a strange noise but it stayed distant but did startle me awake and had me reaching for my Mossberg.
Morning came and first things first:
Unfortunately I was out of wood for the stove:
Inside of Paratipi:
Salsa and omellete
: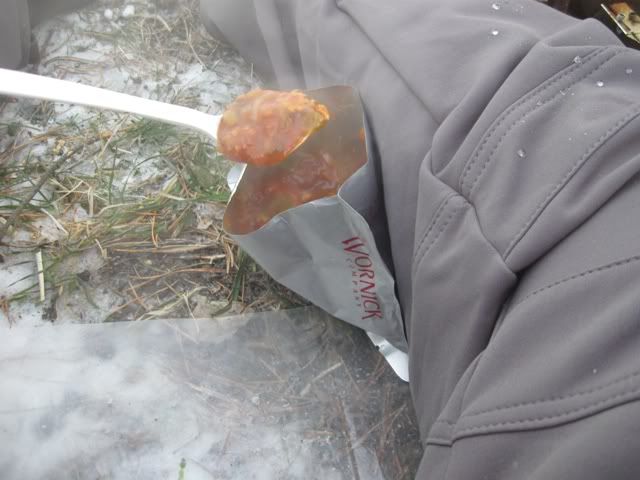 It was a nice sunny morning, hit -15 celcius (5 F) last night so a bit cold, everything was frost covered in the tent so I hung my sleeping bag on some pine boughs in the sun to dry. Even in extreme cold doing this will dry your bag out:
Mossber 590A1 SPX and I only have twenty "00" buck shells, in extreme cold weapons should be left outside as they will warm and "sweat" moisture in a heated shelter and then when you bring it out it will freeze up and probably not fire or malfunction. If bringing it in take it apart clean/dry it off and leave it in (not in and out) for the night if security threat is high:
I need water so I light up a fire and I'll have to melt more snow:
My "survival kit" is in a Snugpak Responce pack and goes with me everywhere:
Inside is your usual "survival" type kit including all my fire starting items: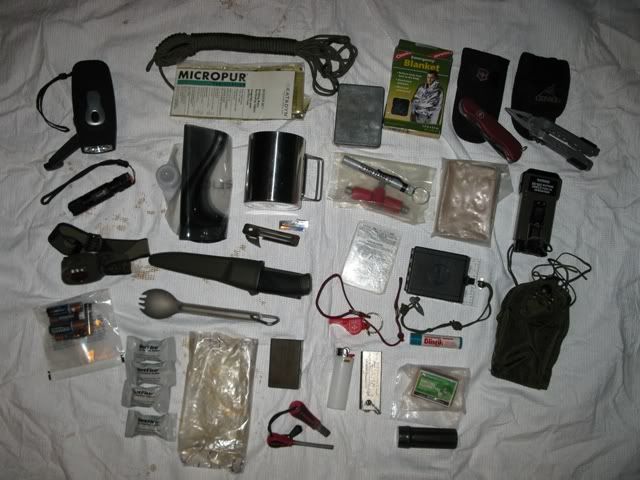 Using the Swedish Mess kit again: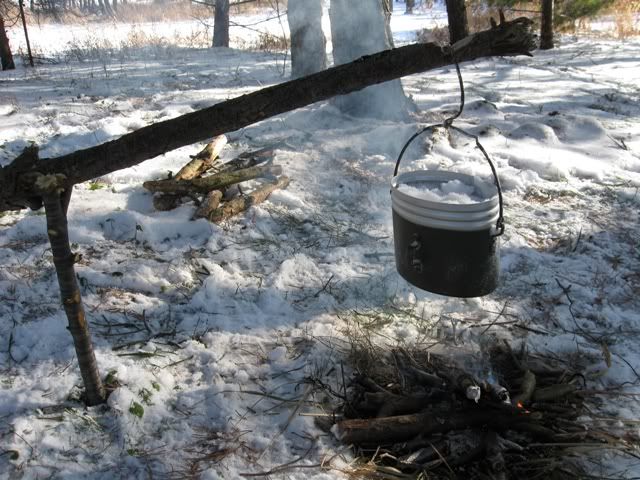 One last look at the Paratipi before taking it down:
Kit packed and ready to go:
I ruck up and head out having survived an encounter in the deteriorating security out there: