First off I'm going to stick in Woods Walkers excellent Mora soft grip review, I'll just put it at the top until i get round to have enough things to categorise. (Woods Walker, if your not happy with your review being featured just say and i'll remove it
)
Mora synthetic soft grip knives review.
I picked up a few Mora synthetic knives so going to toss out this initial impressions review. By soft grip I am referring to the handles which have a non slip feel. They are softer than the hard plastic or wood handles on their other models but not overly so. They all fit my larger hands well.
1. Bushcraft Triflex.
2. 746G.
3. 911.
4. 946.
5. Craftline Allaround stainless.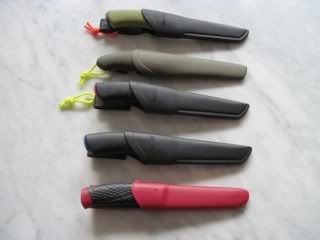 The sheaths are basic but seem to work. The 746G's sheath won't fit any belt I own but somehow feel it's made to snap/slide over a button or something?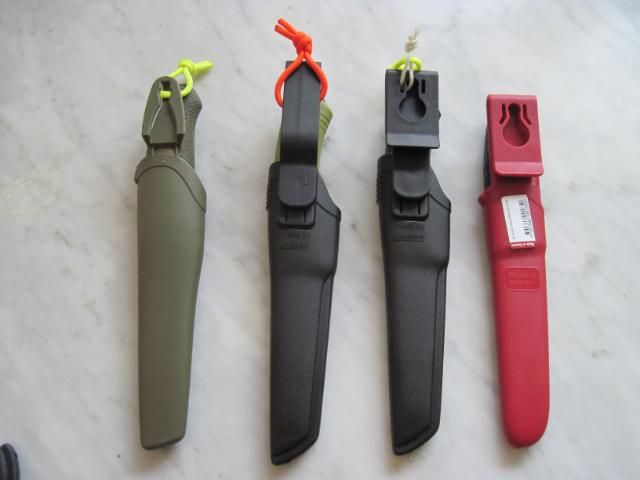 The blades on these are about 4 inches long give or take a little between models. The Triflex is a bit larger.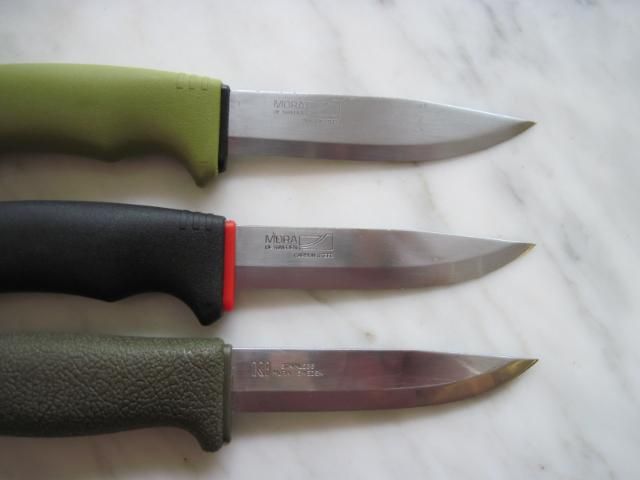 Mora has blades listed in Triflex carbon steel, carbon steel and stainless steel. This can be a bit confusing to some so will just copy what Ben's backwoods lists as a description.
Quote:
Triflex carbon steel is progressive tempered to give you a hard cutting edge and a softer spine for strength. I have found that the last 1 1/2" of the blade on the spine is hard enough to use as a firesteel scraper.
Quote:
4" CARBON STEEL BLADE .098" THICK ROCKWELL HARDNESS OF 59-60.
Quote:
SWEDISH SANDVIK STAINLESS 4" BLADE .098" THICK ROCKWELL HARDNESS OF 58.
What Mora steel is best? Hard to say. I guess it depends on your needs. I prefer Carbon steel even if it can stain or rust but will pack a stainless knife for fishing etc. My advice is to read up on the pros and cons to decide what works best for you. There is also a laminated carbon steel but haven't seen it on any synthetic Mora.
All the knives shown are within the 10-20 dollar range and this seems like a deal. The blades are thinner than some knives like this D2 Ka-bar.
On the flip side all of these knives are 1/3rd the weight of my Ka-Bar and for me this is a big pro. In reality most of the times I actually use a shorter blade in the woods. The larger knives tends to remain in the pack more.
Testing.
As stated this is an initial review. I never used the two knives being saved for gifts and only took the 746G on a few backpacking/camping/trout fishing trips. I won't know 100% about issues such as durability until they get some more field use. Moras have been made for a looong time and seem to get good press. All the knives came very sharp but found the Triflex to be the most finished example. None had issues cutting paper and popping hairs from the get go.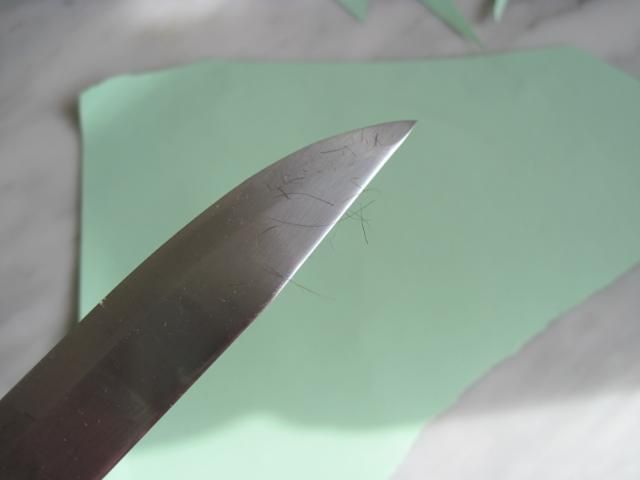 Batoning smaller wood was easily accomplished.
The blade also seemed to slice though wood nicely. Thinking the lack of a secondary bevel could have something to do with this but no expert.
Cut up my steak just fine too.
[img]http://i113.photobucket.com/albums/n220/Daytraderwon/IMG_0877.jpg
[/img]]
Stainless 746G doing some basic camp chores.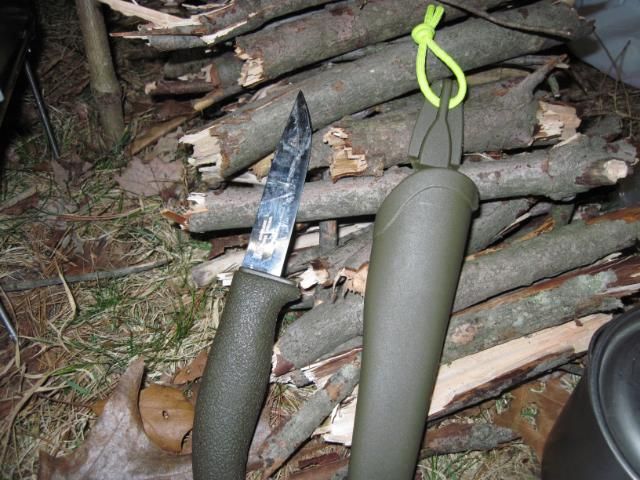 Sharpening a Mora knife:
I found them easy to sharpen. This link from ragweed has instructions for sharpening techniques. I purchased these knives from Ben's backwoods and ragweedforge. Going to give both dealers an A+.
http://www.ragweedforge.com/scanshrp.html
Conclusion: So far I like these knives and for the money don't think someone can go wrong. I am going to get an unpainted Birch laminated steel Mora next.
Hannibals Cold Steel GI Tanto review:
I ventured out to the local Army/Navy to peruse the latest pallet of ammo cans that showed up. Since the finger has healed up from the last bushcraft experiment using a cheap knife, I decided to check out the fixed blade case and see if anything had caught my fancy. Well one did..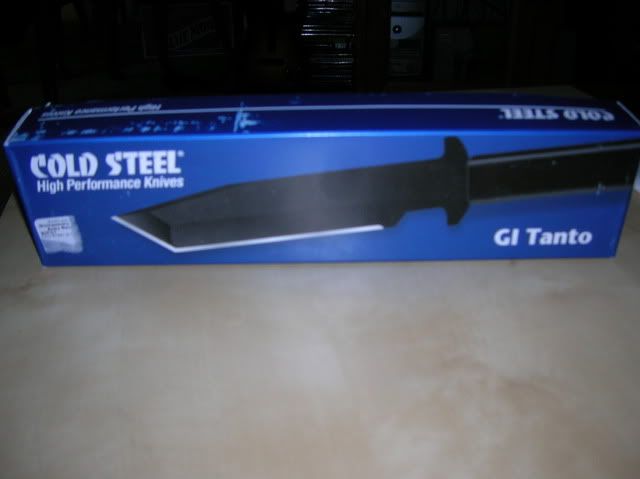 Name I trusted, style I liked, and the price was single digits because it was the last one and it had been sitting for a long time. Long enough to fade the box!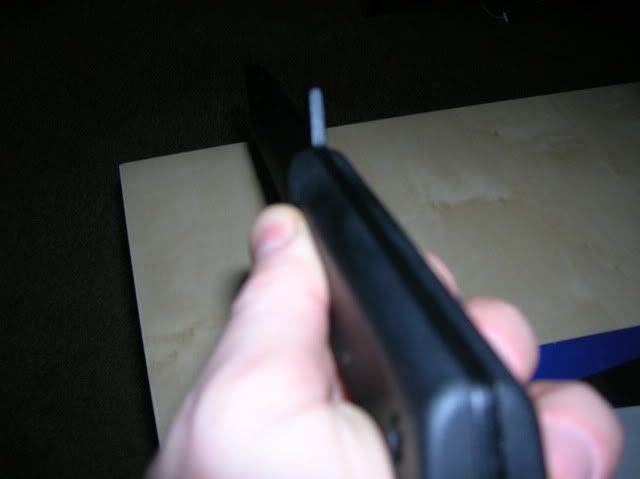 Yay for full tang goodness!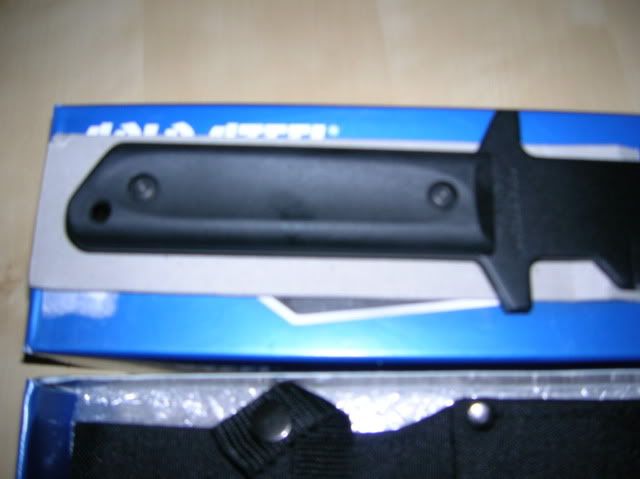 So unpacking the box and checking it out, the fit of the handle was loose.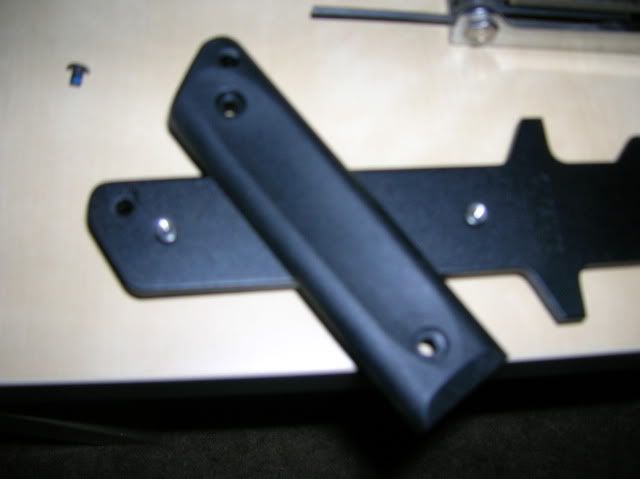 Nothing that a few turns with an allen wrench couldn't fix. Took the handle completely off to see if I could put a divot in it for a bow drill.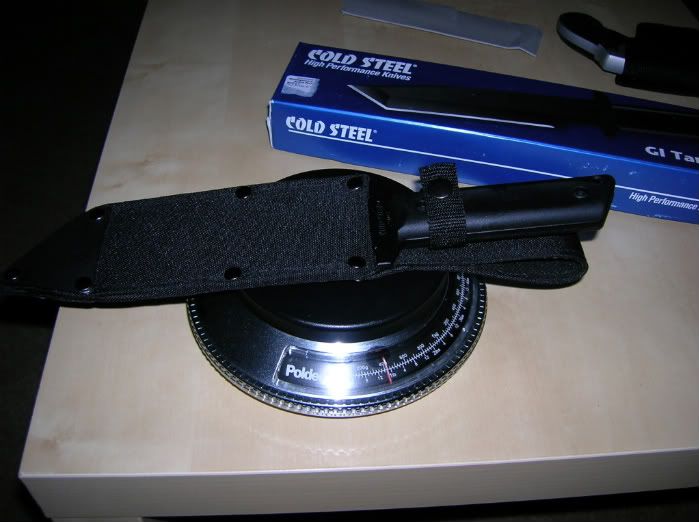 Weight with the sheath is just under 1lb.
A word on the sheath- awful! Single beltloop attachment point only. Single snap to hold the handle. While rivited well, trying to fit the blade INTO the sheath is very hard to do. It's catching on something near the inside bottom. Will be crafting my own nylon/kydex to replace asap.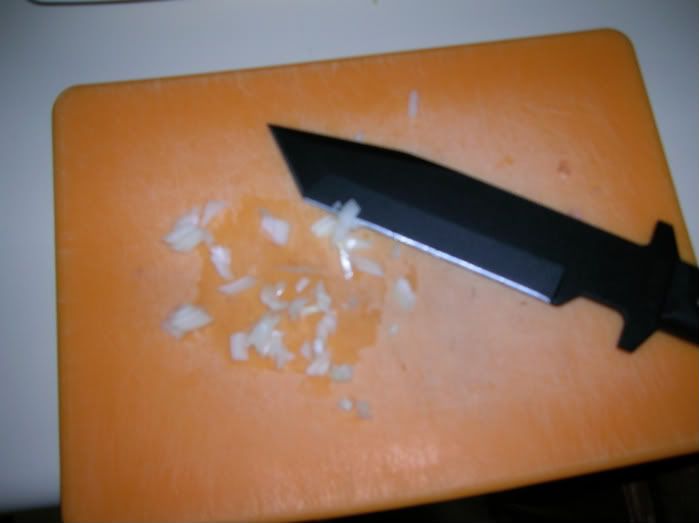 So decided to do some kitchen tests. It did onions well, and sliced bread quite thin.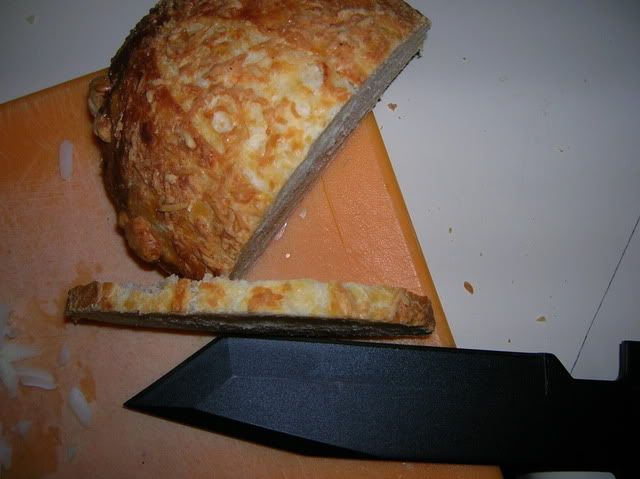 To sum up, it's going to be a good beater knife. I'm going to do a few modifications to it- putting the divot in the handle, bit of paracord wrapping etc. Light enough at 11oz to use for various tasks, but still has good heft to use as a small chopper.
JoeZilla's Cold Steel Bushman Bowie Review:
"Where can I get a good knife that I could buy for under $20?" Countless friends and relatives have often ask me this very same question in the past. To many, I reply the Mora, but more often then not, the Mora isn't the "style" that they are looking for. How about the age old question "I'm looking for a knife I can beat the snot out of, but that won't hurt my wallet." (despite your anti knife abuse pleadings you had with them) Let's face it, there are less than a handful of knives that come to mind when you factor in ruggedness and extreme thriftiness coupled with dependability. With some of the knives we purchase in a given year, one could feed a small village. It doesn't hurt to go the cheaper route. Sometimes you want a back up knife, or maybe a knife you can depend on, but aren't afraid to part with should your luggage get lost while traveling. The Cold Steel Bushman Bowie fits this criteria nicely. The knife is made of solid construction, is very easy to maintain, costs pennies, and looks cool!
Specifications:
Weight: 9.8 oz.
Blade Thickness: 3/32" (2.5mm)
Blade Length: 7"
Handle: Hollow
Steel: SK-5 High Carbon
Overall Length: 12 1/4"
Sheath: Cordura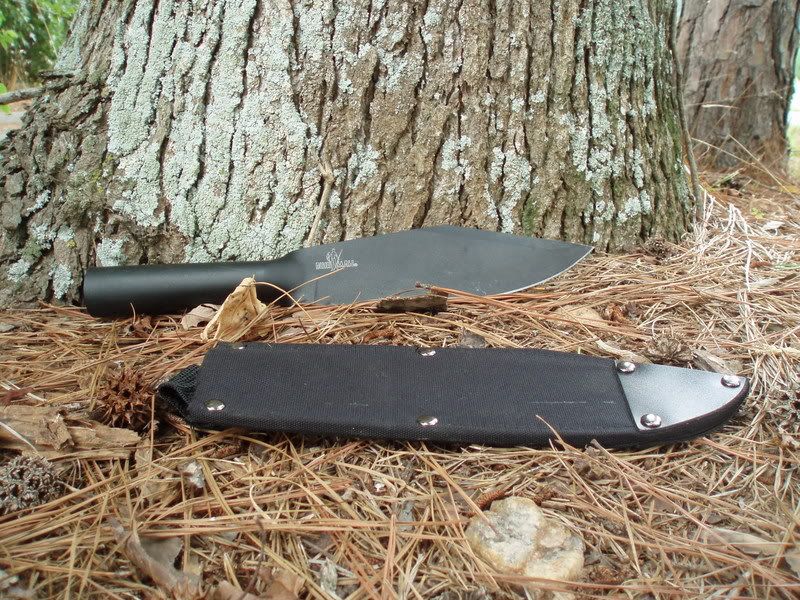 The knife boasts a heavy 9.8 ounces., due to the metal in the handle (think of it as almost twice that of a full tang, if sandwiched together). The blade thickness: 3/32", gives this knife plenty of flex, yet still performs as a lightweight chopper. I don't think this is too thin to baton, and I wouldn't doubt the Bowie Bushman for a second if used in this manner. I'll speak more of the thickness later. The blade length is about 7", the normal size for most "combat" knives. This utilitarian size together with the bowie style blade makes for an interesting outcome.
The knife was comparatively sharp when it came out of the box, and with few swipes on the ceramic rod, it was screaming scary sharp. The SK-5 High Carbon Steel edge was an ease to touch up and re-sharpen throughout the whole process, and took to scary sharp within seconds of touching any fine abrasive. This might be attributed to the rockwell of 54, a little on the lower end of the spectrum. Could one possibly pick up a river rock and hone the knife fast in a pinch? You betcha! This also make sense from a more primitive situation standpoint, where one might not have the greatest sharpening systems, belt sanders, or strops lying around. (such as in a third world village). Outside sources equate this steel to 1080 or 1095, two steels which, in my book, are first choices for use outside in a long term field situation. The knife even threw sparks for the fire steel, despite the coating! It was a little awkward as a striker at first, but with some less traditional holds, it got the job done well and threw sparks like a cheap Godzilla movie. The hardiness of this steel really showed its true colors in the throwing test I decided to perform.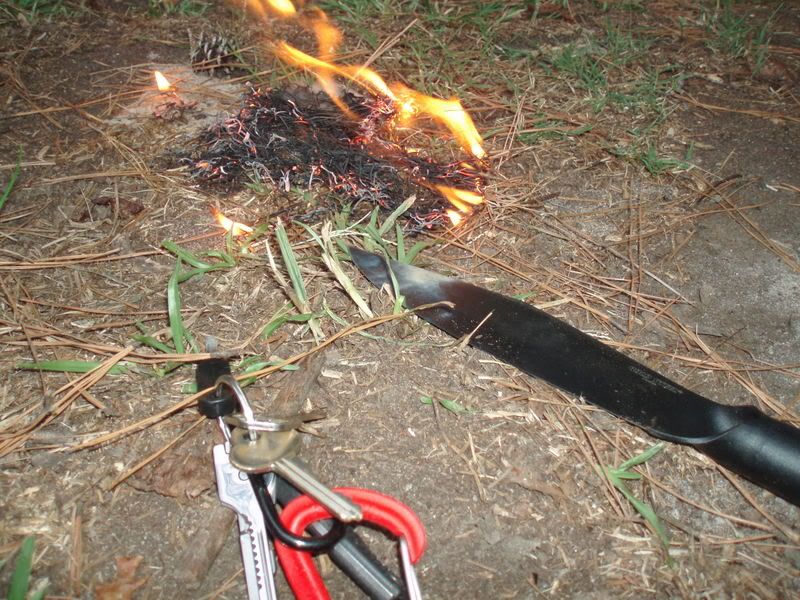 Throwing?
Now, I know as much as the next guy that you don't want to throw your main knife. The straight forward one piece construction and balance, coupled with the relative inexpensive price of this larger bushman knife might make it a good knife as a set to throw professionally in tournaments or recreationally for fun. It just so happens that I have a throwing range in my back yard. After working with it for a little bit, I thought it rotated a little clumsy. I feel though, that with a little bit of use I'm sure someone could make a set of these their primary throwers. I'm sticking to my dedicated flat handle set though. The rotation and throwing ability wasn't the real reason I was hocking this steel though, it was my interest in the heat treatment. I gave it the screaming sharp edge treatment before the test was performed. That low heat treatment made it easy to leave an impressive edge, and the chipping was minimal despite the blatant abuse. I was extremely impressed with the blade too. After repeated throws, the blade did not bend at all. It even slid back in the sheath effortlessly.
The sheath could use an upgrade, with single stitching on the sides that seemed to be loosely bound. The belt loop is just a piece of nylon webbing, and is not a tight weave. The end of the sheath sports a type of plastic triangle on each side, near the end. This does not wrap around, and looks to be the consistency of a plastic binder that one would find in grade school. Certainly not the nicely textured features or the rigidity of kydex. Additionally, the sheath would routinely dull the knife when pulled out. One could easily construct a more expedient sheath out of 2" PVC pipe heated in an oven.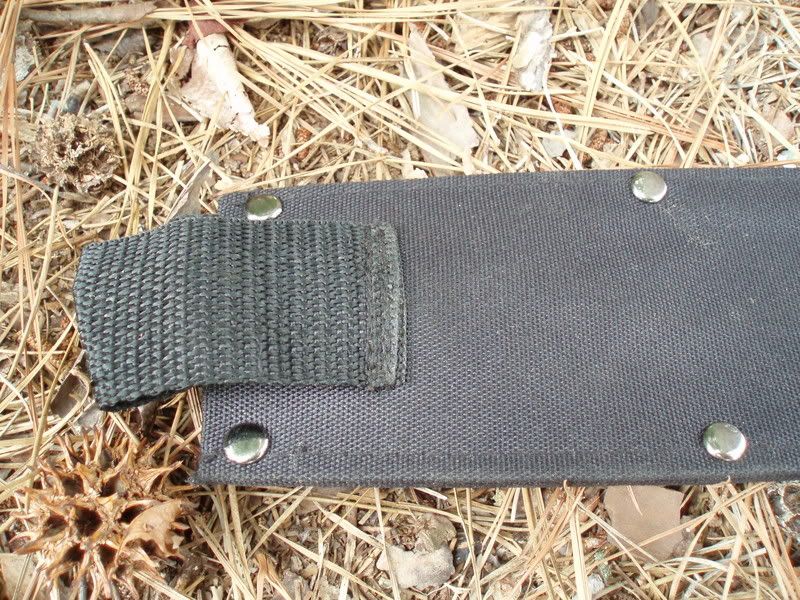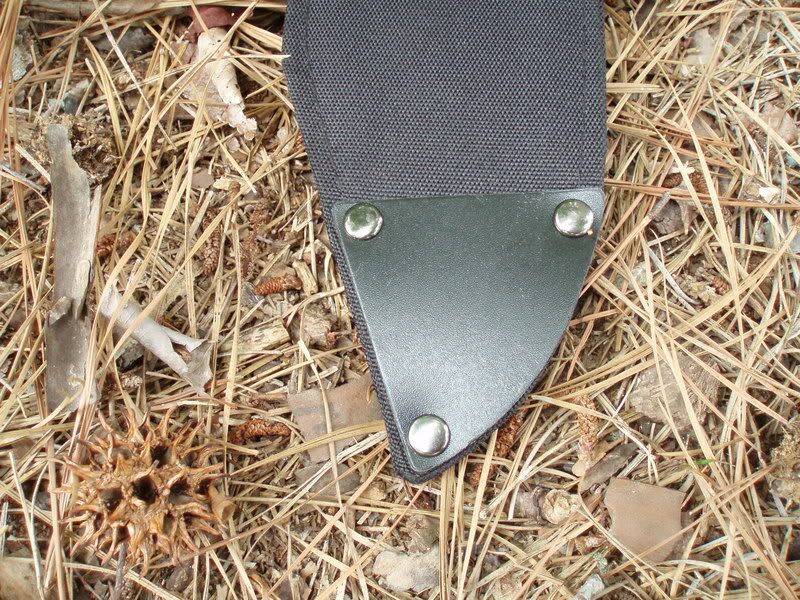 The handle was a novel tapering tube, the basis for the simplicity, style, and ergonomics that make up the bushman knife. One of the first things I noticed with this particular bushman was that there was no weld line where the tube sides were rolled together. I thought this was a nice touch, as it gave the illusion of one piece of solid steel. The coating over the seam was a nice touch and conformed to the hand without any distinctions. The handle proved itself with extended use over time. No blisters or wrist aching to speak of. The handle opening is about 1" at its widest point. This would easily accommodate a sapling or small ash shaft should you decide to take up joisting or something similar. More talk of that down below. The space inside could hold a wonderful small PSK and could be stuffed with all sorts of goodies. I easily put a small fishing kit and 100 feet of 50lb braided spiderwire in mine, coupled with a small Spyderco Ladybug. The knife is a little handle heavy, but as any tool would go, you would easily get used to it with use. At the point where the handle melds with the blade, there is a small swell that makes it comfortable to choke up on, right before the blade starts, for fine work. While my thumb didn't rub at all, I could see myself sanding it down later just for a better fit. Trap triggers were easily whittled. The heavier handle was interesting to hold near the end of the knife. When doing so, this made for a more formidable chopper, and I was able to take down a small oak tree with it. It worked well for smaller vines and stuff that got in my way, the lightness of the blade made me think of some of the thinner machetes out there. The flat blade worked well for pounding pegs into the ground.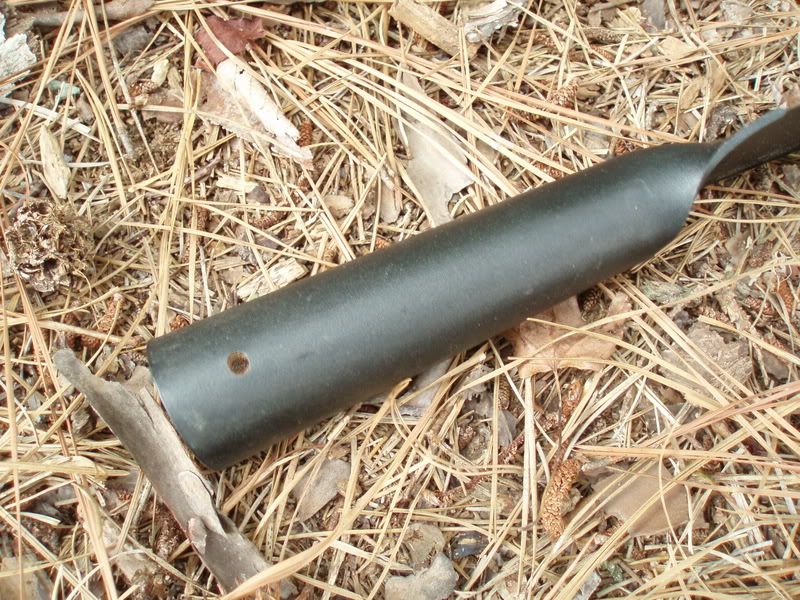 As a Spear?
Though most frown on mounting your knife to a shaft, one could easily do so with the bushman. The handle is round and about an inch at the widest diameter. One can easily affix the blade to a tapered sapling or staff to make an expedient field spear. Why would one want such a tool?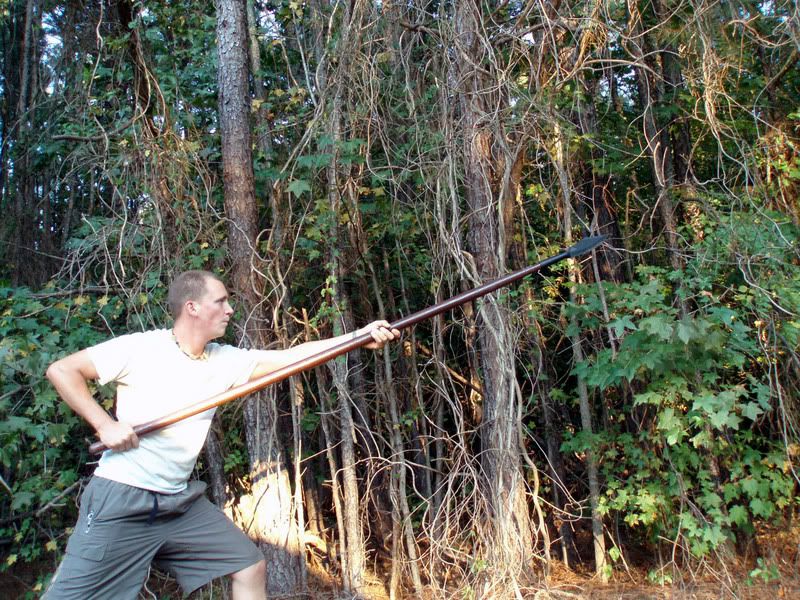 The obvious answer would be defense, or perhaps hunting. In defense, it would be a formidable weapon against bears, alligators, zombies, or other creatures you wouldn't want to get up close and personal with. If you were hunting such animals, this would also be the case.
However, there is another largely over looked benefit of having a sharp blade mounted on a long staff. Sometimes one may want to forage for items in hard to reach places. I was able to get to the top of my large fig tree, where the succulent figs had evaded the onslaught of deer and other foragers. With the knife affixed to the elongated handle, the user can easily trim off nuts and berries that they could not reach by hand. I easily cut a high branch to get to this young pine cone, which could have been heated later to extract pine nuts.
This knife has an appealing thinner blade. The blade is about 2.5 mm, and caused the handle to flex quite a bit when it stuck true in the target. An interesting note is that the blade never needed tamping true due to bending. The thin blade made it easier to choke up close to front. The knife also was not awkward as most 7" knives for use as a fillet knife. A trout was cut and gutted very easily with the knife. The tail of the trout had to be cut off due to an odd lump. In the kitchen, it sliced up apple, tomato, and watermelon quite well. This would also make a wonderful camp/canoe knife. How often do you have a knife big enough to cut watermelon yet small enough to cut a tomato?
As a fillet knife:
There is a reason these knives are shipped by the case to villagers in jungles and similar environments. This knife is a great cheap alternative to most expensive "go to" knives out there. This knife could be a main user, a great standby in the car or the kit, and would make a great first time knife for any person just getting their feet into modern bush walking. It might make a good gift for that nephew of yours who is prone to losing stuff, because this knife surely won't chop a chunk out of your wallet, but will still give you peace of mind knowing that you could depend on it.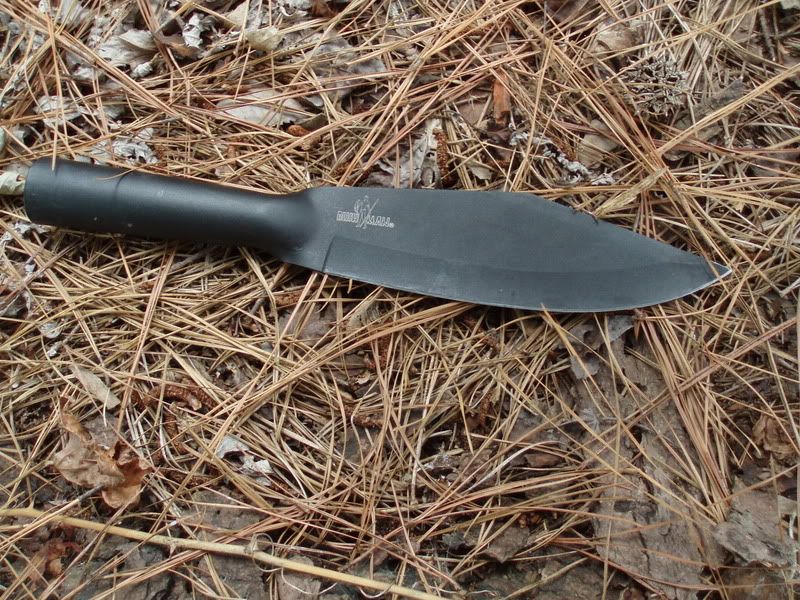 Dubbya's out of the box review of 3 knives out of his collection. He picked 3 different manufacturers and 3 different sizes for variety's sake.
The line up: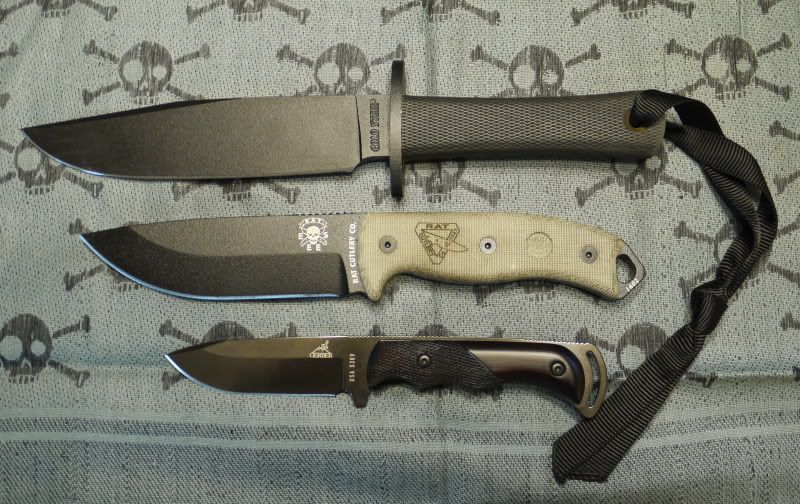 Cold Steel Recon Scout in CarbonV
RAT RC-5 ESEE in 1095
Gerber Freeman in S30V
All knives were made in the USA and full tang. Note: The Recon Scout in CarbonV is no longer manufactured in the USA.
Recon Scout.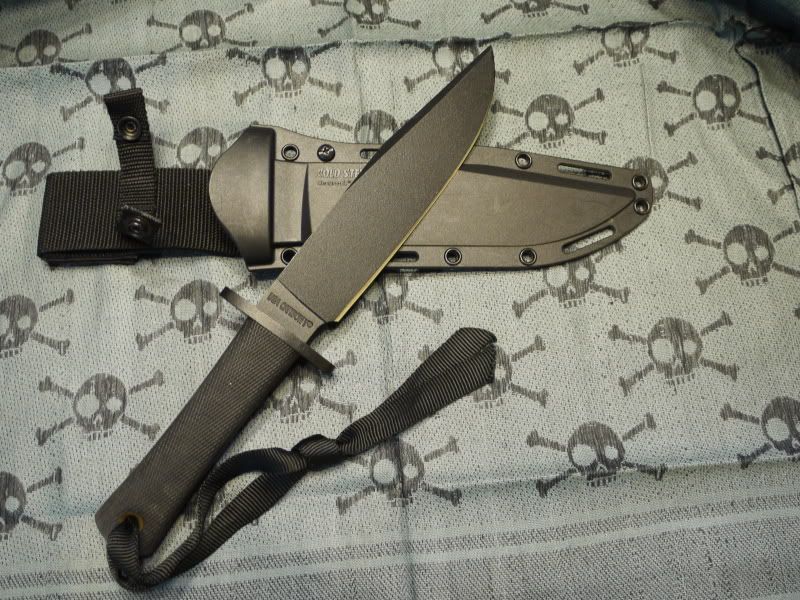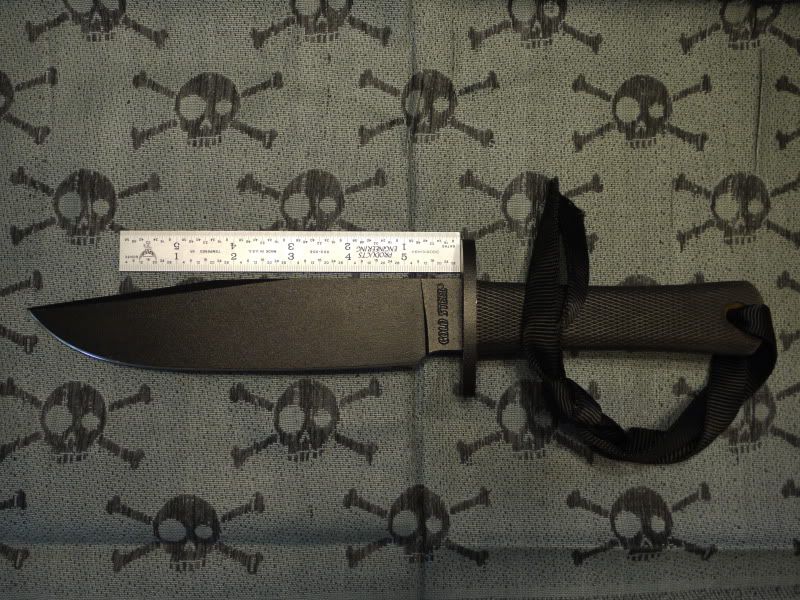 Overall this is a big knife capable of some serious work, but not so big that it is single purposed. Total blade length is 7 1/2" coated in black teflon and 5/16 thick, handle is 5" of Kraton and the sheath is Kydex with a nylon belt loop. Weight with sheath is 1lb 3.7oz.
Out of the box the knife is very comfortable in the hand. It is well balanced and the Kraton handle feels great and the grip is sure. The factory edge on the knife leaves some room for improvement when compaired to the 2 following knives. The Secure-EX Kydex sheath is the least favorite of the bunch. It is loud, difficult to engage and re-engage the knive due to the floppy nylon belt loop. Perhaps a leg strap would help with this. The hilt on the Scout is a little primitive looking, but gives me the peace of mind to know my hand will not slip onto the blade during use. The deal breaker with this knife is in Texas this knife cannot be legally carried around due to the 7 1/2" long blade. This places the knife into the illegal weapon catagory.
Final thought on the Scout. Big workhorse knife, bargain basement looks, good quality for the $$, and no regrets with the purchase.
RAT RC-5 ESEE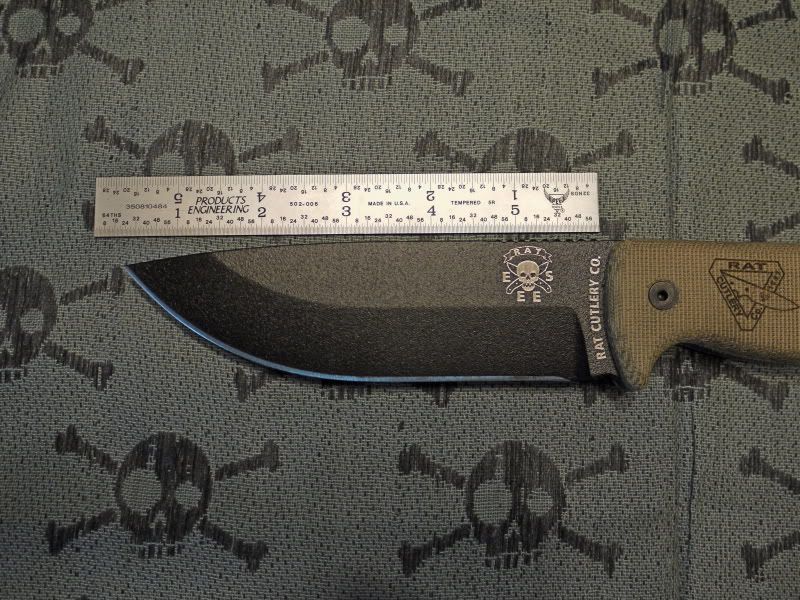 While this knife is not as large as the Recon this is still a fairly large blade, but again not so big that it is single purposed. Total blade length is 5 1/4" coated in black powder coat and 1/4 thick, handle is green canvas Micarta and the sheath is Kydex with a metal belt loop and positive retention system. Some noteable features on the knife are a glass breaker on the butt, a bow drill divot, and thumb grippers on the spine. Total weight with sheath is a staggering 1lb 4.2oz. :O
The RC-5 is not as comfortable out of the box as the Recon. The knife feels well balanced, but huge in the hand. My thought is that a situation where needing to use the knife for extented period of time would quickly tire the hand. The Micarta handle feels bulkly but robust and the grip is sure. The factory edge on the knife is super sharp with little room for improvement. The Kydex sheath is the second least favorite of the bunch. Again it is loud, however disengages and re-engages easily due to the metal belt loop. The locking system on the sheath is a very nice feature. When in the locked position the knife will not come out of the sheath. Down side, the locking system will come loose after use and is subject to loss. Unlike the Recon, in Texas this knife is legal to carry.
Final thought on the RC-5. Another big workhorse knife, middle of the road looks, bomb proof quality for the $$, and no regrets with the purchase.
Gerber Freeman.
This is significantly smaller, but not so small that it is only good for cleaning finger nails. Total blade length is 3 1/2" coated in Tungsten Carbide and 1/8 thick, handle is a beautiful checkered cocobolo and the sheath is leather with a belt loop. This knive weighed in at a carrying pleasing 7.3oz with the sheath.
Out of the box the knive is very comfortable in the hand due to the contoured grip. It is well balanced and the cocobolo handle feels rich and the grip is sure. The factory edge on the knife leaves almost no room for improvement when compaired to the 2 other knives. The leather sheath is favorite of the bunch. It is quiet, expertly crafted and hansomely colored. Again there is no hilt on the Freeman as with the RC-5. The deal breaker with this knife is the shear good looks. I simply do not want to use this knife! This places the knive into the legal to carry but collection status.
Final thought on the Freeman. Medium size knife with tons of potential, top notch looks, great quality but high on the $$. The only regret I have is that I cannot bring myself to use this knife.
Ninja-elbows Ahti leuku review
I went to Ragnar's Ragweed Forge site and ordered myself an Ahti Leuko 7" knife. Ahti is a Finnish company and "leuko" is Finnish for "big f-in knife" I think Traditionally you got pukkos and leukos. Puukko is the smaller one.
http://www.ragweedforge.com/AhtiCatalog.html
<< to Ragnar's Ahti knife page.
First of all, a note about Ragnar's service:
Ragnar rules. His prices are normal, he carries a ton of scandi style knives, he knows what he's talking about and his delivery is superb. I'm actually not sure how he gets the postal service to be quicker for him. I ordered 3 items (leuko, 2x Mora items) last Friday night. I got e-mail conformation Saturday morning that my card went through and my items were put in the mail. I got my knives on Monday. This was from New York state to me here in Portland, Oregon. Wow! ... and for $6 shipping. All shipping is $6 regardless of order size. I have a new thing to be loyal to.
Here is what I now have:
It is now living on my pistol/adventure belt right next to my Helle Leif Ericsson 2000 year commemorative knife I got in 1999 and still use.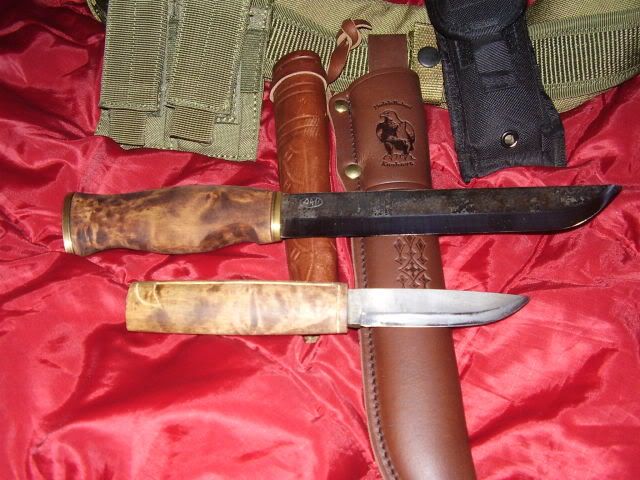 High carbon blade, just like the smaller puukko from Helle. 7" long, 1.5" wide and .125 thick. Leather sheath that has a loop for up to 2.25" belt. Was a bit worried about the thickness originally and not sure if I'd take to the "unfinished" look of the blade (black scale on it). It is scandi grind.
ETA sorry, not a laminated blade but rates a 59 on rockwell. From Ahti:
Quote:
All of the traditional knives have carbon steel blades (.8%C) hardened to about 59 on the Rockwell scale. The handles are stained birch and sanded to a medium finish for improved grip.
Blade thickness comparison:
On the left my puukko - on the right my leuko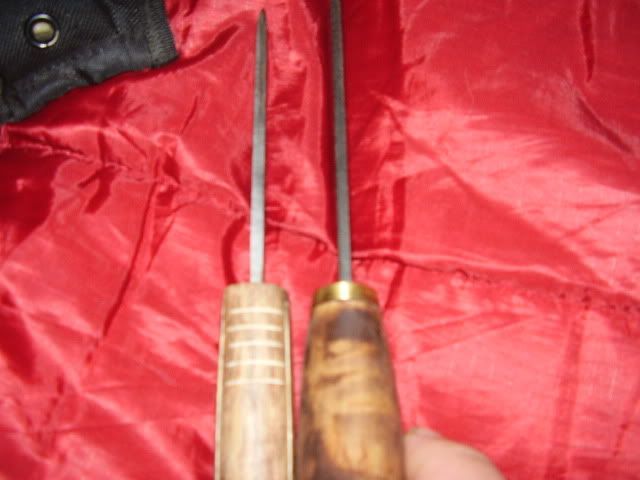 The pukko is a tad thicker than the leukko. After doing some bush cutting I learned that this was kind of an advantage though, at least for me.
Saturday, went out with some of the Oregon ZS Chapter boys for some shooting. Took my knife (and new viking axe) with.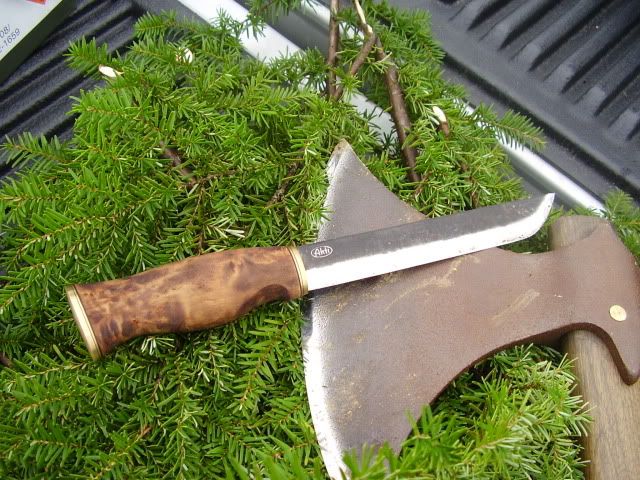 Above are some boughs I hacked off with the leuko. First off, the knife is suprisingly light (as I am used to machetes and axe/hatchet use) which allowed precision and controlled hacking. Most of the boughs were cut off with one swipe. About 2 took 2 swipes. I was quite suprised. In the following picture you can see I was cutting at about a 45 degree angle and the cuts are clean. I'd grab a bough to steady it and hack lightly and they'd comee right off. Shaving the green off to make sticks was easy too.
Here is a pic of a cut detail, the branch about as thick as a finger:
mtnfolk mikes review on the TOPS SHANGO.. designed by Joezilla (a.k.a. Joe Flowers)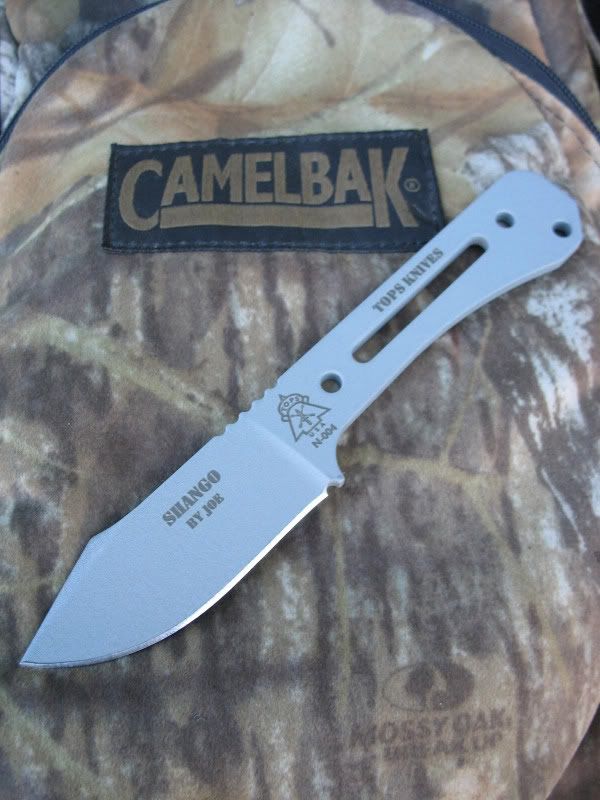 here are some specs as per TOPS site...
O/A Length: 6 1/2"
Bladen Length: 2 3/4"
Thickness: 5/32"
Steel: 440C RC 58-60 Cryo Treated
Handle: Skeleton
Blade Color: Tactical Gray
Sheath: Kydex
Weight: .15lb
out of the box, the knife was surprisingly sharp... despite having TOPS thick grind, it cuts fuzz sticks with no problem what so ever...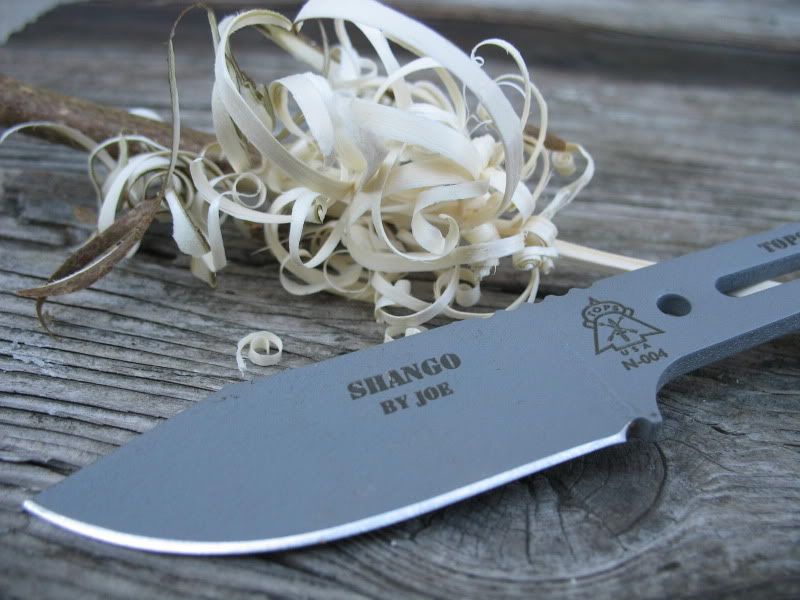 i have been carrying and using this knife just about everyday since i got it... it has done just about everything an EDC/neck knife is meant to do... after i had recieved it, i carried this knife the whole time during a 5 day camping trip and 3-d archery shoot.. it was the go to knife for me... the size and shape of the knife are very versatile and user friendly...
the SHANGO has been used for a lot of kitchen prep work and is continuing to do so, the nice wide bellied blade is suited perfectly for the job... to the blade would also make a nice skinner as well.. the hump along the spine allows you to easliy choke up on the blade if needed..
yummy... teriyaki skirt steak...
the SHANGO comes with a very well made fold over kydex sheath, i was really impressed with it, when i first opened the box.. it even has a thumb ramp along the back, so the knife can be pulled out easlily..
TOPS also includes some really cool little gadgets with the SHANGO... a pocket sharpener, a loud whistle and a cool magnesium/ferro rod combo..
one of my favorite features of this knife, is the small scraper at thebase of the blade... it is designed to be used for for scarping the magnesium and then striking it with the ferro rod... Joe makes it look really easy in his video, but it does take a few tries to get used to it and get going.. i finally did after the 4th or 6th try...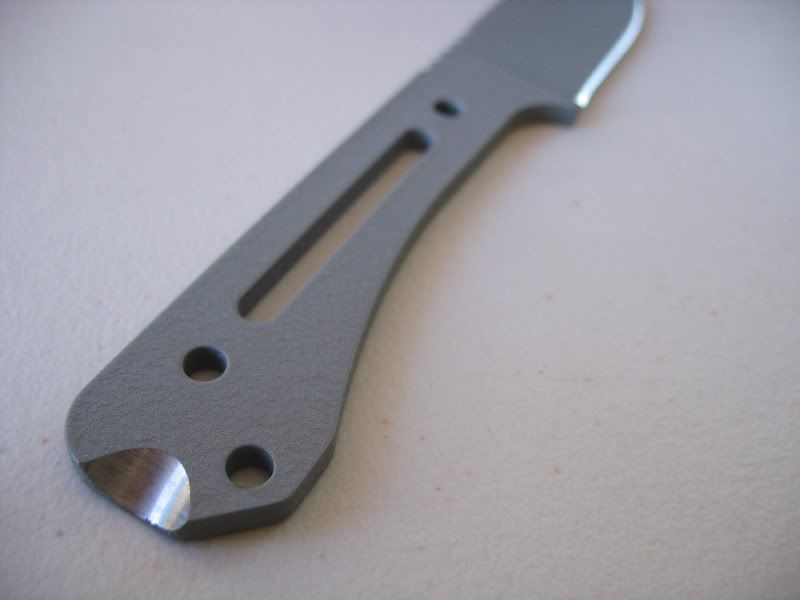 all in all i think this is a very cool knife and a really well thought out design.. nice job once again and congrats to JOezilla... if your looking for a new neck knife and or EDC fixed blade, give the TOPS SHANGO a try... it is a lot of blade for such a small package...
AlphaMMA's Gerber LMFII Asek survival knife
Manufacturer Link
$68.98 SHIPPED from LA Police Gear. Click [ Here ] to purchase.
Midsouth Shooter Supply- $67.86 USD (+ Shipping)
KnifeCenter.com- $119.95 USD (+ Shipping)
CopsPlus- $77.66
Don't be fooled by other sites trying to sell you the knife itsself for a cheap price. What you want is the Gerber ASEK LMFII Survival System, which includes the knife, sheath, and safety belt cutter.
Instructions:
I like documentation. Out of the box it came with two sets of instructions, but perhaps LAPoliceGear just slipped in two sets for me. The instructions came in the form of a 8x5" piece of paper printed in Black and White. Scan up in the morning. Gerber's instructions claim that it is a "HIGHLY ADAPTABLE 10" SURVIVAL KNIFE". I agree. The instructions give detailed step by step, AMERICAN ENGLISH (sorry you limey ZS Brits) directions on how to attach to PALS webbing, the calf strap, or Belt/Thigh attachment.
Sheath
This sheath is almost worth the $70 alone. It comes in two parts: the Kydex sheath that houses the knife, and a ballistic nylon backing to attach it using the methods described in the previous section.
The sheath has two small MOdular Lightweight Load-carrying Equipment (MOLLE) straps with snap buttons. The snap buttons on this sheath, despite being made by commie Vietnamese, seem very strong. All of the stitching on the "ballistic nylon" (which I believe is 1000 Denier) is redundantly supported by two or three rows of threads. The two MOLLE straps are, if you haven't figured out already, used to affix the sheath to the Pouch Attachment Ladder System (PALS) webbing.
It also comes with two thick, nylon straps for attachment to the calf. They have strong buckles (I heard from someone that they were Fastex, but I can not verify). The straps are impregnated with elastic in order to better grip your pants, although you're going to need to tighten it just perfectly if you don't want it to move around while sheathing/unsheathing your knife.
The MOLLE attachment strap also made it easy for me to affix the sheath to the shoulder strap of my back (Camelbak BFM). There is a little bit of movement, but I attribute this to my pack. I'm going to have to sew down the strap on my backpack so it can't move. In the meantime I held it down with a safety pin.
One of the plethora of sweet features on this sheath is the fact that it is ambidextrous; you can position the sharp edge of the blade to your left or right. Good news for you leftys. Good news if you want to mount it upside-down, as well.
Another considerate feature is the built-in sharpener. To use this, you need to remove the sheath from the 1000 Denier backing. Simply stick the (non-serrated portion) of the blade into the hole in the Kydex sheath, and draw consistently through the hole. It came razor sharp out of the box (I cut myself shaving hairs off my arm). Just the way I like it.
The nylon backing for the sheath has two straps with snap-buttons that secure the hilt of the blade, although this is just another example of redundancy in this tool.
There is a strong plastic spring clip that clips onto the Guard. It holds the blade so tight that some fucking weeny on youtube actually complained that he got a boo boo from the clip when he bought it at the mall. Despite this guy's classification of this feature as a con, all you have to do to remove the blade from its sheath is grasp it by the hilt, and push with your thumb, as you pull with your index finger. Your thumb should be on the clip, and it comes right out. "Make no mistake" (GWB quote drop), this blade will stay in its sheath until you want it to come out. Very well designed. Son, I am appoint.
The Business End
This 10" Drop-point blade is made of 12C27 Stainless Steel (which I believe is a specialty of Finland); this mother fucker is sharp. As mentioned, I was able to shave a small patch of arm hair quite easily out of the box. That is, after I wiped the cosmoline off with an isopropanol soaked cotton ball. There was a bit of oil inside the sheath too, because after I cleaned it off, sheathed, then unsheathed it, there was a bit more on the tip. We'll see how long it holds an edge with use, although I plan on keeping this on the hiking backpack.
The first 2.75" of the blade is unserrated. The next 1.875" is. The serrations slice through paracord like it was melting butter. I held a piece of 8.5x11" paper taught and pulled the unserrated portion of the blade across it. There was not a single tear. It sliced through it, again, like a hot knife through melted buttery goodness (which makes me think of lobster...mmmm)
This blade is NOT full tang. It is separated from the butt end (which I'll get to in a minute) by a Glass-filled nylon with TPV overmolded hilt. It has tiny circles on it, and gives a good grip even when wet (or bloody). The idea behind not being a full tang is that it is electrically insulated. If you click on the LA Police Gear.com link at the top of this review, there is a story by some sniper in Iraq who cut a hot power cord with one. It arced and wielded a piece of the blade, but the soldier is still alive serving his country. The hilt is quite soft and easy to scratch. I'm betting that after a few months of use its going to be missing some chunks- but I think the strong grip characteristics far outweigh this.
Now to my favorite part of the knife: the butt end. It has a plexi-glass punch, although I'm willing to bet that it will punch through all sorts of glass. Perhaps if I find some spare plexi in the garage I'll put it to the test. But for now, you can view thisvideo, again on youtube.
The hilt has two holes, and the plexi-punch has a hole for lashing to a spear. I tied it up to one of my hiking poles. The holes are quite a convenience; perfectly shaped for paracord and they are positioned perfectly. It is pretty front-heavy, so I'm assuming it would be good for defense. I wouldn't want to throw this knife in a survival situation. Not a chance that I'd want to be separated from this tool if TSHTF.
I have enormous hands ( size XL gloves ) and it fits just perfectly in my hand. If I put my thumb on the ridges on the guard, the meat of my palm hits part of the plexi-punch, but it's against one of the tapered sides-- not the point. It wouldn't be a problem during intricate cutting operations.
Blade is 3/16" thick, or about 5mm. I'd feel safe prying with it, although I'd personally hold it by the blade during prying, since its not a full tang.
The center of gravity is at about 4"; about 1.5" below the guard. I don't know much about throwing knives, but I bet you could learn how to do it with this blade with some practice.
The Kydex Fire-Retardant Sheath:
The glass/zombie skull obliterating plex-punch
Showing the built-in sharpener. There's a philips head screw to remove and clean the angled stones inside:
Mounting options:
Pistol belt with thigh strap (much more secure on the draw)
From shoulder strap:
On PALS webbing:
On calf: