6. Some thoughts on gear being used
Knives:
This is the roughest I have used my Mora to date. I was constantly using it.
I even tipped it some when I absent-mindedly shoved it in the ground to stash it so I could do something 2 handed and it hit the one rock in the dirt. Some time on the Lansky puck and it looks like it has a regular tip again. As I and others have said, and it will keep being said, in every "What knife should I get" thread: Start with a Mora and go from there. I never even handled a Mora until 2 years ago, and I've been carrying kinves since 1979, and it still impresses me more than any other knife I ever used in the woods.
Also, I've been necking my Mora since last Fall and I really like that method of carry for a small bush knife. I had it going all weekend, while shooting with my chest rig on, and all the way back into town Sunday late afternoon. I can safely that this is my prefered way to carry my bush knife though pocket and belt are good options too.
I F-ed up my Wetterlings a tad while cutting down poles for my lean-to. I was cutting real low and hit a few rocks a few times. I'm still in the process of taking the knicks out but it was ugly. I'm not even going to post pics because it is down-right disrespectful what I did to that thing. Rocks + the edge of your tool = bad.
Spanky, the Spetz, did good at all his duties as usual, you can even see him in some of the pics sticking out of the ground near the camp fire. I gave him a good filing on the edges beofre the trip though and a good honing Friday night with the Lansky puck.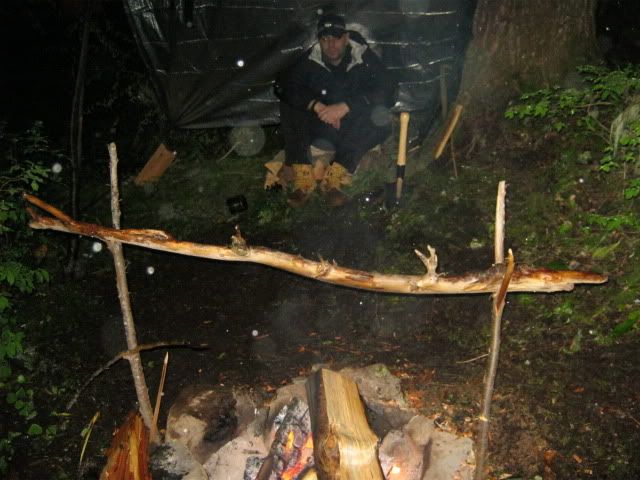 find Spanky!!
Light splitting duties, fire adjusting, digging out the fire pit and cat holes, hooking my collapsible bucket handle on the spade part to get that extra reach to fetch water from the creek, shaving the poles of little branches, baton when the real baton got used as a bigger piece of kindling, spatula to get the hunk of pork off the rock we ended up roasting it on... not the perfect tool but mediocre at many jobs.
I got a Gerber Saw for under $20 about a month ago and this weekend was the first weekend I used it. Meh... it did all right but it seemed a bit wiggly and loose around where the saw blade meets handle. No real opinion or review yet, this will come in due time as I like to use my stuff before reviewing it.
On the other side, Brandon's sharps for the weekend were 2 rather simple choices: CS Bushman and Leatherman Wave. Though I never doubted it, I was thoroughly impressed with the Bushman.
Crystal Brandon, seeing my chopsticks, decides to carve himself a large wooden spoon for his dinner using his Bushman
The main thing that impressed me was on Saturday afternoon, when we decided on building the spit over the fire and using that to do our cooking from, we found the two perfect pieces. They were already cut down to about 3 feet off the ground so were dead-dieing anyways, but we needed to cut them as flush to the rock littered ground as we could and my axe was still crying for the knicks it got from that very scenerio the day before. Brandon had carved us a dedicated baton Friday so he batoned his Bushman, at ground level, right through the 2 inch thick trees and a matter of 5-6 baton strikes.
The cooking frame we made over the fire - all 3 pieces of wood were felled by batoning a CS Bushman right through them - also, Brandon whittling his "dagger"
Brandon's Bushman handled the big jobs and his LM Wave handled all the rest. He did use Spanky quite a bit though and thinks that will cover all his bases if he gets one.
Ooops, my lunch break is over ... more gear to come.