So here are my submissions. The first one I have had around for a few years, I built it in a college course on wilderness survival. It fits snug next to my seat in the jeep.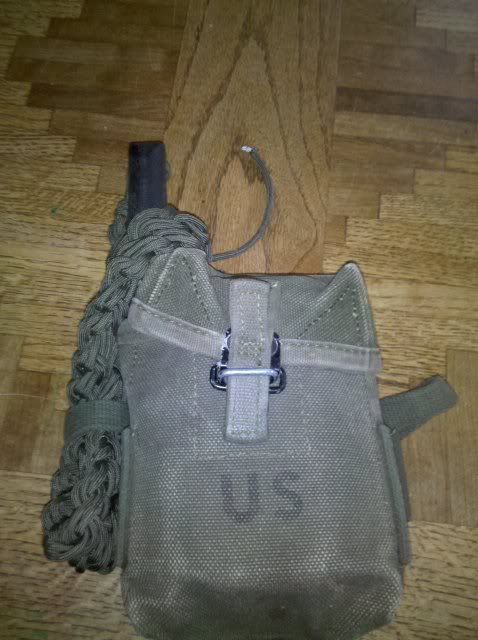 It is an older canvas ammo pouch with:
A gerber fixed blade. I don't usually keep the paracord daisychained to it but I'm experimenting here so...
Inside:
A baking tin
Outside the baking tin is A straw water purifier, lighter, LED and chapstick.
Inside the tin:
Plastic Poncho and Blanket
Notepad w/ pencil wrapped in duct tape
Fishing kit
Whistle
Cotton balls to fill in the gaps
Wire saw (on top of) A compass
BOAT
All put together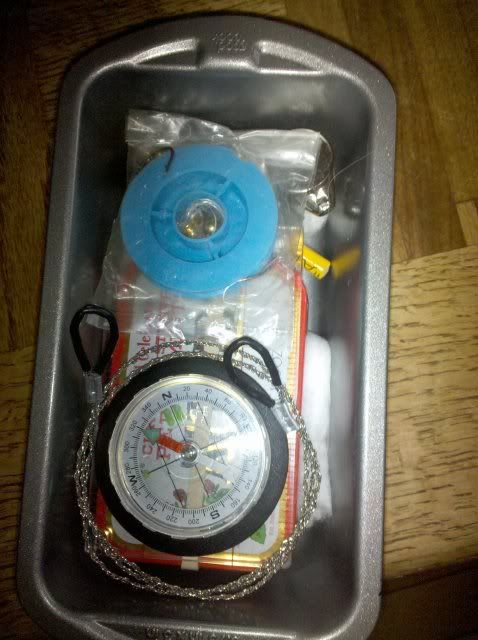 Inside the boat is:
Safety pins
Floss
Pencil
fishing string
Snare wire
Foil
Butterfly Bandaids
Mag and Flint
Gerber Knife w/ Razor blades
Birthday candles
Rubber band goes around the boat
Here is the one I made for my wife for Christmas. I also made one for my sister mostly identical to this.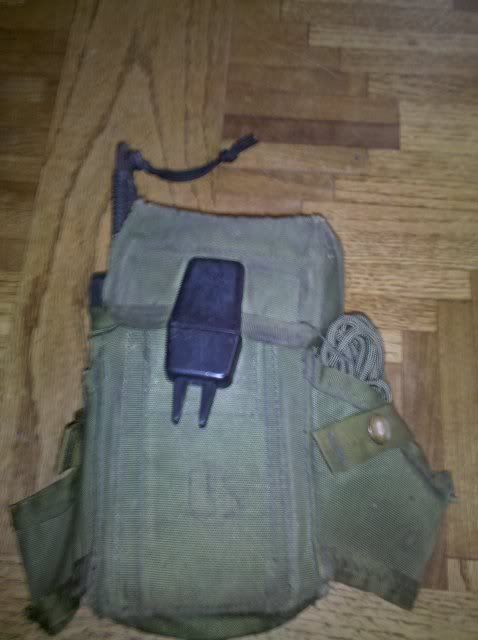 Still in the tin
This one also has the baking tin with most of the same goods as mine.
Roll of 550 Cord goes in the gernade pouch
CRKT knife in sheath goes in the side
BOAT goes in the bottom of the tin
Cotton balls fill in the gaps
Note Pad, poncho and blanket go in last
Baking Tin
Compass
Flint/ Steel
Pencil wrapped in duct tape
Lighter and LED go in the side of the pouch outside of the tin
Floss and a whistle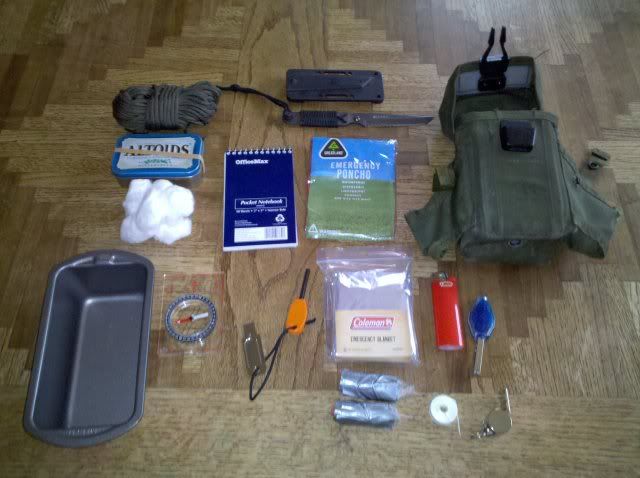 The BOAT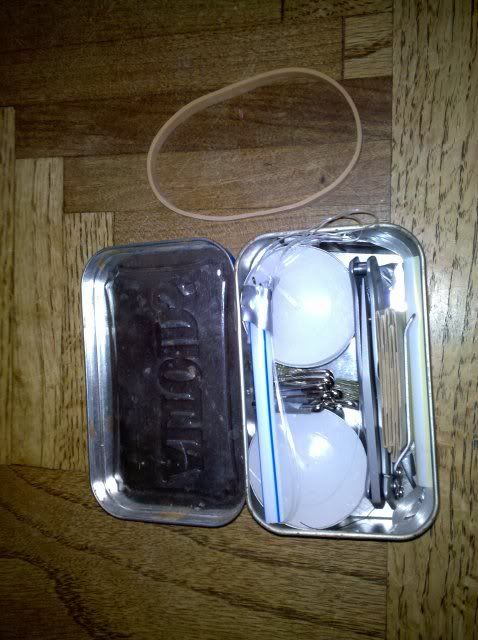 The contents of the BOAT:
2 Tea Candles, I "upgraded" her to these after reading the idea at ZS
12ish safety pins
P-78
Under the P-78 is some snare wire
Gerber pocket knife with razor blades, the kind wrapped in cardboard
The purple straw contains a few needles and some thread
White/ Green straw contains fishing weights
White straw contains fishing line
White/ Blue straw contains fishing hooks pretied to string
Rubber band goes around the BOAT
The great thing about this contest is it makes you take a look at your kit and gives others a chance to look at and critic your kit. Just posting this I realize like 20 things I could do to make these way better. As with all preps these should go along with common sense, dress sensible and remember your EDC. If your going out into the sticks bring food and water...