Venomous snakes.
I have kept snakes for most of my life but never anything hot and do have some bush experience in dealing with venomous snakes. That being said I am no herpetologist or medical doctor so keep this in mind. Thousands of people are bitten in the USA each year however the actual number of deaths are few and far between but I do think some general awareness of venomous snakes is warranted.
This weekend I was hiking into Mass from Sages ravine to Mt. Everett with some exploratory hikes along some blue trails off the AT. Nearing the north face of Mount Race I found this Timber Rattler right in the middle of the trail.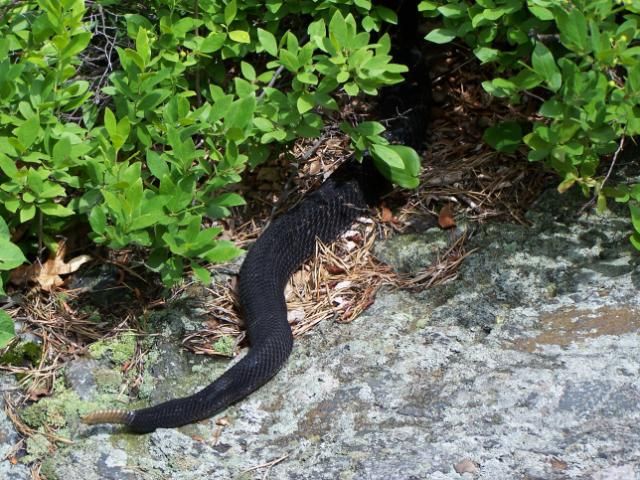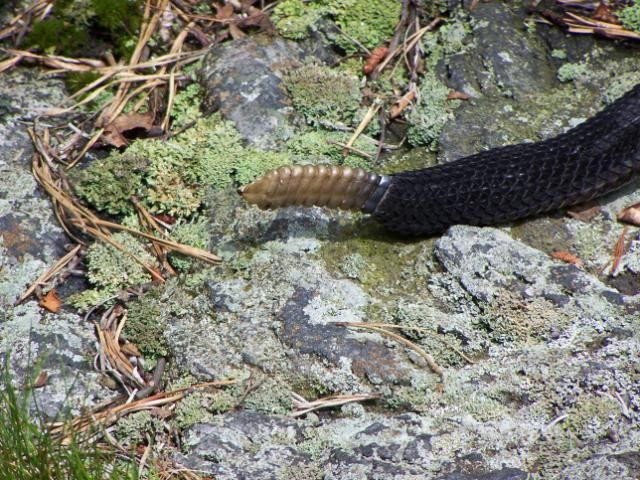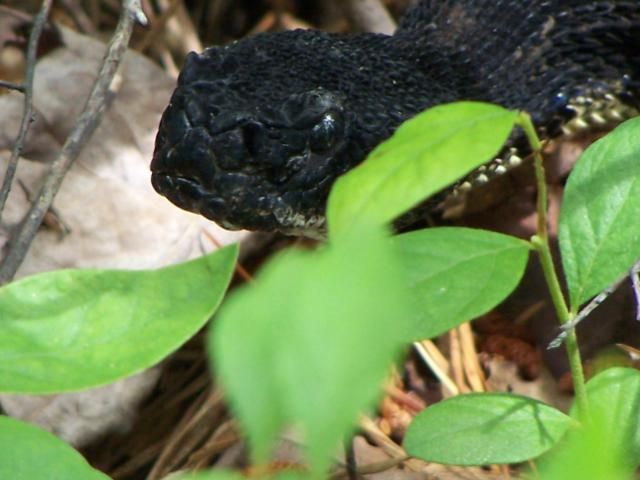 I haven't seen one in my AO for at least 2 decades. Given the amount of time I spend in the woods to me this is a good indication as to the decline within their population around these parts. The Timber is a fairly calm snake that depends greatly on camouflage for protection. They can hit hard though bites are extremely rare in this area. The snake was large and thick but couldn't get a photo of the entire body as its camo was so darn effective within the low brush. A dark tail with breakup pattern mid section and dark head worked very well.
My basic rules for snake country.
1. Limit your interaction with the animal. We have all seen Edward Grylls aka Bear kill venomous snakes for so-called wilderness survival purposes but from my perspective this is stupid. Most people that get tagged do so when attempting to kill or capture the reptile. Think about it like this. Are the calories worth risking your life over given the potential for delayed or no medical treatment? Is it worth handling a dangerous animal simply out of curiosity? If yea think treatment is just a simple shot at the hospital you have another thing coming. If you believe your too fast or bad ass to get hit think again. There are just too many variables outside of one's control.
2. Pay attention to your hands and feet in snake country. I have encountered rattlesnakes, copperheads and cottonmouths though the later was in Florida. They all wanted nothing to do with me and frankly beyond my respect the feeling was mutual. But these animals will defend themselves if they perceive a threat. Snakes like copperheads and rattlers blend in very well with the environment. It's so easy to blindly thrust one's hand into the rocks or brush looking for a dropped gear item or foraging. It's easy to step without looking. Keeping in tune with the environment helps reduce most dangers. This is the same mentality that directs someone to look for widow makers and possible flood dangers before setting up camp.
3. Adjust your clothing accordingly. I was wearing shorts, a synthetic shirt and hiking shoes as the risk of snake bite was minimal but if your AO is more prone to snakes maybe consider a good pair of leather boots with snake proof chaps or gaiters.
4. Learn about your local critters and bugs. This is all part of understanding your environment. If yea don't know something is potentially dangerous your risks are greatly increased.
Venomous snake misconceptions.
1.
Killing snakes to reduce the risks of getting hit, aka self defense
. This clearly falls into the limit your interaction category that was covered earlier. Also as stated most snakes aren't looking to bite anyone. It can be bad juju as well. Within my AO lyme disease is a very high risk. Lyme can be transferred from mice and other rodents though ticks. These rodents are food for some snakes. Even in a ridicules "I shouldn't be alive" survival situation I would be hard pressed to kill something for any reason that is helping me within the environment. It sounds silly but that's just how I view the nature.
2.
I can cut a slit and suck the poison out or use a snake bite kit
. I am no MD but question the validity of this. Somehow I get the feeling a person would do more harm than good. Get medical attention ASAP. If that's not available to be honest I haven't a clue. I am of the ounce of prevention is worth a pound of cure persuasion.
3.
A rattlesnake will always rattle so you will be warned before an accidental encounter
. Sorry to say this isn't always the case. On a side note all the copperheads I seen remained totally still. You just can't depend on a warning from any snake but they aren't called rattlers for nothing.
4.
All bites result in a serious hit
. Sometimes a snake will elect not to inject any venom. This is called a dry bite. I am not certain as to the reasons for this. Perhaps they wish to conserve venom or maybe it was just a bluff but if tagged get medical help as the longer you wait the worse the damage.
5.
A bite from a baby venomous snake is more dangerous than an adult
. I have read reports that a baby snake has more potent venom and don't do dry bites. On the flip side it seems to me that adults have a great volume of venom. I believe it really doesn't matter as both are potentially dangerous and should be equally respected.
The chances of getting a fatal bite are low compared to other risks such as exposure and dehydration but learning to mitigate risks are one of the most important survival skills going.