Back in the day tougher people than myslef would carry kits into the wilderness. They didn't do this for survival preparation which with luck will never come to reality rather real world necessary. Things which can and did happen to them. Sometime ago I won a little kit in a GAW. The person who made the kit did a great job showing ingenuity and forethought. That said made some changes to reflect my actual use. Some say two is one and one is none but I am a goober so need 4 to have one.
The brawler is in camo.
So what is inside?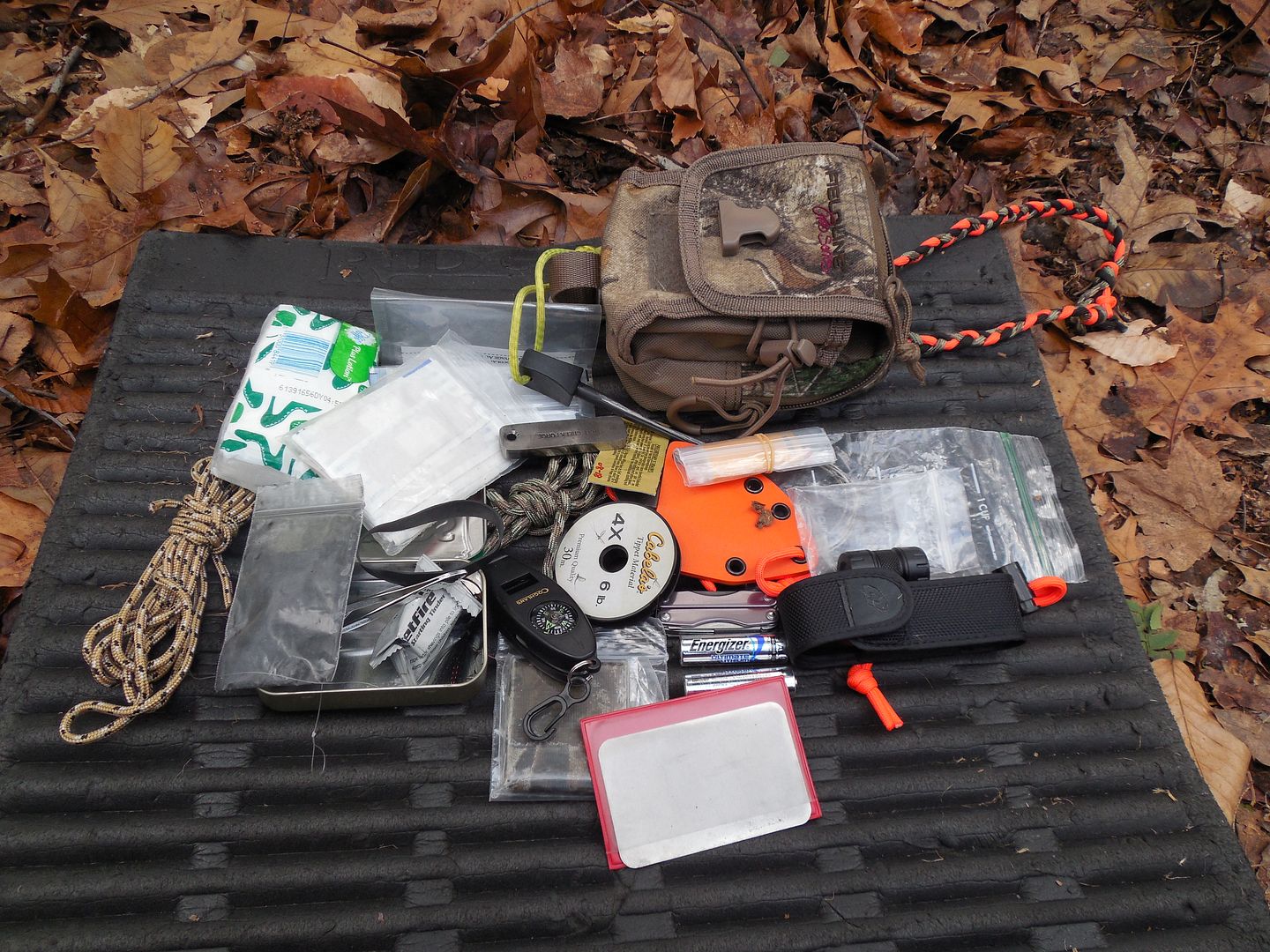 In no particulate order of importance.
1. Ferro rod with 1095 1/4 thick dead hard striker.
2. 4X leader material and hi visibility tenkara line.
3. Big back fly with shinny brass head and two #12 hooks.
4. Wet fire tinder.
5. Mini Bic lighter.
6. 2 six foot lengths of cordage. 1 paracord the other standard cord.
7. Package of tissues.
8. 4/7 1XAA flashlight with extra 1XCR123 body. Omnivore light full of lithium primaries for both bodies.
9. 2XAA lithium primaries.
10. Sheep foot WCF PSK knife with DIY Kydex.
11. Tweezers.
12. Leatherman squirt
13. Funky whistle/compass/thermometer/magnifying lens thing.
14. Duct tape.
15. Canadian MRE plastic bag. Eh.....
16. Little FAK in a little plastic bag.
17. Water tabs. I had 4 but think there is only 2 left. Time to restock.
18. Threaded needle ready to go.
19. Loop of 3 stand braided paracord 550 to increase visibility and available cordage.
20. Little plastic bag of charcloth.
21. Diamond sharpening stone.
Lets take a look at the core 3 aspects. Knife, light and fire.
Omnivore light.
Sheaths on.
Off.
Because this kit is often used I wanted a light with real power but still small. 4/7 lights aren't Malkoff durable but they're reliable IMHO.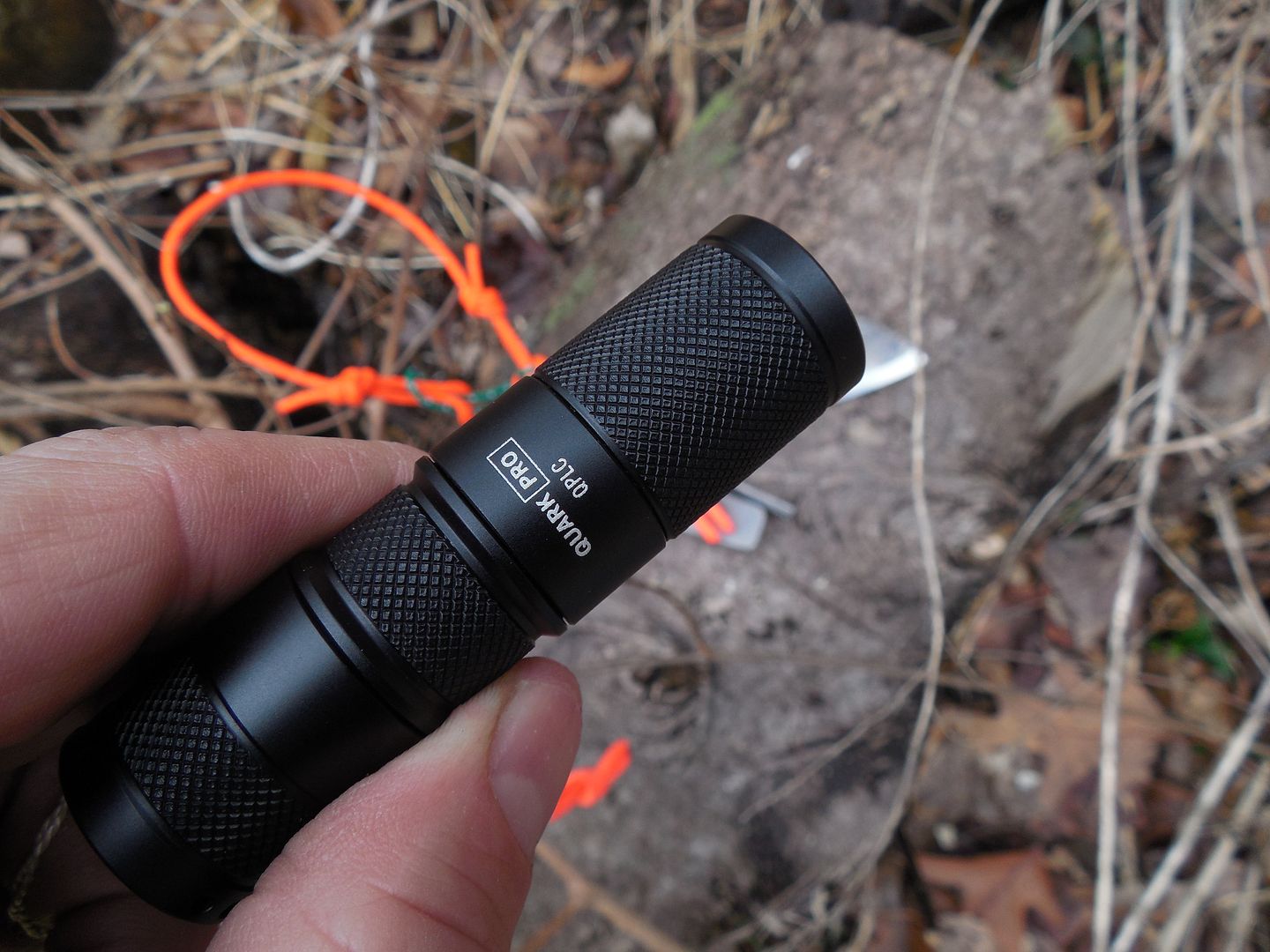 I added a new lanyard to the Ferro rod and striker which is a duel purpose firecraft tool in it's own right.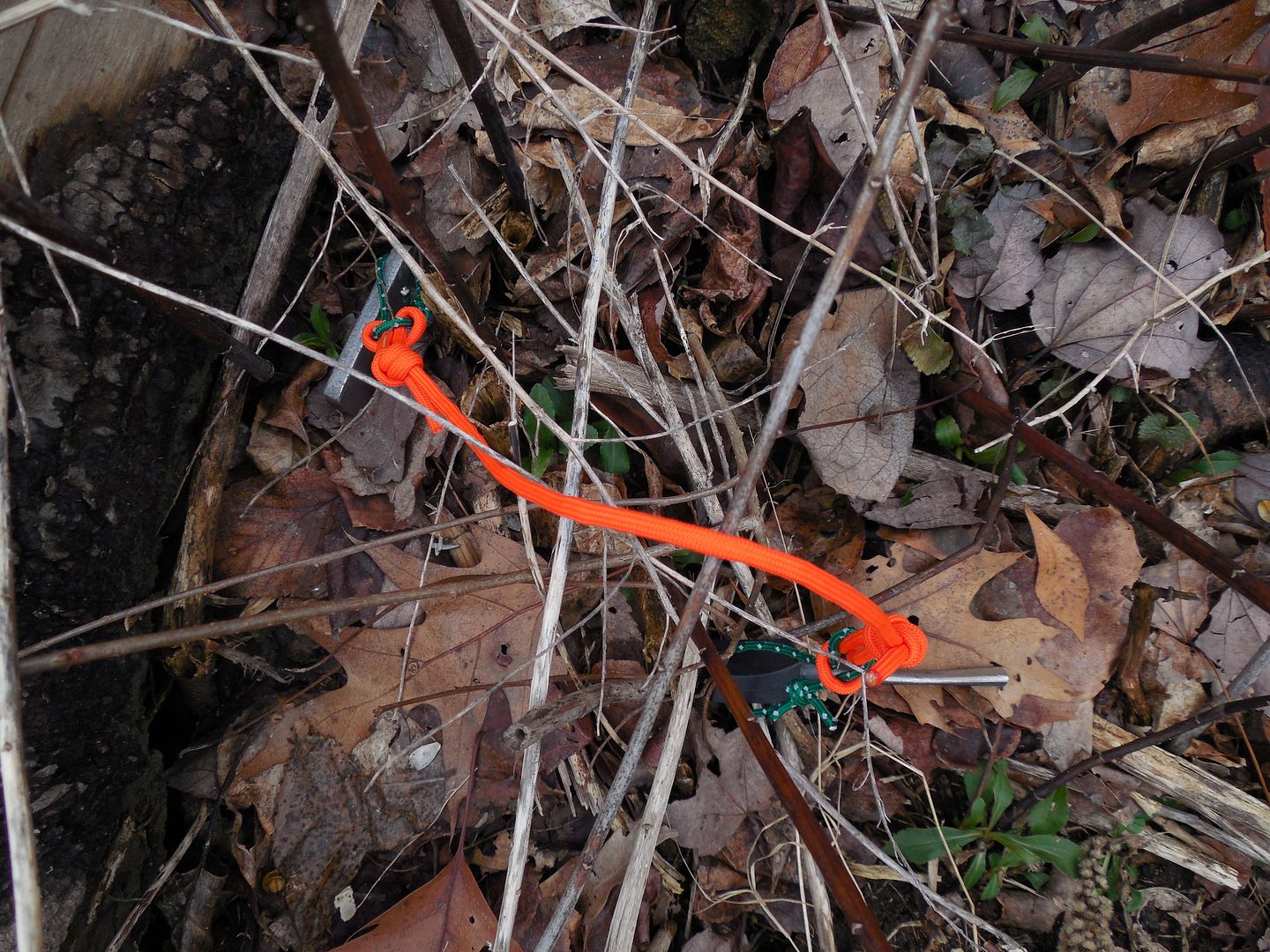 Sheep foot profile is useful IMHO.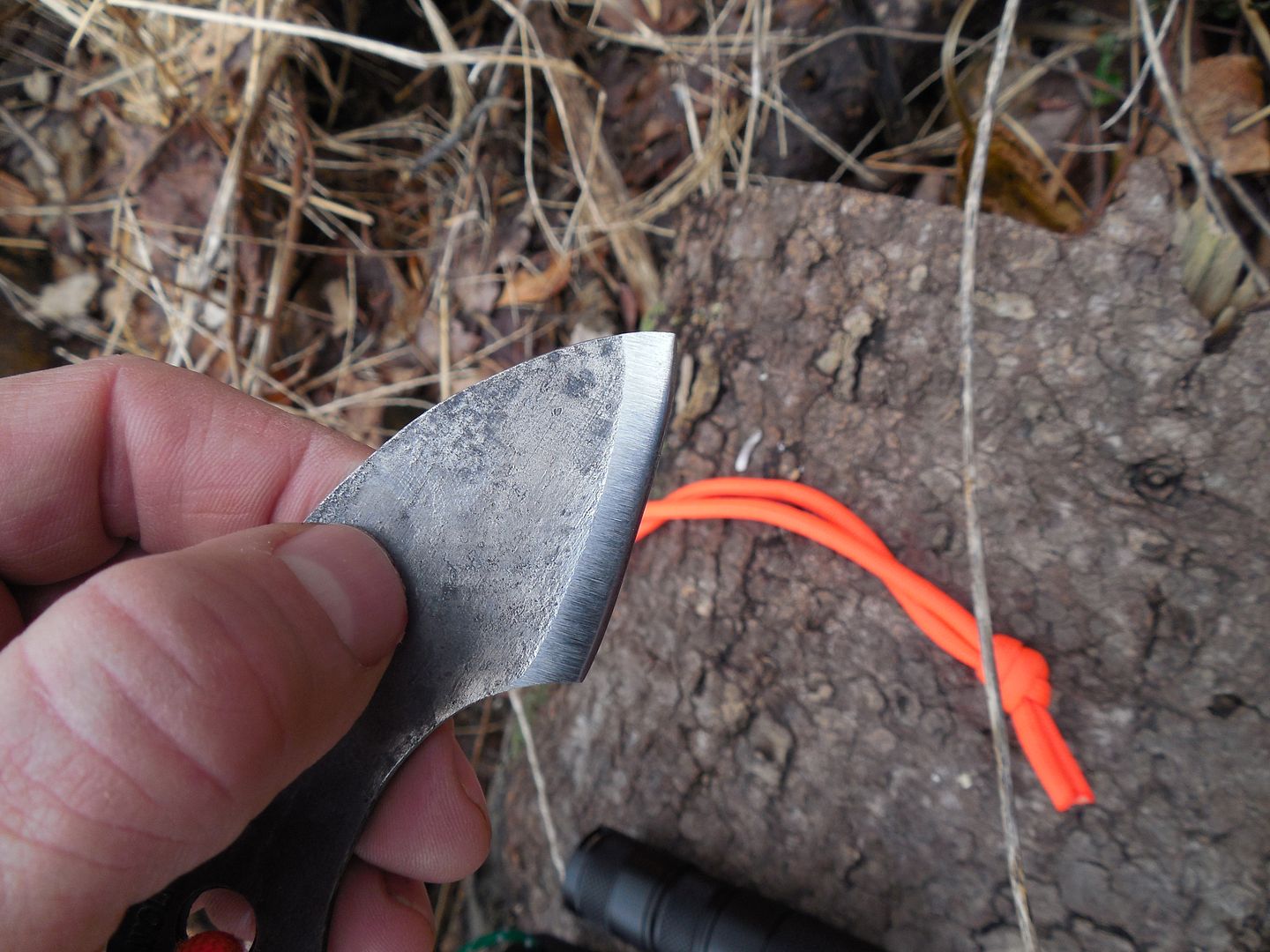 There could be something missed but you all get the general idea. Really the Brawler isn't the main topic of this post but if yea got any questions about it that's cool. What about the forever fire? Flint and steel old school methodology does have some pros even in this modern age. Now I am not saying it should replace a modern firekit but there are some pros. The first being charred materials produce a hot very easy to ignite coal. It can be ignited with a spark from a dedicated carbon steel striker, sometimes a steel implament, even an empty Bic etc etc etc etc. Charred materials can be made in nature so the supply is potentially far greater than the storage capacity of a PSK aka forever fire.
Lets go for a walk. Actually I was fishing but sucked so will pretend that part didn't happen. If I caught a trout you can bet there would be bragging and photos but I didn't so there aren't any. Who cares anyways.
PSK/Possibles Pouch forever fire. GO!
The woods were wet.
Yellow birch bark. My standard hydrocarbon rich tinder. I do have white birch but know these can be found near rivers and streams so they're an easy find.
It was warmer than normal but if frozen or snow/ice covered an overturned tree can expose rocks.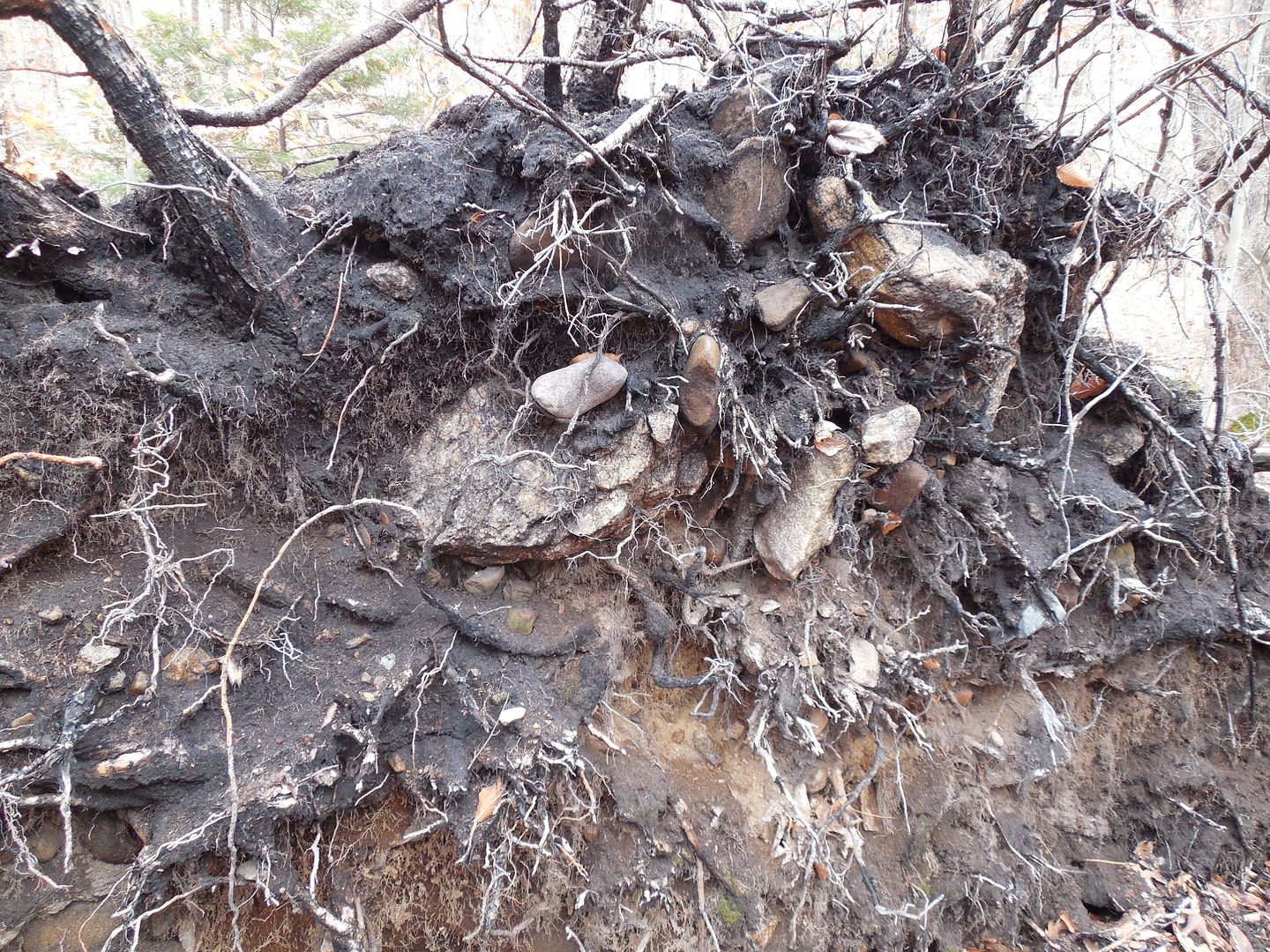 And the turned over tree didn't disappoint. Too bad for the tree but great for me.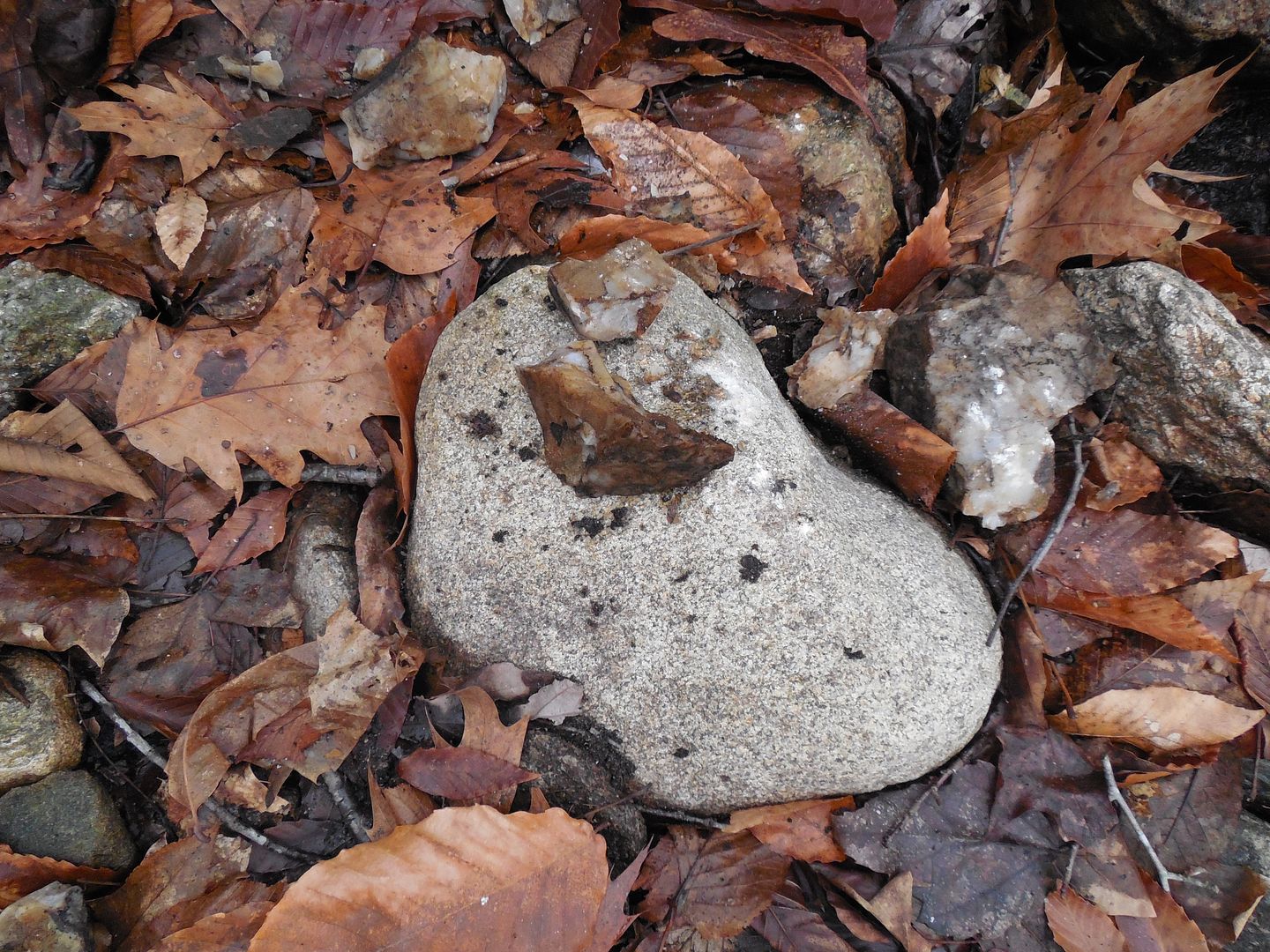 Back at camp.
The twigs are ready.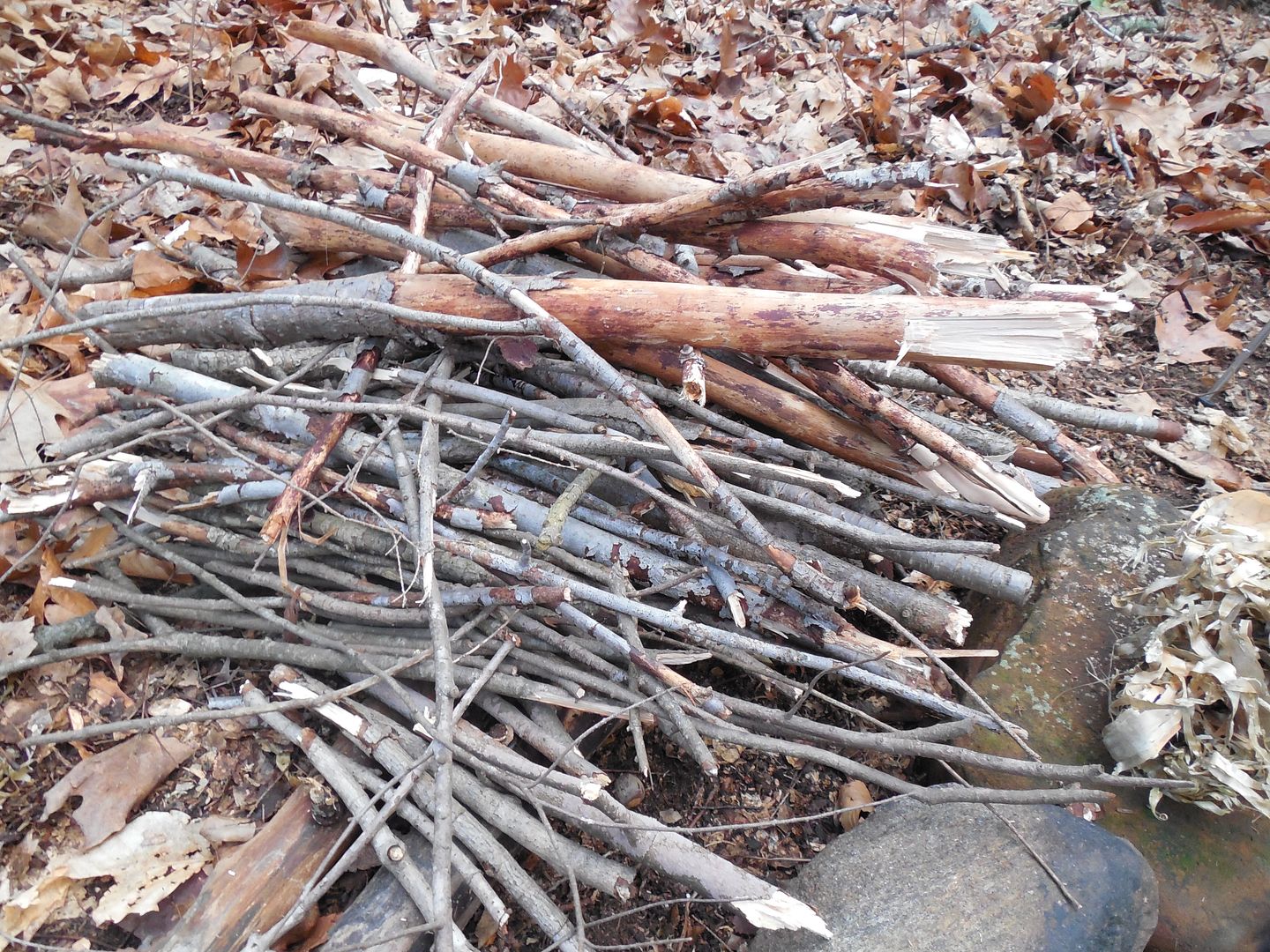 The Yellow Birch Bark is ready.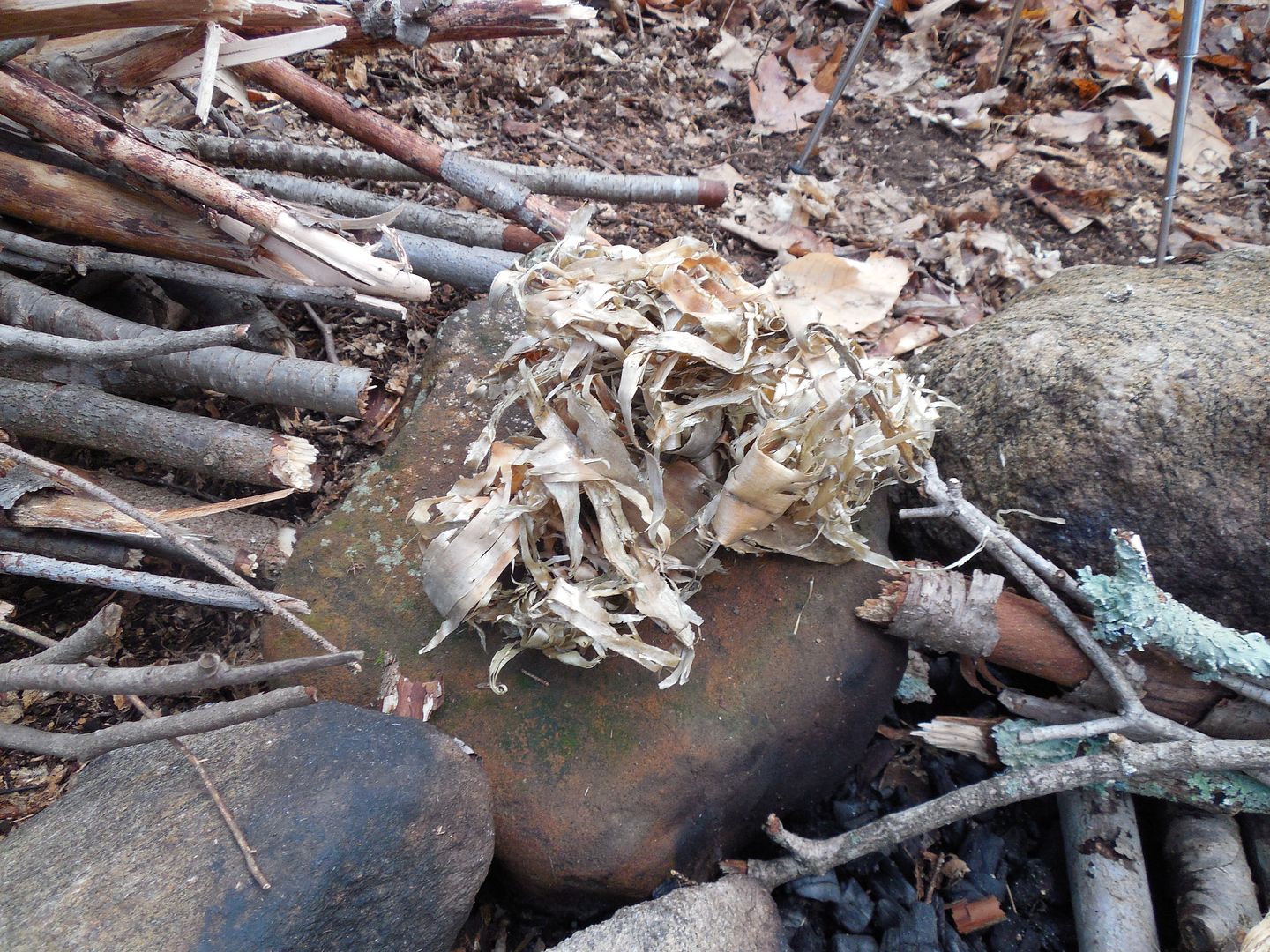 The cedar bark is ready.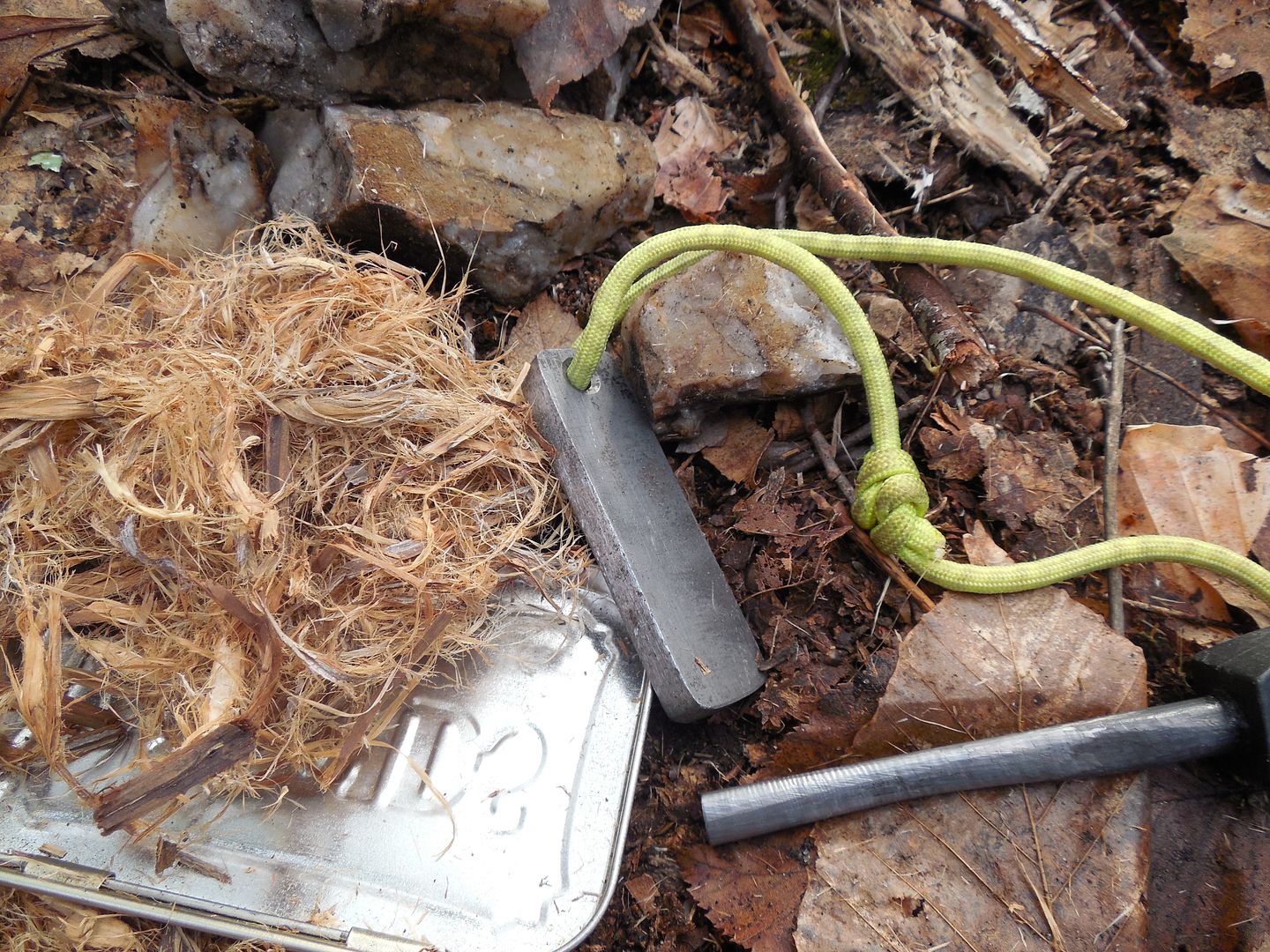 So is the Altoids tin from the Brawler.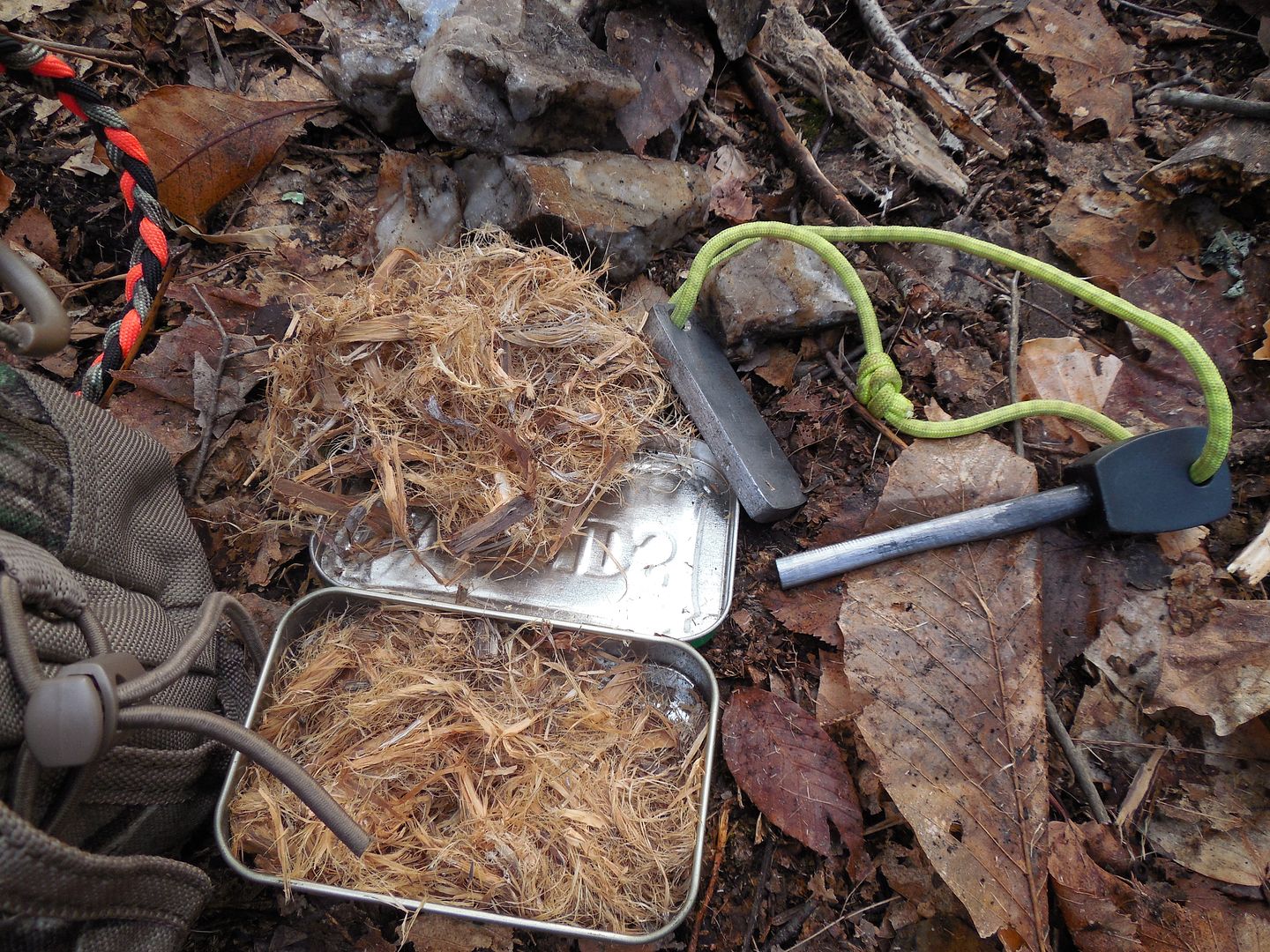 So lets toss the ferro rod and pretend we don't have two Bics. Yea just roll with it.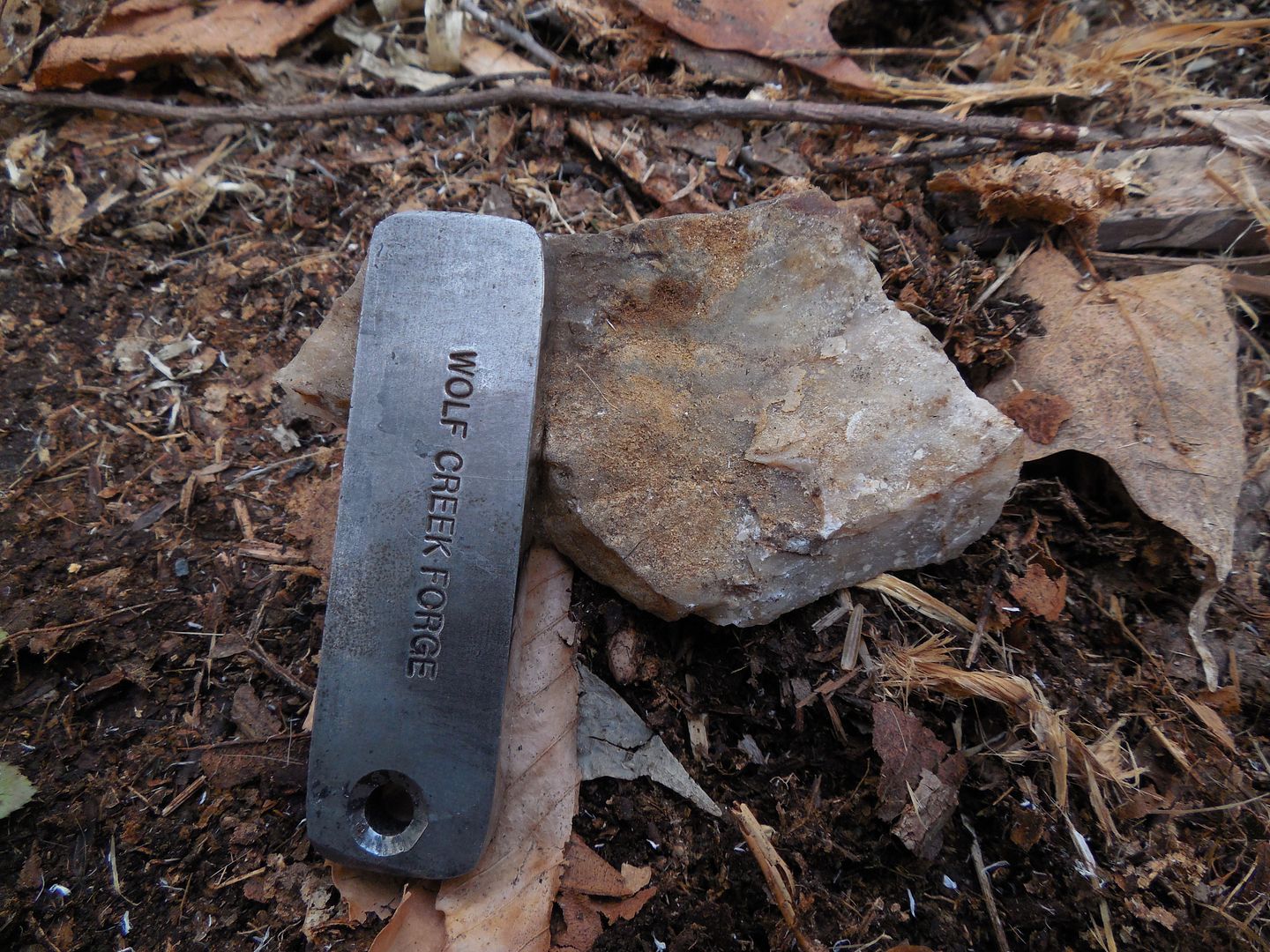 First I started a fire using the foraged rocks, cedar bark etc etc combined with packed charcloth and striker. Classic traditional flint & steel plus twig fire methodologies on prom night.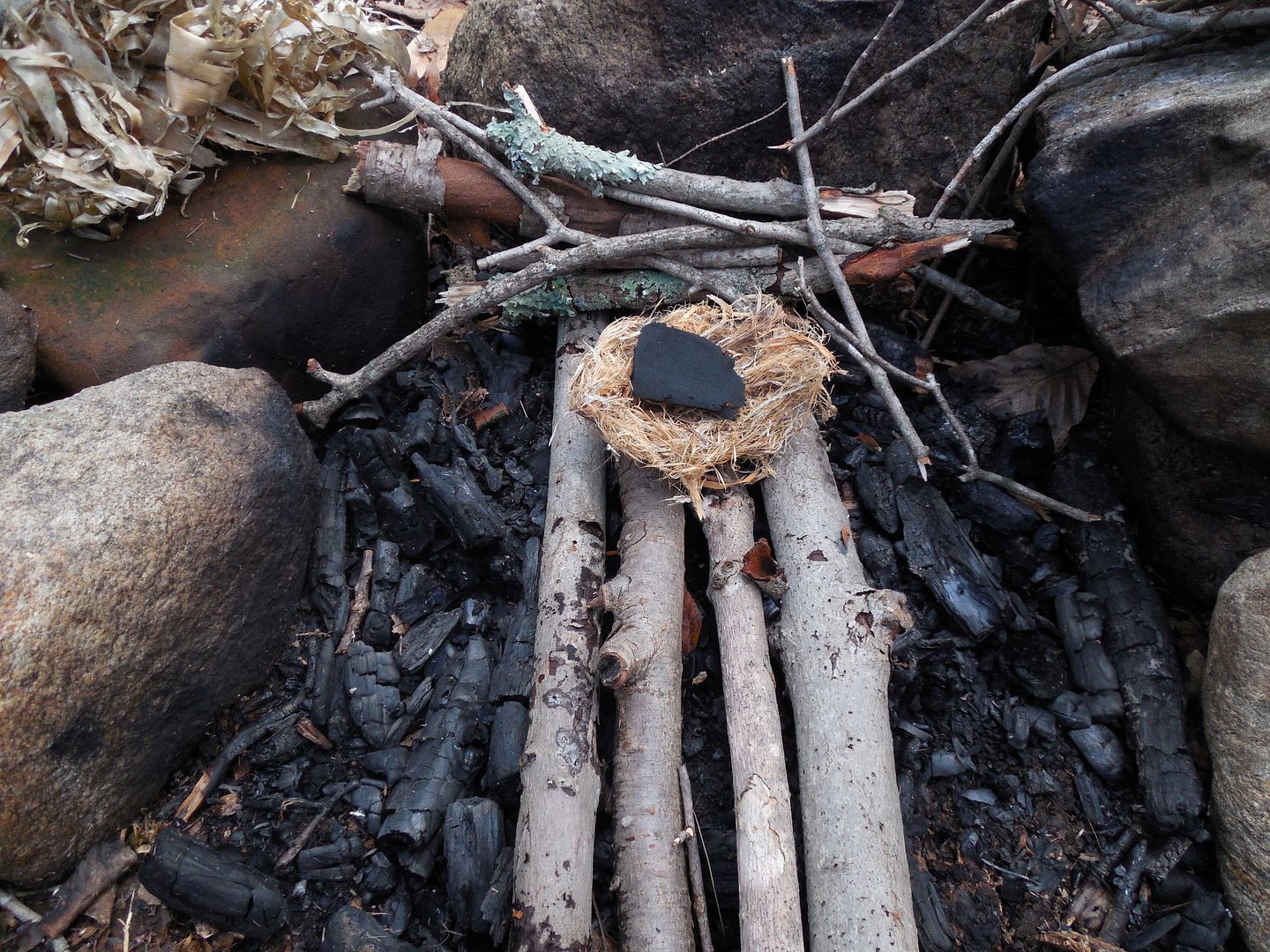 Then put that fluffed up cedar bark full tin on the fire and no we don't need a hole for the smoke to escape. So many gaps within an Altoids tin but if yea want to punch a hole then go for it. I have in the past just not here.
keep on cooking.
Once there is no more smoke escaping it's done.
It worked. Looks like charcloth doesn't it.
Easily ignited with the 1095 ferrorod striker and foraged rock. No harder than packed charcoth.
Charring natural materials is well known but always like the forever fire aspect within the context of a PSK type kit. I can make a never ending supply of charred materials keeping the good times rolling.
Here is a video. Thanks for looking.