I was working on updating a stove thread done some time ago with actual field testing, the sub 20 dollar stainless steel wood gas stove and also wanted to do some work with a WCF neck knife. I guessed the best way to accomplish both was to head out into the woods and forage a meal. When packing I thought about an issue which came to mind years ago. During a winter outing I wanted to forage a meal but ended up falling through the ice and snow into a river (was lucky only up to my knees) and had to crawl out through a deep 3 foot snow base with my snowshoes. Ended up breaking some of the teeth on the shoes and froze my feet. I did manage to setup a shelter and make some tea.
Here is that outing from years ago.
Deep snow base.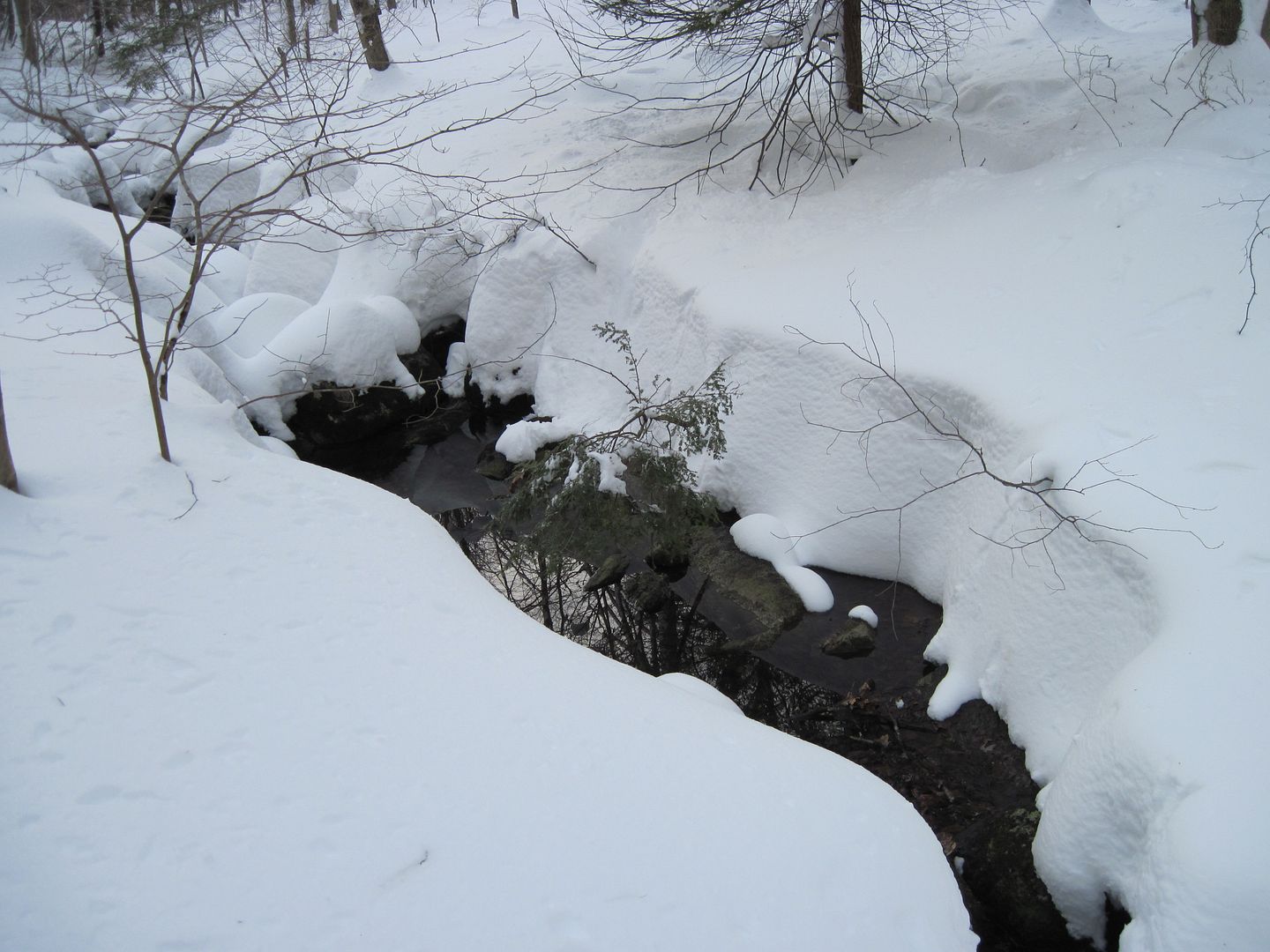 Snowshoes disappearing into the powder.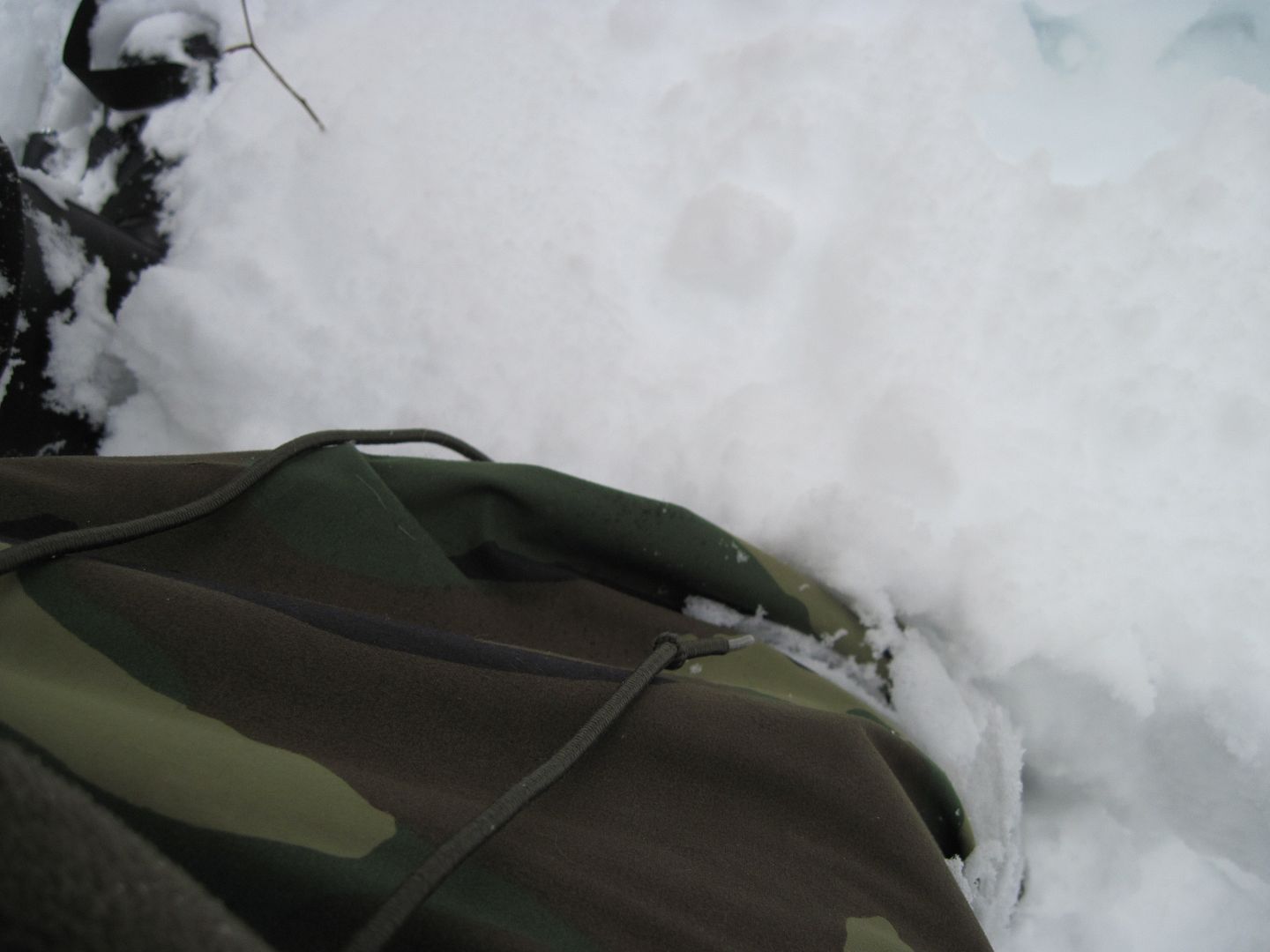 My pack.
My stupid plan. With fishing pole in one hand and camera in the other I walked to the edge of the river to try my luck. I was going to catch a trout for my winter bush meal and become an internet hero. What could possibly go wrong?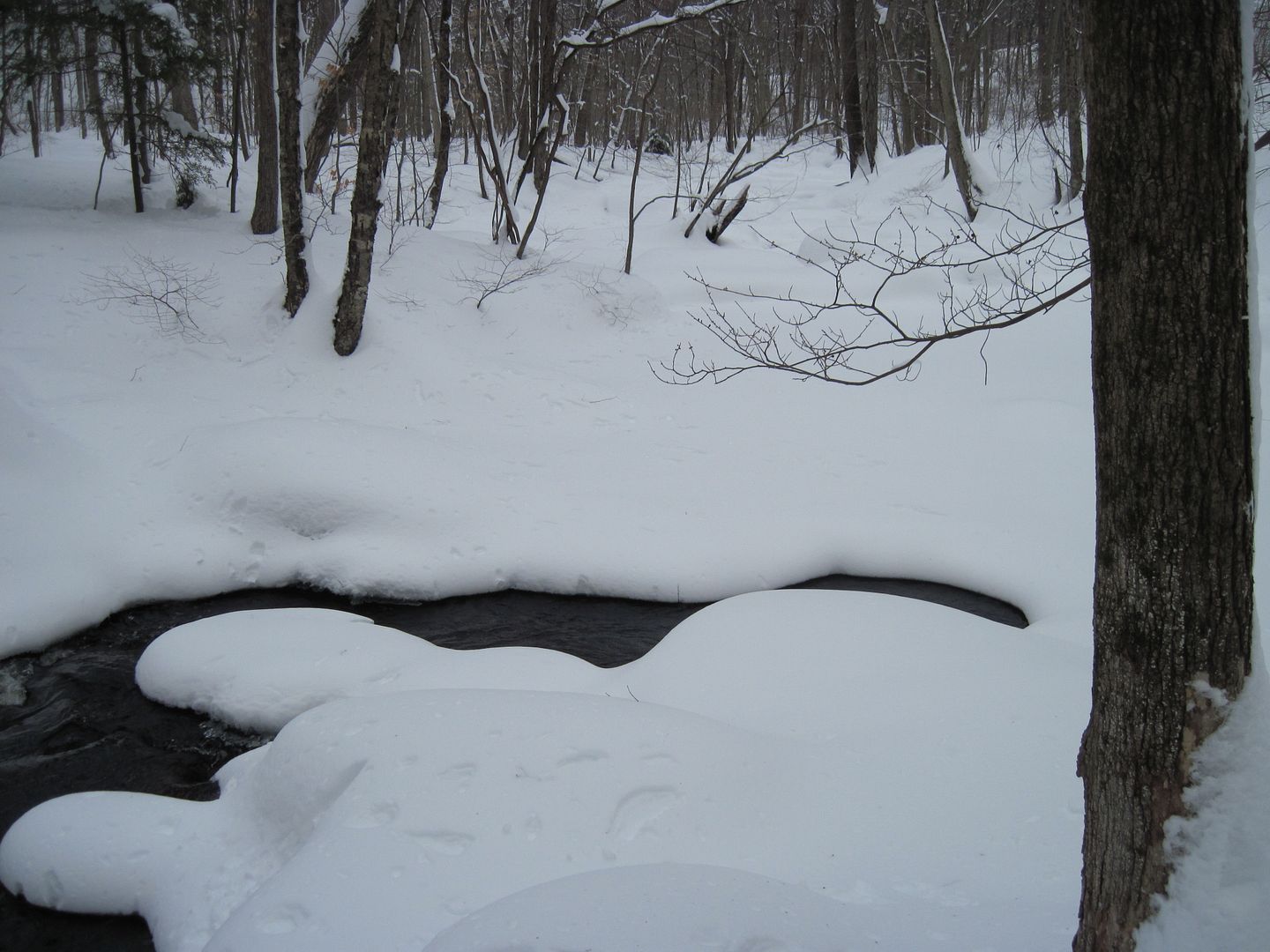 Into the water I go. Why? Simple, during winter it can be hard to determine what's land or undercut ice and snow. I leaned back to increase the surface area then took this photo. I can't imagine the water was more than 3 feet deep but didn't want to find out. Moving water no matter the depth can do unpleasant things.
Stupid.....
Setup a fast day shelter to recoup as dark moved in.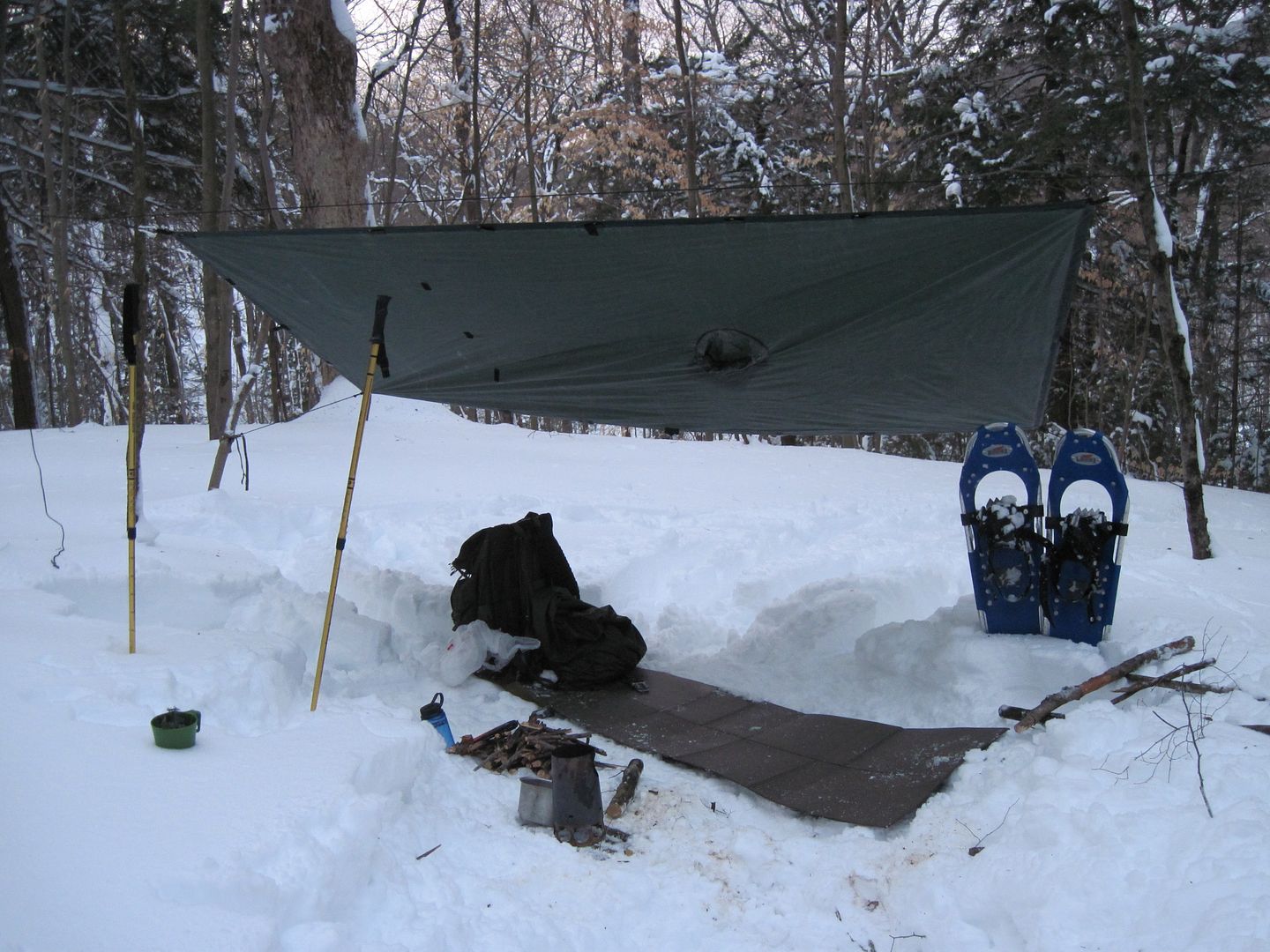 I need to crack out the old Trail stove again!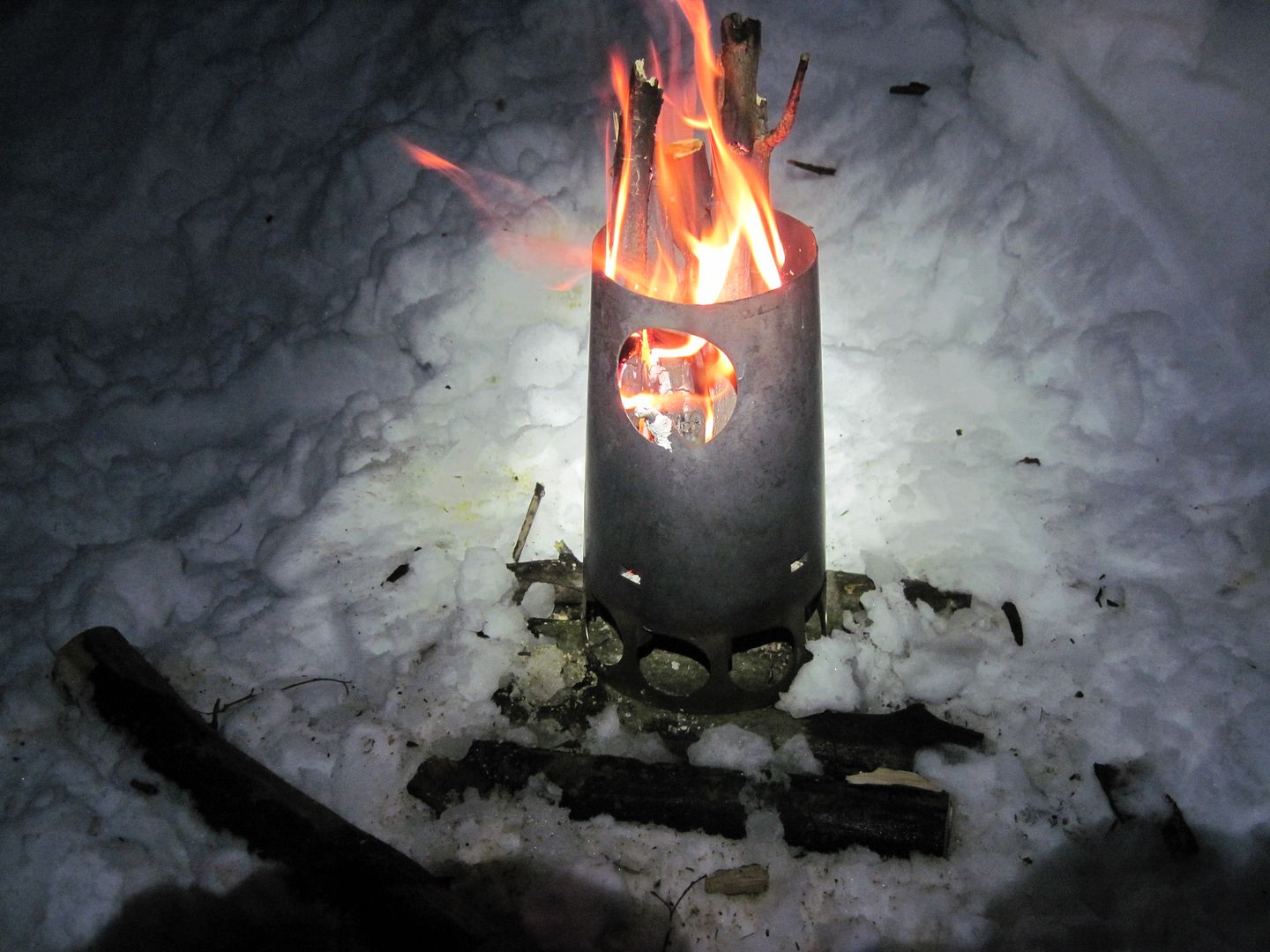 It was a cold walk of shame back.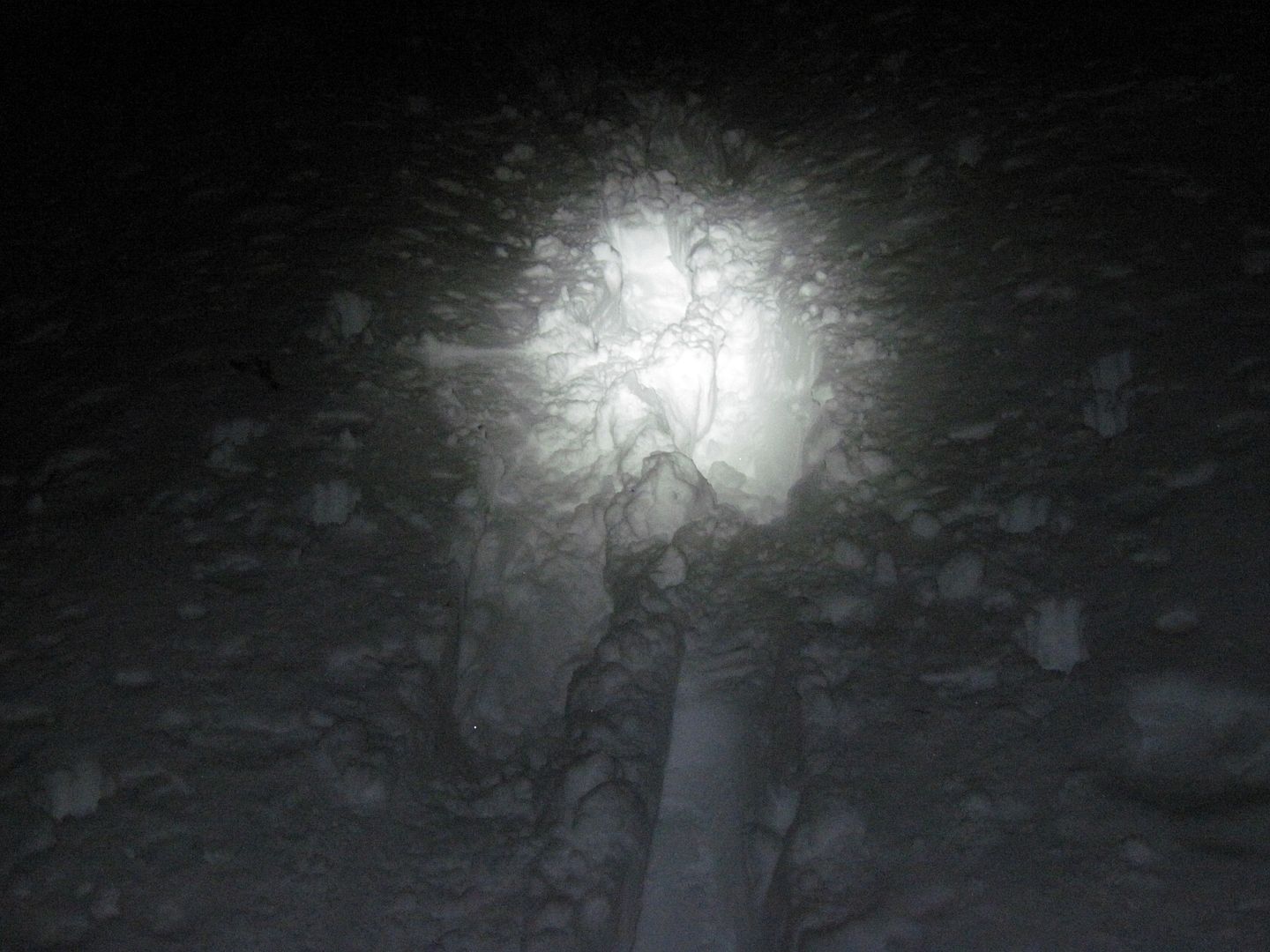 I came away with several conclusions.
1. I can be profoundly stupid.
2. Never take a river for granted, more so during winter.
3. In a survival situation the risk to reward ratio of trying to forage a meal isn't worth it. I am not taking about hydration or good chance finds rather going far out of my way for food. This is time and effort which could be spent on shelter, wood and water.
Moving things along for today. As stated my intent for this outing was for two other topics so don't be surprised if some of these photos come up again in those future (as in a day or so) threads. What made me thing about this was finally technology offered a good way to quantify the effort required to forage an entire meal. I would take the exact same route as the ill fated winter outing of years ago shown above. The weather was easier but still kinda sucked. It was in the low 40's all day. In fact was 41 Fahrenheit on the hike out as it rained on and off all day. But a snow base is very hard to deal with and maybe this time success would make me reconsider some of my above conclusions though will always be profoundly stupid at times. LOL!
Foraged meal energy to reward assessment. GO!
First wild edible. Onion grass. My meal is off to a good start.
It is very wet. I will be field testing those inexpensive wood gas stoves so will need good tinder. This yellow Birch bark will do nicely.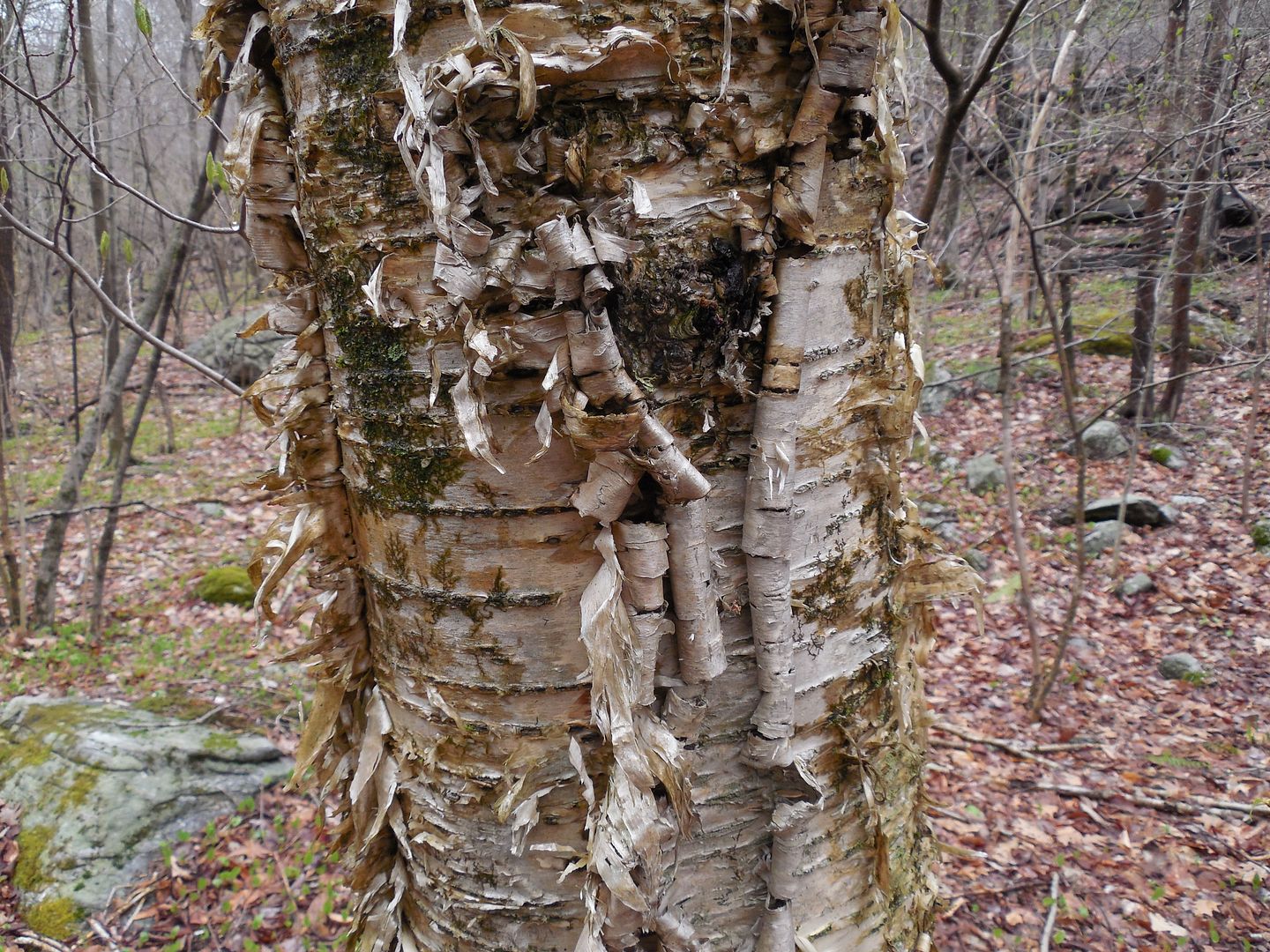 The banks are clearly defined now.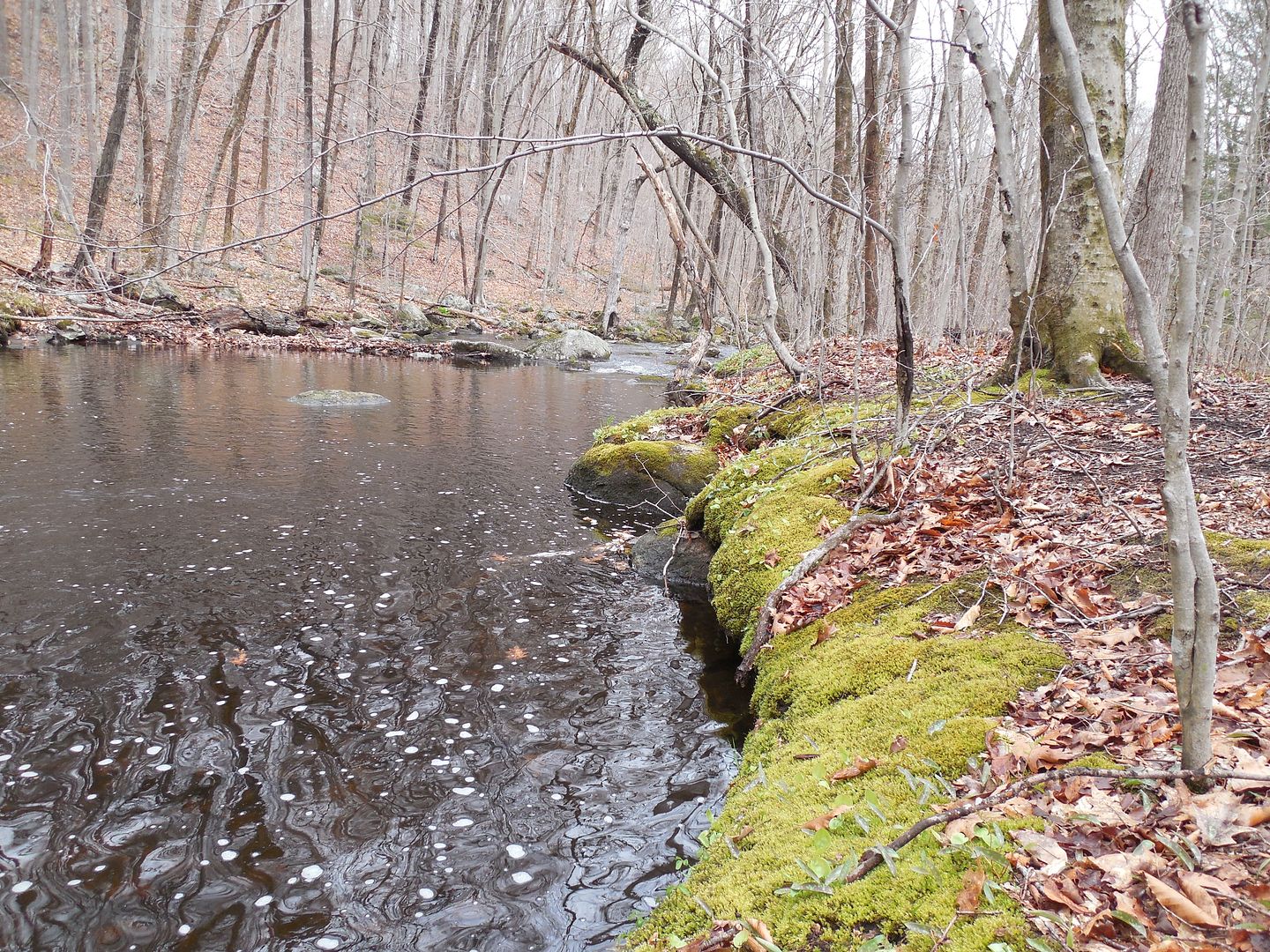 Success!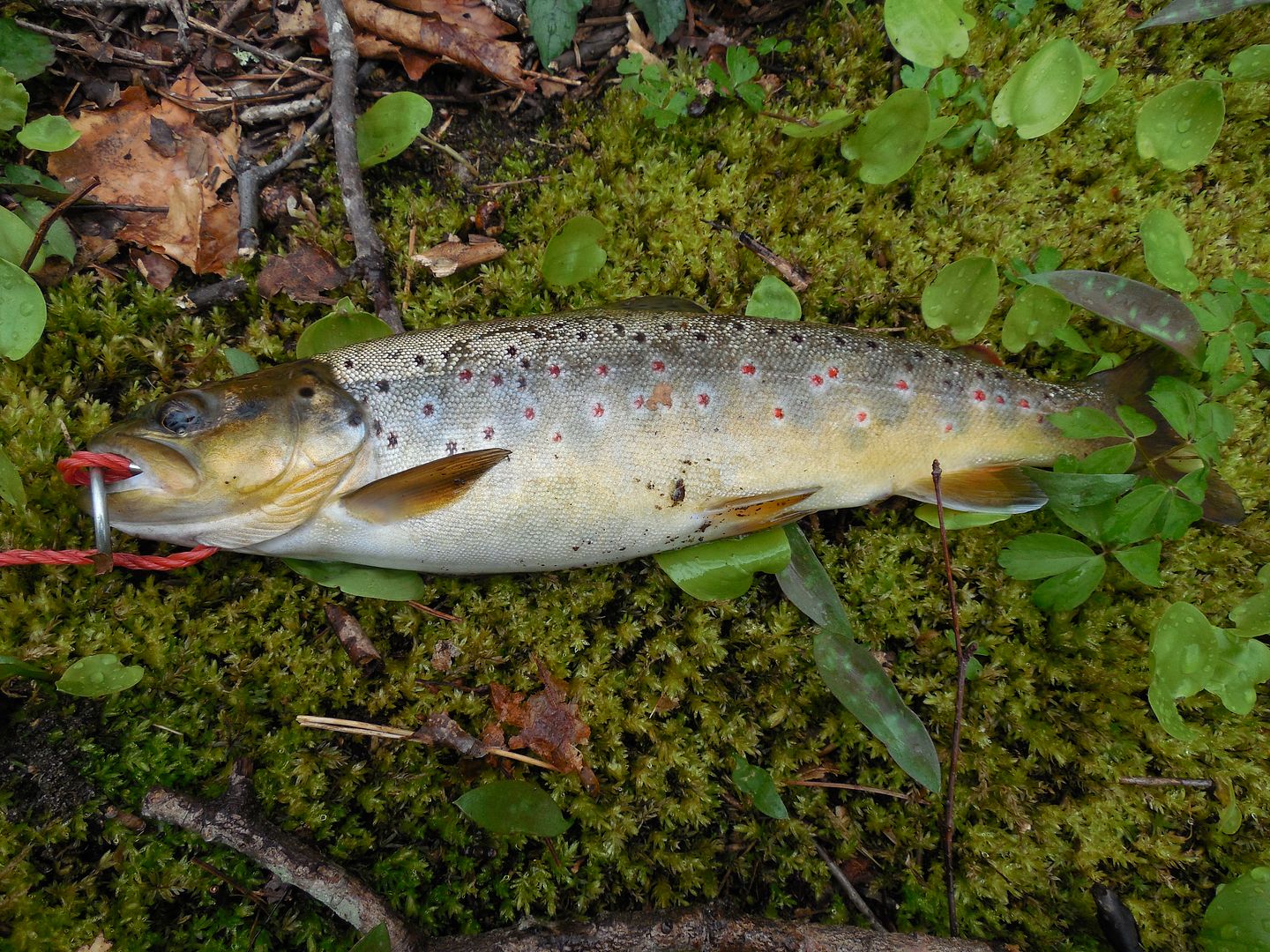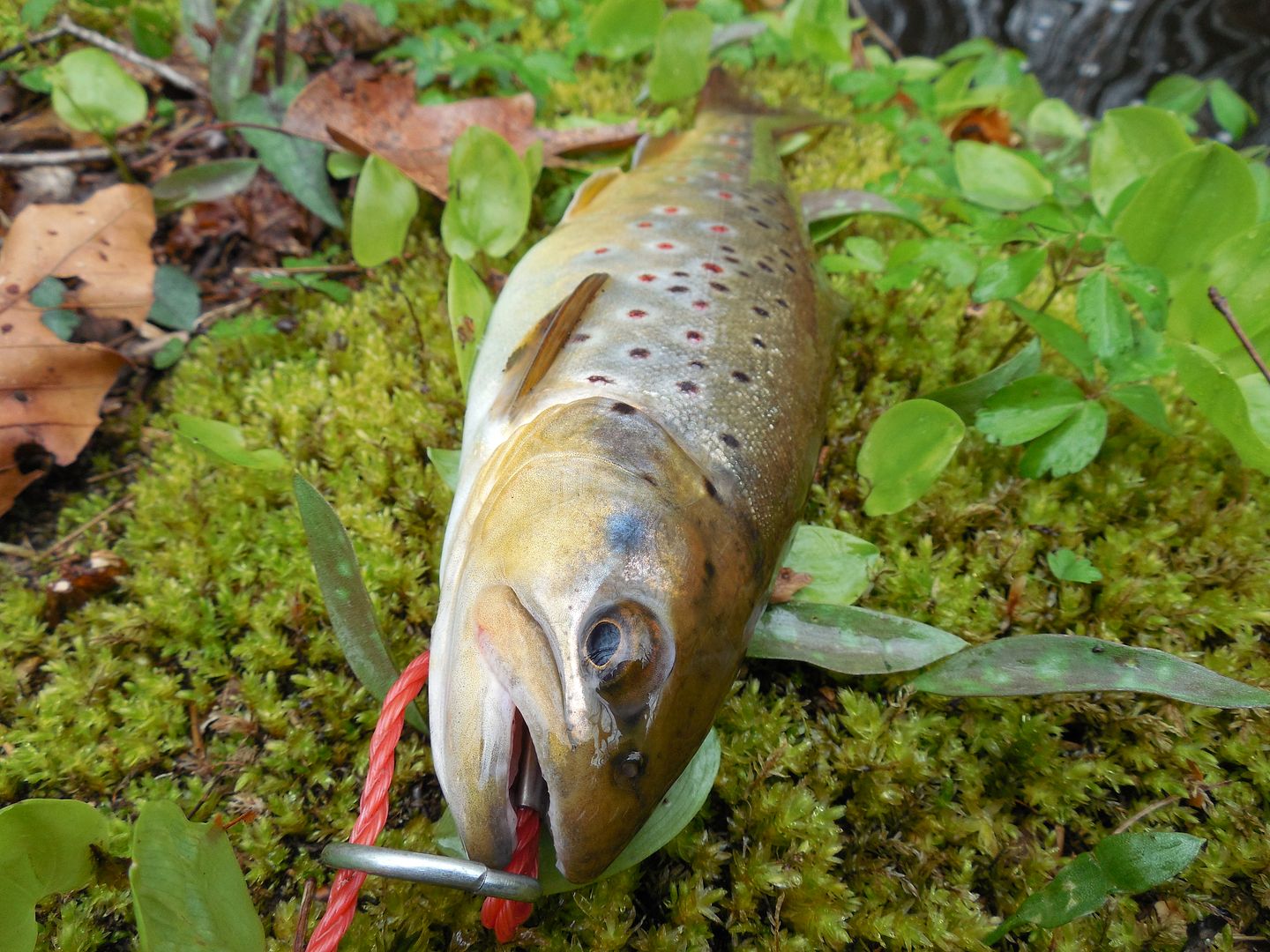 I collected water and cleaned the trout a mile or so away. The little brook in that area isn't stocked by the state, in fact neither is the larger river but I don't clean trout near the same water as it was caught in. Guessing that could be a no no once the head is removed. So cleaned it from not connected water in a very very small brook long after done fishing. Also this was for immediate consumption. During summer it can dry up.
Set-up a similar shelter.
Ran the ridge line from a small Hemlock so the conifer tea would be an easy addition.
The foraged meal and water ready to GO!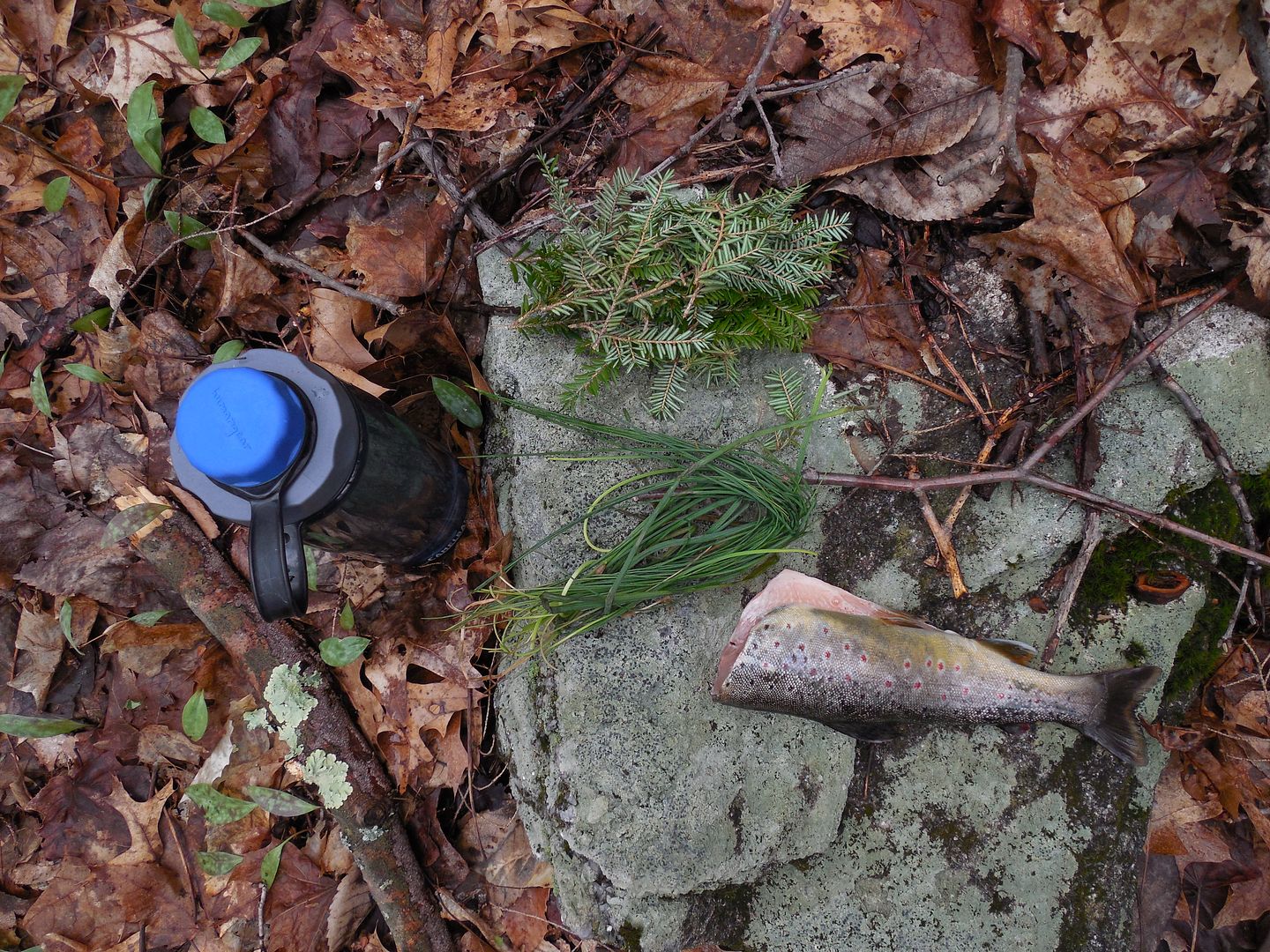 This ground pad is looking better than the last one. Gathered tinder and fuel for the stove.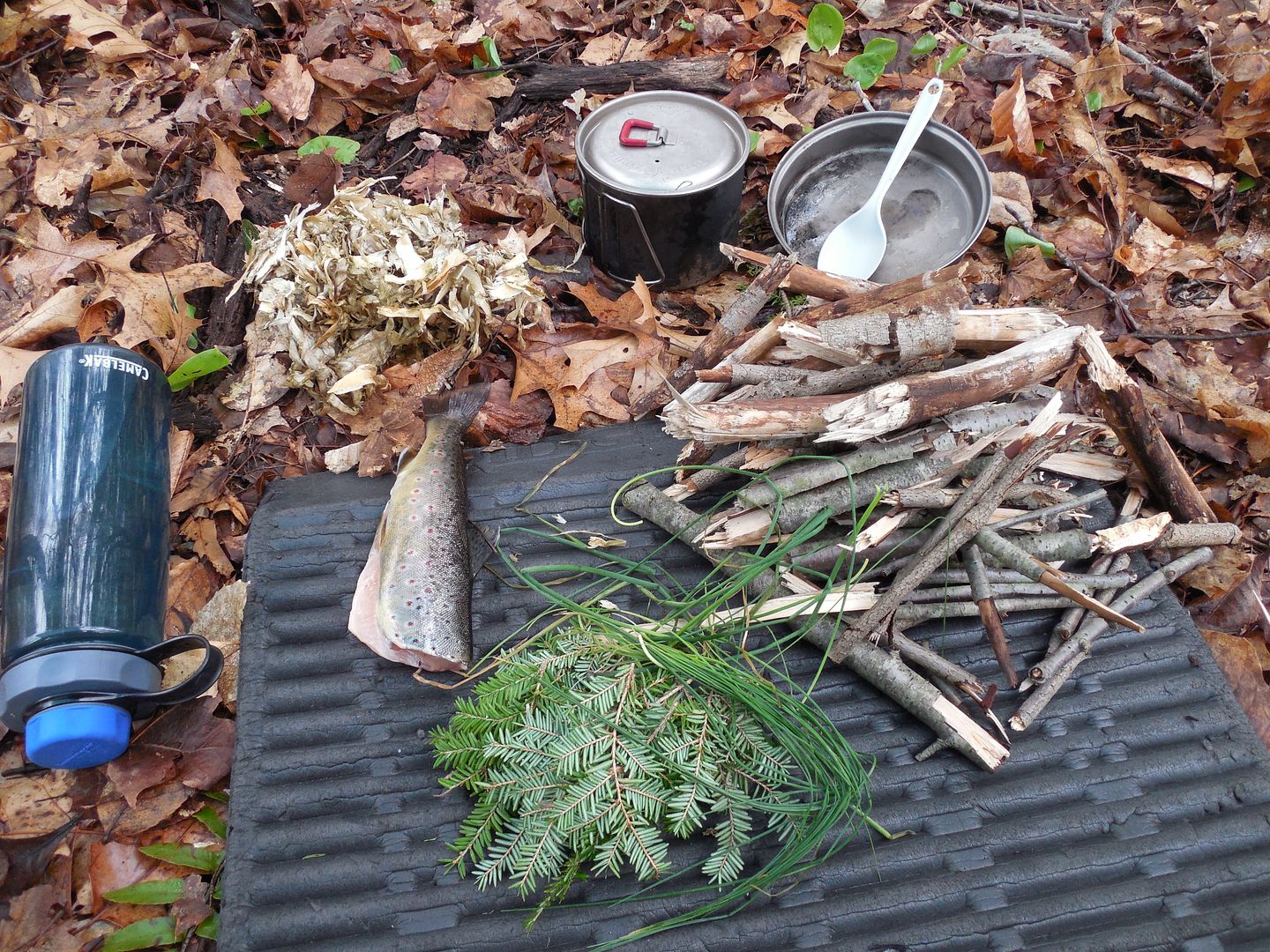 The onion grass turns black fast but it's still good! Tea was great as well.
The best trout I had in years. No joke!
So what was the cost? My hands were getting cold but no big deal. They warmed up nicely when drinking the tea. I turned on the device once the decision was made to go out of my way to forage so minus the base hike in then turned it off after breaking my daycamp near dust so not to add extra on the hike out. Here is the extra distance foraging cost me.
In terms of time maybe 3 hours as the fish didn't come easy. So was that really worth it? Would it have been better to spend that time gathering wood as dusk was well on its way. Maybe more water? What about the unqualified costs? I went up and down some steep hillsides etc etc during those extra 2.11 miles. Not too long ago I trail jogged over 20 miles with a pack.
So these days the extra distance with my pack wasn't noticeable but roll back a year or two ago and it would have been much more strenuous. Then there is the physiological benefits of success along with the satisfaction of surprisingly good meal even if the calories expended might not equal the intake. People are more than just calories in and calories out IMHO. There are aspects to us which aren't so easily measured. I am still undecided if expending a good deal of time and energy for food would be worth it if involved in one of those fantasy survival situations. I am certain hydration and shelter/fire is worth effort. Then again what the heck do it know as this is just mostly ramblings.