Introduction
Getting dressed
Heating Water with/without fire
Building a Shelter with/without a fireplace
Building a Fire
This post assumes that you have certain items, like a axe, fire steel or paracord. What to buy and where to buy it are frequently discussed elsewhere on the forum.
Introduction
Hi, My name is Fred and I'm a Alco... No wait? This is not the right place for that! Hi, I'm Fred and I'm a Norwegian! Right now it's about minus 15 Fahrenheit outside, so I figured I should share my basic winter survival skills. Those of you that are used to cold weather camping would have much more information and skills than i provide here, but this is, as you can see only the basics. Mainly for newcomers.. Or people from Miami
I find several threads in more or less some of the same topics, so I'll just be doing my favorite kinds of shelter, fire and water techniques.
Getting dressed
Several layers of light clothing are much warmer than a single layer of heavy clothing. Inner clothing should be fluffy and porous; outer clothing should be windproof.
Base layer
: The inner layer should be something like this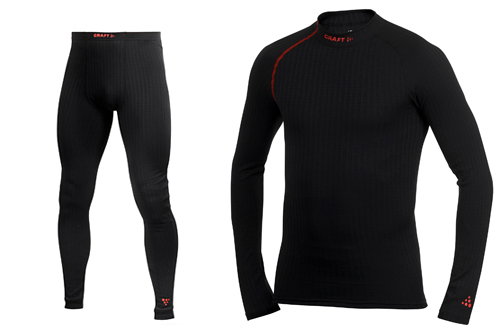 The point of this layer is to keep you insulated and to absorb sweat and transport it to the middle layer so that you can keep warm, comfortable and dry on your inner layers. This is called moisture wicking I believe?
You can go with wool as you inner layer, but keep in mind that wool does not transport the sweat to the middle layer like the synthetic materials do. The plus about wool tho, is that it's still holds the heat inside even when it get's wet. If you're one of those people that can't handle wool directly on the body, the synthetics are your best alternative. If you decide to go with the synthetics, a layer of wool on top of that is a good way to go as well.
Keep in mind
that if you go with the wool or the synthetic/wool combo you will need something dry to change in to when you stop. If you stop moving and you have a wet layer, you'll become cold almost immediately.
Whatever you do, keep away from the cotton clothing! Cotton does not hold the heat inside like wool does! So
Never
,
ever
use cotton as your base layer
Middle layer
Your middle layer goes over your moisture wicking base layer. So the purpose of this layer is basically sweat storage.
The middle layer should be thicker than the inner layer and you might need any number of layers depending on the environment you are in.
Some examples of what fabrics to use is merino wool, fleece or polyester. You must decide what you find most comfortable and easy yourself, but personally I recommend several thinner mid-layers. This provides more flexibility to adapt to the weather and the heat I produce.
The purpose of this layer is to keep the warm air trapped close to your body, so keep in mind that this layer should not be tight like a condom, but a bit more loose.
Cotton is of course still a no go.
Outer layer
Here you might want to go with a heavier fleece or a thick wool sweater. This is your thickest layer of thermo and should (In my opinion) be only one item, so choose what you find most comfortable and usable in the cold. I find that a fleece is the way to go for me, it's easy to take off because of the zipper in the front, it has it's own pockets and fleece doesn't wight much.
I choose to divide my middle layer in to two categories because you might not need the heavy fleece/wool all the time... So my outer layer is just for the more extreme situations.
Shell
This is your final layer. The purpose of this layer is to keep the rest of your clothing dry and warm so the shell must be waterproof and windproof.
You can find many types of jackets for this layer, insulated and uninsulated, so you must pick the ones you need for the environment you're going to use it in.
There are many features to be considered - weight, durability, length, warmth and waterproofing. Assess your needs closely before purchasing a jacket like this.
For your bottom half you might only need a base layer, mid layer and a shell. I recommend experimenting a little here because some of us might need only base layer + the shell and other might need all of them
Headgear
Funfacts:
As kids we were all led to believe that most of our body heat escaped through the head.. Well, as it turns out, that's not true! Only about 10% of our total body heat escapes through the head!
I'm not saying that you should neglect your cool fluffy winter hat!

Apparently this myth started with a experiment done by the US Military in the 50's. The test subject were dressed up in arctic survival gear - without the hat. This experiment that showed that over 80% of the heat that escaped, did so through the head. So it's not most you YOUR heat that escapes through the head.. It's most of THE heat that escapes, does so through the head.
Covering your head and face is important though! Studies show that parts of your head, face and chest is most sensitive to changes in temperature, making it feel as if covering them up does more to prevent heat loss.
A good wool hat and a neoprene face mask is everything you need to prevent heat loss from your head! But I have a warning for you! Do not cover your face with a scarf or a shemag. If you have to, leave an opening for the mouth!
This is a neoprene mask that will keep your face warm in minus 40, easy!
Footwear
This subject is fairly basic. Don't wear shoes that's too tight, keep dry and keep moving your toes. Good socks are required. also remember to change socks often, and dry the used ones on the inside of your jacket. The most important thing is: find good shoes and accessorize.
My winter footwear is a pair of leather boots with no insulation, wool socks and something we Norwegians call "fotposer"
Yes, those are insulated and can easily be folded up to fit the outside of your backpack.
I don't know how your views are on footwear, but this is some of the best equipment money can buy in Norway. 200 dollars for the "footbags" 400 dollars for the shoes and 15-20 dollars for 1 pair of socks.
The footbags are also qualified to use in a chemical attack.
Heating Water with/without fire
Will be updated
Building a Shelter with/without a fireplace
Will be updated
Building a Fire
This is my favorite method of building a fire. It's fairly labor intensive(chopping and cutting) and it easy to do. (assuming you have a lighter or a
fire starter with a wick
)
I have never used a normal fire starter because the one with a wick works fine for me. Takes up just as much space as well. Easier to use too I think.
Here goes..
There are 3 things you need to make the fire; tinder, kindling, and fuel wood. Some people like to use branches, grass, leafs and things naturally smaller and more easily combustible. But I like to use larger logs and chop them up in smaller pieces.. IMO chopping and cutting wood is more intensive work than walking around gathering and breaking branches. And that's good for keeping you warm until you get your fire up and running.
Gather a big pile of wood, when you think it's enough, double it! If it's really cold, or you don't easily warm up, walk fast or even jog when you're looking for firewood. Gets the job done quicker and you won't be cold while doing it!
Clear the snow off the ground where you want your fire to be.
Then you chop up some of the wood in smaller pieces about as thick as your thumb. This is
kindling
You place two of the kindling sticks parallel on the ground and two on top of them. As shown on the picture.
Take a couple of the kindling sticks you made and scrape the sides of them with your knife until you get a small pile of
tinder
Then take a new stick and do this
Light that one on fire, put it in the middle of your square, place 2 new sticks on the top, and drop tinder in the fire.
As soon as that combusts, place 3-4 kindling sticks in a pyramid formation inside the square.
When all the sticks are on fire, add the rest of your kindling in the same in a pyramid formation.
Wait a little while, add the fuelwood. Congratulations, you made fire! Enjoy!
I'll update more later!