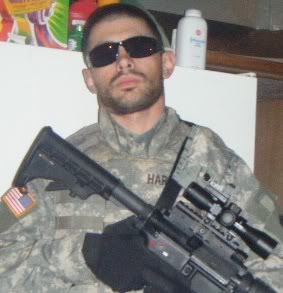 Name: Justin (Hollowpoint)
Hometown: Spokane, WA (previously Ft.Bliss, TX and KAB Okinawa, Japan)
Interests: Emergency preparation, shooting, watching the news, playing video games, camping.
Occupation: Parking Enforcement Officer (Former Radar Technician for PATRIOT)
Bio: I am a 6 year Veteran of the US Army. I was a Sergeant and I come from a long lineage of Military Service. No combat experience, I was simply a training NCO for an Ordnance Company. Divorced single Father of 2 wonderful children that are both excited to learn about firearms in a couple more years.
Specialties: Fiber Optic (TFOCA I and II) repair, AC, DC, Microprocessors, Logic, Microwave, Radar Theory, Soldering, Building, Open Water SCUBA Diver and MMA.
EDIT: I went through Air Assault school, so I have slipped from one bird. If you count that as a Specialty, chalk it up.