I recently posted on a thread about water storage:
Ricky Romero wrote:In places where the tap water comes from a city main and not a well, usually the water is chlorinated. I know that on certain days the stuff from my tap tastes like pool water. I would imagine no further purification would be needed in these cases.
This sounded to me like an assumption based on nothing, so I decided to become a guinea pig in an experiment that will determine the validity of my chlorinated city water theory.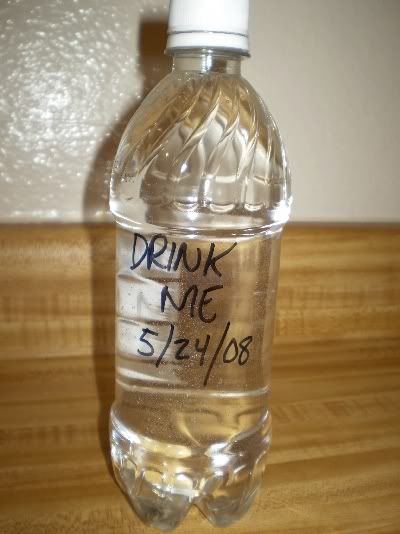 This is a 20 ounce plastic soda bottle retrieved from my kitchen trash. 30 minutes ago, it contained approximately 10 ounces of Dr. Pepper. I don't know who it belonged to (probably my GF's sister) and I rinsed it with only tap water (no soap, no bleach). For the record, this is not one of the days that my tap water tastes particularly chlorinated. A taste test performed to establish a baseline prior to capping revealed nothing out of the ordinary.
For this experiment, I will store the bottle full of tap water with the cap on for 1 full year and then drink it. It now resides on the top shelf of my pantry where it will be exposed to very little light. I don't think exposure to light will make a difference, but if anyone disagrees, I'll leave it out. Hell, I'll leave it on the windowsill. I'll update the pic if I see any visible changes (algae growth, yellowing, mold), but no matter what happens
I will drink it
.
I hypothesize that after 1 year, I will be able to drink the water in the bottle with no adverse effects.
I am starting a microbiology class at the beginning of June, and I'm considering taking samples periodically to test for bacteria growth, but this intrusion may taint my overall results through inadvertant introduction of pathogens or cleansing agents used on sampling equipment into the subject bottle.
Any thoughts, beside the fact that I'm up this late and probably am not thinking clearly?