Suburban Family Tornado Shelter and Preparation (Redux)
By: Merovech
In my original post
viewtopic.php?f=6&t=92334
I discussed the adventure of finding (a lack thereof) information on tornado shelters, stocking one and other practical information.
I recently moved and began the process again, I thought it warranted a new post with combined knowledge and other lessons learned.
Being a family man at the head of a large family of 6 in tornado alley, a tornado shelter has been on my mind from the time I moved here from Alaska. In the past 4 years, I have seen three major tornadoes, all three of which were less than 3 miles from my house and had us in our shelter for up to two hours at a time.
Things worked out a bit differently this time. We purchased a brand new house and in the contract we specified we wanted a shelter put in before closing. I refused to move my family of 6 from a house with a tornado shelter into one without one. Thankfully my builder agreed and threw in the shelter with no additional charge. Honestly he probably got a contractor rate on it but we went with the same company, "Ground Zero Storm Shelters" they are pretty much the cream of the crop in the central Oklahoma area. (Full disclosure, I am not affiliated with them in any way). This meant I didn't have to publish my name in the paper for a building permit or anything asinine like that.
The civilian cost here is roughly $3000 for an 8 person shelter, a bit cheaper for military and such. There are also rebates and grants available, local banks also offer low interest loans on them.
I had them install it in the 'extra' 3rd car garage, so no cars will ever be parked over the top of it just my workshop and sawdust.
The shelter came stock, basically a metal box with metal stairs and wooden planks for seats.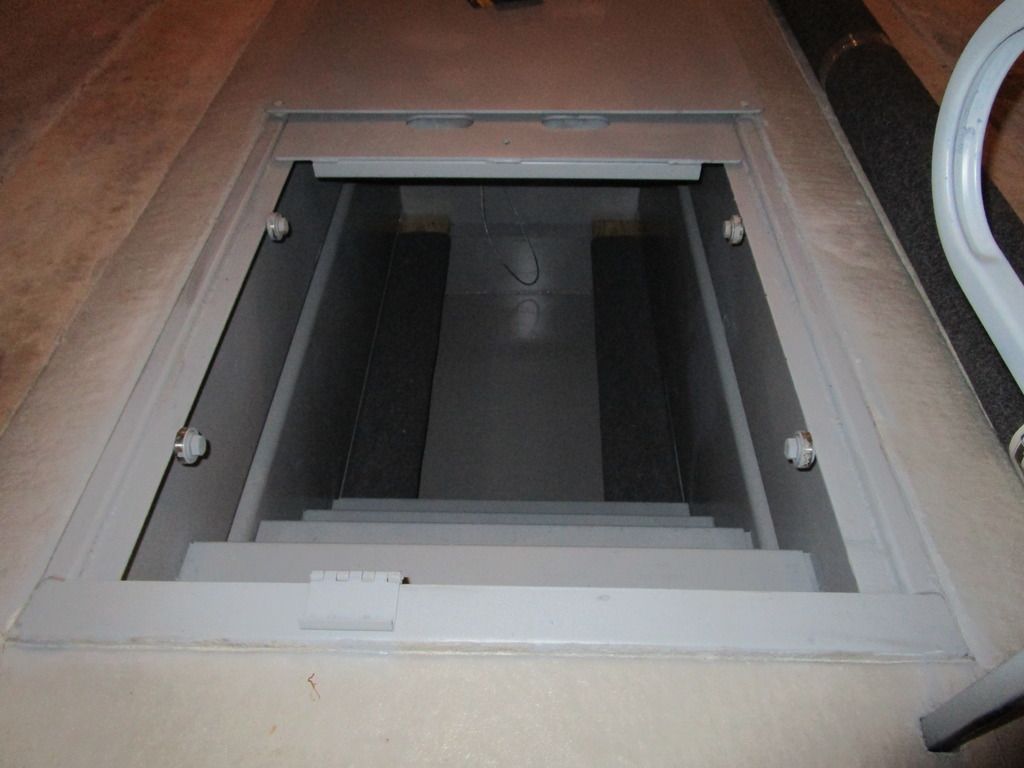 The first thing I did was put some carpet in the bottom and put grip tape on the metal stairs. This is pretty much required and I think the various companies should really do that automatically. If you do nothing else to your shelter, these two things are on top of the list. The carpet helps with sound reverberations a bit and the grip tape keeps you and others from falling and getting hurt.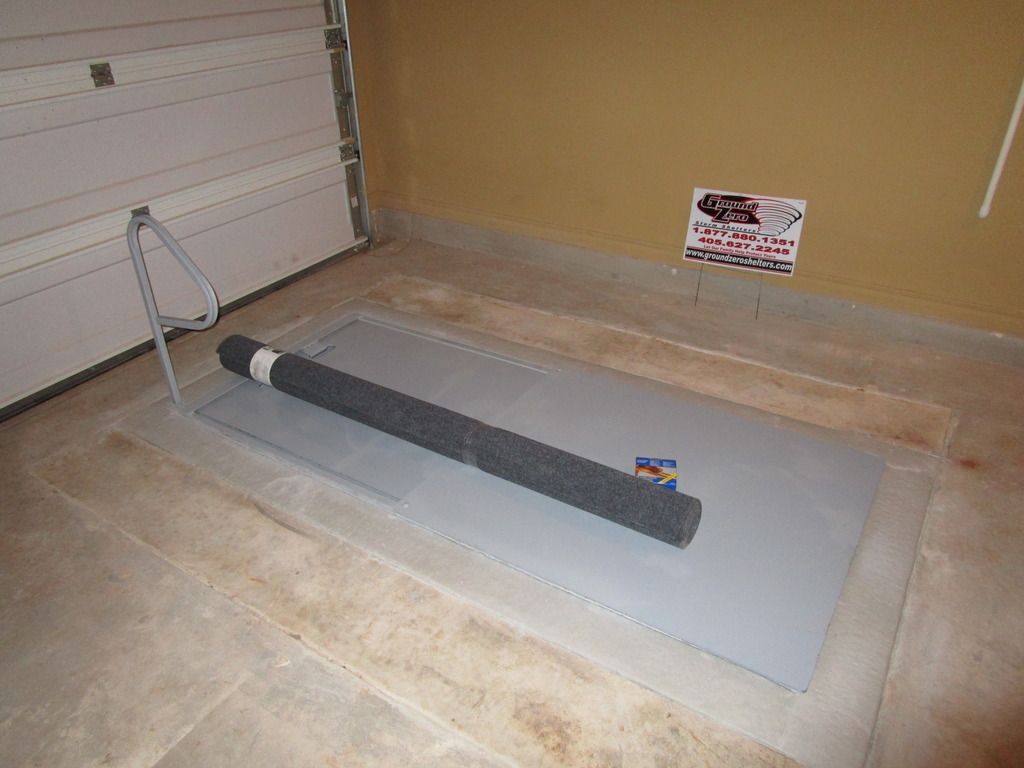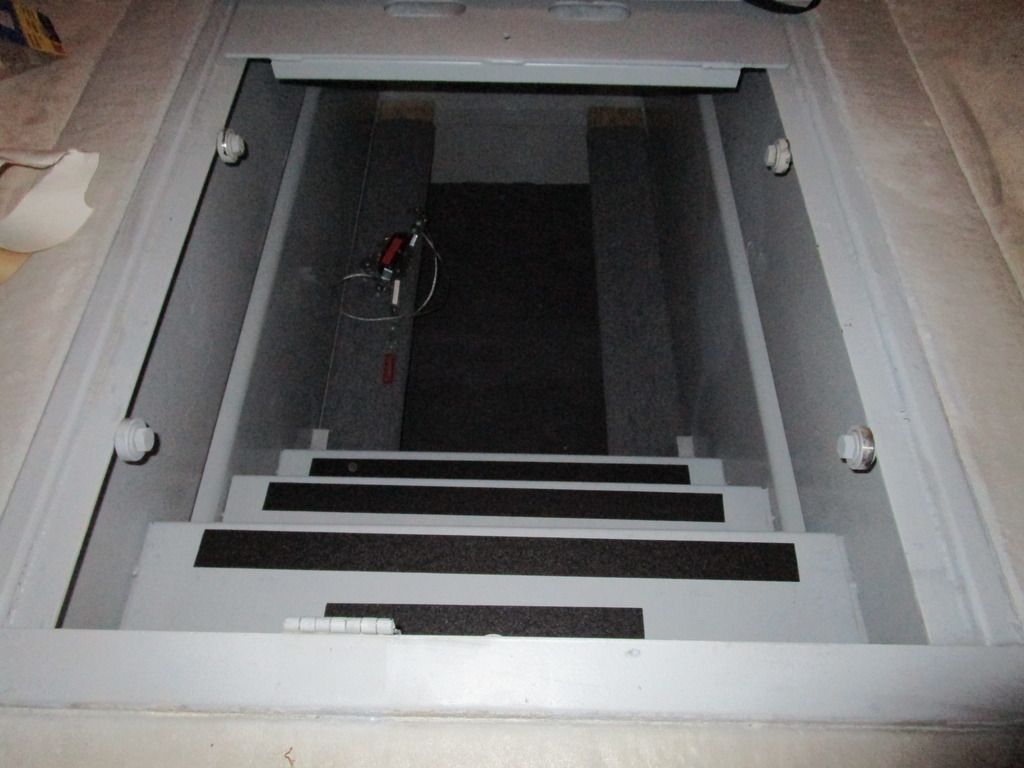 I learned from my last shelter that pretty much anything you put down there is going to be ruined. It is a cool and humid metal lined hole in the ground. Books, paper batteries and all that HAS to be sealed up and air tight.
The main things that I see as a requirement are: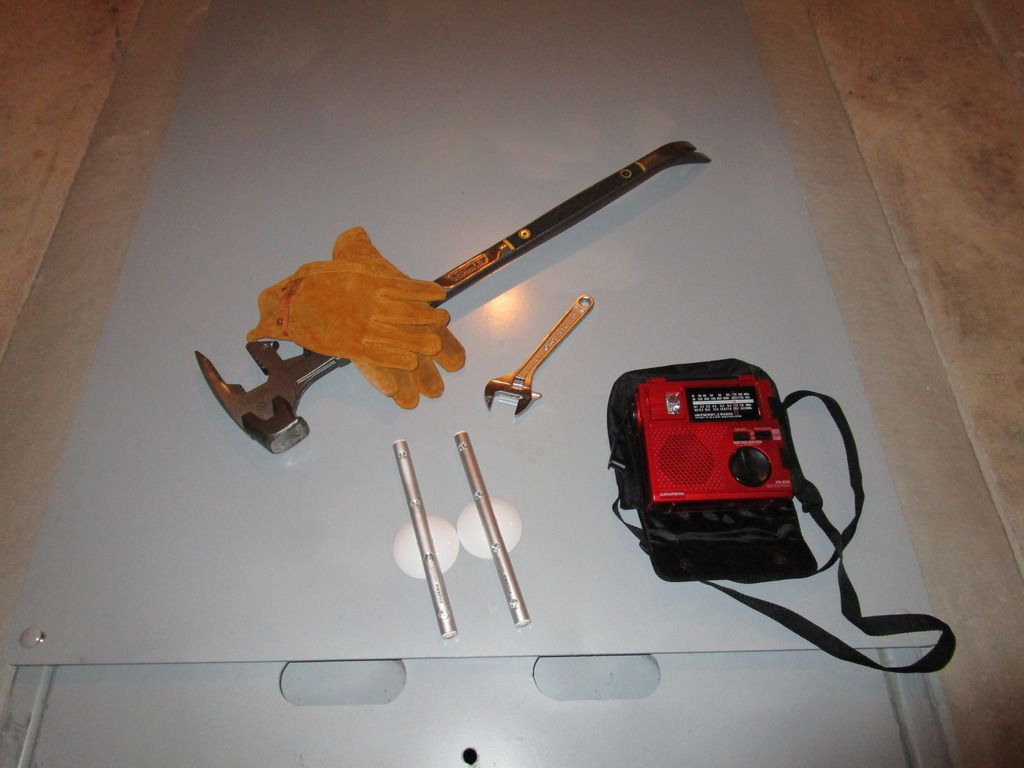 Register your storm shelter with the city/county.
This means that if your house falls on your shelter, the local authorities know to come dig you out. This is one of the first things they do after a storm. The longest anyone in Oklahoma has been stuck in their registered shelter was 8 hours and they were very rural. (no source, this is what I was told by the register clerk)
Work Gloves and Sledge Hammer
, If a tornado actually hits your house you need a way to access the important things in your house before the looters show up at night (which they will, they will steal your copper, your air conditioner units, and anything else they can find the night of the tornado, it is just a fact of life and sadly the state and local law enforcement does very little to stop it.)
Wrench
, Inside the shelter are bolts that hold the back half of the door system on. If something falls on the door of the shelter, the back half can be taken off for emergency egress. But you need a wrench to loosen the bolts.
Lights
, You are shoving people and likely kids in a dark confined space underground, lighting helps with the discomfort. LEDs are nice.
Emergency Radio
, Crank radio with a little light. Keeps you informed.
Battery Powered Fan
, Even with two people in lower 70 degree weather it gets pretty hot down there. We found that a small fan really helped with the comfort level.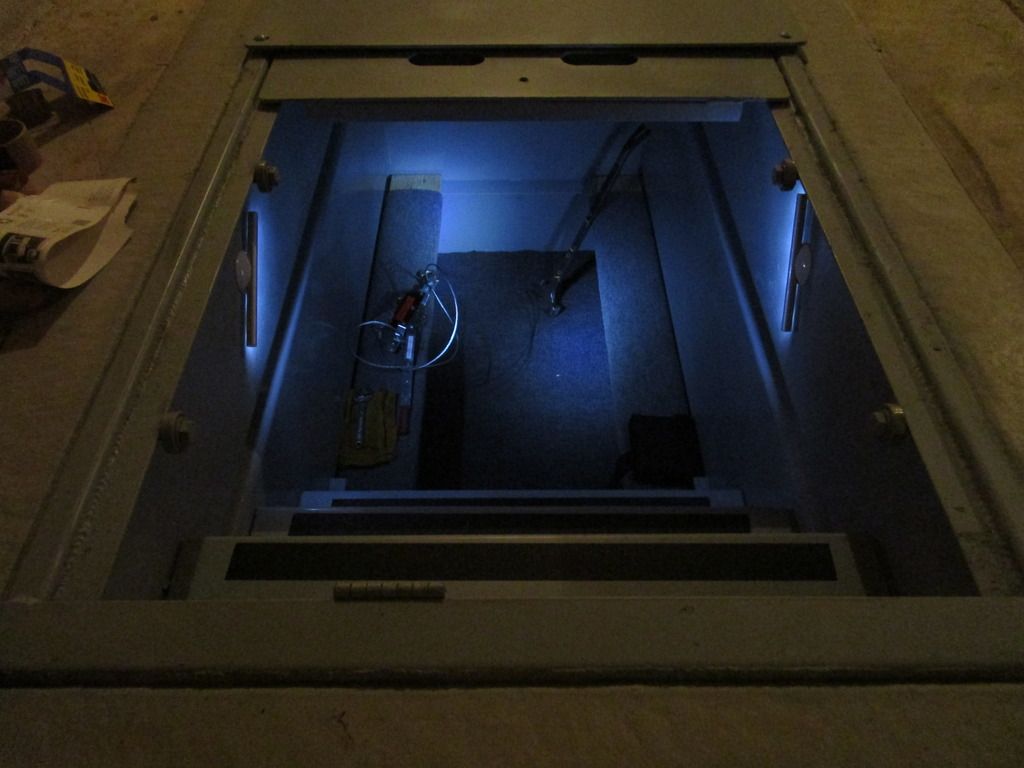 This is the finished product for phase one, I did this all the week we moved in to the new house.
For
Phase Two
I will reflect on the lessons of the past and complete this checklist:
#1:
Potty Bucket
with bags. Haven't had this problem yet, but with a family of 6 I know it will happen one day.
#2:
Laminated Wall Map
of my City, with magnets. This will help greatly with visualization and keeping track of the storm paths using a map.
#3:
Complete Set of Clothes
for Each person including shoes. Reasons are obvious.
#4:
Food/Water
, A Package of Ozarka bottled Water and some well packaged food is enough.
#5:
Storm Bag
, A grab and go 'bug in bag'. Basically contains a firearm, important papers, a portable hard drive, an Insurance documentation CD and a few valuables.
#6:
Tarps, Bungee Cords and Duct Tape
#7:
Diapers and Wipes
(Sealed)
#8:
Kids Kit
, Magnetic Toys for the walls, 4 flashlights (one for each of them to have their own light, helps with them having more control of their environment), snacks.
---------
I like to say that my first shelter was the best $3000 I ever spent, and that remains true. Just the peace of mind value was worth that. We never have to worry about where we are going or what our plan is. If an F5 Tornado is coming toward our house we can ALL be inside the shelter in less than 2 minutes from a dead sleep if needed.
Additional Preps include a Digital TV Antenna in case the Cable TV goes out in a storm (which it has, oddly enough), a NOAA Weather Alert Radio next to the bed which combined with the tornado siren about 100 yards from my bed keeps us pretty informed and alerted to danger even in the middle of the night.
If you live in a tornado prone area, and even if you don't. I highly recommend having your own "hidey hole".