This trip began with a fateful Friday night for me. I double checked my gear, loaded the car, squared away every last detail and checked in to get to bed by 10pm to be ready for a 5am drive the next morning. It's about 4 hours to the campsite for me under normal conditions. Leaving early i had hoped to be able to do it in 3.5 and have time to relax and maybe grab a real breakfast near the campsite. I had planned to be there by 9am to open up registration (Even though i only had myself and 2 others confirmed, other people could have shown up.) I climbed into bed, turned out the lights and lay my head down. My dog, who sleeps at my feet jumped up and lay down as well.
Less than a minute passed and he shifted to scratch his neck. No big deal.
Then again. And again.
About this time I began feeling painful little bites and itches. i turned on the lights and checked the dog. Both he and my bed were infested with fleas. I swore up and down, cursed the fates and dragged him outside. I proceeded to tear down my bedclothes, pillow cases etc, and stuff them in the wash and then hopped into a hot shower. I had a bottle of flea and tick shampoo which i used on my own head, then proceeded outside. I cornered a bewildered 85 pound pit-bull in the yard with a hose, and proceeded to hose him down amid yelps and squirming. He managed to scramble away a few times, and planted his feet, causing me to have to pick up a soggy pit-bull and carry him back to the corner. This was accomplished in my boxer shorts. My neighbours were amused and quite enjoyed adding sarcastic comments. Oh My precious feelings.
Once the preliminary soaking was accomplished, the dog (Thor) was dragged inside and into the shower where i proceeded to give him ANOTHER bath with flea and tick shampoo, this time in the shower stall with me. Once that was accomplished, with a wet dog shaking moisture onto all my worldly possessions, i proceeded to get my linens into the dryer and grab some fresh ones for my bed. By the time i settled back in it was 2am. Pictured below: Horatio_Tyllis, Thor.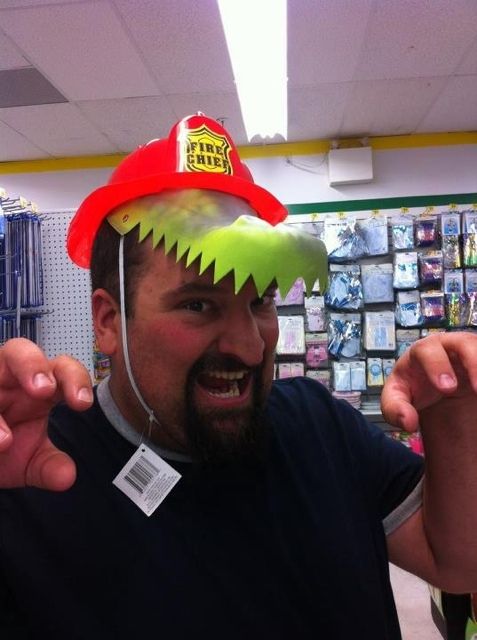 I fell asleep about 2:30-3:00 am, and my alarm woke me at 4:30. I showered, ate a grand breakfast of leftover pizza, and threw some ice in the cooler. I then decided that i was in no condition to drive. I left my food in the fridge and the ice in the cooler, texted my fellow campers and went back to bed. mention this because later when i did get up the food remained in the fridge and the ice in the cooler while I simply got in the car and left. I blame fatigue. I went back to sleep about 5:30 am and slept til 9. I awoke feeling much better, hopped in my car and left. The drive was long and filled with holiday weekend travelers. It was slow going in parts, especially through Pickering and Ajax, and I used my GPS avoid freeways option to make better time. I arrived at camp approximately 2pm.
I messaged canuckdiver, and had him meet me at the road near the campsite. From here it was a couple miles in through an off-road trail to a hydro cut, then another half mile or so hike in. I rode in with my gear in the back of canuckdiver's jeep and then followed him in, he had his quad which had been used to bring in all our communal water and a bunch of gear, as well as building materials to build a small shed/outhouse which was our project for the weekend. Pictured below: The hike in.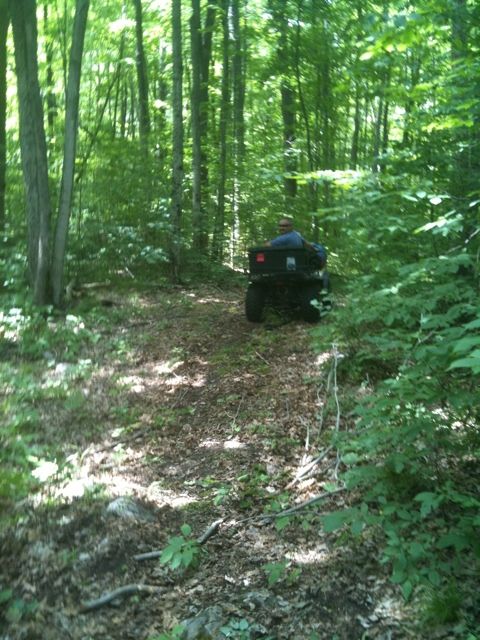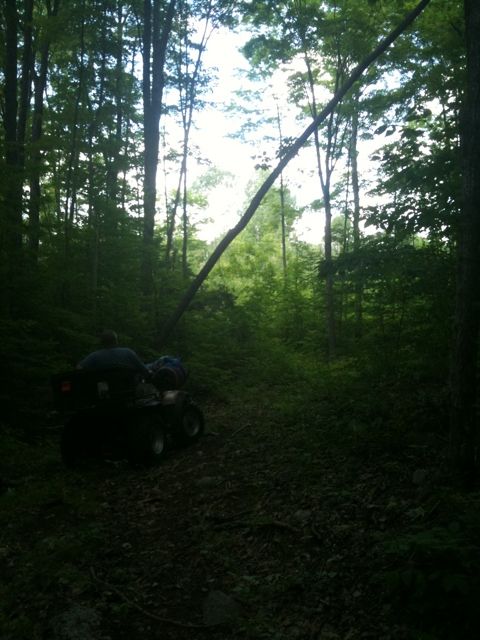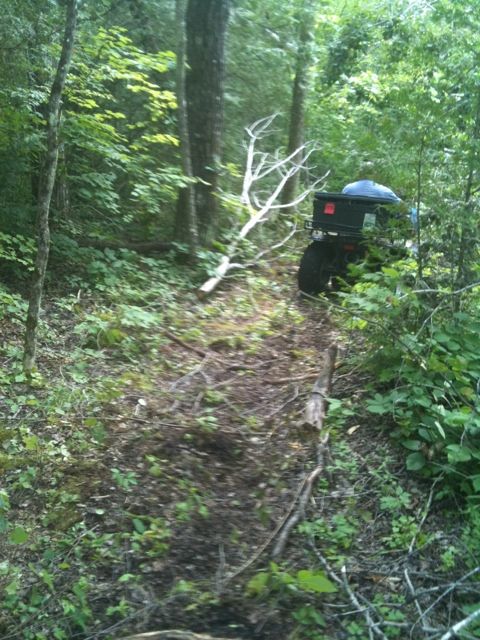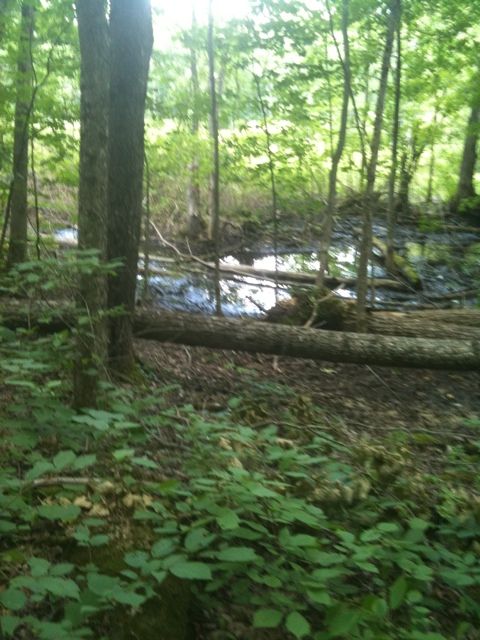 All of this land was quite heavily forested and rather swampy. The bugs were out in force, but the temperature was pleasantly cool, maybe in the mid 70's. It was a pleasant hike. Once i reached camp i set up my tent in a nice semi flat area with soft dirt. this was absolute HEAVEN after attending zcon the week before where i slept on a slope of jagged rocks. I set about socializing and making some lunch, which was the curry pictured above by Bullonparade. The afternoon continued with my construction of a fire bow which was ultimately unsuccessful due to the inability to find a good spindle of hardwood, but i learned and tried. I now know how NOT to make a fire bow and know i need to practice more. We also took a nature walk and met some of the local wildlife in a nearby cave.
That night was quite cool and pleasant. I was on firewatch at first, and it turns out we had not quite put out our fire as it reignited about an hour after we'd settled in for the night. I got out and put it out again, this time with plenty of water.
The next morning was breakfast of gigantic smores made with nutella and more socializing. We played with the air pistols and laughed a lot. we helped build the outhouse. Bullonparade built a number 4 deadfall trap to test his skills, and much merriment was had. Lumber was cut and gathered, meals were made. Canuckdiver made cored apples, stuffed with OhHenry bars and roasted in foil. they were amazing. I will steal this recipie in future. Another fellow survivor joined us during the day, a friend of Canuckdiver bringing supplies from the outside world in the form of rum and cola. He was welcomed into our camp heartily but left after a few hours. Pictured Below: Bullonparade, Khukri, Canuckdiver and outhouse, smiling bullonparade, yummy curry cooking in foil, local wildlife.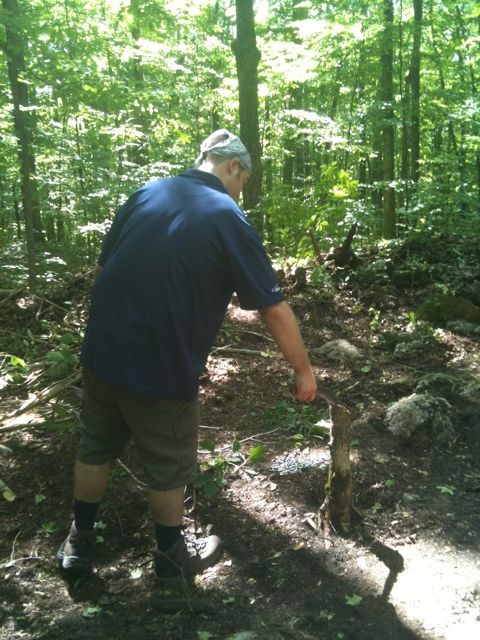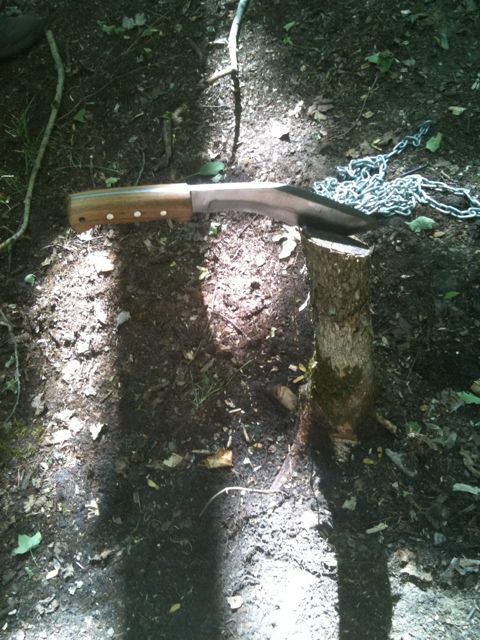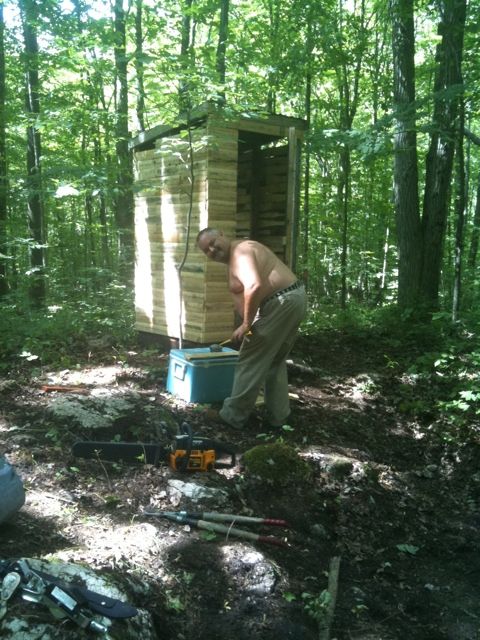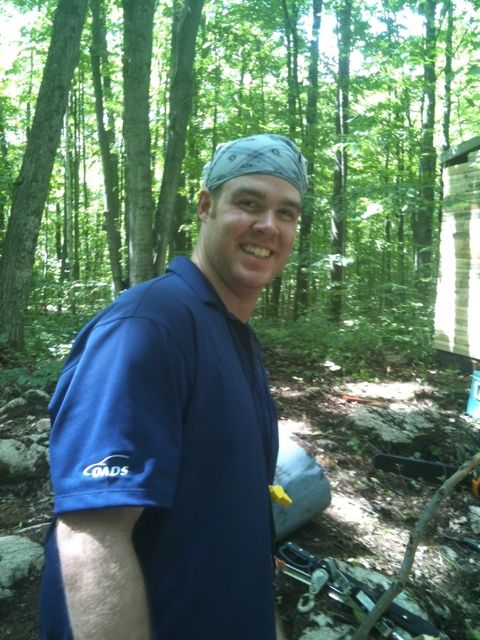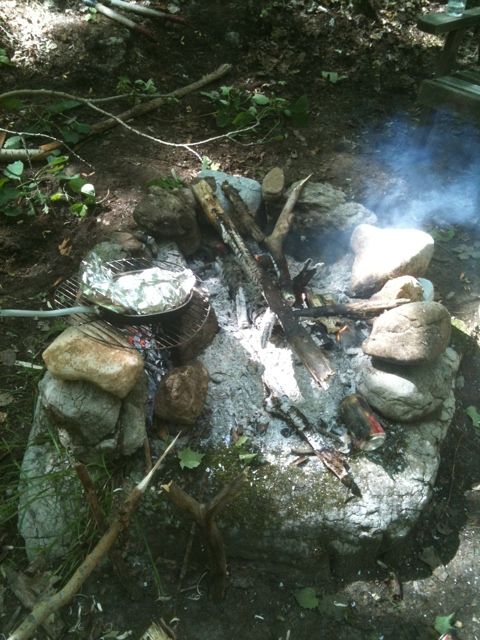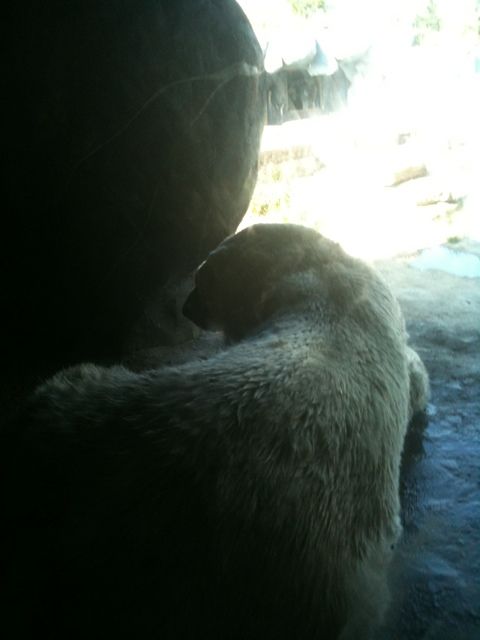 That evening was again wonderfully cool and pleasant. We discussed ZS, upcoming events, plans for a Mayan apocalypse party on Dec 21, 2012 (if you're reading this, book it off!) and the possibility of forming a chapter in Toronto. It was an awesome night.
the next morning we broke down camp, loaded up and hiked out, then met at the Bull and Boar BBQ joint in Belleville. It was amazing. (Go there. i don't care where you are. go. Now.) and then i headed home to finally rest and recuperate. Pictured Below: Me hiking out, Bullonparade hiking out, Canuckdiver hiking out.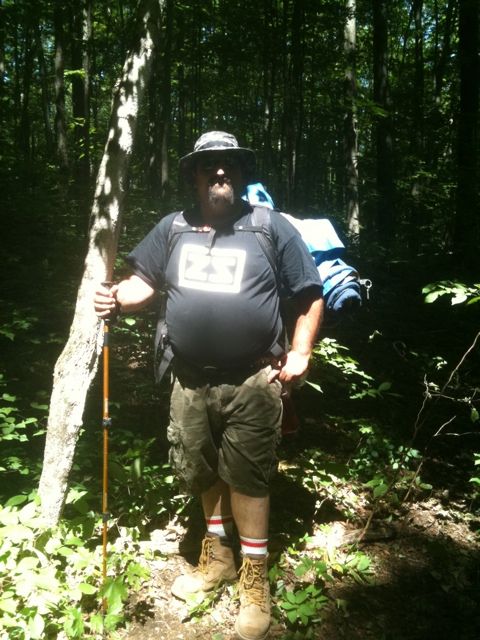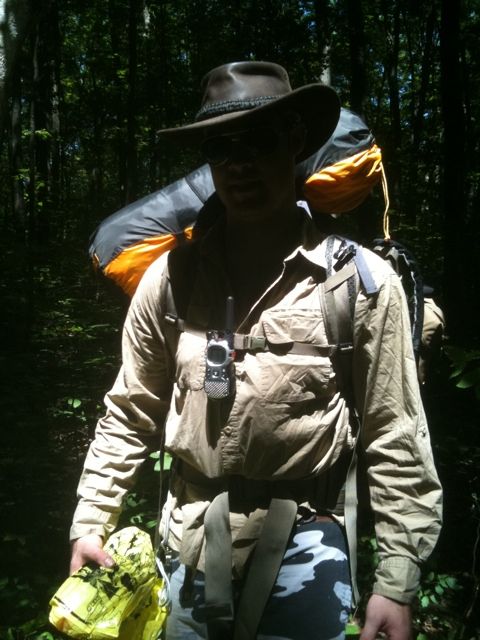 Other random pictures: (Campsite and scenery)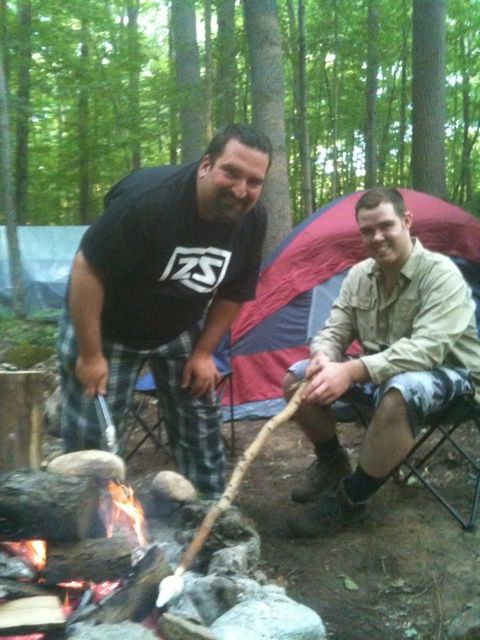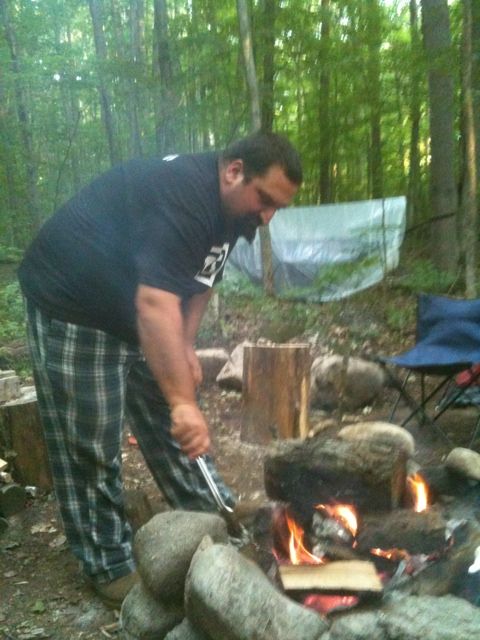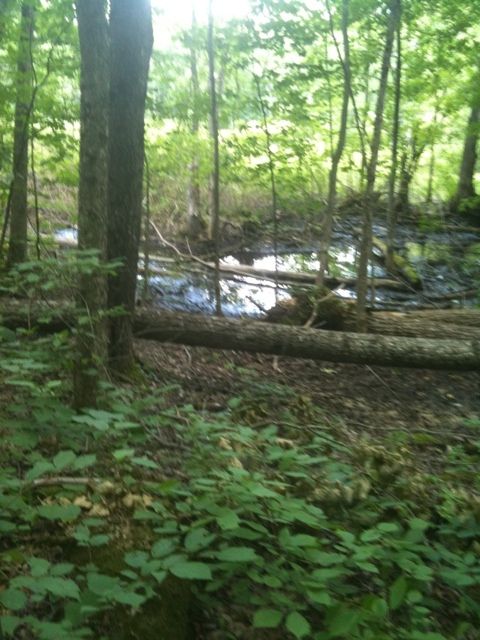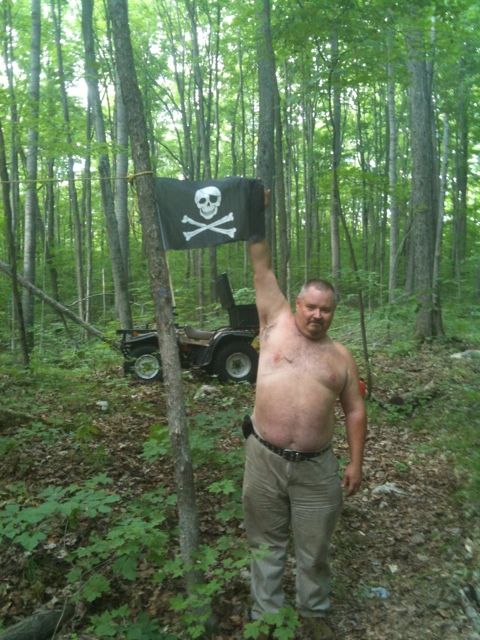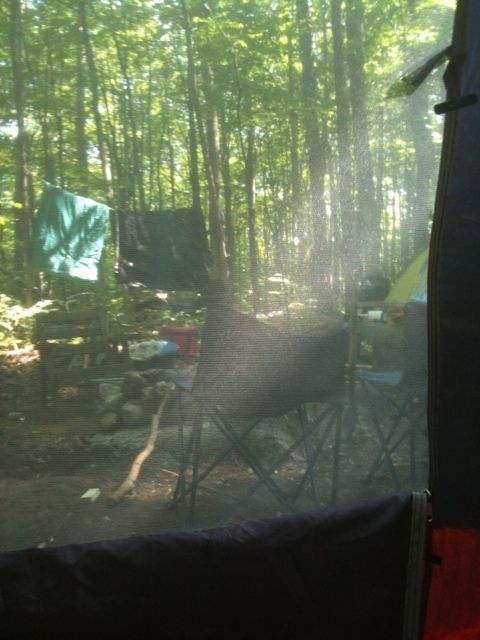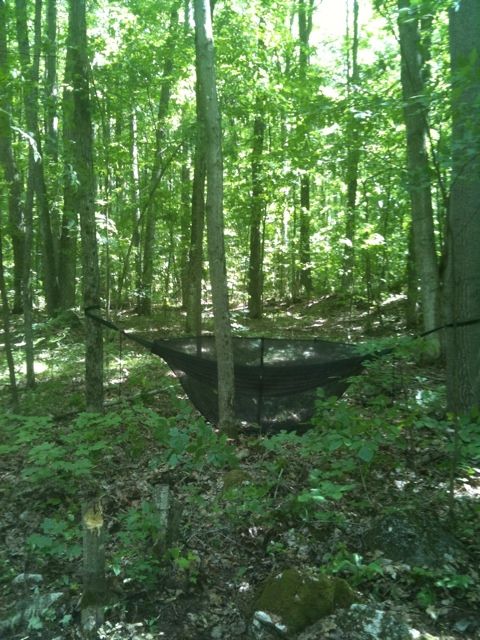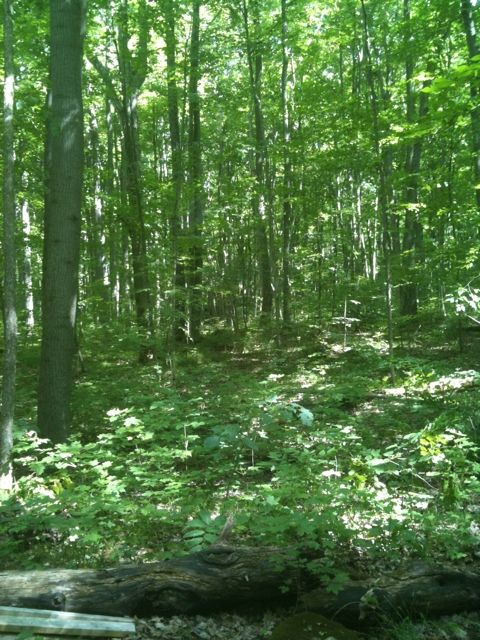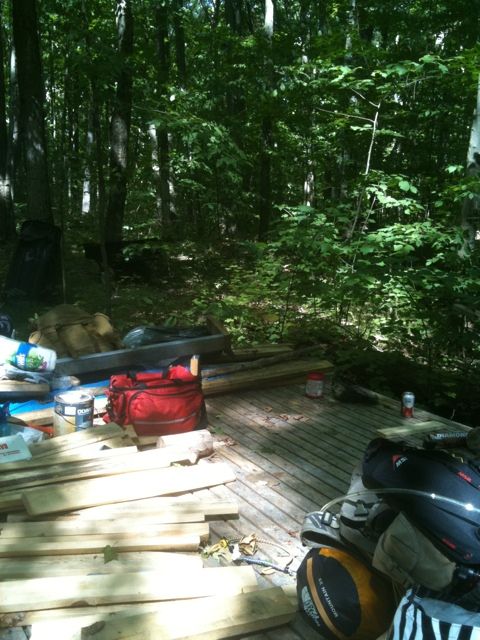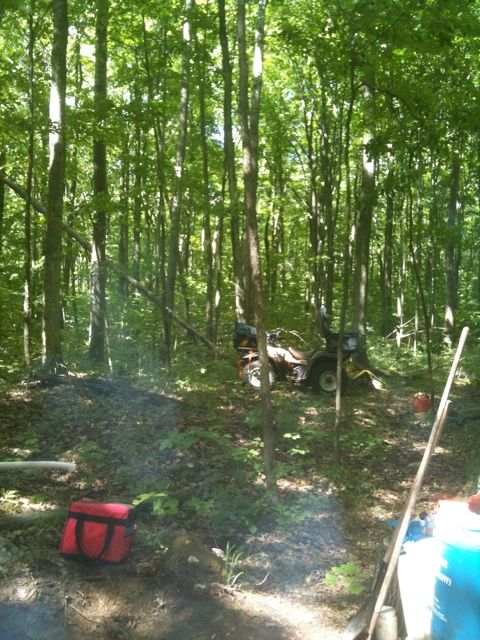 All in all, the mock bug out was a success. We look forward to doing it again with more folks and having more fun. The sharing of knowledge and skills was fantastic, and it turns out we all had things to teach one another. I learned a lot about the different kinds of trees in Ontario forests, and had some great conversations. I now want a titanium hiking stove! (Damn you Bullonparade) I can't wait for the next campout. Who's up for September?