Zucchini Casserole
INGREDIENTS
1 medium onion, grated
4 medium sized zucchini, grated
Olive oil
Italian seasoning
Garlic powder
Salt
Pepper
1.5 cups of small curd, 2% cottage cheese (the bigger curd has too much liquid); it is more important to have the small curd than to have the right percentage of fat
3 eggs
8 oz. cheddar cheese cut into small chunks
1.5 - 2 cups of Italian bread crumbs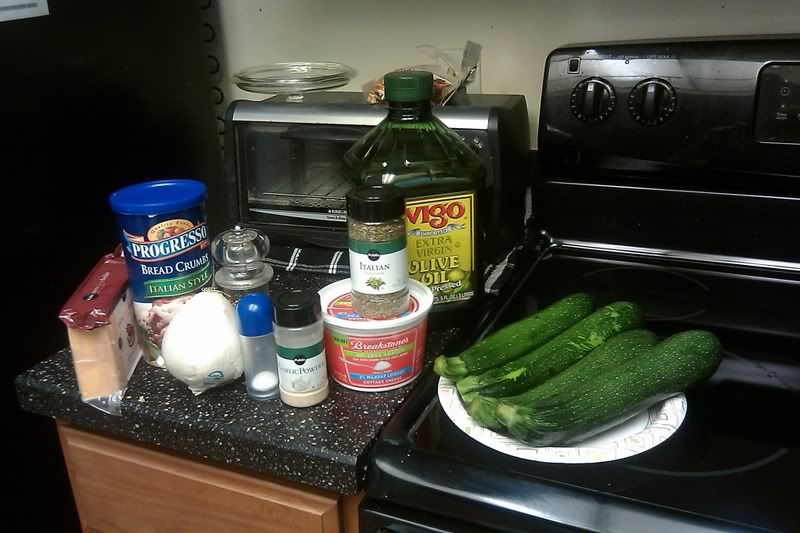 (I forgot to get the eggs out for this. Oh well. Imagine three eggs sitting there)
The Zucchini Casserole is an adaptation of Zucanoes from the Moosewood Cookbook
Grate a medium sized onion in the food processor in the food processor with a grater attachment thing. Or use a cheese grater. However you want to shred your onions sounds fine to me. I ended up with a consistency like really soggy, shredded coconut.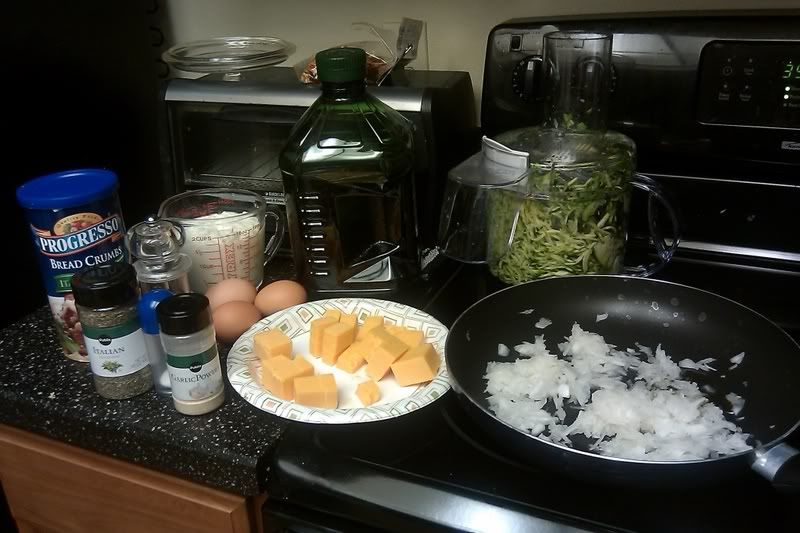 Take the onion out of the food processor, and grate 4 medium sized zucchini.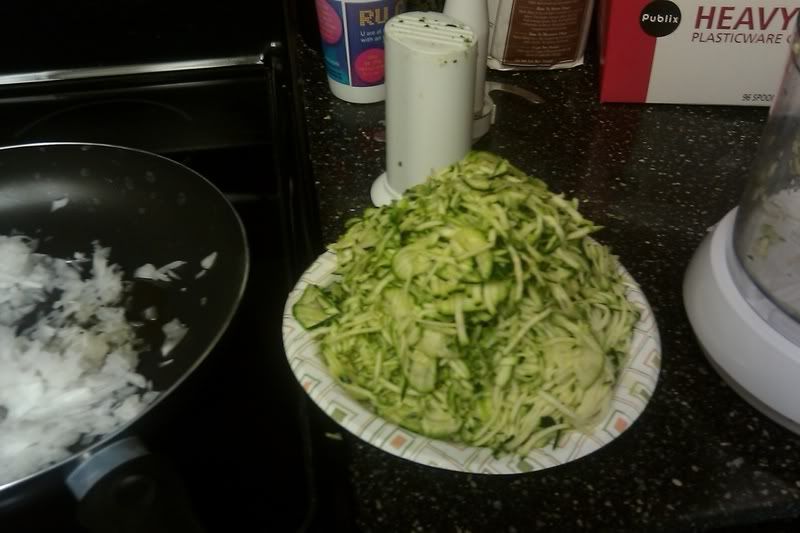 Add the onion to a frying pan and saute' in 1 Tbs. of olive oil until translucent. Season with salt, pepper, garlic, and Italian seasoning- maybe a TSP of the Italian seasoning, and half a TSP of the garlic powder. And some salt and pepper.
Add the zucchini to frying pan and saute' along with onions. This will draw liquid into the pan. Do not drain it. Take it off the heat and let it cool while you do the rest. I cooked the zucchini until it was kind of... limp and floppy? With a TBS or so of liquid in the pan.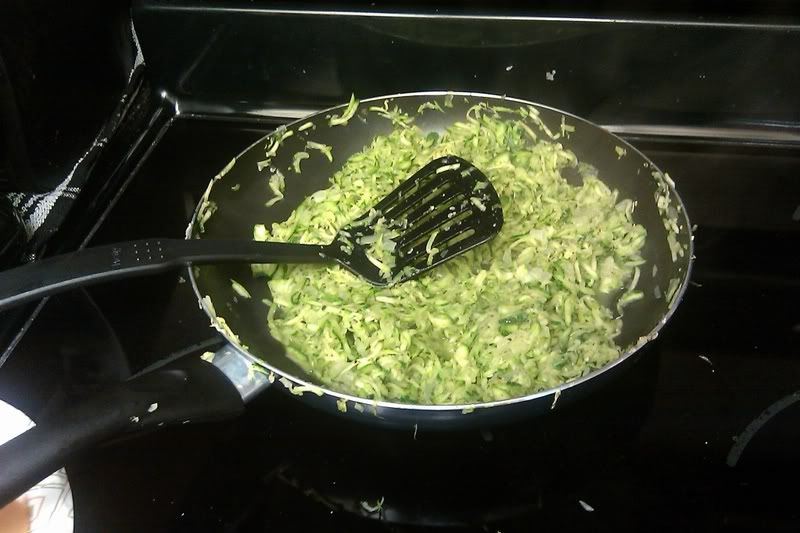 In the food processor add:
1.5 cups of small curd, 2% cottage cheese (the bigger curd has too much liquid); it is more important to have the small curd than to have the right percentage of fat
3 eggs
8 oz. cheddar cheese cut into small chunks
Blend together and add:
1.5 cups of Italian bread crumbs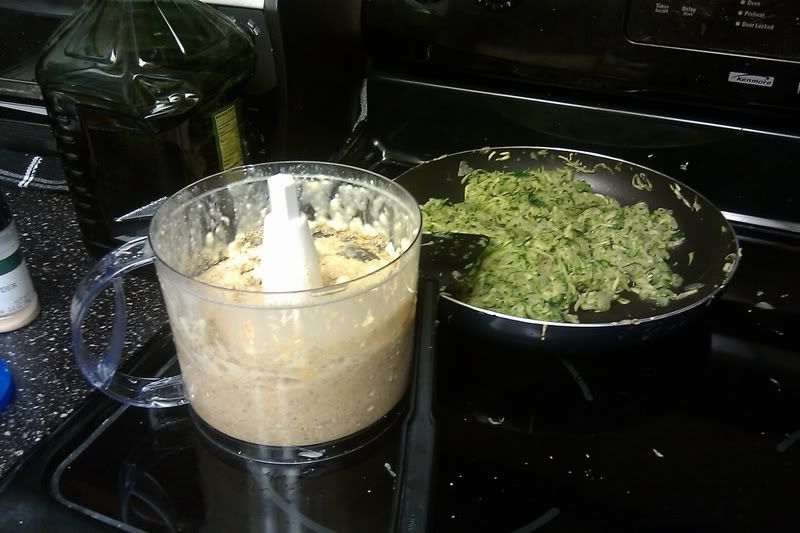 Stir this mixture into the zucchini-onion mixture. The egg/cheese/crumb mixture was really stiff and hard to work with (at least without spilling things everywhere), so I just dug the hell in with my hands. Luckily, I had waited long enough that I didn't burn myself to death on the onion/zucchini mix.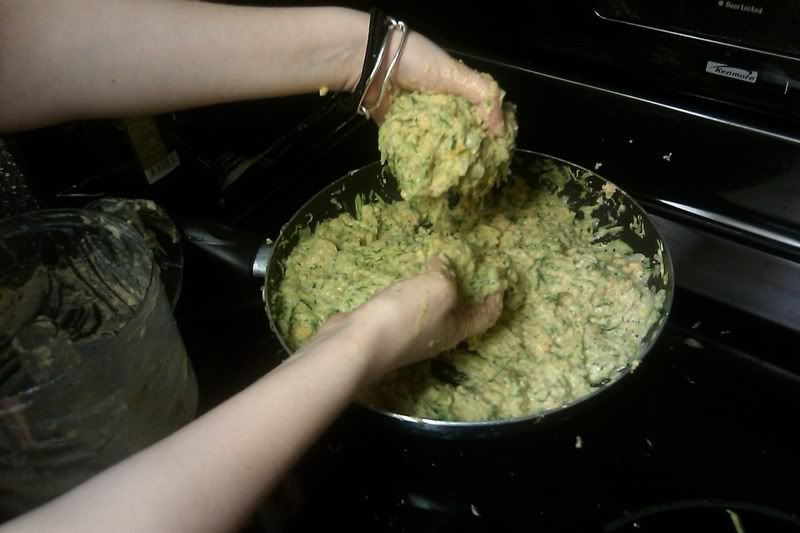 Taste to adjust seasoning if needed. Place in a greased casserole dish, top with more grated cheddar cheese with a sprinkle of bread crumbs, and bake for 30-40 minutes at 350 (this is for an almost bread dish-deep pan that Mom has. I had a shallow Pyrex casserole dish, that Mom said was fine to use, but to cut the cooking time a little. I ended up cooking it for about 25 minutes, give or take a few. Basically, until it kind of sets and isn't noticeably jiggly, but it shouldn't be overly firm, either).
LEARNING EXPERIENCES:
The first thing I learned was, if you have just been grating an onion in a food processor, do not finish ,open up the lid and stick your face right next to it. I wept like a little girl with a skinned knee (you can't see the tears, but oh they're there).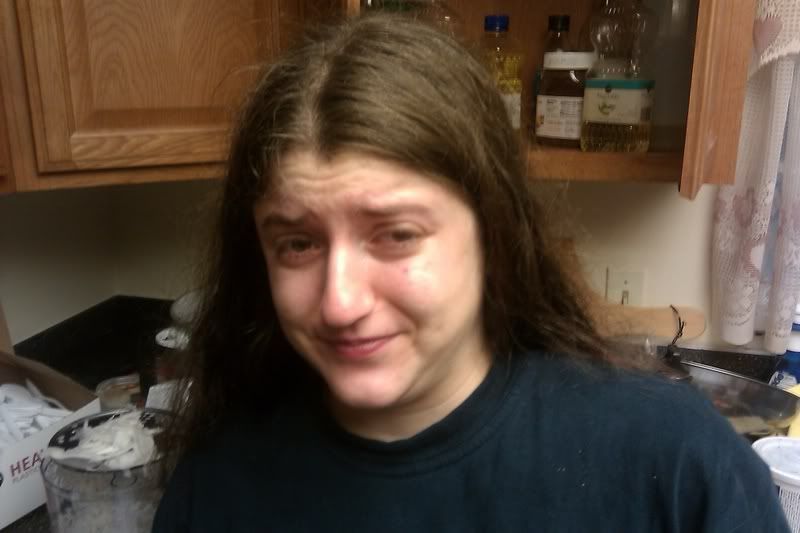 Having grated my zucchini, I looked at the GIANT PILE OF SHREDDED VEGETABLES and got terrified that somehow I had the recipe wrong, and I was going to end up with way more zucchini than I needed and it was going to be a total disaster. Happily, I soldiered on, and as it turned out I had just the right amount.
Once I started sauteing the zucchini/onion mix, I got scared I was boiling off all of the liquid, which Mom had told me was necessary for the breadcrumbs to absorb, so I stopped a little earlier than I perhaps should have. The zucchini is a little crunchier than I am used to, but it actually gives the casserole a little extra texture and very mild crunch that I approve of. So that worked out well.
I may have used slightly too much breadcrumbs- it's a little gluier than I remember, but not godawfully so.
One final lesson- know where the cooking spray is before you start cooking. I ended up having to utterly abandon my dignity and, in absence of anything handy to stand on, climb on top of a bag of cat food to reach in the cupboard where the spray has apparently been hiding for years. Don't let this happen to you!
OVERALL- This is the best thing I've ever cooked. Everything came out pretty much aces, and I'm honestly really proud of myself.
_________________
OTTB wrote:
"What's that you're wearing?"
"This? Oh, just my rabies hat."
shrapnel wrote:
Darling, I would
never
fondle your sphenoid.
Dr. Cox wrote:
People aren't chocolates. Do you know what they are mostly? Bastards. Bastard-coated bastards with bastard fillings.

JamesCannon wrote:
Shrapnel, if you were a superhero, you'd be Captain Buzzkill Peener Pain.