Tofu Goulash (it's actually tasty, don't be afeared of the tofu)
INGREDIENTS (note- I ineptly doubled the recipe, so there is more stuff visible in the pictures than is listed in the ingredients. Mom usually triples the recipe and makes enough for, like, 5 or 6 people, with some leftovers)
1 package of Extra Firm tofu
Italian seasoning breadcrumbs
1 medium onion, sliced
Vegetable oil
Paprika (not smoked or spicy, just regular paprika)
Caraway seeds
Garlic powder
Salt
Pepper
6 oz can of tomato paste
1-1.5 cups beef broth (I'm pretty sure you could make this vegetarian or I suppose vegan if you used vegetable or mushroom broth instead. Not sure how well it would work, but I wouldn't think it would go too badly. Are bread crumbs vegetarian?)
.5 cup red wine (the one that works best for me is Sutter Home Cabernet sauvignon)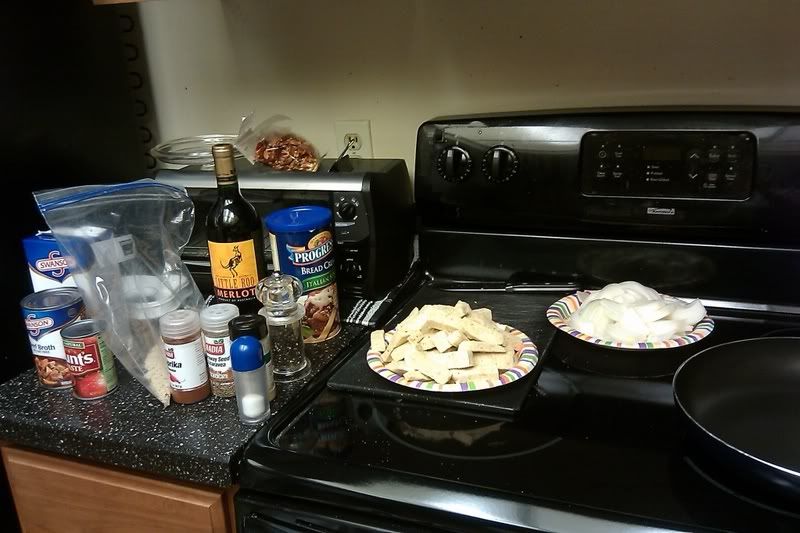 Cut your tofu into slices. Spread them out on some paper towels, on top of a cutting board or something. Put more paper towels over them, place another cutting board on top of that, and put weights on top. You're pressing out extra moisture- Mom says that you can get extra extra firm tofu and skip this step, so, uhm, there you go. Assuming you do this step, press the tofu for 20 minutes to half an hour.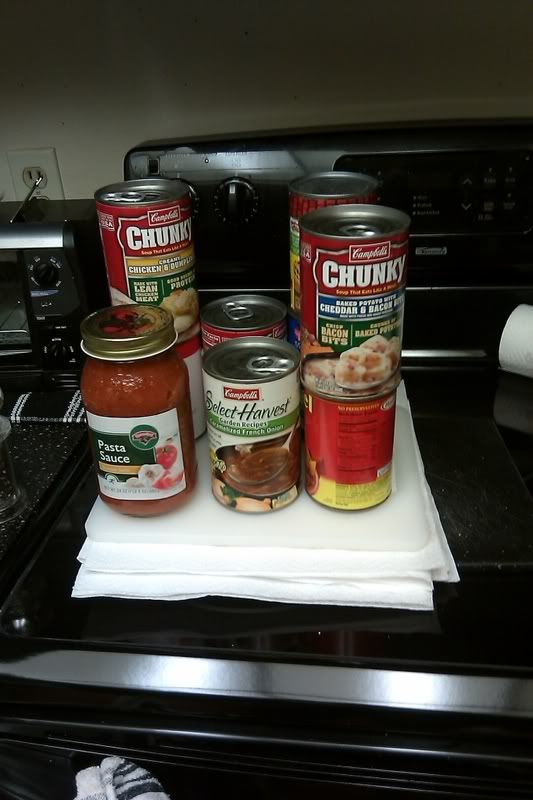 Having pressed your tofu good, put it in a bag with a cup or so of breadcrumbs, and shake the bag around to coat them all. I did it in batches.
Put a few TBS of vegetable oil in a largeish pan, and saute the tofu until the breadcrumbs are brownish. Again, I did this in batches. Then I got worried the tofu was too oily, and put it on more paper towels to soak up excess oil. This might not be necessary. Either way, once they're done sauteing, set them aside in some manner.
Take your sliced onions, and put them in the pan. Add a little more oil if you need to. Saute the onions until they are translucent. A minute or two before they're done cooking, add in 2-3 TSP of caraway seeds, .5 TSP of paprika, .5 TSP of garlic powder, and some salt and pepper. Let the spices saute with the onions, to toast the seeds and kind of bring out their flavor or something.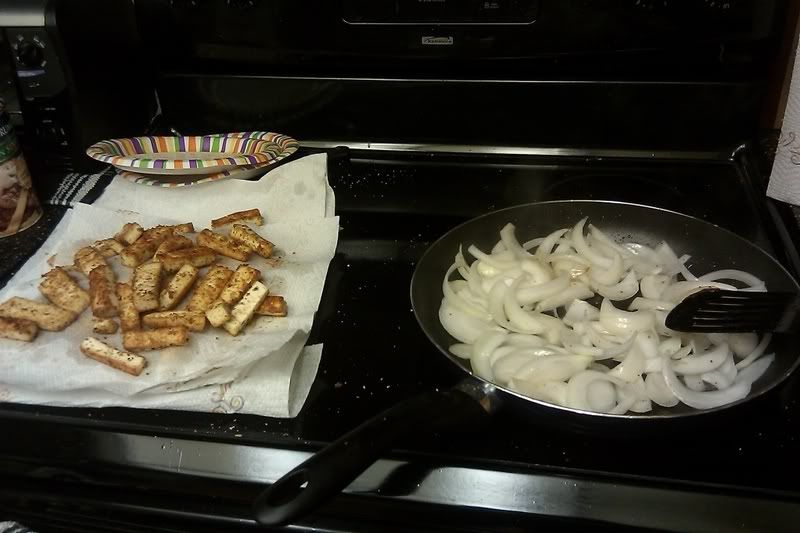 Once the onions are translucent, take your can of tomato paste (PASTE, not sauce) and pour it in to the pan. Add in the broth and the wine.
Bring it up to a boil, add in the tofu, and take it down to a simmer. Stir occasionally, and all that noise.
Let the mixture simmer down for about 20-30 minutes. The sauce will thicken, and end up kind of clinging to the tofu. I didn't let mine simmer quite long enough, so it's a little more watery than I think it should be. But within acceptably boundaries, at least.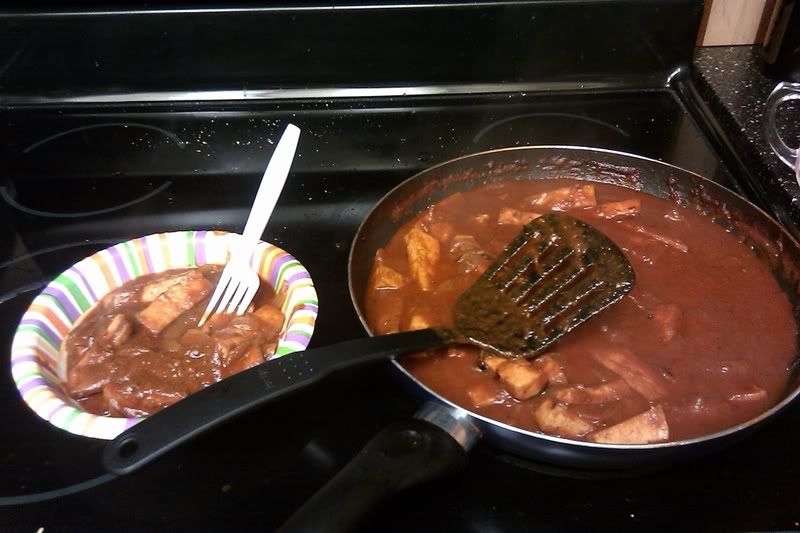 Spoon it all over some mashed potatoes, and enjoy!
THINGS I DID WRONG
Well, I tried to double the recipe. I did ok, except for the tomato paste part- I only got one can of it at the store, and didn't notice this fact until it was actually time to add in the paste. So in a panic, I threw in a can of tomato sauce. I also got distracted on how much seasonings I added in, and it was like caraway seed mania. I also think I didn't let them toast for long enough, but my onions were starting to burn a little bit so I just threw the wet ingredients in.
Speaking of wet ingredients, the sauce tasted too tomato-y, so I put in more broth and wine, but didn't pay attention to the proportions of what I was adding. The sauce ended up STILL too tomato-y, and more liquidy than it should have been.
VERDICT- Not bad, although it definitely could have been better. Still, it wasn't a disaster, and that's good.
_________________
OTTB wrote:
"What's that you're wearing?"
"This? Oh, just my rabies hat."
shrapnel wrote:
Darling, I would
never
fondle your sphenoid.
Dr. Cox wrote:
People aren't chocolates. Do you know what they are mostly? Bastards. Bastard-coated bastards with bastard fillings.

JamesCannon wrote:
Shrapnel, if you were a superhero, you'd be Captain Buzzkill Peener Pain.