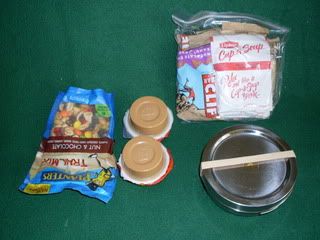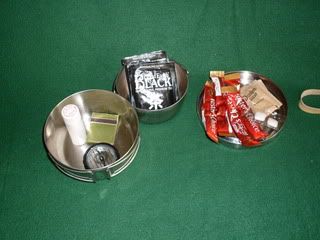 I use a ziploc bags to hold most of my stuff. I also carry the commercial Planter mix, in the resealable bag.
The Ziploc bag shown has 4 Clif bars, 4 of the dry Cup of Soup mixes with the 6 oz (there is a large 19 oz bag as well) of the Planters Trail Mix and 4 each 1.5 oz 'Jif to Go' peanut butter cups sitting next to the cup/pot set used to brew up the items.
Freeze dry coffee, sugar and teabags sit in the pot with compass, matches and such.
Not shown is an MRE beverage bag with 2 cups of Minute Rice. The rice can be 'cooked in the bag' or added to the soup+peanut butter meal. A second beverage bag holds 2 cups of Fast Oatmeal - which can be cooked in the bag or not.
Rinse, repeat.
Much of this food can be heated with a variety of stoves, or put in the beverage bag and heated with an MRE heater. By
not
putting everything in one bag, I think I gain some flexibility for stowage.
Normally, I carry a Trangia knock off with a modified Esbit stove as an alternate. Warm food isn't just a luxury here, it can be the difference between hypothermia or not.
_________________
TacAir -
I'd rather be a disappointed pessimist than a horrified optimist
**All my books **
some with a different view of the "PAW". Check 'em out.
Adventures in rice storage
//
Mod your Esbit for better stability