After a bit of delay, they are finally done.
The Sigboy First Strike Rations!
I was going for a ration pack that would allow me to have the ability to eat it completely on the move. No cooking is required for these meals.
I built three different models, one that is completely MRE with a five year shelf life and has 1800 calories. The second is 1850 calories, is a mix of items and has a one year shelf life. The third has 1260 calories and is a bit lighter then the others.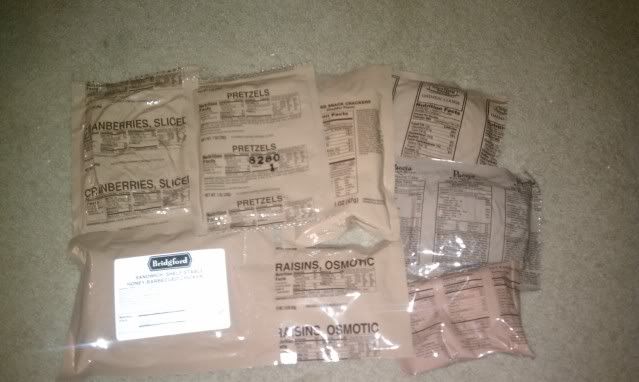 All MRE Sigboy FSR:
MRE Sandwich Honey BBQ Chicken
Pretzels
Cheese Nips
Raisins
Cranberries
Nut Raisin Mix
Spice Pound Cake
Oatmeal Cookie
MRE Italian Sandwich
Nut Raisin mix
Raisins
Fruit leather
Apple Sauce
Jerky
Power Bar
Spice Cake
Cheese Nips
MRE Italian Sandwich
Nut Raisin Mix
Raisins
Fruit Leather
Jerky
Payday Bar