Excellent, sigboy. Here's the one going in my GHB.
24 Hour+ Ration, based on the First Strike Ration
Approx 2 lbs 13 oz.
3 year expiration date desired.
TBD.
Approx 3000+ calories.
Zero prep, except for hot drinks.
Everything except the fruit pouch and the drinks can be eaten with no utensils.
The outer bag is vacuum packed, then there is a ziplock bag inside it for additional abrasion and puncture resistance. Plus, once you open the outer bag, you can reseal the meal in the ziplock bag or use it for water. I plan to add 4 individually wrapped water purification tablets (chlorine dioxide) to each meal.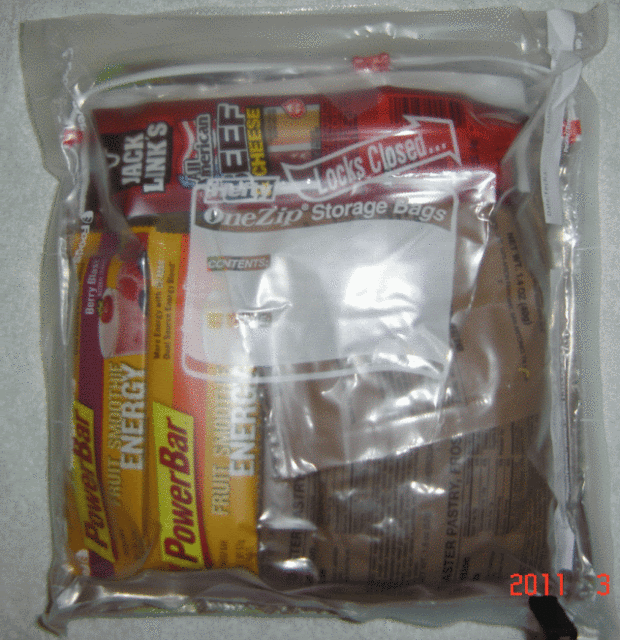 Drinks and condiments, including two accessory packs with coffee, a spoon, a chocolate hazelnut mocha, a squincher, a raspberry drink mix, and a pack of Stay Alert caffeinated gum.
Tuna, tortilla wraps, and mayo (2).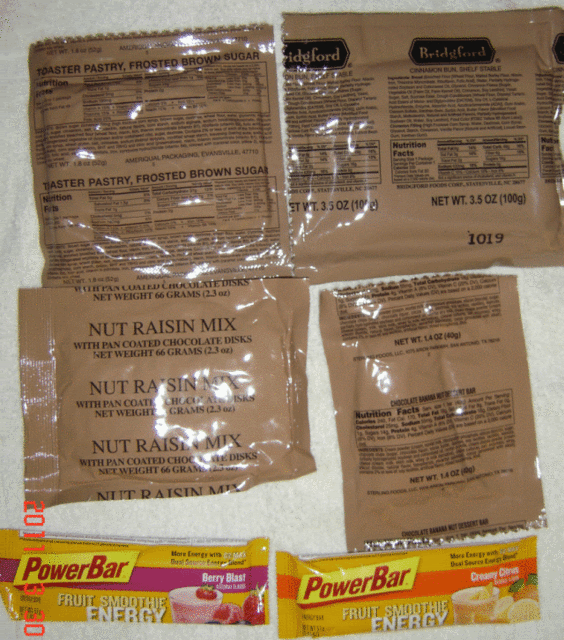 A pop tart, a cinnamon roll, nut raisin mix, a dessert bar, and two power bars.
Crackers, jalapeno cheese spread, mixed fruit, flameless ration heater, honey BBQ chicken sandwich, and two Jack Links meat and cheese packets.