Introduction
Hello there ZS! I'm a 23 year old idiot from Norway! Some of you might have seen me in the off topic section before and that's where I'm the most comfortable :p
I'm also a member of some Norwegian prepper sites and that's where I get most of my food prepping tips from. I thought I check out the food section of ZS and to my big surprise, no info topic on Mylar bags! Well then! I thought I'd make my own! I'm fairly new to this myself, so if there are anyone here that are more experienced than I am, please, do correct me if I'm wrong on something!
What's Mylar bags?
Mylar bags are metalized film made into bags. These bags are either sealed by zip-lock or heat(Vacuum sealer works great too). The bags are water and air tight, so they are the perfect way of storing food that should stay dry and away from oxygen.
Like Kleenex, Mylar is a brand name and not the name of the product, but the name kind of stuck. And that's why you have to be careful buying "Mylar" from Hong Kong. These are most likely knock offs. Not saying that they can't be just as good, but hey, why take the chance?
What can I store in Mylar bags?
You can store basically everything that is dry or can be dried in Mylar. So for long term storing of rice, wheat, coffee, sugar, salt (and so on) Mylar is the perfect thing.
You can check out YouTube clips of people opening 15-20yr old Mylar bags of rice and eating it without problem.
How do I store them?
The metallic film is thin and vulnerable, so for protection I recommend using buckets(or something like that). You can make Mylar bags into blocks and storing them that way, but you will have to be careful. If you store it in a bucket you can store it in less than perfect conditions without any risk to the product.
Store the product in room temperature or below and you'll have emergency supplies for year and years.

Where can I buy them?
If you live in the US you can probably get them at a local store. Hunting goods maybe? Actually, I have no idea. I live in Norway, so I have to order them online.
Sorbentsystems
are the best option for me. Low shipping cost and reasonable product prices. Does anyone know what stores/where you can buy Mylar bags over the counter?
What size and thickness should I use?
Well, that depends.. The size of the bag should not be much larger than what you are storing. And you shouldn't store too much of some product in the same bag.
For example. How fast can you use 5gallons of sugar or salt?
Not fast.
So storing sugar and salt in huge buckets might not be the best idea. On the other hand, pasta and rice will probably go pretty fast, so you'll have no problem storing that in 5gallon buckets, especially if you have family and friends.
So I recommend using small bags for things like salt, sugar, coffe and larger bags for things like rice and pasta.
Thickness.. 3.5 -7 mil are common. In my opinion, you don't need 7mil if you use a bucket. 3.5 will do just fine. If you make them into blocks however, a thicker bag is a safer bag. It's all about the integrity of the bag. You need to be really careful so that you don't puncture them. Even micro cracks can leak oxygen, water or even bacterias into the bags.
How do I seal them?
Like I mentioned earlier in the post, there are two types of bags. Zip-lock and heat locked bags.
The
zip-lock
versions are really easy to seal and works fine for some of the more short term items on your list and they are reusable. Short term items that last a bit longer if stored dry. Personally I don't use them at all. All my stored food are long life.
"I use those for the things that I wouldn't use much of at a time. Like salt, baking soda, chili powder etc. There is enough room above the zipper to heat seal these bags for long term storage but once you open them up you can still close the bag between uses with the zipper."
-
Regulator
Heat sealed bags.
Here you can use anything that makes a lot of heat. Personally I use a
clothing iron
for large bags and a
hair straightener
for smaller bags. (Not my vids, obviously. Just felt it would be stupid to make my own when there are decent one out there)
Can I use a vacuum sealer for my mylar bags?
-RW_Tucker
Of course! There are some vacuum sealers that can also seal Mylar bags. However, I don't have a vacuum sealer as I have no use for them in day to day life. Some of them are quite expensive, but if you can find other uses for them you can safely invest in such equipment!
Wait, in the videos they mentioned oxygen absorbers.. What's that?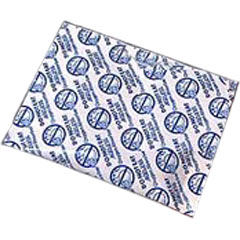 Well, o2 absorbers are small packs you throw into the Mylar bag to get all the oxygen sucked "out". You do this to better preserve the content of the Mylar bag.
But be careful, once you open a pack it takes a little while to activate but you will need to work fast. The best way to ensure the best use of the absorber is to seal all your bags part way, then drop your o2 absorbers in the bags and seal them fast.
NB!
Do not use o2 absorbers for sugar. You'll end up with a big block of sugar that you'll find hard to use. (Hard.. Get it? dat prepper pun
)
What size to use?
Glad you asked!
Imagine you have a 5 gallon bucket that you're going to use for storage. You put a large Mylar bag (20x30 inches) into the bucket and fill in your product.
Say the 5 gallon(18920ml. rounded to 20000ml) bucket now contains 40% air(And that's mooooore than fair) and then 21% of this is oxygen.
20 000ml x 0,4 x 0,21 = 1680ml oxygen.
Because we rounded up and the o2 packs are made to handle more than they advertise a 1500cc pack would be ok for the 5gallon Mylar bag. If you really want to be sure, you can safely go for the 2000cc packs.
Keep in mind that the more air you have at the top of the bag when it's sealed, the bigger o2 absorbers you need. And if you're packing food that have air pockets like pasta or macaroni, you will need more than one o2 absorber because the percentage of air in the bag is bigger.
Is there anything you should do to help with bugs/eggs that are already in some of the items, or will the O2 packets help with this?
-
nathat
Bugs are nasty, of course... But they will die because of the o2 absorbers so you won't have to worry about them eating your food.. You should inspect your food before putting it in the Mylar bags and if you don't find anything; you're good to go!
Anaerobic organisms on the other hand, they don't die because they do not require oxygen. But
most
of these will die when you cook the food and the ones that won't die from from the cooking are so unlikely to end up in your food to begin with..
If you don't see any obvious damage or serious discoloration of the product it's probably just fine. But just in case, store more than you think you need. And if you're afraid of contamination, divide everything in to smaller bags instead of 5gallon bags.
And remember people..
Store what you eat and eat what you store!
___________________________________________________________________________________________________________________________________________________
If there are any more questions, ask them here and I'll try to answer as best I can! The question and answer will be added in the main post. (If if don't reply for a little while, PM me, I might just have forgotten to check the thread.)
I've probably forgotten something, just ask me in the thread. Of if you already know the answer; post it and I'll update the thread and give you credits for the addition.
Thanks!