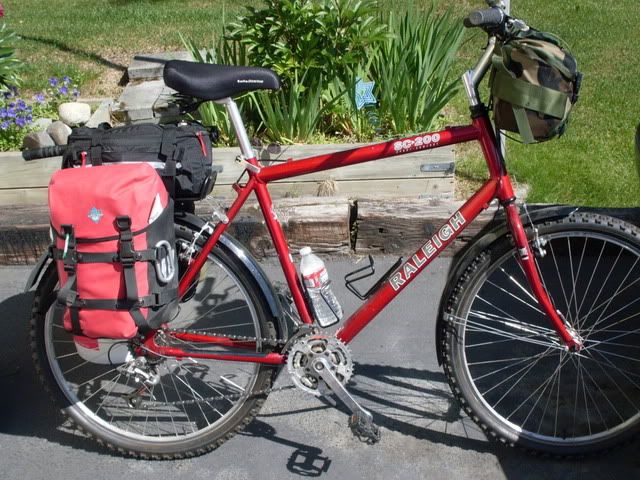 and
The panniers and trunk bag + the butt pack on the handle bars will hold just slightly MORE than than an ALICE large ruck. The panniers are waterproof - something the ALICE is not.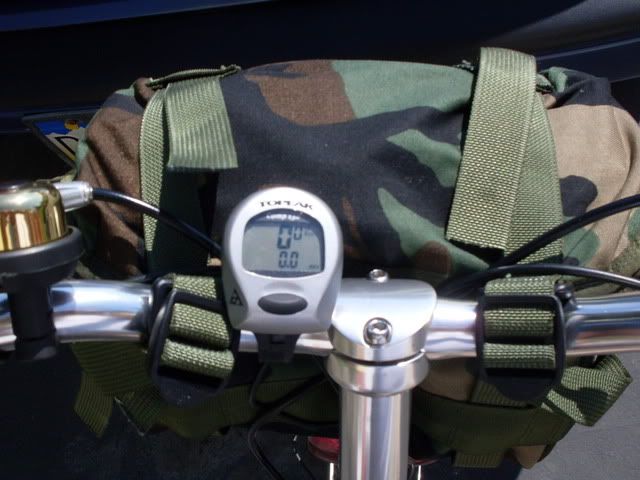 Detail of but pack on handle bars. I can get 3 days worth of eating stripped MRE + other foods in the butt pack. I made a short - 5 mile - run and everything was balanced, the load did not affect the handling
Tools, spare tubes, Zuful HP pump and such go in the trunk bag with room for water, Trangia stove and cooking gear. Sleeping bag is a patrol bag + bivy with a WY lost&found tarp tent to keep the rain out of my face & gear dry(er). No ground cloth, or pad - a couple of large trash bags - hopefully filled with duff (leaves, etc) would make a softer sleeping surface. The duff takes some time to gather, to keep sticks and such out of the bags - worked a wonder this summer for the MBO, but in a tent...
The panniers (Ortlieb) have hooks that will allow them to hang from an LC-2 frame. OK, one pannier. With the trunk bag going under the pannier, held up by the ALICE LC-2 shelf. Haven't tried it, I suppose the second panier could hang from or on the front with some 550 cord, but that would be an extreme fix... The but pack is easily attached with its straps to the top of the pannier, hanging on the 'back' (outside) of the pannier.
Another option is to use a Yukon ruck just strapped to the Blackburn rear rack over the panniers. That would allow ever more equipment to be carried and part of the pannier space could go to additional food.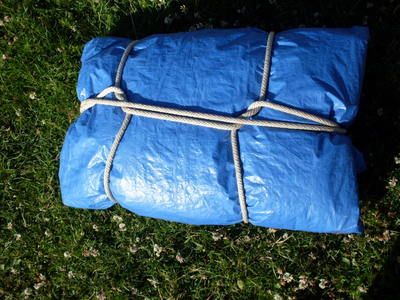 Since I am (still) working on my 'throw it out the window' Yukon ruck,
I can wrap the stuff *up* as opposed to *out* to make a more compact outfit. The butt pack would still be the prime food carry, even with just a Yukon, allowing some additional modularity.
By making the Yukon more of a cube, then it could fit on any of my rack equipped bikes.
I have a Sun copy of the EZ racer recumbent, and while it is possible to load 'em up, I'd hate to have to peddle something like in the photo!
I do have and have carried a double set of panniers, and the seat is tall enough to strap a Yukon setup, I don't know if it would be any fun. The recumbent is strictly an on road bike - good I suppose for touring, but for a BOBish situation, I would go with the diamond frame rig.
Finally, I have a small Sun brand folder, now dropped from their product line - also equipped with fenders and a rack, it could also carry a decent sized set of panniers + a Yukon.
I don't know if anyone had looked at the Worksman brand bicycle, but they appear to be a real cargo/industrial rig, with very heavy duty rims....