Hello ZS folks, in an older thread I charted some of the progress made to create the original DoomRunner BOV, here are a couple pics to remind you.
From this...
To this...
Now I loved the old DoomRunner, it has been relatively trouble free, though a new steering gear recently had to be purchased, but the handwriting was on the wall for it's demise. I began noticing the occasional odd engine noise and the tranny didn't always want to shift when it was cold in the morning. While he was a 1-ton van, it wasn't 4x4 and the 5.7 gas motor got 10 mpg regardless to use or care. Add in a serious need for a new drivers door, a leaking windshield, bad weatherstripping all around, and uneven tire wear?... it was going to be time to say goodbye soon.
I've been poring over Craigslist every day and
finally
found something very interesting.
Here was the ad...
"I am dropping the price on this van to $4500 for only three weeks (until 10/22) because I am moving and really don't want to move it. If I do not sell it for the $4500 firm I am going to take it and finish it. Now to the listing below.

Up for sale today is the find of a lifetime, I think. This is a 1986 Ford E-350 XL Econoline van with 4WD, and a 7.3 IDI Diesel engine with only 8000 miles on it. The engine, transmission, and transfer case where pulled from a truck with only 8000 miles so it's practically new. The van also has new front and rear axles, new radiator, new drivelines, newer 33" tires on Centerline wheels, new shocks front and rear, new springs, dual tanks(80 gallon capacity), and more. Transmission is the desired E4OD with all the wiring needed. The truck is not running at this time (hints the price) but I plan to start working on it soon and once I do the price will only go up. If I get it put back together and running I will sell it for $10-12,000, or I just might make it a Zombie apocalypse monster and throw it up on eBay for $80,000, and yes it will probably go for that. The last one of these "Zombied out" (on that auction site) sold for $85,000, and it didn't have the new drivetrain and was only a 6.9 diesel. This is your chance to buy this truck and make it your own, or have me build it to what you want, or build it yourself. This will make for an amazing hunting rig or crazy van camper.
Now for the bad. The van does have some rust around the gutters but nothing that cannot be repaired very easily. It only comes with the two front captain chairs, so there are no other seats other then those. The motor is

NON

Turbo so no turbo for you! Most of the work is done, it just needs to be wired and the body fully attached. I would give it about one week for someone that knows what they are doing. The truck will need to be towed or loaded. The body has 94,000 miles.
This van has a clean/clear Oregon title ready to go. I am not looking for any trades at this time at all, cash takes it and I am firm on the price so please not offers. I know what this truck is, what it is worth and I listed it a lot lower then market value in this condition. I live in Salem OR but I could deliver it up 40 miles from Salem if needed. I am listing this in the Portland Salem area for those who are looking for a great truck. This van is also Smog Exempt so no need to smog it or have to worry about it passing. You will still need to pay the tax but they do not test it. Please call if you would like to come see it.
Thank you.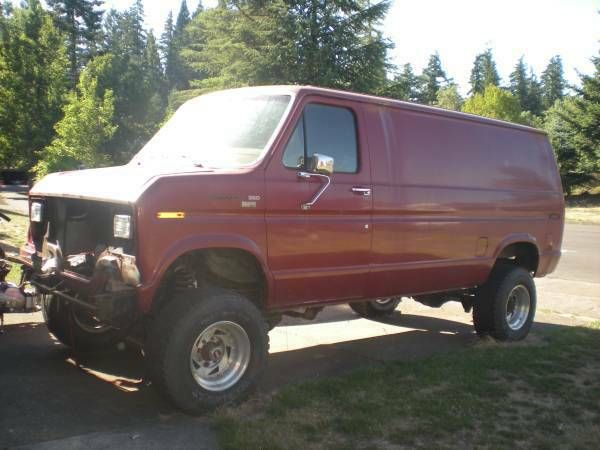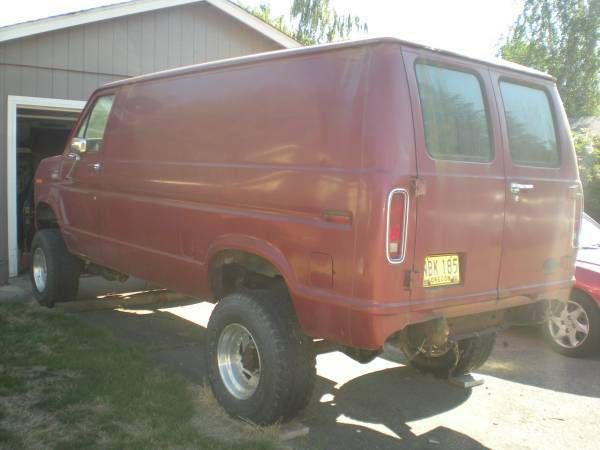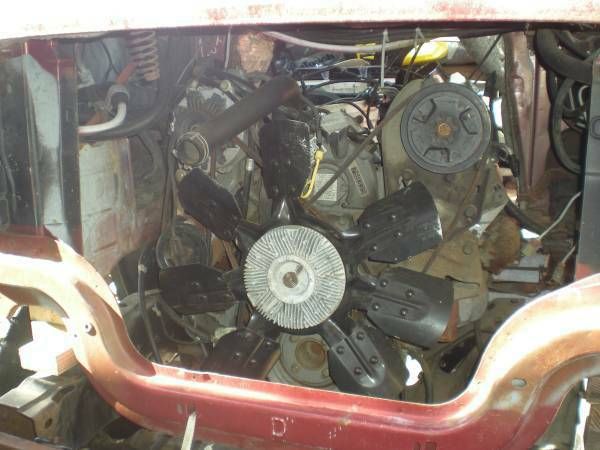 To say I was interested was an understatement. I brought along a mechanic friend whom also rebuilds diesels on the side to inspect the rig. It was in better shape than I was expecting. The drivelines, radiator, etc; were all new. It was VERY clean underneath, no sign of being hacked apart, converted and rebuilt in someones garage. I asked the owner who did the conversion and he said "someone named Quigley I think, I forgot to put it in the ad".
Wow, no wonder it looked professionally done. After my mechanic said that he thought almost everything was there to complete the van, I decided to pull the trigger. The owner was firm on the price, I respected that, and so didn't try to haggle before handing over the $4500 smackers.
Now I am the proud owner of the NEW DoomRunner XL! He's in bits and pieces right now but I hope to have him on the road within a few months. I will probably take the roof rack, front grill, and running boards off the old DoomRunner and put them on this new one. Two things that will be needed is a two to four inch body lift to clear the tires comfortably, and he'll also need a new 4" exhaust system, something loud and proud.
I'll update this thread when something is accomplished, and thanks in advance for any input.
Cheers.
-urban