It seems like it's been awhile since the last BOC discussion, I'm putting the finishing touches on my own BOC project right now and I thought it would be good to see what resources anyone else has found on the subject, or personal projects they have tried. Love to see any links you have bookmarked or pictures you have buried on your hard drives.
Game Carts:
The resource that seems the most comprehensive, and pops up the most in my web searches is the Game Tote guy:
http://gametote.com/one-wheel-game-cart-review.html
Lots of different designs shown, with some sensible pros and cons for each style.
Probably the easiest to source is a simple two-wheeled cart from cabelas:
http://www.cabelas.com/catalog/browse.cmd?N=1100183
I myself have felt mighty tempted a few times when the Herter's cart goes on sale, and I have seen more then a few of these second hand on craigslist.
My personal favorite design, the one-wheeled game cart:
http://www.packwheel.com/
Light, balanced, maneuverable, interchangeable parts.
Purpose Built:
I seem to remember a few overpriced carts marketed to preppers come and go, some with ballistic protection and other "must-haves," I seem to remember Tim Ralston even promoting one. This is the only one a quick google search turned up for me:
http://www.exodussolutions.net/
Hiking Carts:
only a few in this category, currently an overpriced niche:
Very creative modular design, with single and double wheel options, harness or hand carry:
http://monowalker.com/shop/index.php/en/shop/trailer
http://dixonrollerpack.com/
Other:
Garden carts and wheel barrows are often discussed, usually these seem to be dismissed for poor balance or poor offroad capability. 4-wheel carts certainly seem unwieldy on anything but level ground, and european wheel barrows can ware you out pretty quick. Jogging strollers have been suggested as well, and might be suitable for some uses.
Some human-powered expeditions have utilized large cargo carts to extend the range of mere mortals: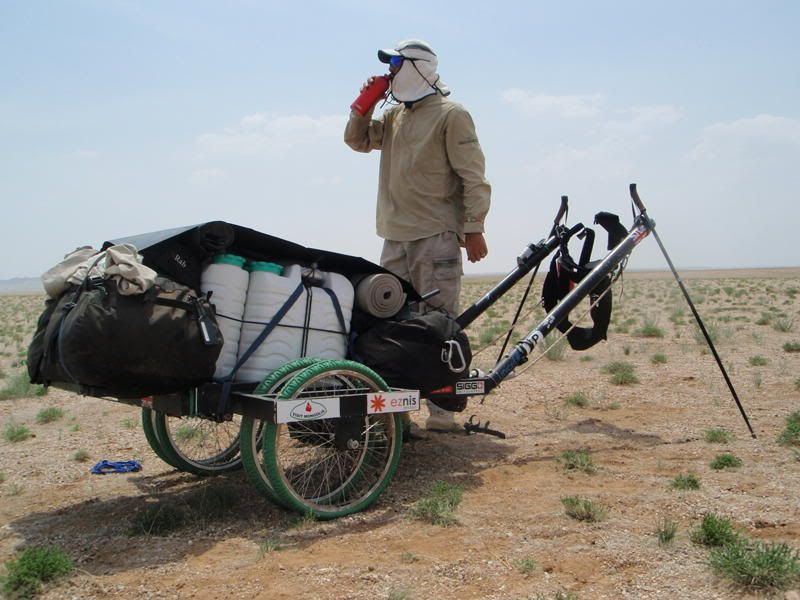 This guy was walking across the US for veterans I believe:
Developing countries without access to reliable transportation or bad road infrastructure use primitive load hauling techniques a curious person could learn from:
Discussions:
A few threads I've found on another forum (seems to come up on SB often enough, haven't seen it come up to many other places), some with quite good ideas and some with the usual outlandish schemes:
http://www.survivalistboards.com/showth ... p?t=245349
http://www.survivalistboards.com/showth ... p?t=340211
http://www.survivalistboards.com/showth ... p?t=185484
http://www.survivalistboards.com/showth ... p?t=165398
http://www.survivalistboards.com/showth ... p?t=318345
Hunting specific, but informative:
http://forums.bowsite.com/tf/bgforums/t ... did=385236
This guy shows a decent overview of some options and his own pretty clever design:
http://thesurvivalpodcast.com/forum/ind ... ic=35455.0
Uses:
So why do I want a BOC? I will try to list my own imagined uses, roughly from least outlandish to most:
1) Game cart. Whether in normal hunting use or survival hunting, game is one of the heaviest things you might have to transport over really nasty ground. You more then likely get to choose where your BOL is, even a remote/wilderness one, and optimize for transportation but you don't get to decide where the game is.
2) Supplement a normal BOV. In the case of a car breakdown/fuel outage a cart could allow you to either a) continue on with many more supplies then could be transported by pack or b) search much further for fuel or parts for the car.
3) Remote resupply. In case I do select a BOL (or just an awesome vacation spot) that is intentionally out of reach of normal autos a cart could allow me to either a) pre-stock the location much faster and more efficiently then packing everything in by packboard or b) possibly allow me to stock it with equipment that is simply too heavy to pack in by packboard.
4) Generally increase non-powered BO range. I live in a pretty dry area, I haven't looked into it too much but it is conceivable there are areas between water sources that are simply too wide to risk traversing on foot, carrying extra water by cart would allow a person to cross much wider waterless stretches. Similarly keeping a BOB packed for a normal foot BO and loading the cart with nothing but consumables would increase a persons range exponentially.
5) Increasing comfort/capability. Conversely to number 4, if the range requirement remains fixed, the cart would allow for much more comfortable gear then would normally be allowed with a backpack; larger shelters, wood stoves, thicker sleeping pads, booze, etc. I don't see myself utilizing it often, but you could do some serious glamping with another 50 lbs of optional gear.
6) Free up weight for a fighting load. I can theoretically handle up to 50lbs and still travel efficiently, if 30lbs of that is taken up by rifle, ammo, and armor that doesn't leave much for food and shelter. If a cart could take most of this off my back I could maintain a trim, mobile fighting load with only "freeze at night" gear and still have a reasonably amount of shelter and consumables with me.
7) True INCH scenario. As has been said by many here, an INCH bag could very well be a fools bet. A cart could allow for some serious pioneering tools that would make the INCH concept more tenable. Full sized axes, saws, shovels, more food gathering equipment, longer term shelter, etc.
I have been trying to look at my transportation hierarchy more holistically lately, and decide where a cart fits in with a car, bike, and foot travel. Certainly it could conceivably take you places a bike couldn't, and carry more then you can on just your back, but just where it falls between the two for efficiency I have yet to test.
I have pack frame options coming out my ears, and up till recently (with both a bike purchase and a cart build) non-powered transportation meant either traveling very light or multiple trips with cargo strapped to pack boards.
Bug out Bicycles is a topic worthy of its own thread, but I would like some discussion on when they would choose a bike over a cart or vice versa.