Hog riders may trailer their bikes to Daytona or Sturgis, but Beemer riders dress up head to toe in Cordura before riding around the block to Starbucks...before mocking the milk crate on the back of the KLR
The thing about bikes is you can pretty much turn whatever you have into whatever you want. Guys have ridden crotch rocket 1000cc R1's and GSXR's from deepest darkest Aftrica, to across Siberia, or pulling wheelies on the ride to work. Weight is your enemy, and really most of those "adventure" bikes are just the opposite side of the coin to Hog's. Overweight, mostly underpowered, and way too complicated than they need to be.
No joke had a riding buddy buy a GSA when he got too old to ride his Gixxer thou, and after an hour or two bullshitting in a coffee shop parking lot...his Beemer was dead. The anti-theft key fob reading gas cap ring crapped out on him in the wilds of outer suburbia. Good thing a tow was closer than it would've been on the Road Of Bones in Siberia, lol. Not to mention the non-serviceable Paralever final drive, that is rated as "lifetime" lubricated. Which translates to it is lubricated for the lifetime of the final drive...until it isn't, and bursts into flames, and it's lifetime is over. And NOT covered under warranty BTW.
That guy took me on a dozen Canadian backcountry trips down fireroads, 180K+ total before she was more work than I had time for, dead nuts simple, but still running 1/4 mile times in the 11's before I parked her for good. And she shifted smoother than any Boxer twin
One of these days though I'm going to build MY ultimate adventure bike.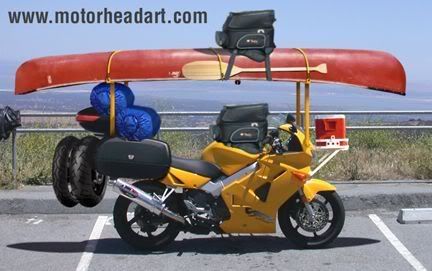 _________________
I did not slap you in the face, I high fived your head and your hands did not get in the way.
Epicest th'd evah
viewtopic.php?f=29&t=29034