Hi all...I've been building and refining my various first aid/trauma kits and recently picked up a new bag, so I thought I'd put it out there for review/critique. Since this kit is meant to be used in a variety of situations, I decided to "try" to stay in compliance with our scope of training and practice. As such, you'll see references to items I'd "like" to include but didn't based on the above compliance issues. This bag will go in my personal vehicle when not at work and will be in the trunk on duty. I am not an EMT and I'm only trained to first responder level.
Here's the bag...It's a Voodoo Tactical responder/range bag. It has multiple compartments and MOLLE/PALS webbing on all four sides. It has a large center compartment divided into three sections with removable/moveable dividers and has two long side pouches, two end pouches, and two smaller zippered pockets on each end pocket. It has some sort of internal foam or other stabilizer which helps the bag keep it's shape, even when empty. I added a small "trauma" bag on one end, a couple admin-type pouches on the other, and a double AR/M16 mag pouch to carry my tourniquets. It should be noted I soon plan on getting rid of both sets of end pouches for a better hemostatic kit and booboo kit. So here it is all together (for now):
And here it is with the main section open: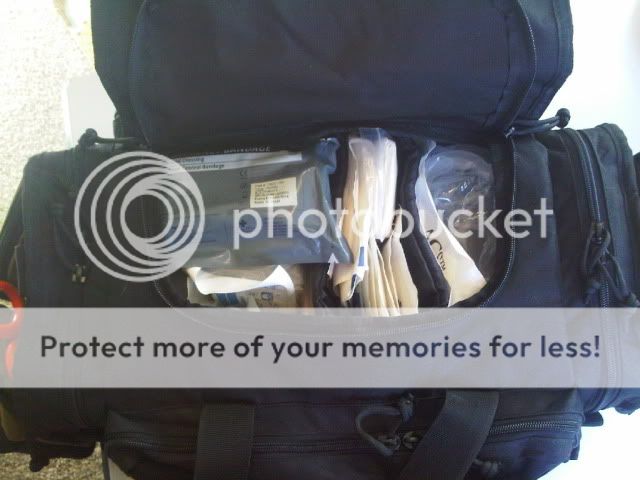 The main section is divided into three parts, and I have designated these sections as major wound care, misc. gauze/dressings, and respiratory care. The major wounjd care section contains the following:
1 x Israeli Abdominal Dressing
4 x Israeli Bandage (6")
6 x 4.5x4.1yd Kerlix
2 x Triangle Bandages
The Misc Gauze/Dressing section contains the following:
2 x Oval Eye Pads
4 x 2x2" gauze
3 x 3x3" gauze
10 x 4x4" gauze (2 per pack for 20 total)
2 x 5x9" Abdominal Pads
2 x Triangle Bandages
The Respiratory Care section contains the following:
1 x Ambu Spur II BVM
1 x OPA ****Cause I have it...I'm not certified to use it and will probably remove it, as we aren't authorized to use airway adjuncts.
2 x Ascherman Chest Seals (Will probably soon replace with Hyfins or similar)
There are two longer side compartments. I designated them the orthopedic compartment and the general treatment compartment.
The Orthopedic Compartment contains the following:
2 x 36" SAM Splints
1 x SAM Finger Splint
1 x SAM Instructions
1 x Coban wrap
2 x 2" Ace-type bandage
2 x 6" Ace-type bandage
2 x Triangle bandage
2 x Heat Packs
The General Treatment module contains the following:
2 x Space-type blankets
1 x Micropore (I think) medical tape
1 x Eye cup pack (Has six in it...more than I'll probably need, but it's in the container so...)
1 x Eye wash
1 x Cold Pack
1 x Cleansing wipes
1 x Irrigation Syringe
1 x small scissors
1 x Insta-Glucose
1 x Triple Antibiotic Ointment
1 x Anti-Itch Ointment
The end compartments hold my obstetrical kit and PPE:
PPE:
3 x Heavy Duty Gloves (I have back-stock to replace and carry several pairs of gloves in my pocket at work)
3 x N95 face masks
1 x Goggles
1 x Hand sanitizer
Obstetrical Kit (Commercial):
1 x Pr Gloves
1 x Apron
1 x Underpad
1 x Receiving Blanket
3 x Disposable Towels
4 x Sterile gauze sponges
2 x OB towelettes
1 x scalpel
1 x Bulb Syringe
2 x Umbilical Cord Clamps
1 x Placenta Bag
2 x Twist Ties
1 x OB Pad
Hemostatic/Trauma Kit attached to end (Not pictured):
2 x Trauma Shears (you can see them on the outside of the bag in the first picture)
2 x Crappy Tourniquets (I'll get better ones soon...I have CATs, SWAT-T, and SOF-Ts in other kits...They're in the AR mag pouch)
2 x NAR S-Rolled (compressed) gauze
1 x Israeli bandage
1 x Quik-Clot powder (old style)
3 x HemCon 4"x4" bandage
Minor Aid Kit (admin pouches on end of bag...will be replaced with dedicated pouch and more complete "commercial" first aid kit items):
Blist-o-ban blister treatments
Misc Meds (Right now only Ibuprofen and generic immodium)
Ambesol for sore teeth
Misc Band-aids
Misc wound-cleaning pads/stuff
I have Water-Jel bandages but our SOP is loose, dry bandages. I'm debating on including them in this kit. I'll be getting some burn stuff (burn sheet and minor burn-gel) soon and will probably have a dedicated burn pouch attached to the side.
NPAs and OPAs are EMT stuff around here so we're not allowed to do it. I have one in the kit (in case someone qualified is around) but might take it off.
I have other kits for active shooter/tactical situations. This kit is what I would bring to a medical incident where significant tactical issues don't apply.
Please tell me what needs to go in, what should come out, and what you think.