Well my FAK is basically a standard issue IFAK. Here are the contents:
1 Canteen - For drinking/clensing water on the go
1 Canteen Stand - To use to heat the water if there is time (optional peice)
1 E-Tool - Use for digging to make underground fires, or to make a type of straddle trench
1 Pack Quickclot - Really nasty stuff, only to be used for a last resort
2 Triangular Bandages - Multi-purpose bandage
10 Water purification tablets - What happens if you can't find clean water and it hasn't rained?
1 Waterjel (Burn dressing) - Selfexplanitory
1 Betadine - A type of iodine solution
5 large adhesive bandages - Big bandaids
10 small adhesive bandages - Little bandaids
2 pressure bandages - Very usefull for bad bleeding wounds
2 bandage rolls - Normal gauze bandage
1 tornaquit - Last resort
1 gas mask - Just in case (you never know what may happen
2 packs of matches - need something to start a fire
As many cigs as I can carry - Yes I'm a smoker lol
Here's a few pics...
Here's my FAK spread out, the only things not showing are the matches, ciggarettes, and gas mask...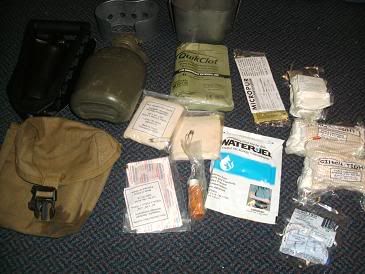 And here's the gasmask...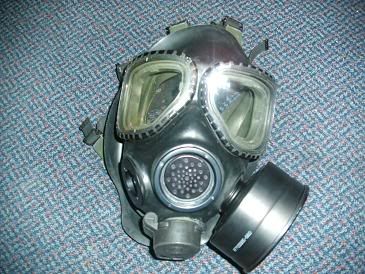 And here it is all packed up nice and neat
I keep all of this within an arms reach of my rack, no I'm not highly paranoid, it's just that if something were to happen, (like if a Marine were to fall off 2nd or 3rd deck), I could be there as fast as possible helping out, but then again, you never know when the zombies come storming the gates and I have to have everything together
lol