Well since Doc made fun of me mercylessly for not posting my bag, here are the pictures. I will update with packing lists while I am bored at work tomorrow.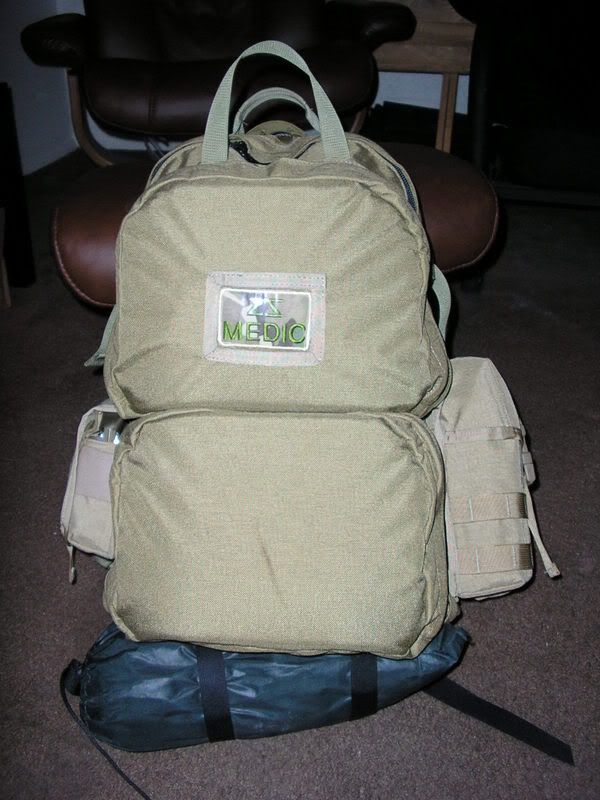 The bag itself is a Tactical Tailor Trauma Pack. The Black bag tied to the bottom of the pack is a roll up stretcher. Nalgen bottel holder and Smoke grenade pouch both from DiamondBack Tactical.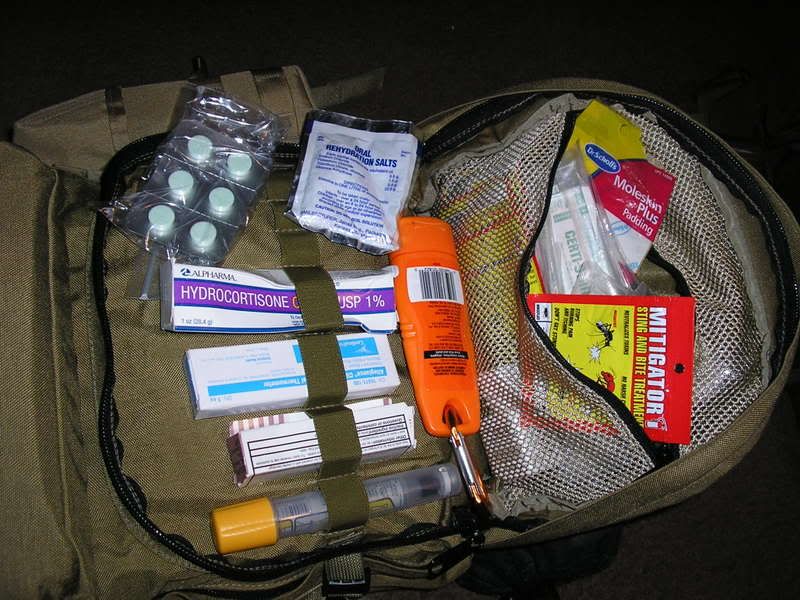 The General First Aid pouch:
~ 18 x Immodium Advanced Chewables
~ Bottle of Decongestant (50 count)
~ Pack of Mole Skin
~ 5 x Sting Mitigator
~ Tube of hydrocortisone
~ Thermometer
~ Bottle of SPF 50 Sunscreen (w/ bug dope in it)
~ Tube of Antibacterial cream
~ Epipen
~ 5 x Oral Rehydration Salts
~ A lot x Sissy Strips (Adhesive Strips)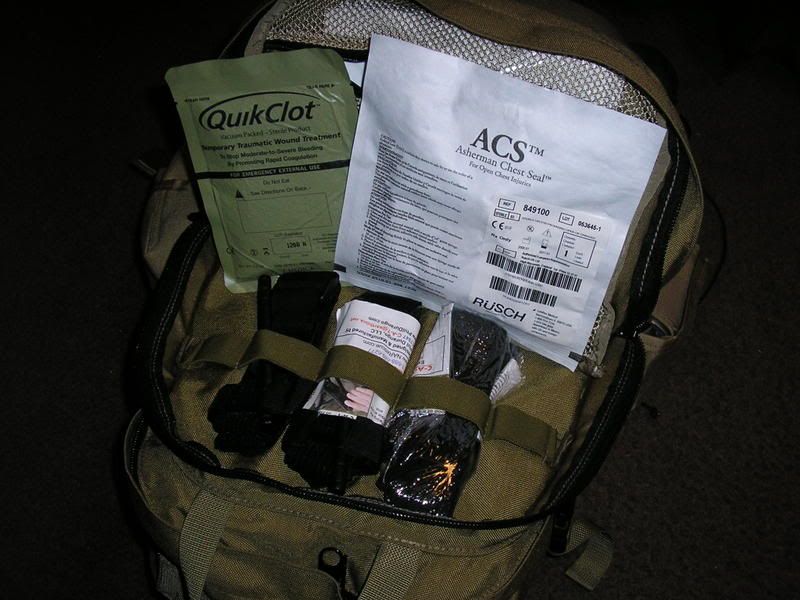 Massive Blood Loss pouch:
~ 3 x QuikClot
~ 5 x Asherman Chest Seals
~ 3 x CAT Tourniquet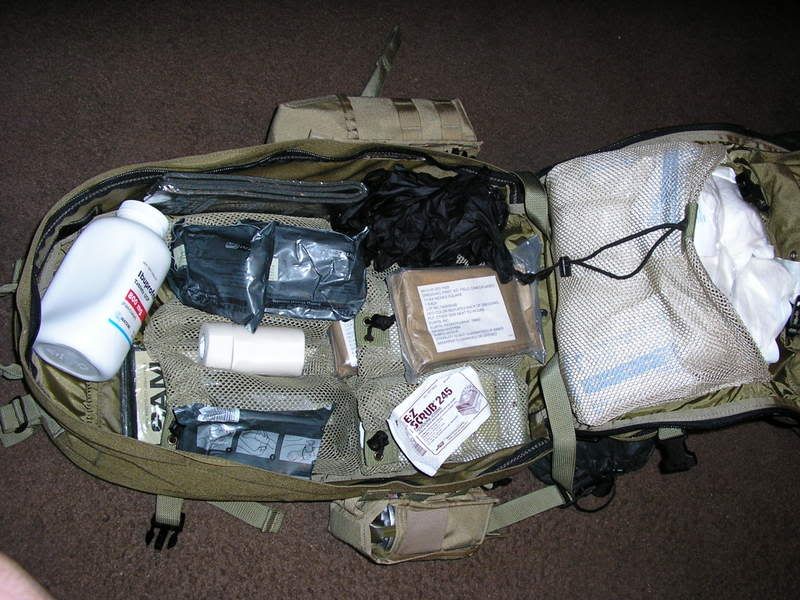 Main Area:
~ 20ish x Kerlix Rolls
Moving Clockwise from Top Right
~ Black Talon Gloves
~ 5 x Abdominal Bandages
~ 5 x EZ Scrubs w/ povidone iodine
~ Sam Splint
~ 4 x Izzy Bandages
~ 2 x Rolls Tape
~ Mega Bottle of 800mg Ibuprofen
~ Sam Splint
~ 4 x Izzy Bandages
In hydration pouch under everything
~ 3 Liter Camelbak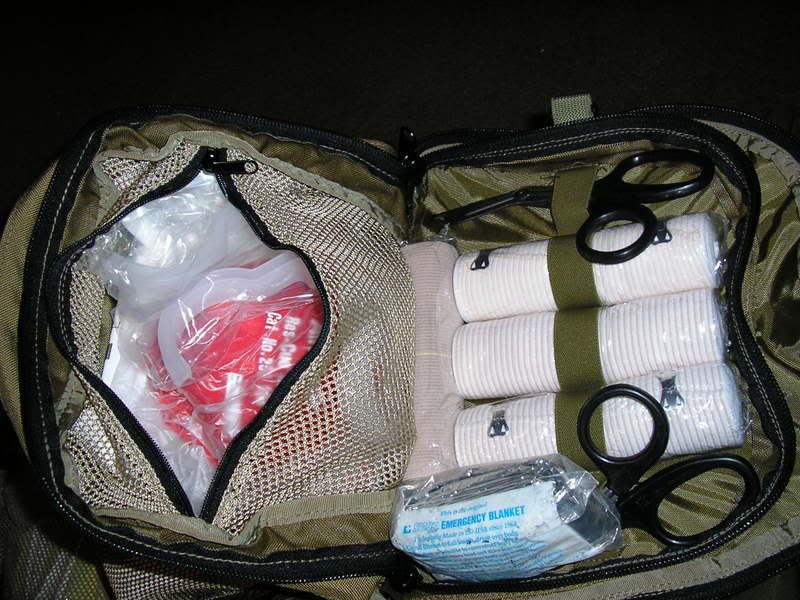 Left side:
~ 3-4 Each(in various sizes) NPA/OPA
~ CPR Mask
~ Asherman Chest Seal
Right Side:
~ 2 x EMT Shears
~ 4 x ACE Bandages
~ Emergancy Blanket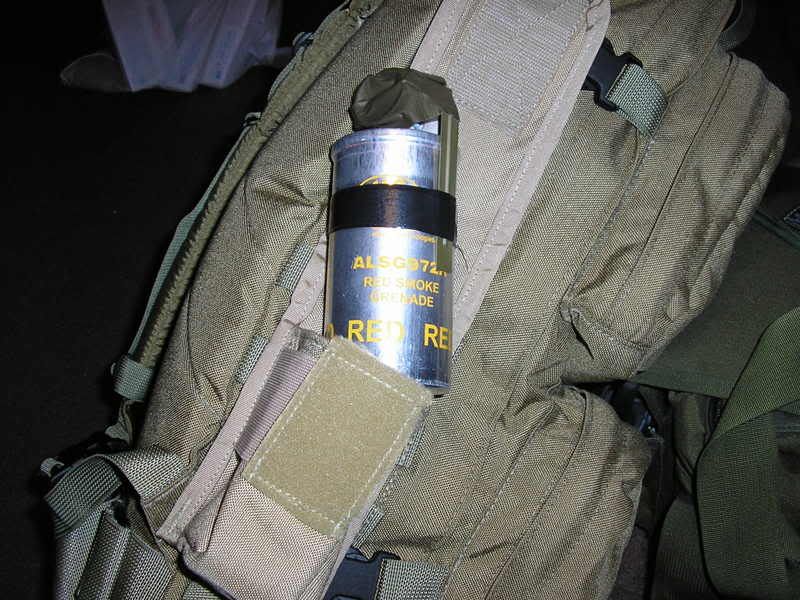 Diamonback Tactical Pouch with RED Smoke Grenade for signaling help.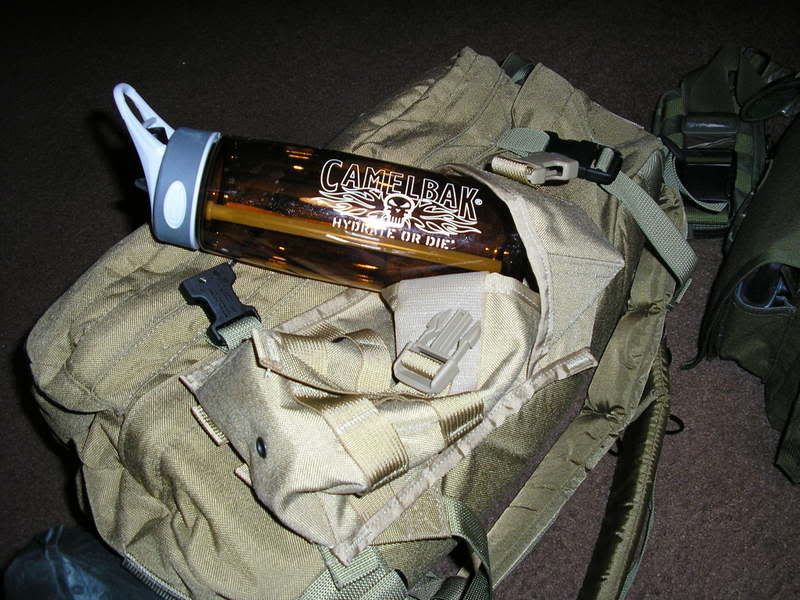 Diamondback Tactical Nalgen pouch with bottle (I live in the Desert, I have a much higher chance of having to re-hydrate someone then anything else)
Benchmade Rescue Hook
attached to the Nalgen pouch.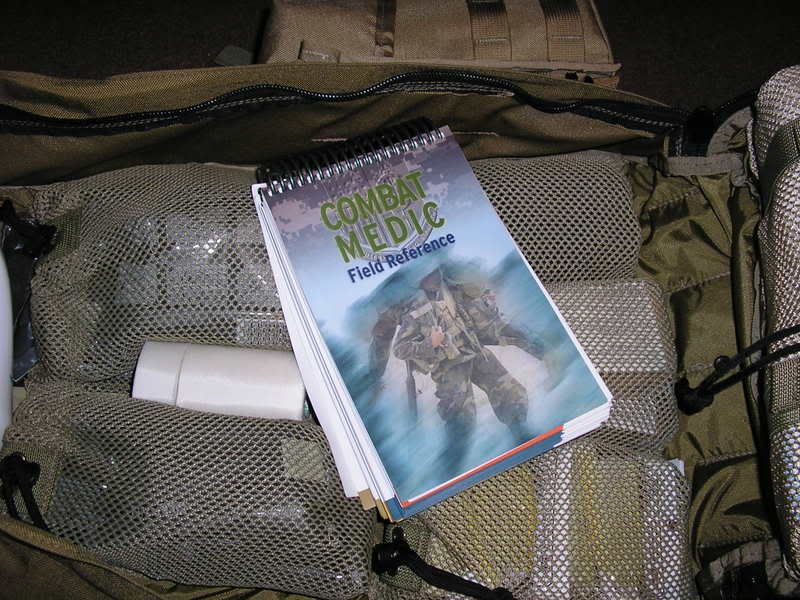 Combat Medical Field Reference - "Cause when you need it and dont have it, you will sing a different tune."
Questions, Critiques, and Comments are welcomed.