I got a really good deal on a few bins of radios and accessories at a garage sale the other day.
I saw a Yaesu FT-857 on the top of the pile, and I didn't really want to spend that kind of money so I didn't even make an offer. My mom asked how much for the whole lot, and the lady said $50. I told her she could get on Ebay and sell it for a
lot
more than that. She said that she'd rather just throw it in the trash than get on Ebay.
Digging through the bins, I found five different transceivers.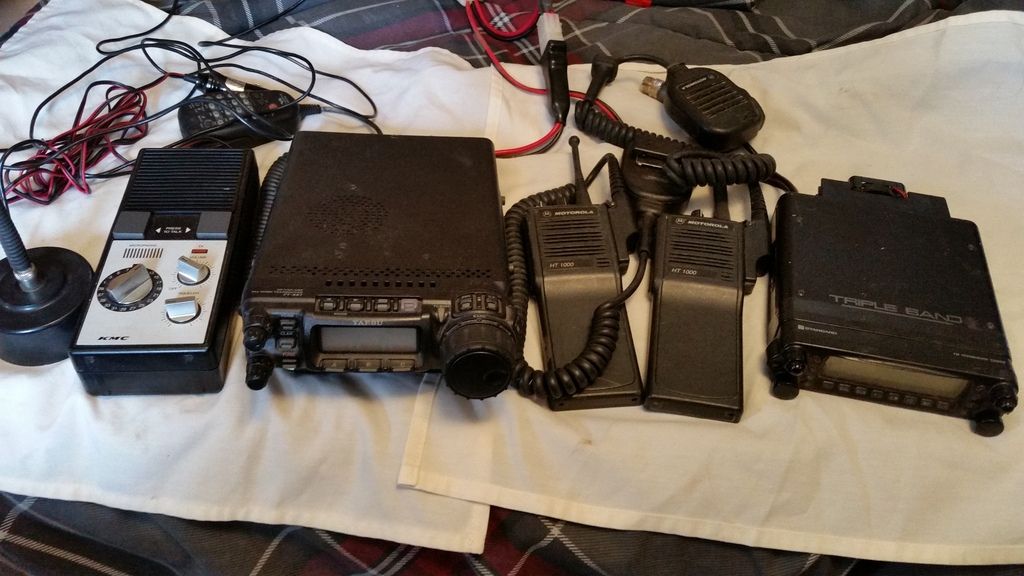 There's a Yaesu FT-857 that I saw on top of the pile. Most of the information online is on the newer FT-857D, but luckily I found the manual in the bottom of the bin. It looks like it will do 160m to 2m, plus 70cm.
I also found a Standard Triple Band C5900 DA. It looks like they were a Japanese company that was bought out by Yaesu. It will do 6m, 2m and 70cm.
There were a pair of Motorola HT 1000 handie-talkies. Both are missing batteries, and I think they require a cable and Motorola software in order to program. It's hard to find out much about them, but it looks like more likely than not they are 450-512MHz.
Model #: H01SDC9AA3AN
FCC ID#: AZ489FT4780
There was also a K-Mart brand emergency CB radio, model 82-3029. It came in a plastic carrying case with a cigarette lighter power supply, a rubber ducky antenna and a magnetic mount for attaching it outside the vehicle.
Also tons of microphones, speakers and other accessories that I'm still sorting through. It looks like whoever owned this before might have been fairly hardcore, as there was a tree climbing harness, soldering equipment and a Linksys router with a weird antenna that I'm guessing was for packet radio.
That's a pretty amazing haul for $50. Of course, I don't know if any of this stuff is actually still functional. I also don't really know how to use it. I got my Technician license a couple years ago on a whim, but I haven't really done anything yet. Looks like I found a new project for the winter.