Do you keep a jar of pocket change? or do you ever go about cleaning and find a bunch of money that you didn't know you had?
This came up in conversation when we had our Iowa meet and greet. I have recently been in the process of cleaning up around and came across some loose change myself.
This morning I counted it: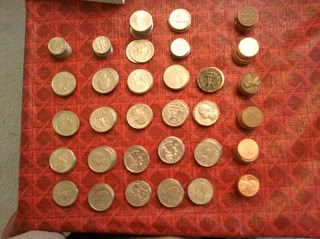 $24.60
I've been tossing around the idea of cheap container gardening or possibly even small terrariums just to test out what kind of green thumb I have and start my path to self sufficiency.. Now I have something more than I knew I had to start..
Do you have any interesting stories or ideas with how you found or what you have done with your loose change?