Gugnir wrote:
People probably think they are pretty high speed when they do all that brass tumbling/making their own rounds and stuff.
And then Ad'lan comes along. The dude
fletches.
Who here can say that? Or anywhere? Probably some guy in England about a thousand years ago or so, before robots took charge of the whole fletching industry. You sir, are
ranger
as
hell.
Before I forget, what is the exchange rate of USD to these 'tuits'? I would like to trade sometime. I like foreign money because I don't really understand it.
Thanks for the Complements, It's really not that big a deal, Nicest arrows I ever have, ever, ever owned, were made by a friend of mine in texas, and they were not even tuned to my bow! thats how awesome he is. I used to have a 18. Now I have 6 for shooting, 6 For the PAW and 6 broken from grouping to close (four from robin hoods). Thats how good the Arrows are.
Tuits are non exportable, in their round form. Square ones are freely exchangable, tied to the Flainian Pobble Bead.
arrowolf wrote:
I use an Arizona Pocket Jig for fletching. Works well enough but lately my biggest problem had been with glue not sticking to the shaft. The combination I used years ago suddenly became incompatible.
Have you tried sanding the shaft before applying the glue? especially if it is Carbon or Aluminium. Often, a new enviromental law will come in, changin what solvents can be used, or the way they can be produced, reducing their effectiveness (My chemistry teach calls this Enviromental Facism. But then, he likes lead in his petrol, because it only hurts children).
Okay, lets see what did I write on the List,
(Note, before we begin. Several times I will mention the Importance of Consistancy, as some you you may know, consistancy is the key to accuracy and skill in archery. And so, when making arrows, it is important, that they are consistant. Even if they are wrong for your bow, you would adjust, and cope better, than shooting some good, and some bad)
Shaft Choice
(No sniggering Oaf Patrol)
There are three main Shaft Choices.
Wood, Aluminium and Carbon. Of the Three, Wood is the Cheapest (And IMO the coolest) Carbon the Best, and Aluminium the Crapest.
I am building this set of arrows because a friend of mine in America (the same friend who built my best set of arrows), has just seent me a Fred Bear Super Kodiak (I did pay for it, he just had a friend who could get it at COST!) He is one of the nicest guys you could possibly meet. Don't believe me?
Read this
.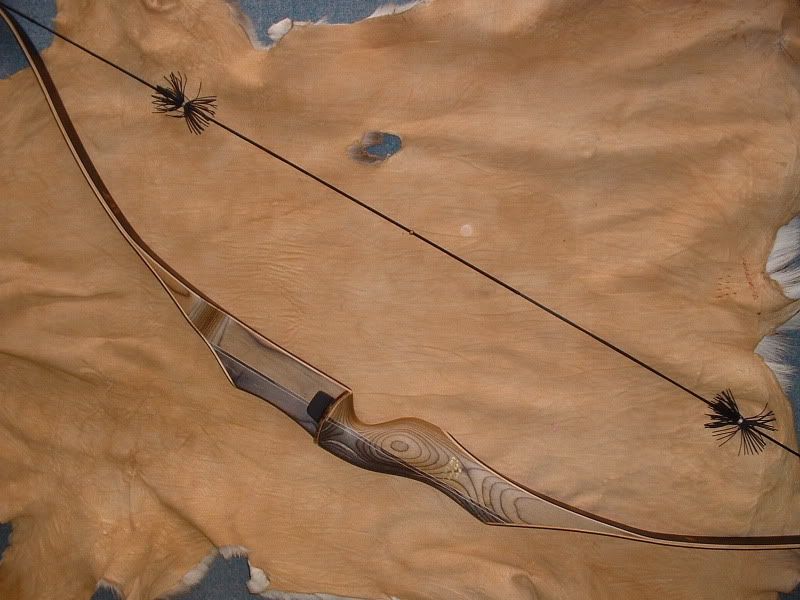 I really can't wait for it arrive (expected in less than a week
), 60lb, custom string silencers, Short and manouverable (well, for a trad bow. And trust me, when you've hunted from tree stands with a 6'1" longbow, anything is short and manouverable).
Anyway. It's going to become my main shooting, hopefully hunting and if the SHTF Bow. I still love my Longbow and my Warbow's, and will eventually be back into the 90lb draw weight range, but right now, this recurve is my pride and joy. So, I'll be splashing out, and building a set of Carbon Arrows for her.
But, I want to get the carbon arrows perfect, and to do that, I need to get a feel for her, and Ideally, I'd like to be able to shoot her ASAP.
Thus, this set of Arrows.
Any way, back to Shaft Choice.
Wood
The Most Common wood used for arrow shafts is Port Orford Cedar, also known as Lawson's Cypress, it is a nice, reasonably dense wood, straight grained and makes nice arrows. Also common is Scots Pine, which shares many features with POC. Historically, many woods have been used, Ash, Hornbeam, Boxwood, Hickory and others.
Wood has several advantages, it is quite cheap, a Dozen, spined shafts (very roughly spined though) cost me £15 quid. For Alums, the next cheapest, it'd be closer to £20.
It's traditional. Nothing quite like shooting the old way, just like Robin Hood, the men at Agincourt, and at Crecy. This also means you must use wood in some Field Archery Classifications (classes in which you shoot, so you don't have someone with a longbow trying to out shoot a stabilised, sighted, let off equipped compound).
It's fun, fun to make, fun to shoot.
However, wood has many more disadvantages.
It's a natural product. Meaning you will never get a consistant set of shafts, never find two with the same spine and the same weight, and thus they will all fly differently. To get a group that shoots as well as you takes time, and thought (or a lot of skill), unless you are just begining, in which case, the store spining should do just fine.
Wood Arrows are Sold in a rough spining, groups of say 40-45lb, 45-50lb, 50-55lb. And within these groups, you will find some that are 50's, some say 52's, and some 55's, So really, you want to get a Dozen that are spined at the same weight (even if it is slightly different to your bows Draw weight, spine is not simply controlled by the shaft). A dozen 52's would be better than a dozen 50-55's.
So, unless you have no choice, or are buying your first arrows to learn with (or you are paying a lot for specially, individually spined arrows), then it's best to buy your arrow shafts in person. The Shop might have an arrow spine tester, with which you can go through the shops stock of arrows, and select a dozen the same, or you can simply go through, bend them gently, and find a dozen that feel the same. I do both, and I take my time about it. The Shop shouldn't mind, especially if you might become a loyal customer (speaking of which, this is my Shop
Clickers
Friendly and happy to help, with advice, or a cup of tea or cool water).
Wood Shafts come, generally in two sizes, 5/16", and 11/32". 11/32" generally for higher weight bows, unless we are talking War bow weights, in which case, you really need custom shafts. It's not important which one you use, so long as you know, because nothing sucks more than cycling 6 miles there, 6 miles back, and then doing it again because you got the wrong size nock.
Wood is generally only used for Traditional Bows, as the shafts are to thick to use in a modern compound, and sometimes can't take the stress of it, with slightly spectacular results. Compounds use carbons or
Aluminium
As you might be able to tell, not my Favourite shafting material. Really because it dosen't serve any fuction for me, for compound and techy recurve shooters, it takes the place of wood as a low cost shaft, and in many respects, it's better than wood, it is fairly constant in spine (better than most humans can shoot), although it can be bent. it is also constant in weight.
However, it is less robust, less concistant and less spock than the last shafting Material
Carbon
Carbon Fiber Arrows are sometimes still dogged by stories from the past. It is true that in the past, a traditional longbow shooter (shooting off the hand, rather than off the bow), might have had to worry about getting very nasty carbon splinters, but no longer. Modern Carbons are tough, consistant, hard wearing and expensive.
My personal choice for an Arrow is the Carbon express heritage range, which I like very much. But, it is slightly sacreligious to shoot carbons off an english longbow. But call me a heretic any time. The only problem I've found with carbon is their expense, and the need to be careful using hot melt glue around them. The Heat and Flame can damage the shaft.
Both Carbon and Aluminium use Inserts to hold in place their heads and nocks, while wood shafts use glue on or screw on ones. This means that most accoutrements are not interchangeable between them.
Okay. Thats Shafts Done. Clear, understandable, not to technical? but not to dumbed down either? Any Questions?