What if your tarp/plastic sheet/poncho does not have holes for rope in each corner, or the grommet has torn out?
Start by finding four small pebbles.
Place the pebble on the tarp near the corner and fold the end over the pebble, completely covering it. You can roll it over more than once if you need to but the less you do this the better.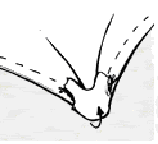 Now tie a rope around the tarp just after the pebble, forming a sack around the pebble. This grommet is very strong if done correctly, it should outlast the tarp itself. Of course you won't get the same drainage as a smooth flat tarp without the wrinkles caused by the knot of the pebble grommet