I've been trying my luck with grafting apple trees.
Last year I went to a class on grafting apples put on by University of Alaska Fairbanks Cooperative Extension Service and taught by a local apple grower. It was a good class, and I got to try my hand at grafting four trees. The method I was taught was whip and tongue grafting, which is good for grafting small rootstock trees ("whips") to pieces of scionwood of roughly the same diameter.
Scionwood refers to a piece of last years growth cut from a mature apple tree. By grafting the piece of scionwood to another apple tree, you have cloned the tree you took the scionwood from. Apple trees have a lot of genetic variability, so by cloning an existing tree you can be more certain of what kind of apple you will end up with. (It should be noted that even though you can't be sure what you'll get when growing from seed, it actually isn't that uncommon to get a decent apple if you start with at least one good parent.)
If cloning gets you the kind of tree you want, why bother grafting? Why not just root cuttings? Many apple cultivars have been selected for things like flavor and storage life rather than vigor and hardiness. A trees roots are actually one of its most sensitive and vulnerable parts, so selecting a rootstock variety that provides more hardiness and disease resistance can be a good idea. It doesn't matter if the rootstock tree doesn't produce good apples, as they will be coming from the scion that has been grafted to it. Another reason many people graft onto rootstock is that the rootstock influences the height of the tree. Rootstock grown from seed ("seedling rootstock") tends to result in full-sized apple trees (~30'). There are a number of cloned rootstock available that let you predetermine the height of your tree without much pruning. Dwarfing rootstocks (~8') are popular because they are easier to harvest from and a bunch of small trees densely planted usually produces more than the same area planted with a few full-sized trees. Dwarfing rootstocks also tend to start producing earlier. The downside to dwarfing rootstocks are that they tend to be shorter lived, less vigorous and less hardy.
Whip and tongue grafting involves cutting the rootstock and the scionwood at matching angles, and then making a back cut in each angle. (This is the part where you cut towards yourself and end up accidentally cutting clear through and/or cutting yourself with sharp knife.
I'm a clutz, so you might not have this problem.) This forms a "tongue" on each piece. You push the two pieces of wood together, so that they form a sort of zig-zag as tongues interlock. (French kissing, arbor-style?) This provides some amount of natural pressure and more cambium contact. The cambium is the thin green inner back, and it is crucial to get good contact between the cambium layers of the two pieces in order for the graft to take hold. For additional pressure tape is tightly wrapped around the graft. The guy who taught the class also had us dip the whole end of the grafted tree in wax in order to help keep the grafted piece from drying out, as all of its moisture is coming from the small area of cambium contact. The buds will eventually punch right through the wax.
It's a little hard to describe the process, it's easier to understand if you see it. I was going to take pictures, but I don't own a tripod so I thought "Screw it, I'll just draw it. That will be easier to understand anyway." Then I realized that someone else had probably drawn it, and thought "Screw it, I'll just link their pictures." I'm a very
busy
lazy man.
Here's an article that has good pictures, and probably better instructions as well. Bet you wish I would have mentioned that to start with.
LINK
(I actually haven't read the article, just ogled the pictures. Since it's from the Missouri Extension service I'm going to assume it's good and not a bunch of pro-zombie propaganda.)
Scionwood usually comes in 8-12" lengths. Technically you only need one bud for a successful graft, but most people use a section with two or three buds in order to make it more likely that one will succeed. If more than one makes it eventually people will choose the best one and cut the others off. Usually you can cut a piece of scionwood into three or four pieces with 2+ buds each.
Three of the four grafts I made last year took, and they all survived the winter. It was easier to do than I thought going in.
Two years ago I planted a bunch of apple trees from seed to use as rootstock down the road. I planted Siberian Crabapple, Manchurian Crabapple and Ranetka Crabapple, which are all supposed to make for a very cold-hardy tree. (I also planted a few other kinds, including Antonovka, but they haven't done as well and I have since read that they might not be cold hardy enough for where I'm at.) I ordered scionwood from Fedco out of Maine and from the guy who taught the class I took up in Fairbanks. I didn't get a chance to graft some of the varieties that I got from Fedco, I mostly grafted the ones I got from the guy in Fairbanks to Siberian and Manchurian crabapple trees. All told I made 33 grafts.
Here are my initial grafts from earlier this year.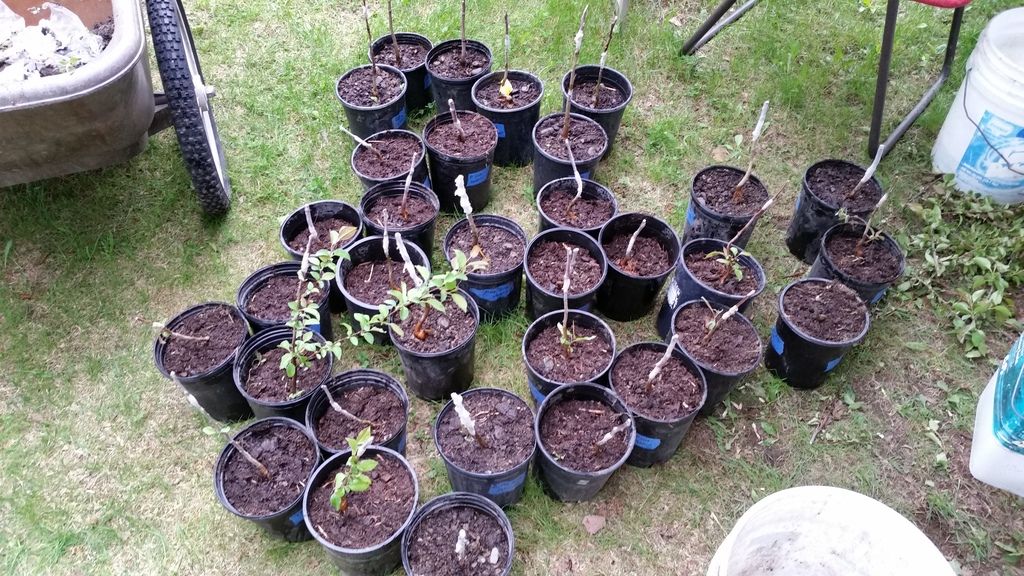 I leave some of the branches on the rootstock. Trimming them off slightly increases the chances of the graft taking, but I leave a few of the rootstock branches on so that if the graft doesn't take I can just plant the tree as a crabapple somewhere.
Here's the pruning shears and knife I used. (Thin and sharp makes for a good grafting knife, but the utility blade might have been a little too thin.)
After making the graft I tightly wrapped the grafted area in parafilm (wax tape). Then I dunked the scionwood and grafted area in parafin wax I had melted on an old roomates fondue pot.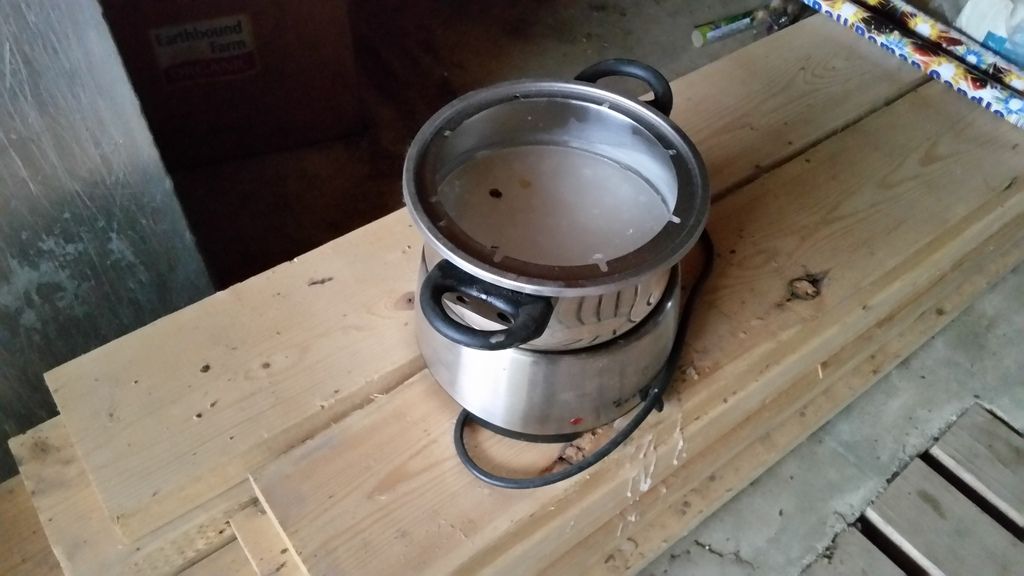 After dunking in wax I immediately dunked into a bucket of cool water. At some point someone turned off the power to my fondue pot, making the wax a little too cold. This lead to extra-thick wax on a few grafts. I was concerned this might be a problem, but it didn't seem to matter much in the end.
As of today, 20 of the 33 grafts have taken. I'm fairly happy with this success rate, considering how cheap the whole project has been and what a half-assed rush job I did on the grafting. We'll see how many survive the winter.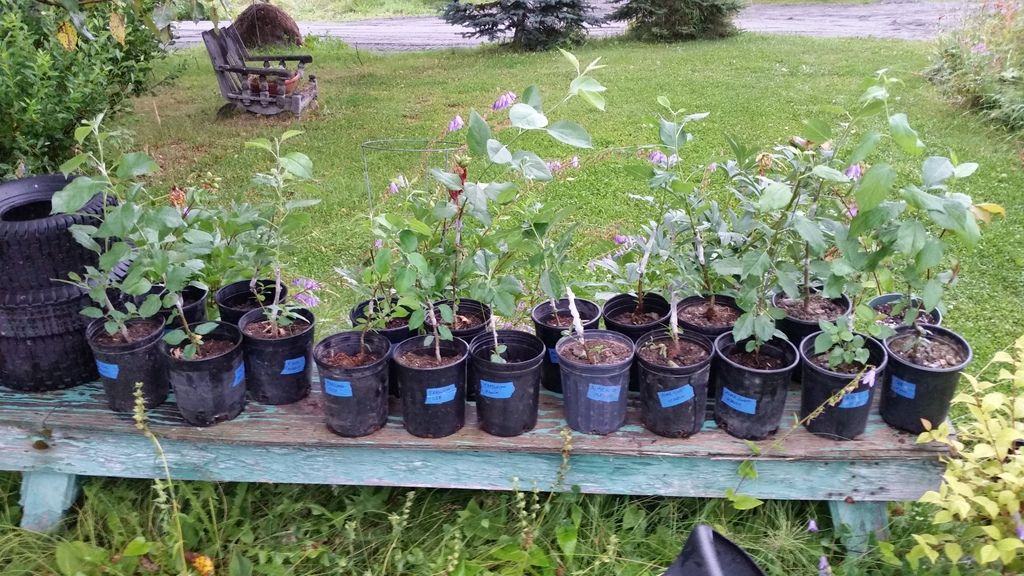 These are the varieties I grafted this year:
Trailman: A very early crabapple, but supposed to be tasty unlike most extra-early apples.
Prarie Sun: Supposed to be one of the most productive apples in cold climates with short growing seasons.
Kerr: A good keeping crabapple (6+ months in a root cellar). Most apples that grow in short-season areas aren't good keepers.
Alma Sweet: An apple that is supposed to be too sweet for fresh eating, but really good for making apple sauce, apple butter, etc. The "sweet" varieties of apples were supposed to have been used in ye olden days when sugar wasn't as available.
One potential problem is that they are in pots that are too small, but it is also getting late in the summer for transplanting. Those were the pots that I had on hand when I started, and I only intended to have them in long enough to see which grafts were successful. Time got away from me, and they're still sitting there. The problem with keeping perennials in pots too long is that they get very root-bound. The roots will also start circling around the outside of the pot, and long-term a circling roots can kill a tree. I plan to shake the dirt off the roots and spread out/prune the roots when I transplant them. This isn't the ideal thing to do with perennials, but I'd rather have them get set back or die early than die six years down the road.
The other half of the problem is the time of the year. It starts getting a little frosty in about a month, and there are usually several hard frosts by mid-september. I'm worried that transplanting might cause the trees to put more effort into new growth, which will then not harden off and end up getting killed. I can wait until after they're dormant to transplant, which is often done, but in the meantime they'll continue to get more potbound. I have enough trees that I figure I'll do some each way and see what happens.