Ok, so here's the deal my grand parents are getting up there in age, they live in a less populated area of western Washington. On 5 acres of heavily wooded land, with a dirt road as the only access, and wood heat as the only heat source so having to chop nearly 6 cord of wood isn't easy for a man over the age of 85.
So grandpa sent out an email saying they were going to look for a hose near my parents so they can be closer to them (only kin this side if the country). But grandpa asked if I wanted the house. My initial thought is.... HELL YES! The only down side is the commute to work it'd be about 45-60 min because of traffic. I'm also unsure if a time line because grandpa built this house, and it has extreme sentimental value to him. So I know he's reluctant to move, but they are willing, when they find another place to sign this over to me.
Now the up sides to the property, 5 acres, central wood heat, well water, abundant trees, 2 car garage, covered wood shed, covered carport, very large garden area, 800ish sq ft wood working room.
Down sides it's going to be me, most likely by myself. That's a lot of upkeep on a house that's this big, not to mention the land and the garden.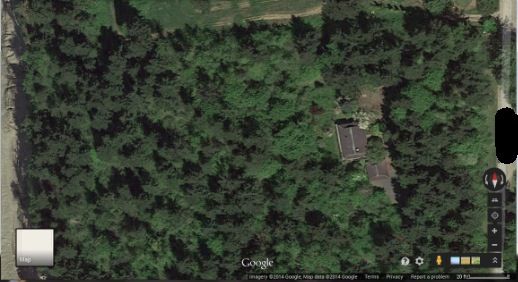 So here's a pic I took from google earth, there's a gravel out at the west end if the property with a 200+' drop off. The neighbors to the north are rarely home, the neighbor to the south I don know, and I think my grandparents have met a dozen times at the most in 37 years they've lived there.
Of course id want to go off grid as much as possible, and I was thinking wind. There's a couple areas that are clear that are up on the property (it mostly on a slope the easy is the high spot the west is low. My needs for the wind would mostly be for back up power to the pump house.
What do you guys think? What else could I do to get this place more self sustaining?