Kind of satirical here, but a thread subject none the less...
I have been a gamer nerd since 1979. I have gotten beaten up over D&D in the mid 80s (Satanic Panic... as well as being a fat buck-toothed nerd). People now call me a Grognard, this in regards to my percieved role in the Edition Wars of 2008-2009.* Technically I am a neo-Grognard. I did not enjoy TSR's 2ed of the 90s. I also think 3ed was a vast improvement to 1ed and 2ed.
Yes, I know Monte is the R&D guy at WotC now and they announced 5ed.
I have modded on 3ebb and was an active member of a smaller gamer forum called
pimptania
. I have reviewed quite a few things from Dwarven Forge, Sqwire Wire (now Gamemastery), Worldworks, WotC books, Fiery Dragon stuff... list goes on.
*Basically all I did was say "I quit, I don't want to buy D&D books anymore." upon the release of 4ed ... this simple statement turned me into an Edition Warrior.
Currently I am playing Pathfinder. I am playing in 3 Adventure Paths run by my Blue Ribbon Company boys. BRC is a mercenary unit I made up in a campaign I started running in 2004 loosely based off Glenn Cook's Black Company Books. We have kept that theme in all our games since then. After GMing for 11 years straight (with little breaks here and there) this is the first time I am not currently running a game while 3 of my players are each running an AP from Pathfinder - Kingmaker, Rise of the Runelords, and Legacy of Fire respectively. I am having a great time of it, just being a player.
Enough about my buyllshit. I cold go on for pages about this...
Here is my current gaming rig. I bought a new Plano tray last week to update my old rig (smaller Plano tray) and both my seat (GM to player) as well as my tabletop gear choices have changed.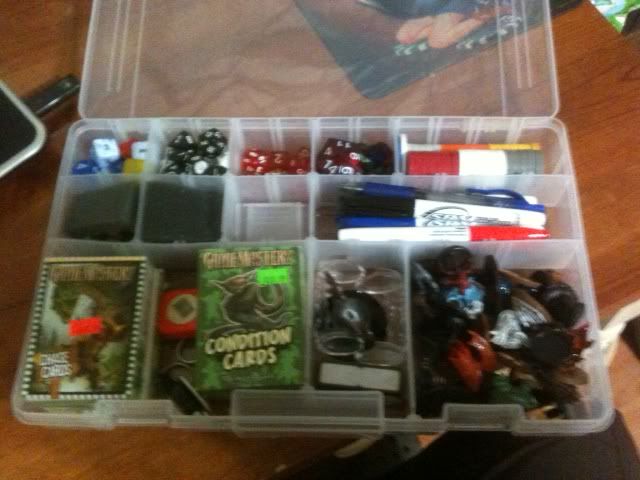 top, l-r:
D6s, D4s, D8s -- for all them blasty spells!
Black and white dice sets
Red Lanes dice and Glittery Gold PC killer d20 -- GG is a legendary
+2 player bane D20
; my players once had a bounty on that thing.
Roxxors got me the Flashing Crit D20. It flashes when you roll a natural 20. This is the awesomest thing evar!111 When I got this for Xmas 2010 I thought to myself, "Shit, I might marry this woman." and I am. Also a handful of glass beads.
Alea Tools magnetic 1inch markers. Pretty handy, some cons to them too, but handy. Also some poker chips, extra magnetic tags for my magnetic dry-erase battle board from Gamemastery.
Painted metal mini go in the next 2 compartments, foam and stuff to protect them (yes, I paint minis too).
Empty... must resist consumerism... buy something... put in empty compartment....
Pens, pencils, Sharpie (2-3), and dry erase pens. I stopped using wet erase pens when I went all laminate Flip Mats by Gamemastery.
Cards, again from Gamemastery: Crit Deck, Fumble Deck, Chase Deck, Condition Deck << 2 of these I am thinking about replacing with iPhone apps. Also in there is a 3 foot tape measure and a line of sight indicator.
Litko flying minaiture stands and mounted (horse) stand << new faaaaaavoooorite things.
DDM (mostly) plastic minis; One of my characters is a wizard and he summons the shit out of monsters so his commons (dire animals and elementals) are in here. Dire bats are his favorite next to earth elementals.
The big change for me in 2011 was books. I don't pack books anymore. I can run and play Pathfinder with iPhone apps. Everything I need to run and play is avaialble on iPhone apps thanks to the OGL Paizo uses. I do own some hardcovers for home, as well as PDFs of many of the books I want... but them apps are awesome.
My game night kit is:
the above Plano tray
iPhone
SOMETIMES my laptop (though I have found that is cludgy at best)
my character folio (recycled binder)
Maybe a flipmat or 2 if the GM needs to borrow one of mine, which I have 20 of.
Fat nerd snacks, which have gone from Cheetos and Mountain Dew to hot tea in a thermos (or iced coffee), Cliff bars and maybe some dried fruit.
Not going out like my boy Gygax RIP.
Feel free to show off your stuff, or ask about mine. I have more pics if you want to see some detaisl of stuff.
ETA: Semi-Satirical becasue it is a "gear pics" thread haha
But, serious too.