Kamp Kephart 2009
This past weekend I attended my fourth Kamp Kephart at the Schiele Museum of Natural History in Gastonia, North Carolina. Kamp Kephart is an educational workshop dedicated to late-19th and early-20th Century campcraft and woodcraft and is named in honor of Horace Kephart, outdoorsman and author of
Camping and Woodcraft
and
Our Southern Highlanders
. In the past, I have learned about the camp ax, pot hooks and chains, packs and bags, awls, foil cookery, and more.
This year, we learned about camp lights, handy kits, camp stoves, and journals. We also discussed the purposes of early-20th Century style camping in contemporary society, historical accuracy in reenactment of this time, the definitions of campcraft, woodcraft, and woodlore, and the values of this kind of camping as opposed to leave-no-trace camping.
Instruction began with the camp light. We discussed the pros and cons of slutlamps, candles, candle lamps, and lanterns, then we made portable slutlamps out of half-pint canning jars.
A variety of camp lights:
Shown are a shell slutlamp with cattail wick, candle, candlestick, instructor's coffee cup, candle lamp, and some hot blast and cold blast lanterns. The cloth pouch contains a folding brass and mica candle lamp that is pictured below.
Slutlamp how to:
Bend a coat hanger as shown to fit in base of jar with one end bent vertically.
A short length of lantern wick is slipped over the vertical, and the jar filled with canola (or any vegetable) oil to around ¾: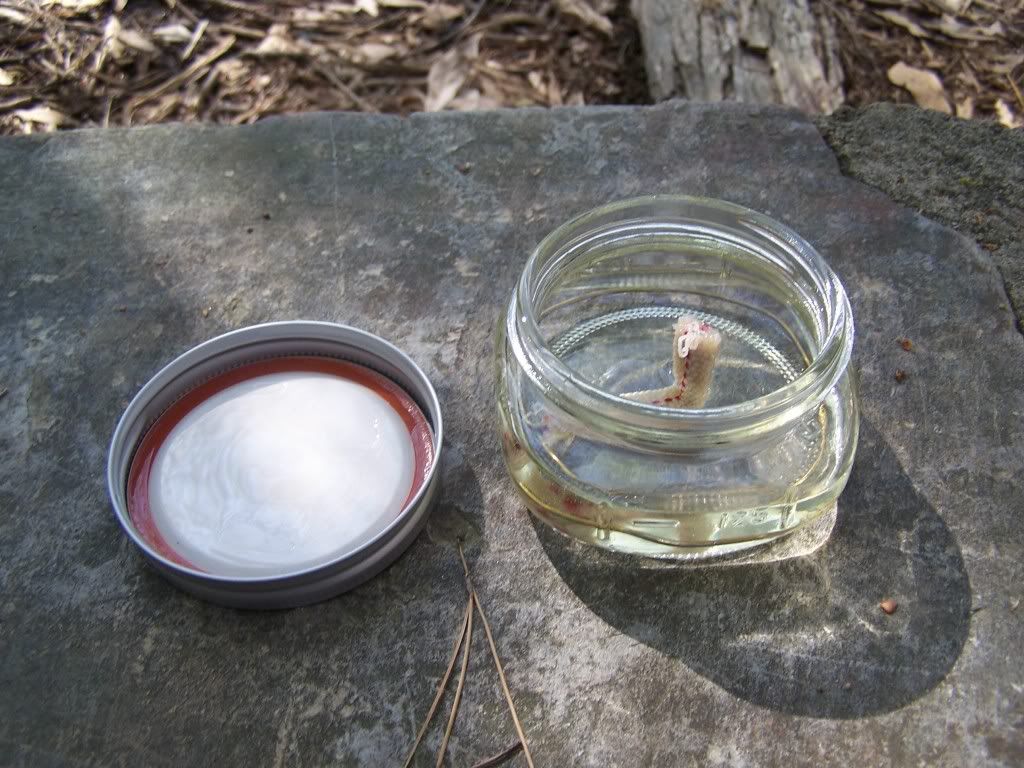 Light and enjoy!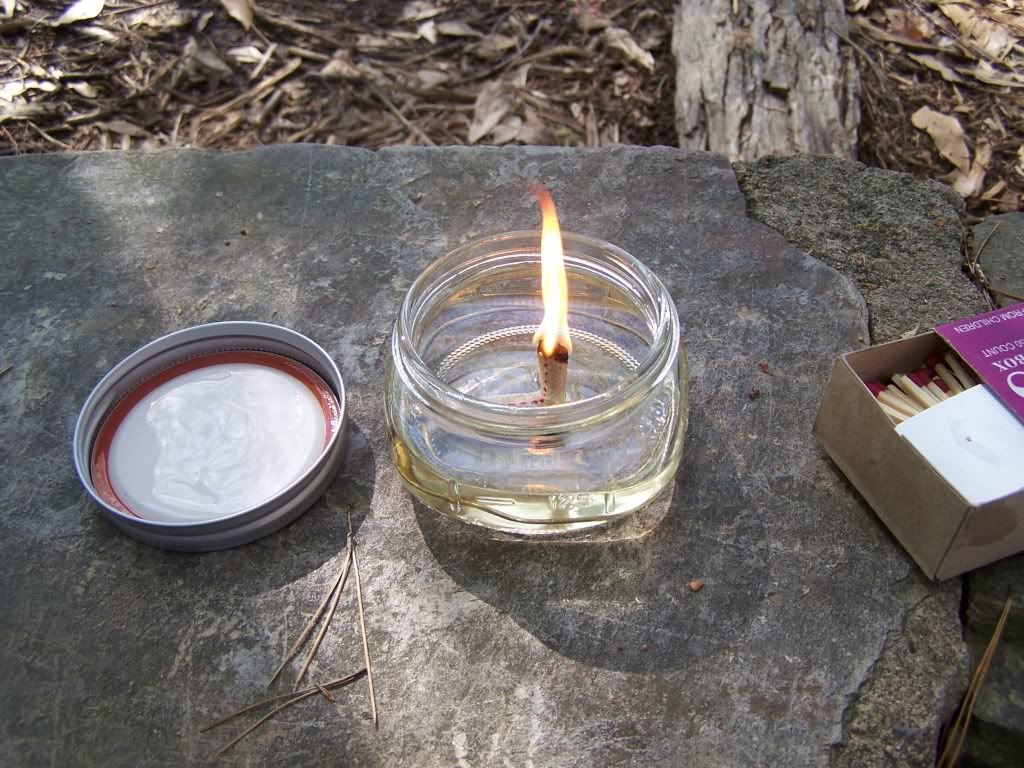 The benefit of this jar oil lamp is that unlike a lantern or open cup slutlamp, it can be closed tight and put in a pocket or pack without having to discard or worry about spilling the fuel.
In anticipation of the unit on stoves, this picture shows how a lantern can be used to heat water for tea or soup. See the folding candle lamp at left.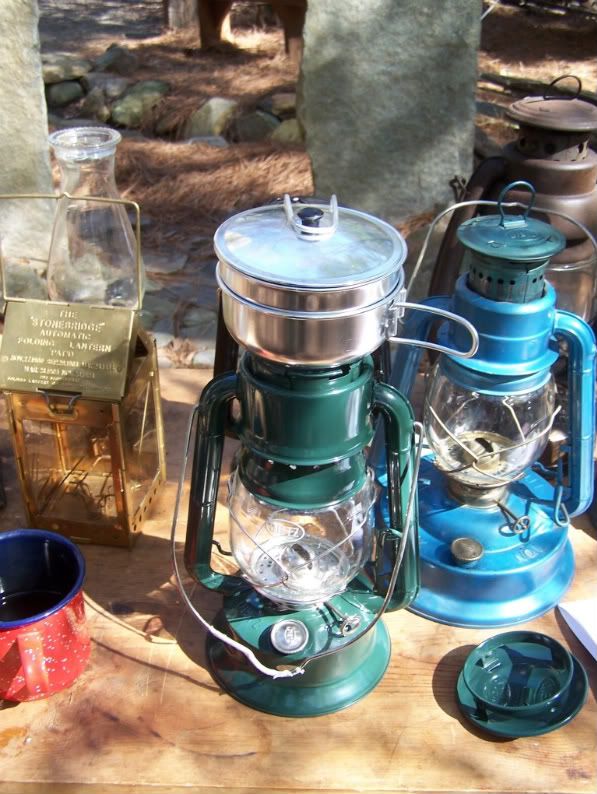 Next we learned about the handy kit, or "housewife" kit. This is a mending kit that contains thread, needles, buttons, pins, and other useful items for the camp. Note the Altoids tin in the handout.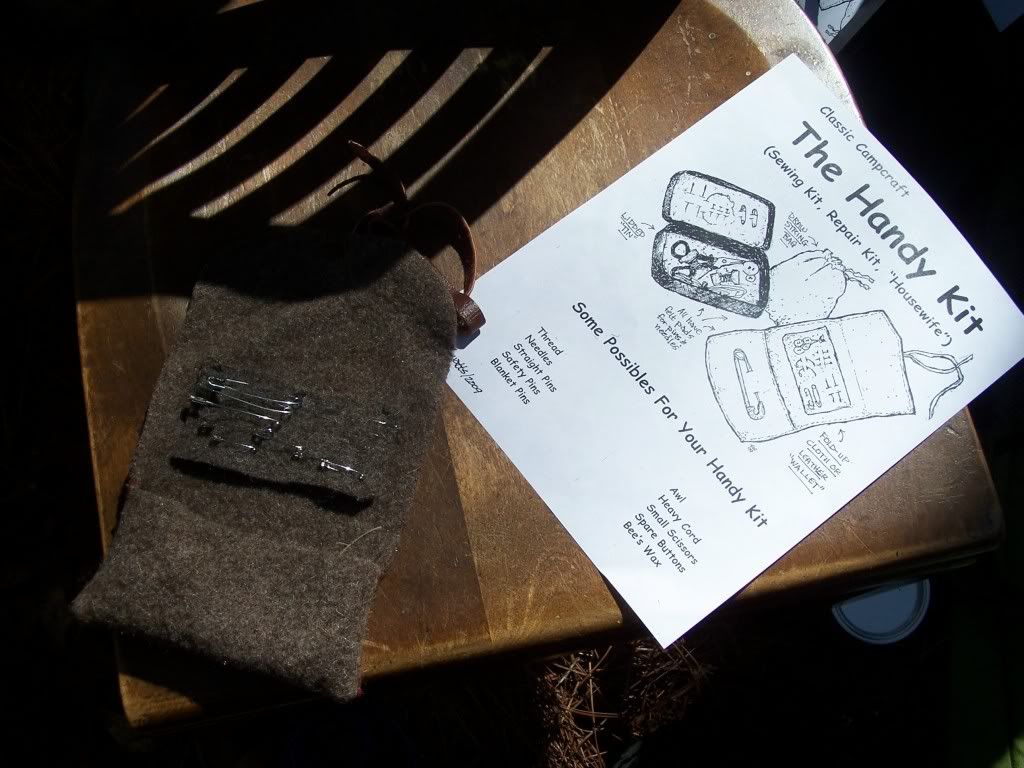 A finished example and the beginnings of mine, made from felted wool: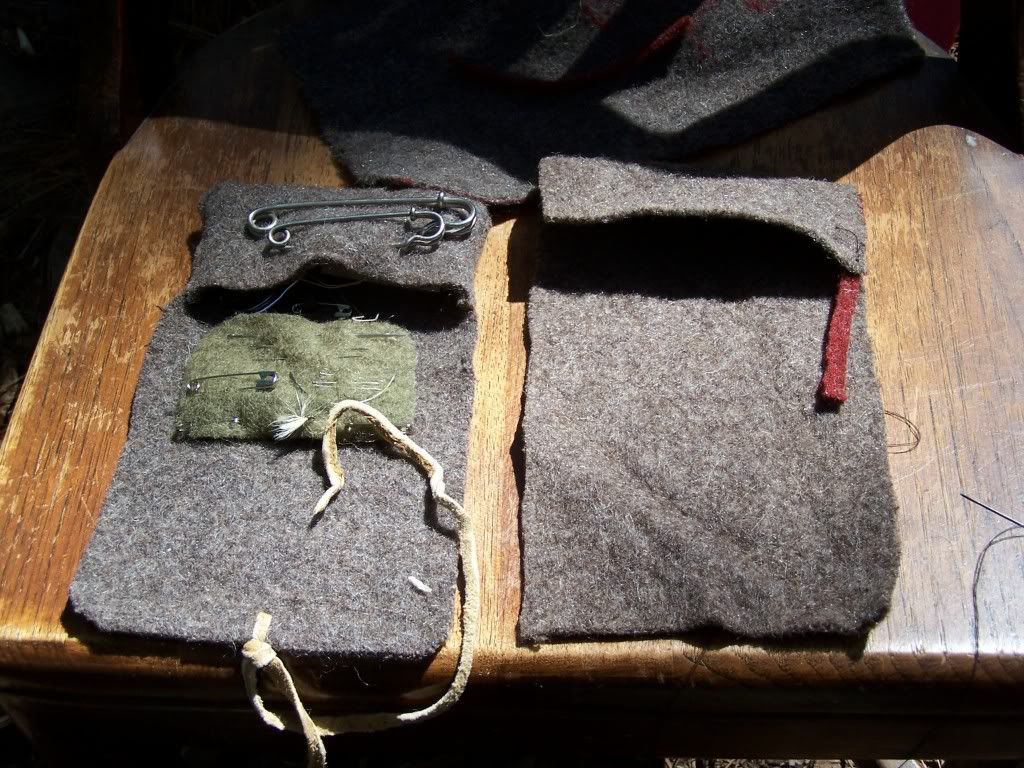 The red strip is a welt added to strengthen the seam, which I sewed with two runs of a blanket stitch.
Once both welts were sewn in, I turned the pouch inside out so the stitching would be on the inside.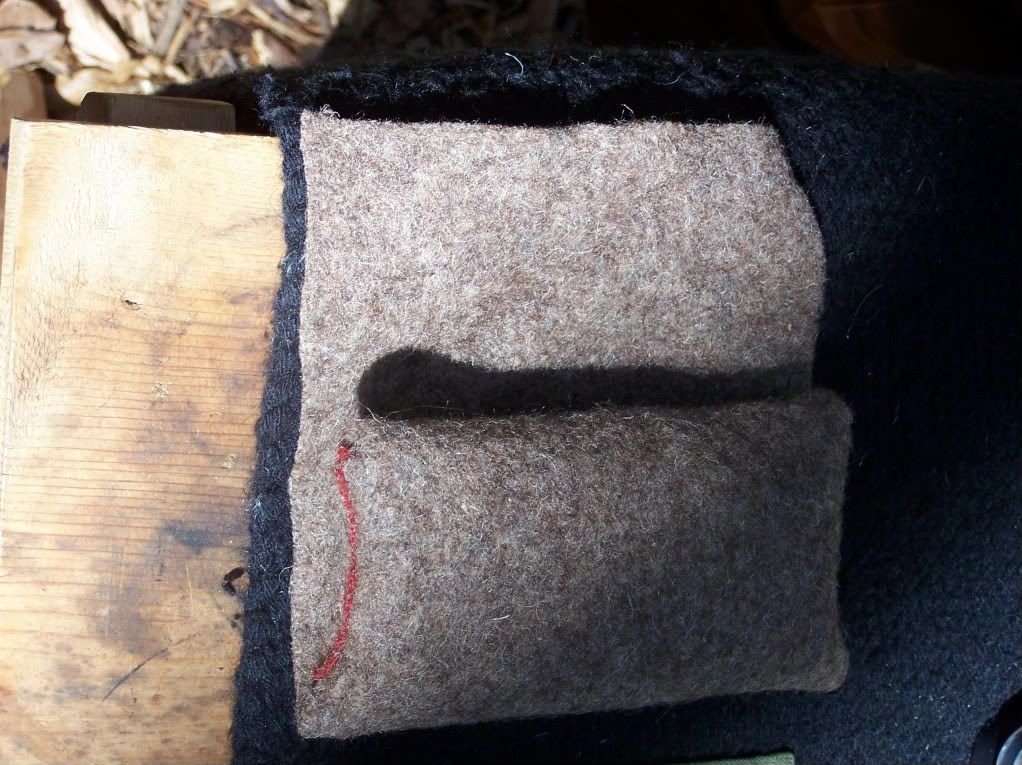 Added a flap for pins and needles and a commercial buckskin thong:
A thread card made from manila envelope takes up less space than a spool. I plan to make one or two out of wood or bone for durability.
I rounded the corners of the flap and tied it closed.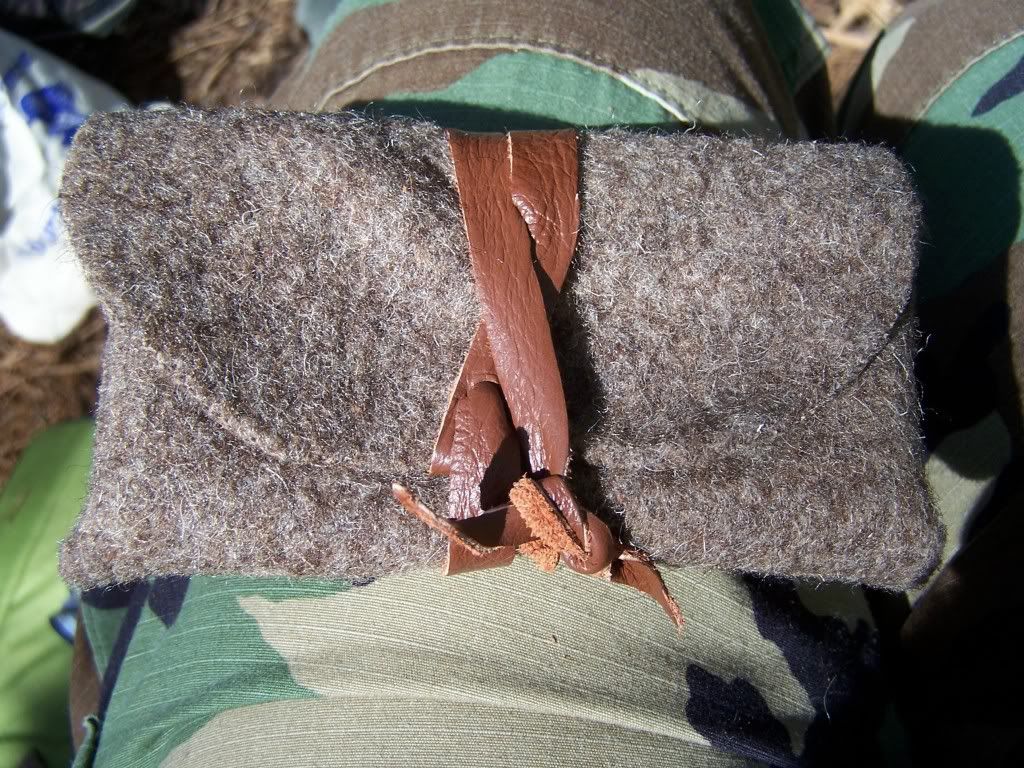 Next up: stoves and journals once I get the pics uploaded to photobucket.
We began on Sunday with a lecture by John Lathem on the camp stove. At the turn of the last century, petroleum fuel stoves were the latest modern technology, and except for the advent of propane stoves, camp stove technology hasn't changed much since. The Primus stove, and all of its subsequent copies with their interchangeable parts, opened up the Poles and the high mountains (the "Third Pole") to exploration, where wood was not available for cooking and heat. Primus stoves and their copies are ubiquitous throughout the world, and chances are someone somewhere in the third world is cooking their meal on one as I write this.
John Lathem demonstrates ignition of Primus stove:
http://s272.photobucket.com/albums/jj18 ... 0_3280.flv
" onclick="window.open(this.href);return false;
Some kerosene camp stoves: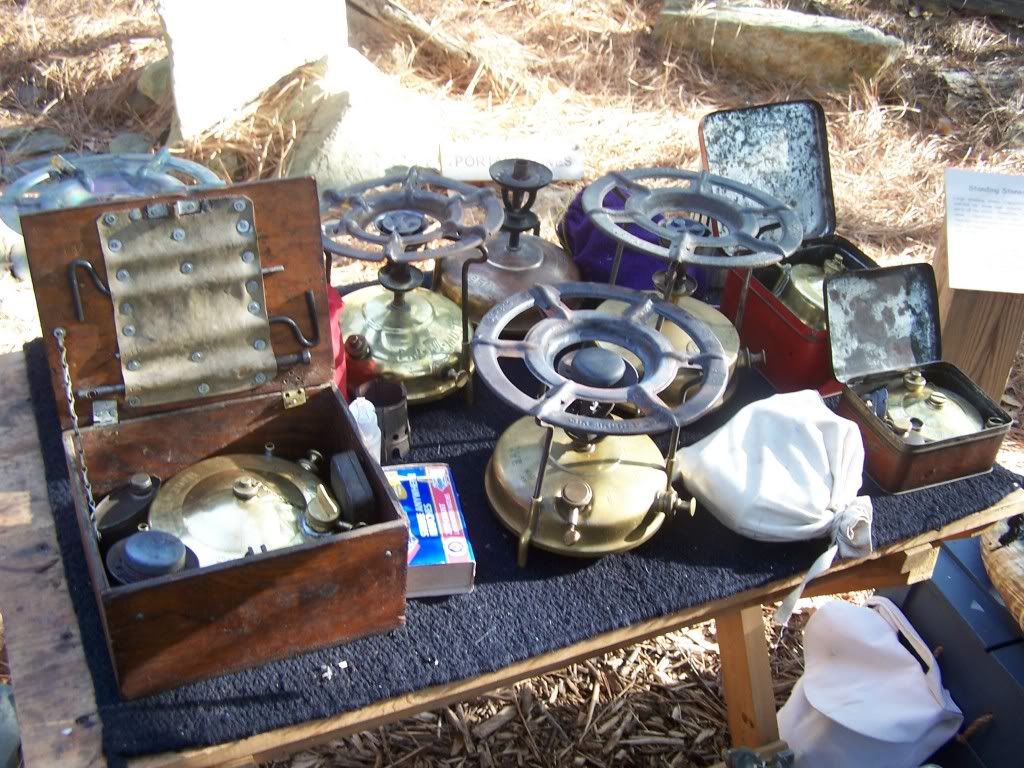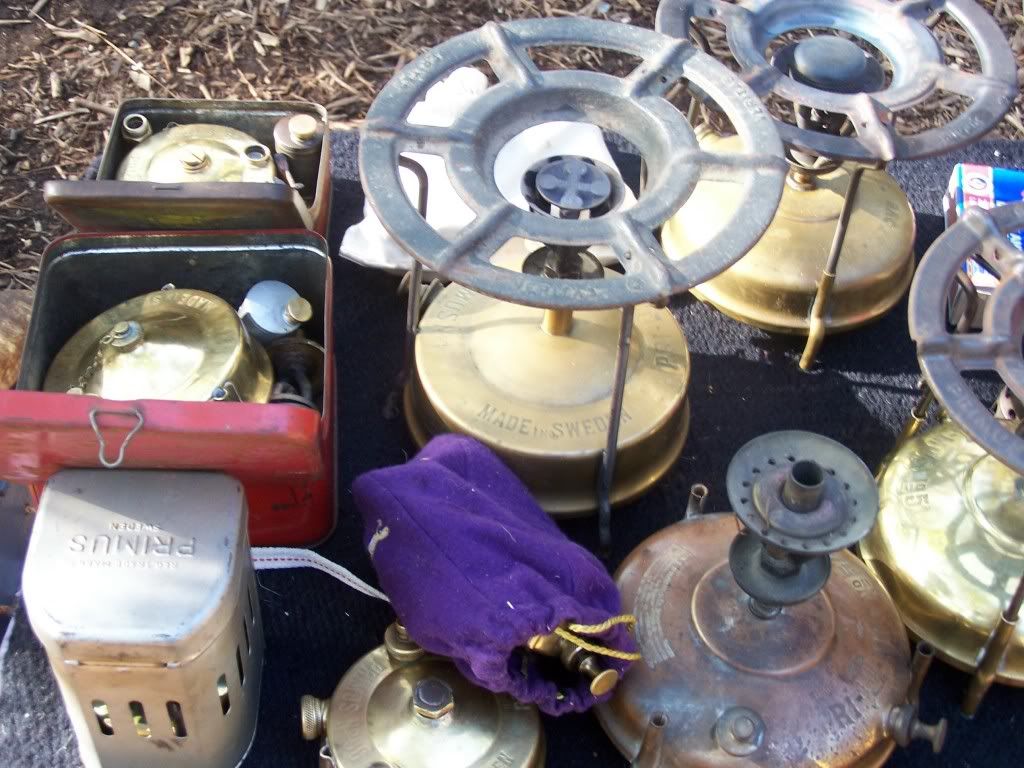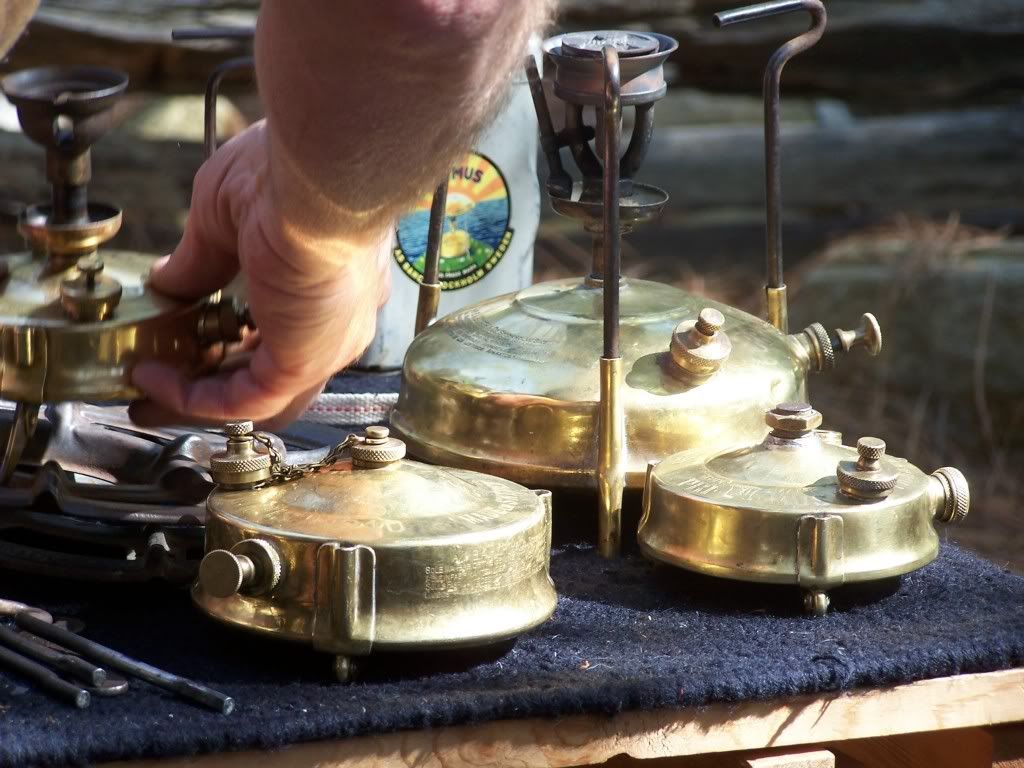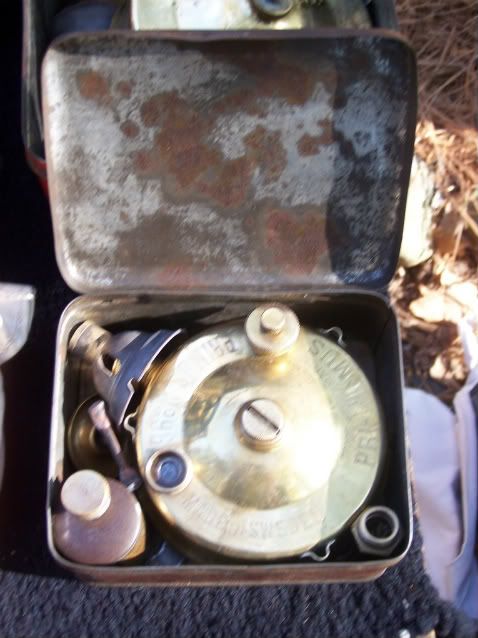 John assembles a Japanese Primus copy: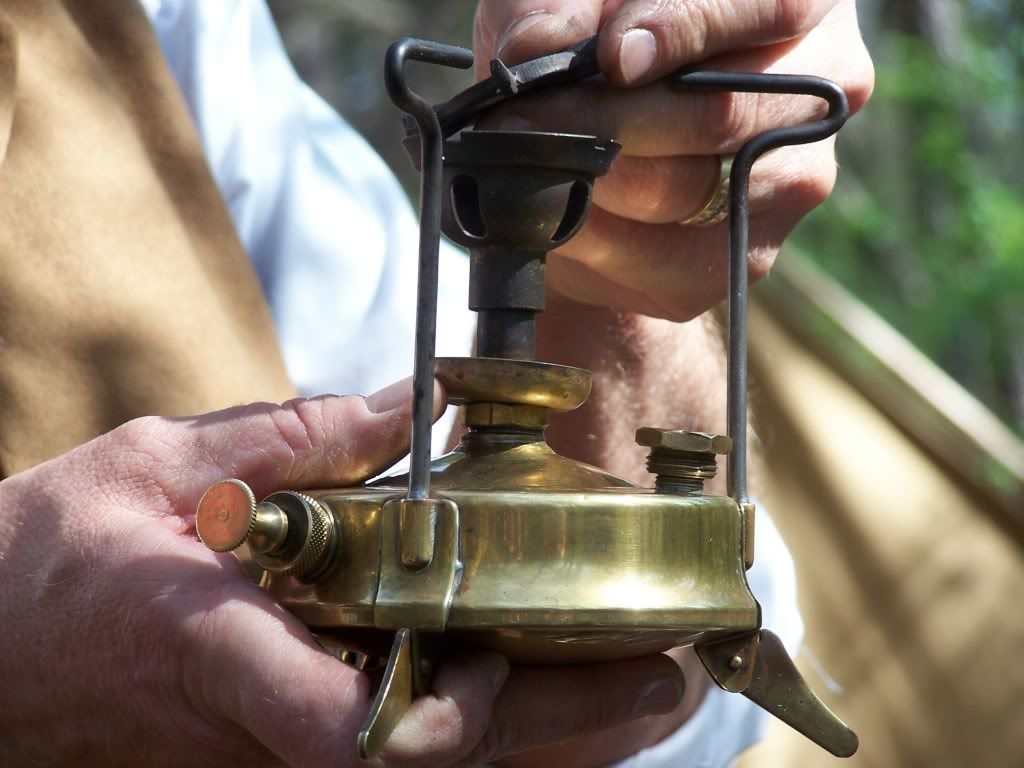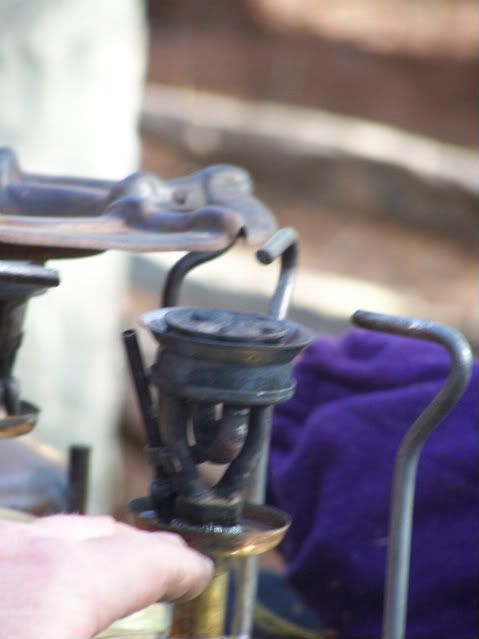 The following are alcohol stoves. Sterno is an alcohol fuel, but there are homemade versions that work as well.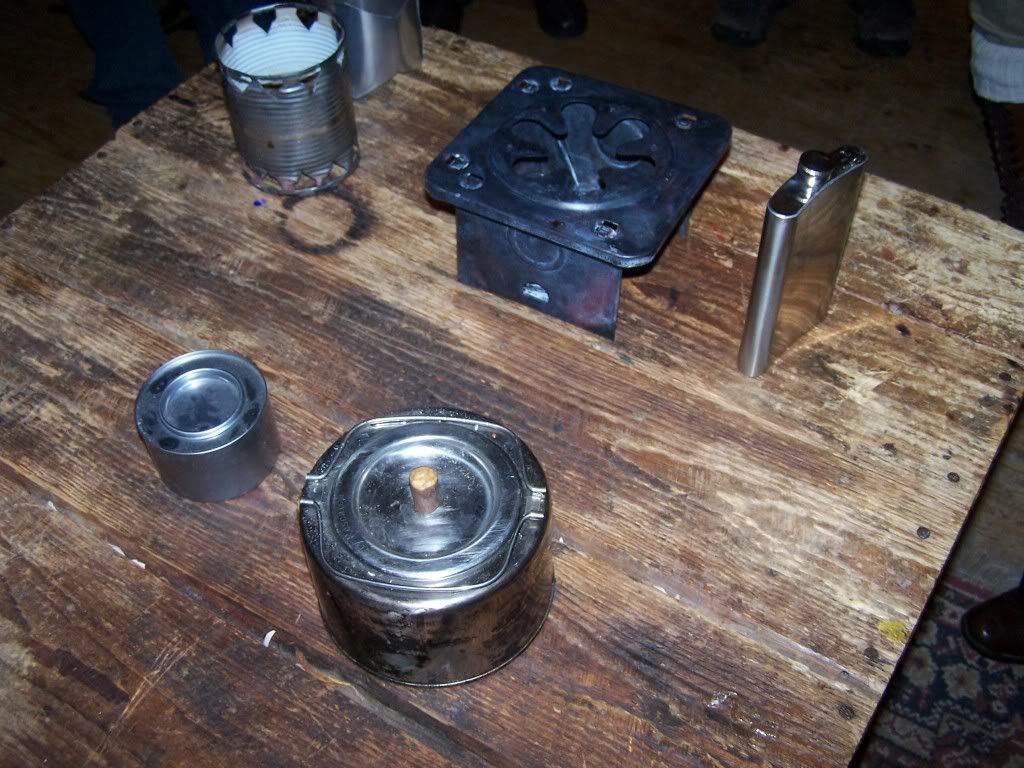 Sterno pot: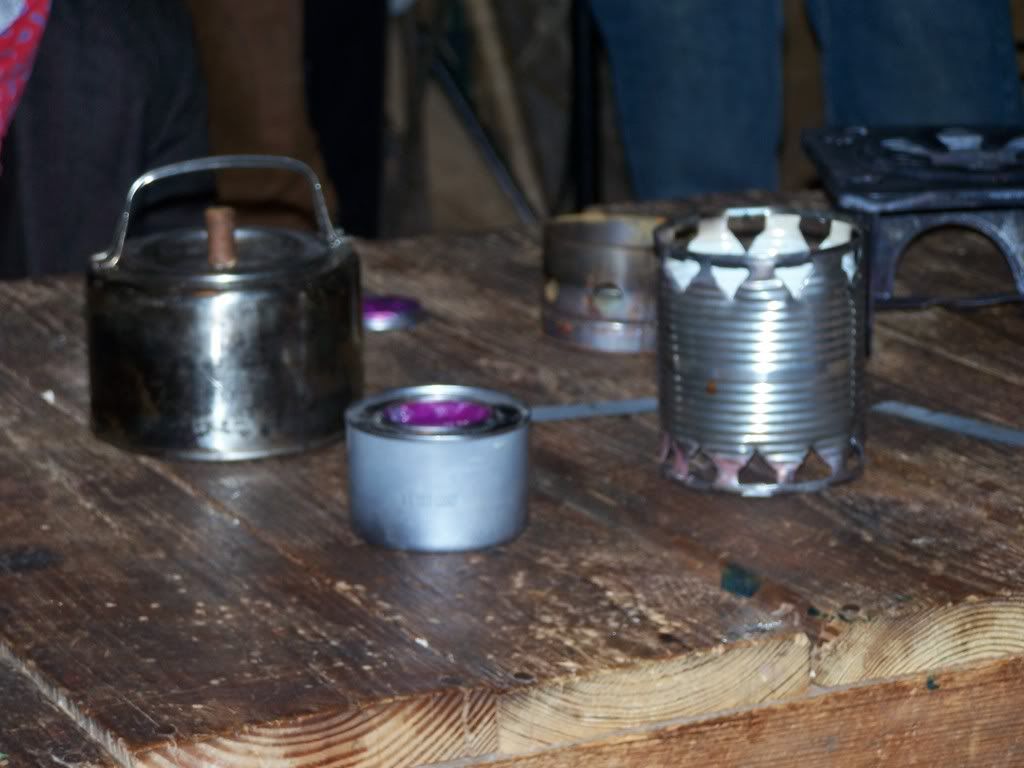 Sterno pot with windscreen made of dryer duct. The can to the right is a windscreen made by cutting holes with a church key. It helped to distribute the flame much like a gas range.
This is a drinking cup filled with alcohol and set alight, which is the simplest alcohol stove you can have. Add the wind screen and set your kettle on, and you'll have tea in six minues or so. To the right, you can see an alcohol stove made with a Beanie Weenie can, with holes punched in a ring with a nail. When the can was filled halfway with alcohol and lighted, it also had the look of a gas stove, with a ring of blue flame. Add a windscreen and a kettle, and you again have hot water.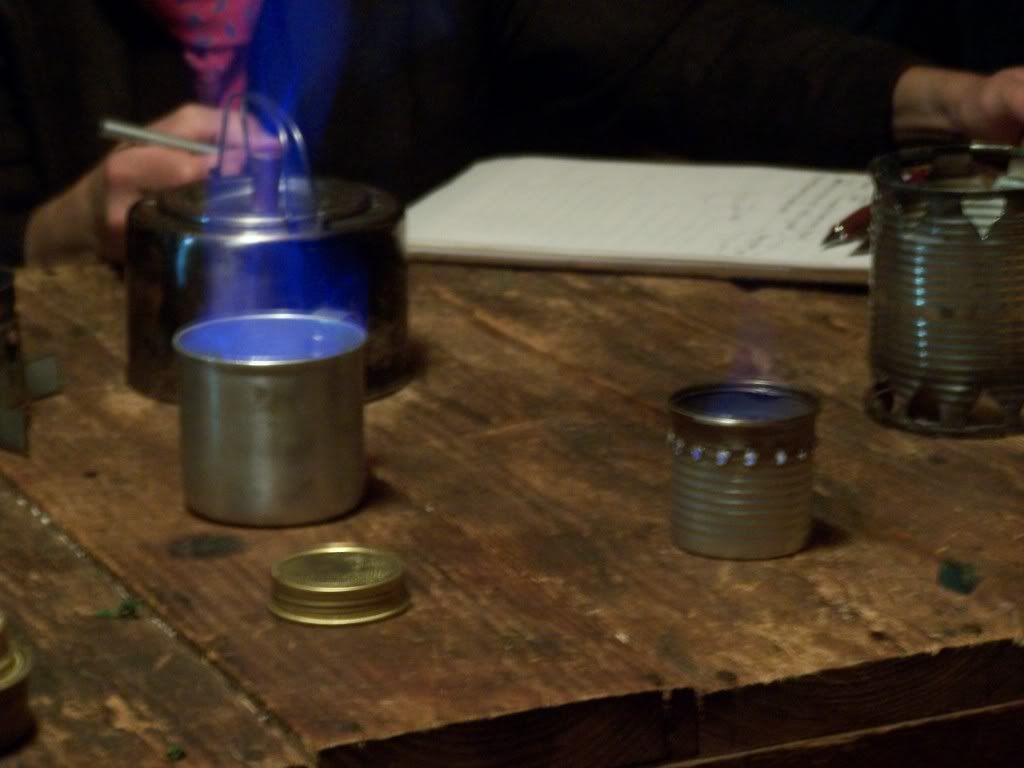 I believe a windscreen could be used with the slutlamp to make a simple stove for heating water.
Next up, if I can find the time: Making simple bound journals.
A great resource for this kind of outdoorsmanship is
Camping in the Old Style
by David Wescott, student of Larry Dean Olsen and former owner of the Boulder Outdoor Survival School. The book is currently out of print, but he's working on a new edition with expanded discussion of the philosophy and science of old-style camping. Other good resources are the works of Horace Kephart, Dan Beard, Ernest Thompson Seton, and Baden-Powell.
The author enjoying a Saturday evening with Wescott by the fire in front of Watts' Whelan tent: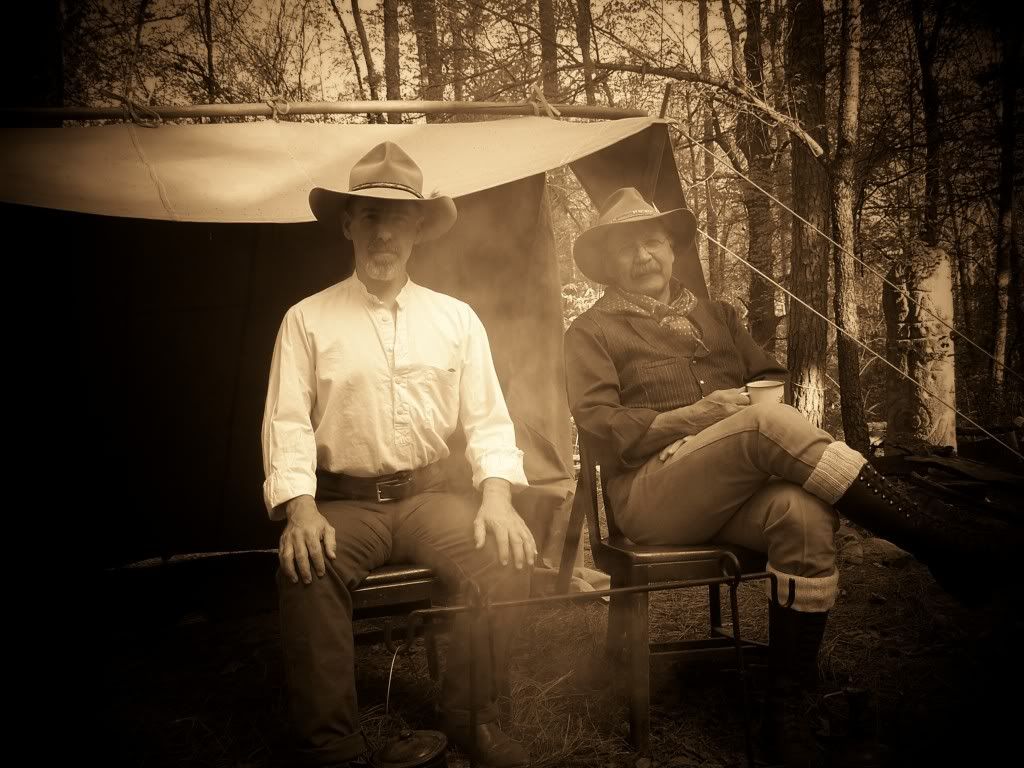 Despite the plethora of stoves, the best cooking was over open coals: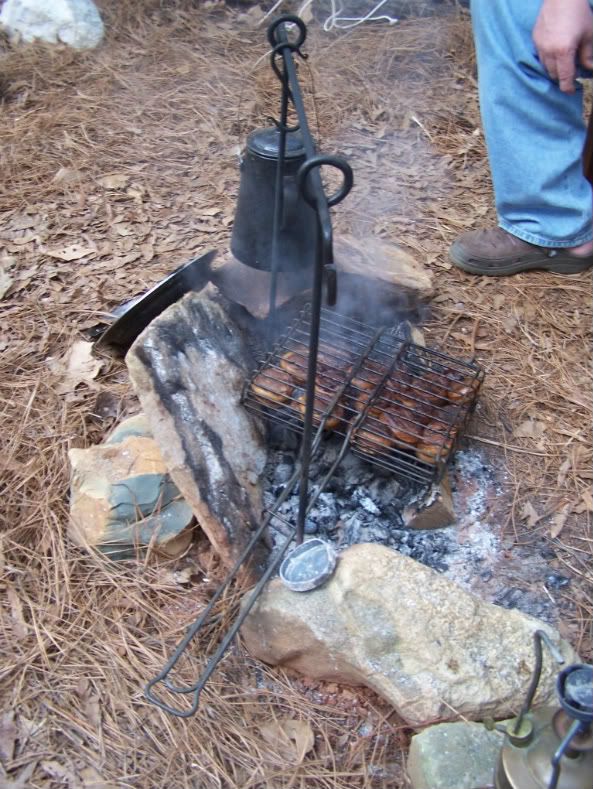 Venison steaks wrapped in bacon. Mmmmmm.