Feeling a little lazy this morning, so I'm copying and pasting my reply in a similar post from
this thread
, entitled "Help Me Pick a Compass."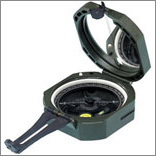 Brunton M2 Pocket Transit
(a.k.a. model 6050)
:
This is one of my favorite pieces of gear of any kind. Really well made. A pleasure to use. It's a direct reading compass. There's a brief explanation of features
here
. It's too big for everyday carry, but kicks sand in the face of every other compass.
Brunton 8099 Eclipse
:
This is a feature packed compass with excellent build quality, and I'm sure there are a lot of justifiably satisfied owners out there, but personally I'm not a fan of the "circle over circle alignment system" nor the rubber boot which makes what should be an easily pocketable compass a little too bulky for its own good. Too much so for EDC, certainly. A little buyer's remorse here.
Recta DP-65 Matchbox Compass
(made by Recta in Switzerland and rebadged as the Suunto DP-65):
When considering something for EDC, the criterion of compactness gets a little more weight than usual, I think. Compactness without sacrificing function or quality, if possible. This compass takes up less than half the space of the Brunton Eclipse. But look at the feature list:
Compact, light, durable.
Declination adjustment.
Global needle with jewel bearing - can be used anywhere on the planet.
Degree and quad markings.
Luminous indicators.
Inclinometer.
Conversion tables on the back of the mirror.
Can be used with the mirror as a prismatic sighting compass.
With the mirror retracted, orientation lines on the transparent face allow map use.
More description and photos
here
.
Recta makes four versions of the matchbox compass: DP2, DP6, DP65, DP10. I think Suunto only offers the DP65. All the Recta versions can be seen
here
. (Scroll about 2/3 down the page.) FWIW, there is a rudimentary scale on the side of the case.
This is my EDC compass. I use it regularly while geocaching as a supplement to my GPS.
End Copy/Paste
@ Branden: How do you intend to use a compass?
Different compasses have different features and strengths. If you are just starting to learn about orienteering and navigation, I would recommend a combination sighting and baseplate compass - in other words, a good all rounder. That means it has a flat rectangular plate on the bottom (for map work) and a mirror for sighting landmarks.
Try either a Silva Guide 426 compass or the Brunton 26DNL. They're both around $20. They have enough features to begin learning with, and they are good quality. Even if you step up to a better compass later, either of these is worthy of keeping as a backup.
Silva Guide
Brunton 26DNL
back in the day when I was in the artillery, we used to use the M2 model. It was marked in 64,000 mils