Plenty of tutorials out in the webs about this but I am adding to the information here - just for ZS folks. Here's a basic spiral handle wrap; I'm using some 550 para cord (yellow for pic taking). You're going to end up with something like this:
This is basically a bunch of half-hitches that naturally form a spiral pattern down the object being wrapped. We'd use these for handles of deck machinery (wildcats, winches, etc) and on the hand rails of "special" ladders on board (Captains gig, bridge ladders, etc) and paint them with regular paint. The cordage we used was just some thin cotton stuff.
Start with this: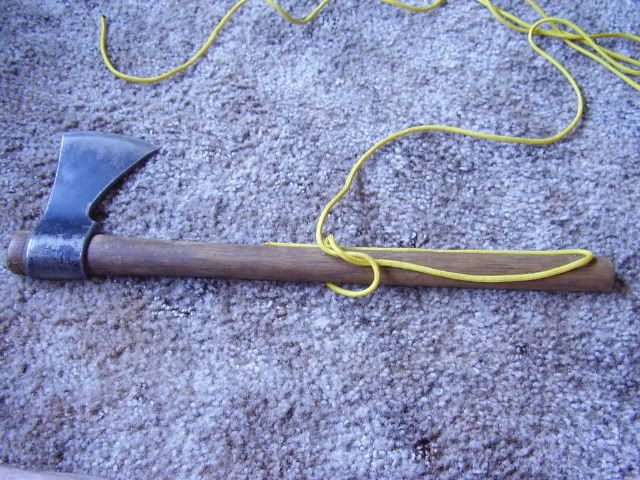 You want a bight (bottom of my 'hawk's handle) to be placed were the wrap is going to end, the bitter end (loose part) at the beginning of the wrap. You are going to be wrapping over this. Place your bight and secure at the beginning with a half-hitch.
Oh... a half-hitch (called so as opposed to overhand becasue a half-hitch goes around something while a overhand dosen't):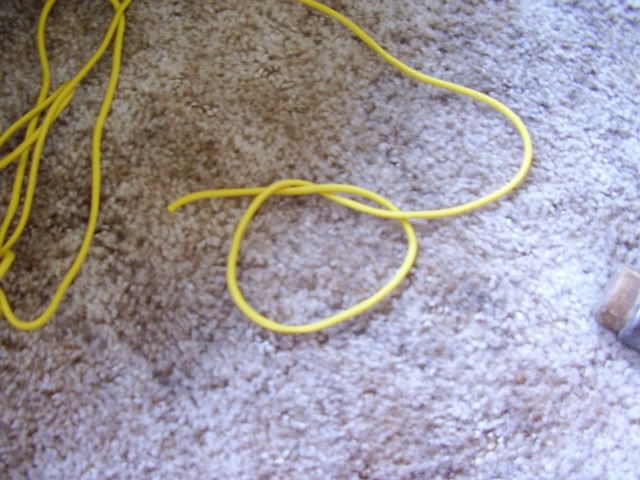 Now we start putting some lays down. Start half-hitching down the handle or whatever, tighten as you go. I like mine pretty tight when it's paracord. You want that first one as tight as you can get it.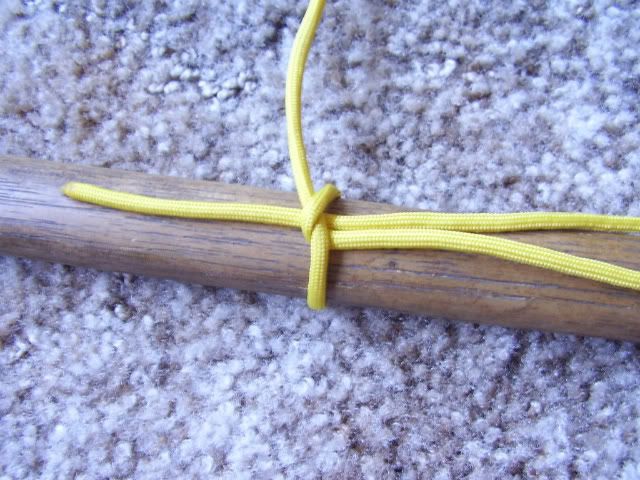 The black piece of cord is just on to secure the bight from getting all in my work; I didn't have a rubber band. Lay your half-hitch, heave around to tighten it and keep doing it. Let the spiral pattern fall naturally in place.
Sooner or later you'll end up with this - note that I only used a 10 foot piece of cordage for purposes of this tutorial so ended up with about 5 inches of wrap on my 'hawk handle. I 'aint that good at math but I estimate about 2 feet of cordage = 1 inch of wrap.
Now we got to secure them loose ends - guess how we do that?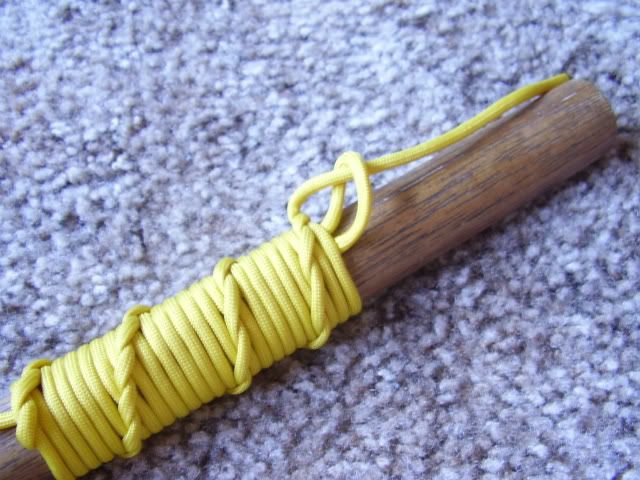 Pull that bitter end through your loop at the end of your wrap and heave around the other bitter end you left when you started this whole mess. It may be tough becasue it's all tight. Heave around hard until the loop pops under the wrap. When that happens, you're pretty much done; just need to trim excess cordage and if your using 550 or any kind fo nylon cord melt the ends. If you are using some hind of natural fiber, give the wrap some light tapping with a rubber mallet or some-such and let them fibers work in on each other and lock the thing up.
Feel free to ask questions. I 'aint the best at teaching so I don't know how clear my instructions are. It's kind of tough for me to explain something I've been doing since 1990.
I'm going to be adding a few more tutorials to this thread also. Some real basic stuff.