I recently purchased the Barocook BC-004 Cafe cup. This is a device that uses an exothermic reaction (the same sort of thing in MRE heaters) to cook a beverage or soup. This is an image of the packaging of the cup and a package of 10 20g heaters that Barocook sometimes calls "Baropacks" or "Barocook heaters". The inconsistency may be due to a language barrier as this is not made in an English-spekaing country. I placed them on a clipboard so you can get an idea of the size: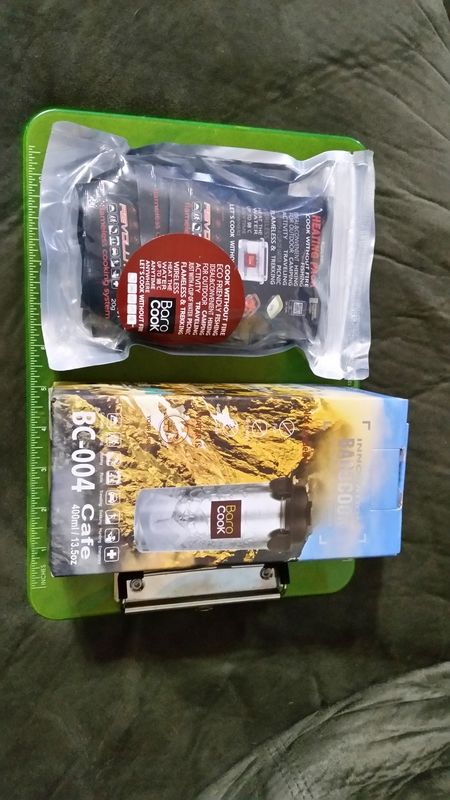 Here is the cup and the single heater pack it comes with:
The parts of the device are an outer cup for the heater pad, an inner metal cup for your beverage or food (about 12oz to the brim), a snap-on lid with a sealable spout, and a neoprene sleeve (because this thing gets hot):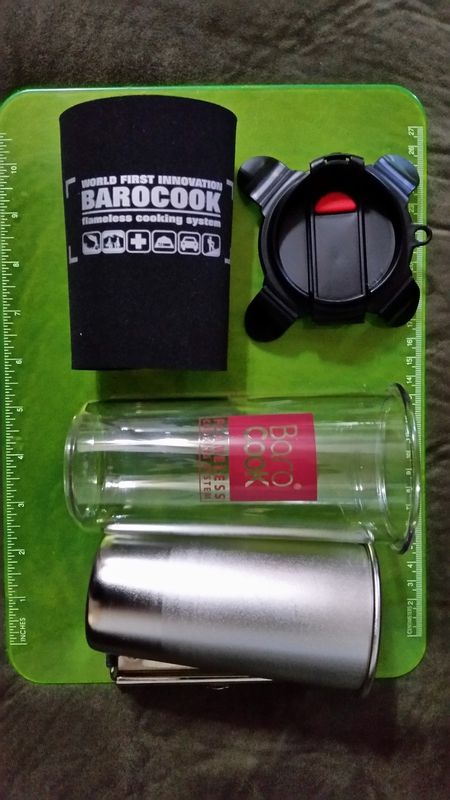 The foldout insert includes instructions generic to all of their products in several languages. The following information is on the insert (instructions and cautions are listed here word for word exactly as they appear in the insert):
Quote:
How to use
Remove the stainless steel container from the plastic container. Place the food (noodles, vegetables, rice, eggs, fish, white meat, etc.) in the stainless steel container.
Open the package and take out the Baropack. Place the heating bag flat on the bottom of the plastic container.
Fill the Baropack package with water to the 120/150 ml line or fill up a measuring cup. Do not exceed the recommended amount of water because the water may overflow during the cooking.
Water volume tip
*BC-001, BC-002, BC-004 - 40 ml (20g heating pack)
*BC-003, BC-007, BC-010, BC-005 - 120 ml (50g heating pack)
Pour 120/150 ml of water over the Baropack. (in plastic container)
When heat activates, place inner pot into outer pot and close lid.
Once closed, cook for 7 minutes (soup) and for about 20 minutes (pasta, rice, etc.)
Enjoy your warm meal.
Caution
-Read the instructions before use.
-Use Baropack heating packs exclusively with Barocook containers.
-When in contact with water, the heating bag produces steam. It is imperative to use with caution.
-The exterior of the plastic container becomes hot when the heating bag starts its reaction. It is recommended to use the Barocook protective neoprene.
-Protect the heating bag from water or moisture.
Do not open the package before ready to use.
Once the package is opened, the heating bag is to be used within the next hour.
-After use, cool the heating bag and dispose it with household waste.

-DO NOT tear heating pack before or after use.
You might get an allergic reaction when it touches your skin.
-In case of contact with eyes, rinse immediately and seek medical advice.
-DO NOT touch with wet hands.
-DO NOT dispose of used heating pack in fire.
-Keep out of reach of children.
Usage Notes:
If you put the inner cup in before the initial exothermic reaction takes place, you will get splatter. This video shows the proper usage of the equipment (no need for sound unless you like the odd music):
The box has slightly different instructions regarding how much water to use for the heater pack. If you use the 40ml instructed on the insert and on the Baropack package, the contents heat quickly and get quite hot. Mine steamed my cocoa at four minutes enough to pop open the sealed drink spout and made it just too hot to drink right away despite the instructions indicating cooking time of 5 - 7 minutes. The box says to fill to the fill line on the outer cup, which I initially thought was just a seam in the plastic. Using this much water got my cocoa at just the right temp for me in five minutes and could have gotten warmer had I left it in longer. I recommend using the directions specific to this particular product since the other instructions cover the range of products. Just know that the 40ml heats hotter faster and may be too much depending on what you're cooking.
The bottom gets hot. I don't know if it's too hot for your car cup holder as it heats and you may want to be careful of what surface you put it on.
A few of the FAQs I found relevant on their site:
Quote:
Q: Can I heat MREs with Barocook Cookware?

Yes. By placing the MRE main meal, still in its foil pouch, inside the stainless steel container and adding water to cover the main meal pouch, you can warm the meal and use the heated water from the stainless steel pan to make coffee or tea, with no mess to clean up afterwards.

Q: Can I use dehydrated foods with Barocook Cookware?

Yes. Just pour the contents of the dehydrated meal with a sufficient amount of water into the stainless steel pan. Activate the heating packs and your meal will be hot and ready to eat within minutes after heating begins. Cooking time differs according to quantity and food type.

Q: Can I use snow to activate the heat packs?

Absolutely! Just hold a handful of snow in the palm of your hand and allow it to begin to melt and drip onto the heat pack to activate it. Then place the rest of the snow on the heat pack and it will fully activate and melt the rest of the snow.
Also, all parts of the cookware are top-rack dishwasher safe according to the FAQ on their site.
They also have a video about some of their other products (again, no sound needed):
Additional information from the product insert:
Product materials are listed as follows:
1.Cooker part
Cover (Polypropylene)
Outer pot (Polycarbonate)
Inner pot (Stainless steel 10/10)
Outer pot sleeve (Neoprene)
2.Heat pack
Limestone powder
Minerals
LDPE
ETC
The insert also lists these additional products:
Barocook Series
BC-001N - 500 ml Round
BC-003 - 850ml / 30oz Rectangular
BC-004 - 400ml / 12 oz Cafe
BC-005 - 1000ml / 34oz Rectangular
BC-007 - 1200ml / 41oz Rectangular
BC-008 - 10L / 228oz Bag
BC-009 - 1400ml / 49oz Pot (has a handle)
BC-010 - 900ml / 32oz Round
FOR BABIES
BC-001 - 270ml / 9oz Round
BC-002 - 320ml / 11oz Rectangular
BC-037 - 300ml Babymilk Warmer
Baropacks
10g (for baby series)
20g
50g
Hand warmers
90g hand warmer
50g hand warmer
Barocool
90g round cooling pack
120g rectangle cooling pack
(these appear to be like the hard-sided blue ice things you put in the freezer - I'm not entirely clear which Barocooks they fit)
Accessories
Hooks
Silverware
Container Gripper
A lot of these items can be found on their website (
https://www.barocook.us/
). They have very few items on Amazon, which is where I found the mug and 20g hot packs. I cannot find the baby items anywhere.
Certifications lists:
FDA; SATRA; SGS; KCL; KEMTI; TR; KFI
Some personal thoughts:
If you are using a beverage powder, I recommend heating the water in the Barocook cup, then using a separate cup to mix your drink. This keeps your water cooker clean for reuse anytime you need it. The powder also mixes better if you add hot water to the mix than to put the mix in with cold water and then heat it.
I wonder if the pad from the MRE heater packs could be used instead of the Baropack. The 20g Baropacks run nearly $2/each. I think I can get the MRE heater packs cheaper. I plan to give this a try at some point.
I think the MRE heater + beverage bag or breast milk bag combo is probably cheaper and better for instances where you want to minimize your carry weight and space, but I like this for camping trips that aren't so restrictive, or hotel trips where you may not be able to trust if there is a coffee pot in the room or if it works or, you know, what other people have put in it, and for trips where you want a hot drink in your car and are picky enough to want something other than gas station coffee (don't make it yourself while driving - I'll have a passenger making mine on my trip).
Please clean up after yourself and don't leave any trash around.