On another board, several folks had opined that they would live to try dutch oven cooking, but had no place at home to even try.
Well, how about thinking outside of the box?
Use a cheap metal oil pan to hold the charcoal.
Use two - to protect your deck/lawn.
OR
Use some bricks or even a flower pot holder -- everything will stack for storage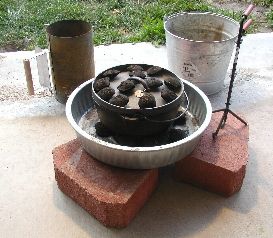 Not as pretty or small - but a flowerbox sort of thing will work as well.
Hopefully, this will give you some out-of-the-box ideas on how you really can cook in a dutch oven with minimal impact to your property.