RonnyRonin wrote:
ManInBlack316 wrote:
Anyone care to give me advice on a "minimalist" chest rig?
I have a split front chest rig that I was gonna load up with four mags, IFAK, and GP pouch; but just decided that even that might be too bulky for my purposes.
So I started looking at the TT Mini MAV
http://www.amazon.com/Tactical-Tailor-Chest-Coyote-Brown/dp/B00EMG5E1I/ref=sr_1_1?ie=UTF8&qid=1456787463&sr=8-1&keywords=tactical+mini+mav
Planned set up would be three AR open top pouches in the center, TQ pouch and flashbang pouch (usually carries a small smoke grenade because I can) on the sides.
Then I found the APC2 rig from UW Gear
https://www.youtube.com/watch?v=h9VhxonglD8
Same thing as the Mini MAV essentially for $40, but with an H harness, which I prefer because I've found that the common X straps can cut into my neck. I have a bandoleer for my 15-22 from UW Gear and is pretty sweet.
What do you guys think?
I didn't really care for the Mini MAV. quality is great, blah blah blah, but the layout was very limiting. you are pretty much stuck with a triple mag shingle in the middle (which nearly all take 6 channels, not 5) and then you have two useless 2-row channels on each side. a full height/full width 3x8 chest rig is much better, lets you either have a 4-mag shingle or cheat the mags to one side and have a usable pouch on the other.
For a dedicated minimalist rig I discourage MOLLE, unless you are really still working the bugs out on your likes/dislikes a fixed rig will be lighter, thinner, and sometimes cheaper.
Below are pictures of my Mini MAV with a triple mag pouch and IFAK.
The pouches are both London Bridge Trading company in MAS Grey.
The Mini MAV is 8 rows across of webbing.
As you can see, the triple mag pouch takes 5 rows and the IFAK takes 3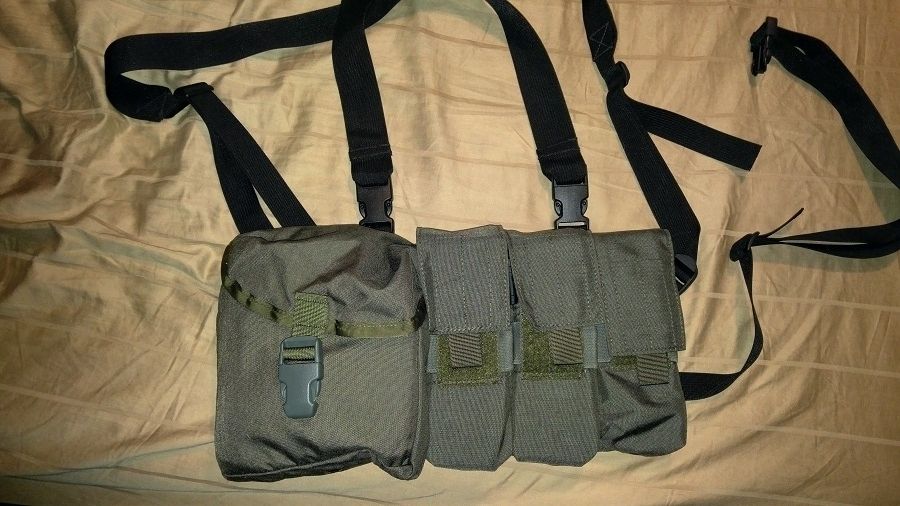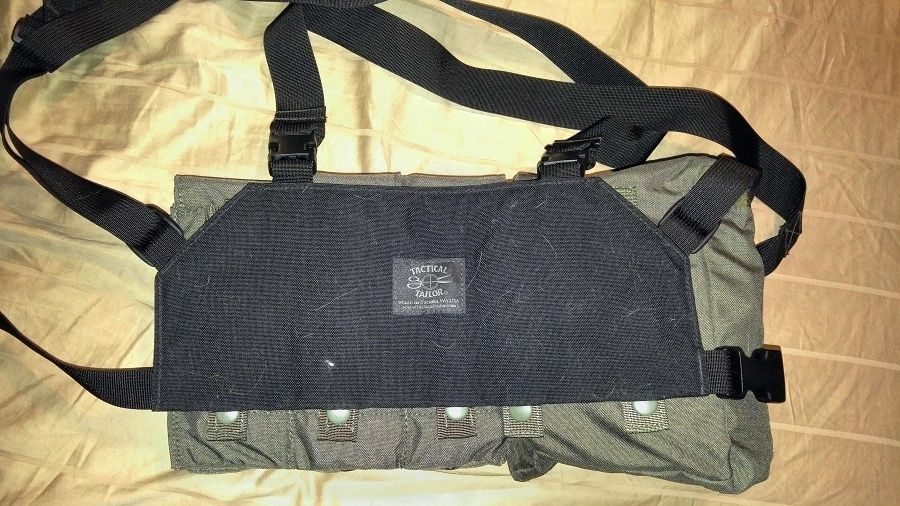 I'll never tell anyone how to set up their gear. That's a personal choice based on need and preference. However, I can stress the importance of being practical. Setting yourself up to be flexible with your ammo carriage is just being practical. The ability to go from 90 rounds of ammo to 180 rounds of ammo while maintaining a low profile rig is a good thing.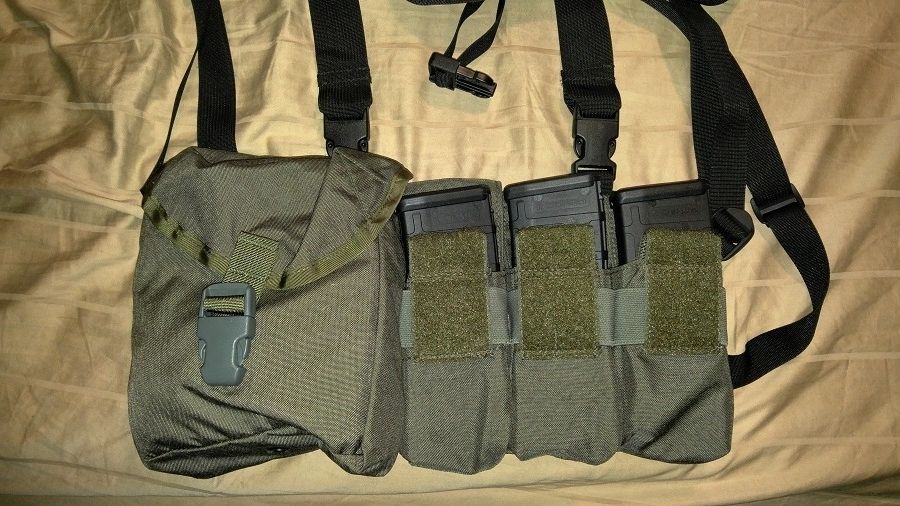 An 8 row rig still has flex even with six rows taken by ammo.
HSGI makes the bleeder medical pouch that takes 2 rows
http://www.optactical.com/hsblblpo.html
I have one on my IIIA armor rig and it holds enough to treat a GSW, sucking chest wound and basic trauma. It can also hold a pair of sheers and tourniquet externally
Blackhawk makes a two row medical pouch with a Velcro mounted detachable internal panel.
http://www.blackhawk.com/products/bags- ... pouch.aspx
Its fits enough for GSW, Chest wound and basic trauma
I have one mounted on my chest rig
ATS has a low profile medical insert designed to fit into a rifle double mag pouch
http://www.optactical.com/atslowprmein.html
Again you get a scaled down GSW, chest wound and Trauma kit
I have like three of these in use in my basic chest rigs
A lot of options for the 8 row rig