Ten Eight wrote:
Oooo. Thanks for that picture! I was trying to imagine how the real estate of the Plate Minus would look loaded up. I'm going to run 10 speed double rifle pouches and a double pistol mag. I'll be using that HSGI Bleeder Pouch for medical and an EMDOM small horizontal pouch for admin stuff.
Did you try a hydration setup with that rig? Maybe some moar side and rear pics of that grey setup?
If I get time next week I had planned on doing a full review. But, real quick the molle minus is not really designed for a full load out. The load out I had posted before in the pictured is one HSGI Ifak, a LBT 2x3 mag pouch (6 total ar mags) and a double pistol mag pouch. That basic load out was very awkward and felt out of balance on this plate carrier.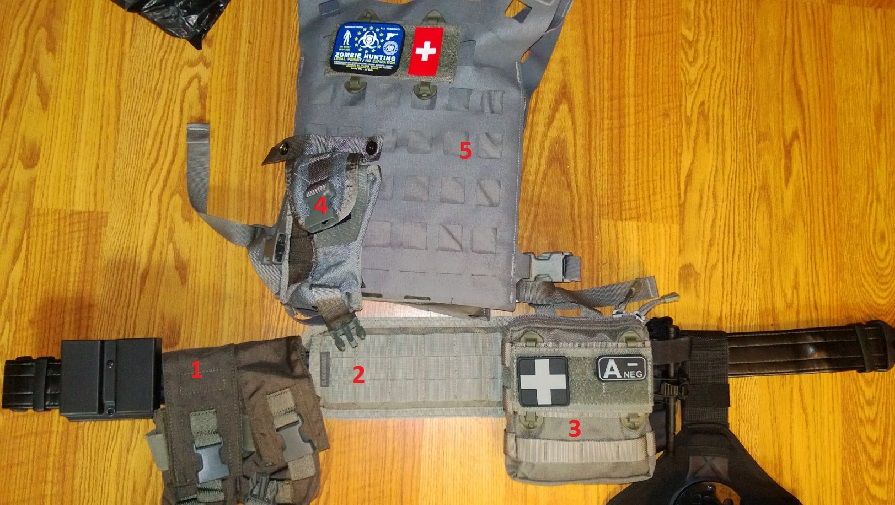 This is the only other pic I currently have of the Molle minus.
Real estate is 6 rows of molle across at the bottom and about 4 rows at the top. At the base of the straps the molle channels become diagonal for some reason. You can squeeze 6 rows at the top, but it is a pain.
The molle minus is designed for a couple ten speed pouches and that's it. Its made so you can have armor and a couple mags in an emergency situation or limited operations. It can structurally handle the heavier load out, but it just doesn't fell right.
Again, I think the most you can hope out of the Molle Minus is three rifle mags and two pistol in front and maybe (big maybe) a hydration carrier on the back. Nothing on the sides.
Plus side of the limit size is you can use with your everyday carry holster or a war belt. The molle minus rides high enough that it won't interfere with any gear you have around the waist.
I decided to go with a war belt for my extra Grey gear to act as a sustainment to the molle minus.
Of course, full pictures and post will be up once everything is completed.
Numbering system for gear below
1- LBT MAS Grey (Much Darker than wolf grey and stand out a bit)
2-Blackhawk Foliage Green (A little lighter than Wolf Grey, but doesn't look out of place)
3-Emdom USA SDU Grey (Almost identical to wolf grey/ Note the molle Velcro panel is Foliage and you can't really tell the difference)
4-HSGI Urban Grey (Again, almost identical to wolf grey)
5-Blue Force Gear Wolf Grey