Moderator: ZS Global Moderators
---
Very interesting!
Joerg, your videos made me retrieve my slingshot from the bottom of my drawers.
Intend to take it to the woods and go playing around.
---
* * * * *
Posts: 1956
Joined: Sun Nov 30, 2008 9:20 pm
Favorite Zombie Movies: [size=14][b]I got [color=red]%65.3669724770642[/color][/b] on the
[url=http://zomboid.com/zombie]Ultimate Zombie Apocalypse Survival Quiz![/url][/size]
Location: Vermont Mountains
I would not want to be on th receiving end for sure.

Nice work & videos as always !!
---
Thank you!
I bought a Cougar at
dankung hunting slingshot
Awesome sling!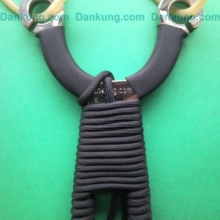 JoergS wrote:Hello,

upon special request, I have looked into ways how to shoot shot pellets with a slingshot. Using the conventional leather pouch does not work, as the pellets fly in crazy directions. Therefore I made a pouch that has been formed from thin Kydex (a plastic that you can form by heating it).

The new pouch holds up to 50 .177 (4.5mm) lead or steel pellets. Since it does not open fully, the groups are fairly tight, which is shown in the video.

This includes slow motion scenes recorded in Hi Speed (1200 frames per second). Watch how the pellets smash through beer cans! Spectacular scenes.

This won't kill a Zed, but probably undead snakes and rats.

The slingshot used for these tests is the Cougar, the first commercially mass produced Jörg Sprave design. It is demonstrated in detail in another video (currently awaiting the approval of the Dankung company). You can order your Cougar at

http://www.dankung.com

" onclick="window.open(this.href);return false;!

Here is the video:

http://www.youtube.com/watch?v=Zz2oGkggCCs

" onclick="window.open(this.href);return false;
---