Xmas time and traditionally when I buy myself some new steel. This year it is, what I'm hoping to be my knew large bush knife. I went to Ragnar's Ragweed Forge site and ordered myself an Ahti Leuko 7" knife. Ahti is a Finnish company and "leuko" is Finnish for "big f-in knife" I think
Traditionally you got pukkos and leukos. Puukko is the smaller one.
http://www.ragweedforge.com/AhtiCatalog.html
<< to Ragnar's Ahti knife page.
First of all, a note about Ragnar's service:
Ragnar rules. His prices are normal, he carries a ton of scandi style knives, he knows what he's talking about and his delivery is superb. I'm actually not sure how he gets the postal service to be quicker for him. I ordered 3 items (leuko, 2x Mora items) last Friday night. I got e-mail conformation Saturday morning that my card went through and my items were put in the mail. I got my knives on Monday. This was from New York state to me here in Portland, Oregon. Wow! ... and for $6 shipping. All shipping is $6 regardless of order size. I have a new thing to be loyal to.
Here is what I now have:
It is now living on my pistol/adventure belt right next to my Helle Leif Ericsson 2000 year commemorative knife I got in 1999 and still use.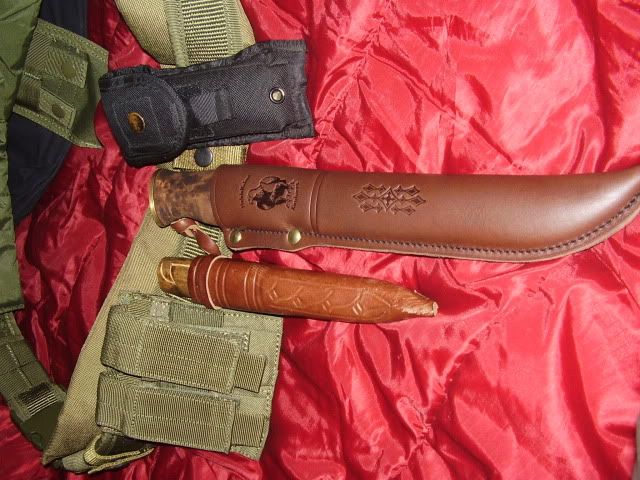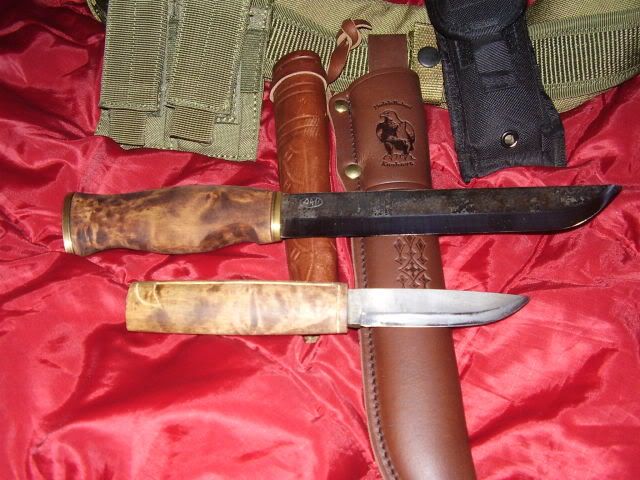 High carbon blade, just like the smaller puukko from Helle. 7" long, 1.5" wide and .125 thick. Leather sheath that has a loop for up to 2.25" belt. Was a bit worried about the thickness originally and not sure if I'd take to the "unfinished" look of the blade (black scale on it). It is scandi grind.
Will add some cutting and bushcraft action next.
ETA sorry, not a laminated blade but rates a 59 on rockwell. From Ahti:
Quote:
All of the traditional knives have carbon steel blades (.8%C) hardened to about 59 on the Rockwell scale. The handles are stained birch and sanded to a medium finish for improved grip.