Like many knife enthusiasts here I have quietly admired and lusted after a Helmforge blade for years but could never bring myself to pay the custom knife premium, there was always something else ahead of this purchase. I have been pleased with the performance of my Moras (Classic #1/2, 2000, Bushcraf), Ka Bars (BK2/War Sword), Condor Hudson Bay, and Cold Steel (Leatherneck, Gurkha Kukri, Trailmaster, Roach Belly, Canadian Belt Knife) but always wondered how these mass manufactured blades would stack up to a fine custom knife.
I bit the bullet and placed my order with Stormcrow/James Helm and finally have my Benghazi Warfighter. Customer service was outstanding and I appreciated the constant communication and feedback. James would get to his emails late at night after what I can only assume are very long and hot days at the forge but would always find the time to reply to every email I sent. Most of these were offtopic on his upcoming line of stock removal knives and answering my questions on grinds, blade maintenance, materials and numerous questions I had for him unrelated to my knife but he was always gracious enough to respond and not with quick yes or nos but took his time responding very thoroughly.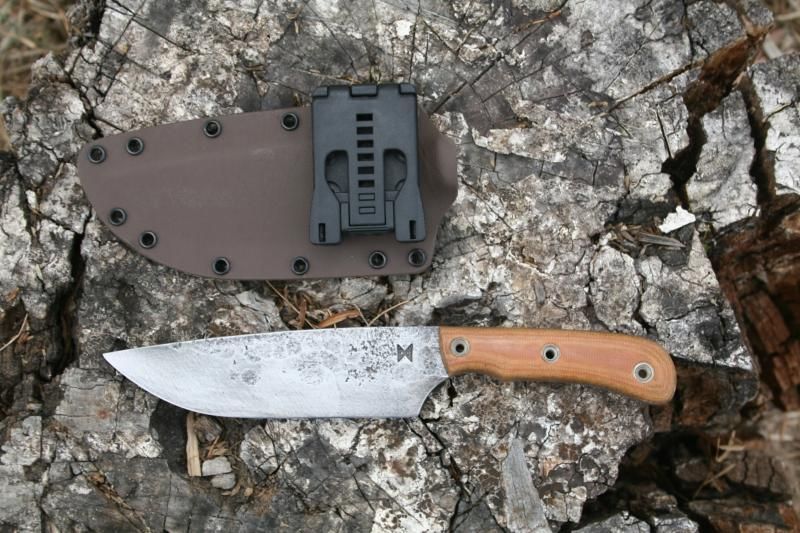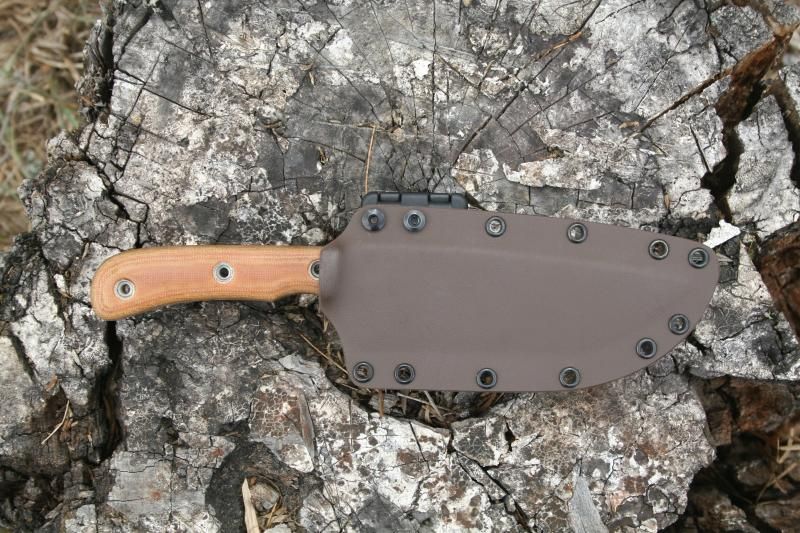 I have had this knife for less than a week now and it still blows me away every time I pick it up. It is superbly balanced even at 6.5" long and a little thinner than a BK2. It feels light and comfortable in my hand, the micarta scales are comfy and very ergonomic, the choil gives me peace of mind that my hand won't ever slip up onto my blade, and I just love everything about this knife from the hammer marks in the blade to the blade shape. The kydex sheath is also very well made, it fits tight with no wiggle yet you can pull it out with ease and with little to no noise at all. Most sheaths I have are made as an afterthought but the Helmforge kydex sheath is flawless and does this knife justice. Here is the Benghazi Warfighter next to a Mora Bushcraft Black, BK2, and Cold Steel Trailmaster for comparison.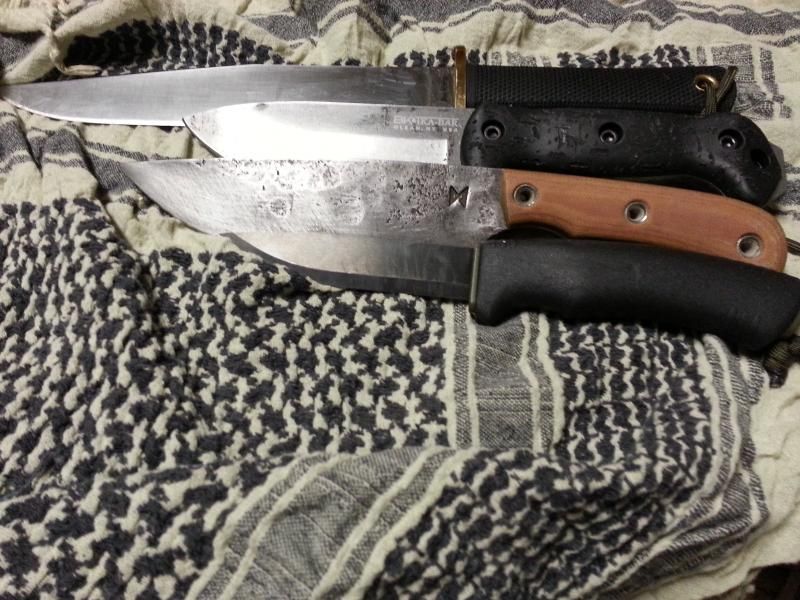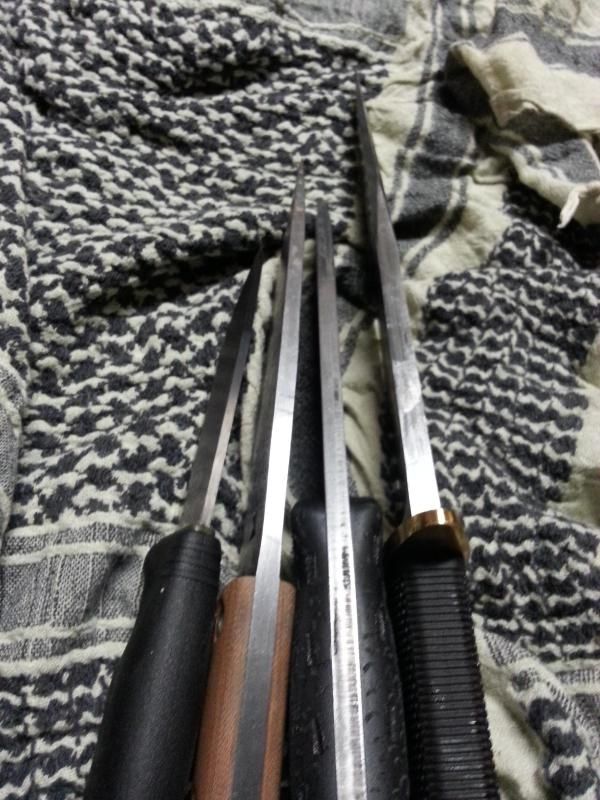 My first test was batoning firewood for a firepit with a bundle of New Mexico Pinon Pine firewood. The wood was surprisingly dense for a pinewood most had varying degrees of resin impregnation with a few that were fatwood. During batoning through the knotted fatwood pieces my Benghazi Warfighter had to take some abuse to finally split these open. At times I had to hit the tip and handle as hard as I could with my baton to get through some tough spots. No noticeable wear or damage to the blade or handle, more times than I would like to admit I batoned through wood with no backing underneath or backing that moved and ended up batoning through to the concrete below. I thought for sure I would see some chipping but was pleasantly surprised to see no damage. The blade is about 6.5" long and a little thinner than my BK2 and I found these dimensions to be just right. It is thick enough to be respectable splitting but not thick enough to be unwieldy, in fact the balance is perfect right between the blade and handle. I didn't do any chopping since this really isn't made to be a chopper but may do some light chopping later on. The only thing that disappointed me was that the back of the spine did not throw sparks from my ferro rod very well at all. I can fix this later grinding out a sharper edge on the spine but not looking forward to having to do anything that may take away from the beauty of this knife. Most of my ferro rods come with strikers and I will always have another knife or two on hand that can do the job so I may end up just leaving this alone.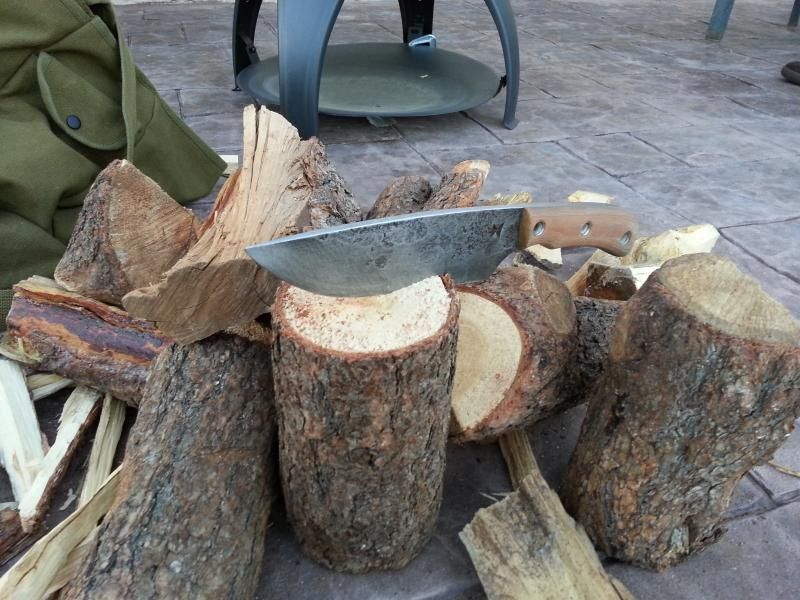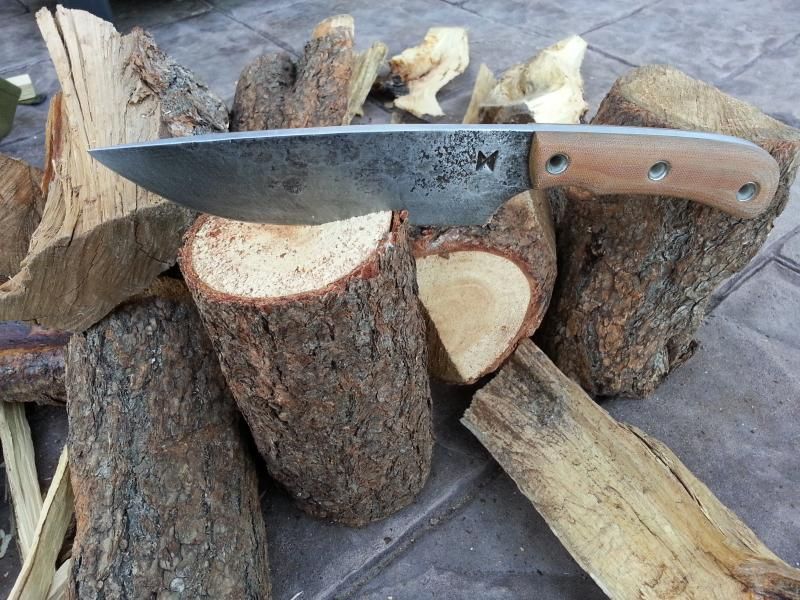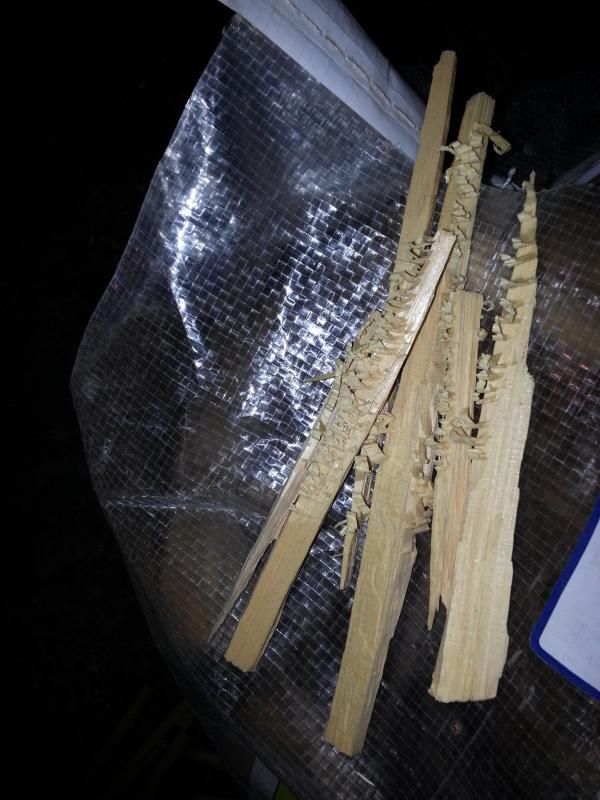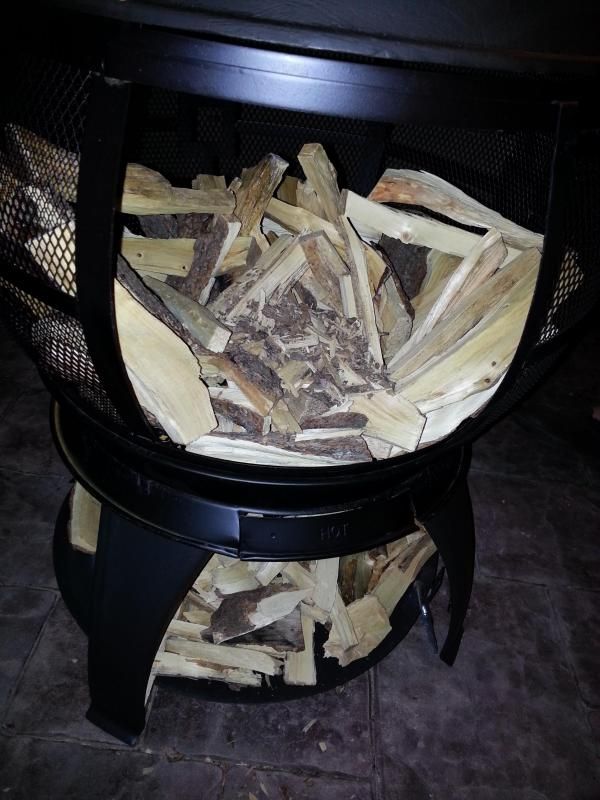 Next up I tested the edge (still stock no touch ups throughout testing) on some cardboard boxes, a 5.11 belt with broken buckle, and an old duffel bag strap. I started on the 5.11 belt, it is pretty thick composed of heavy duty nylon and an internal backing of plastic for rigidity, I didn't expect the plastic backing but the knife cut through consistently well, I had to put some effort into my cuts since the belt is so heavy duty but it did the job. After this test the edge was still catching along my fingernails.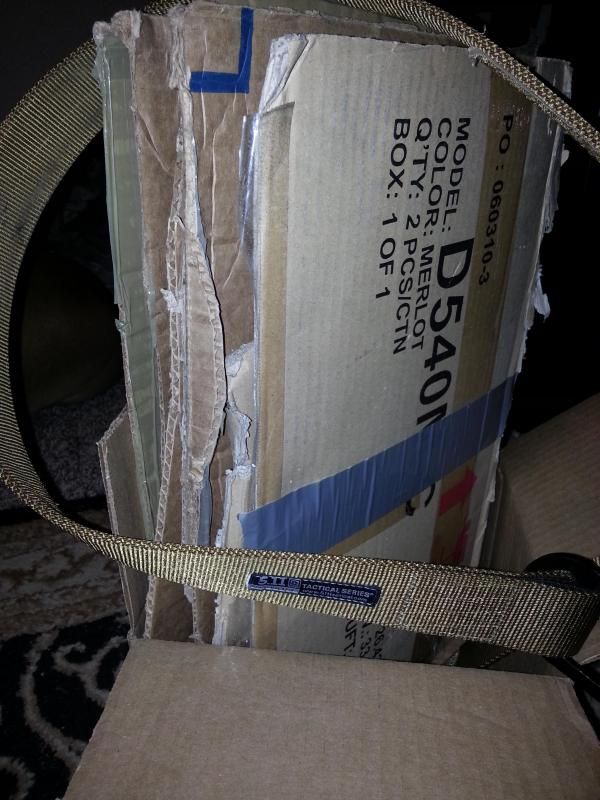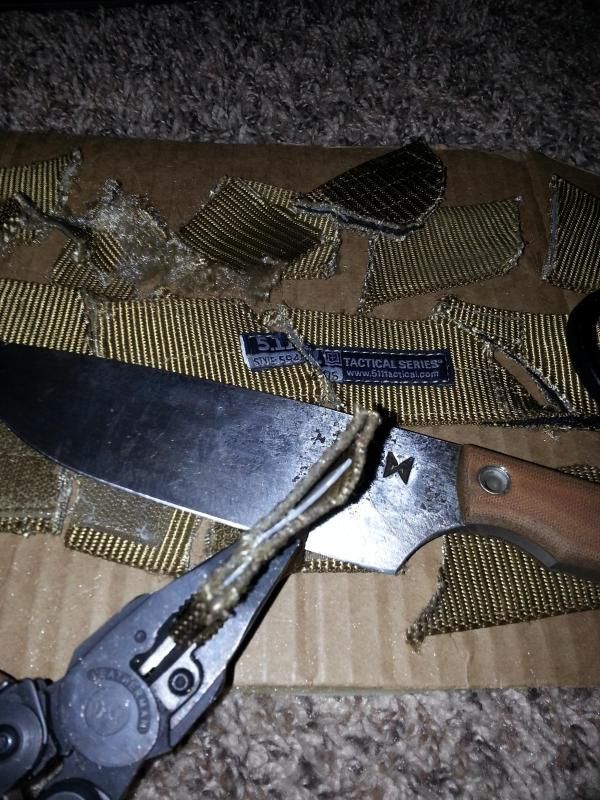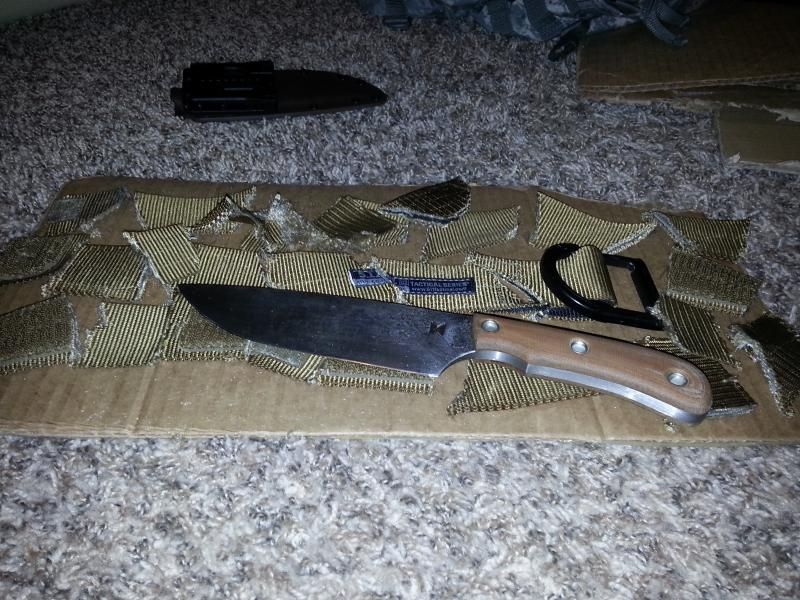 Next I cut strips from old cardboard packing boxes I had laying around, I didn't count my cuts but it must have been over a hundred strips of cut cardboard at the end. The last few cuts were getting tougher and the cardboard was starting to tear instead of cut in some places.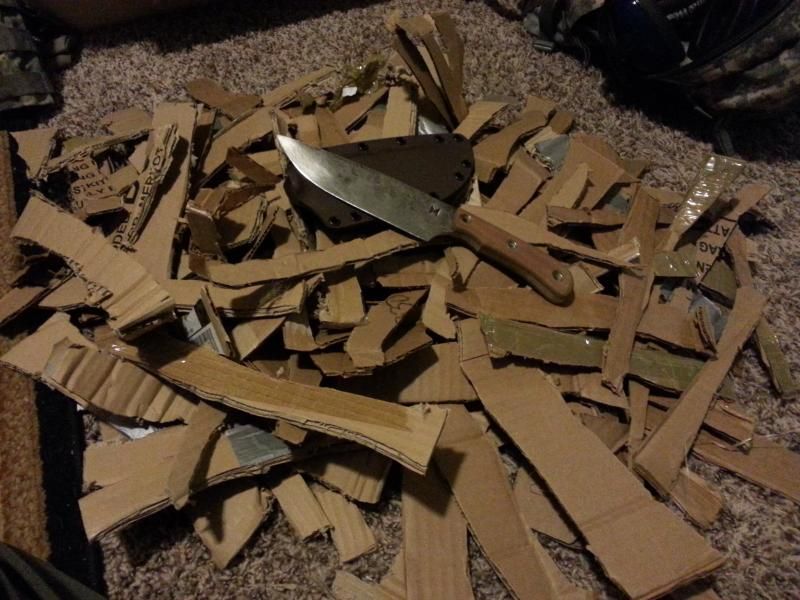 I then cut an old duffel bag strap into strips, the initial cut took some force but once I got through the outer layer of nylon and into the foam padding inside the cut got much easier.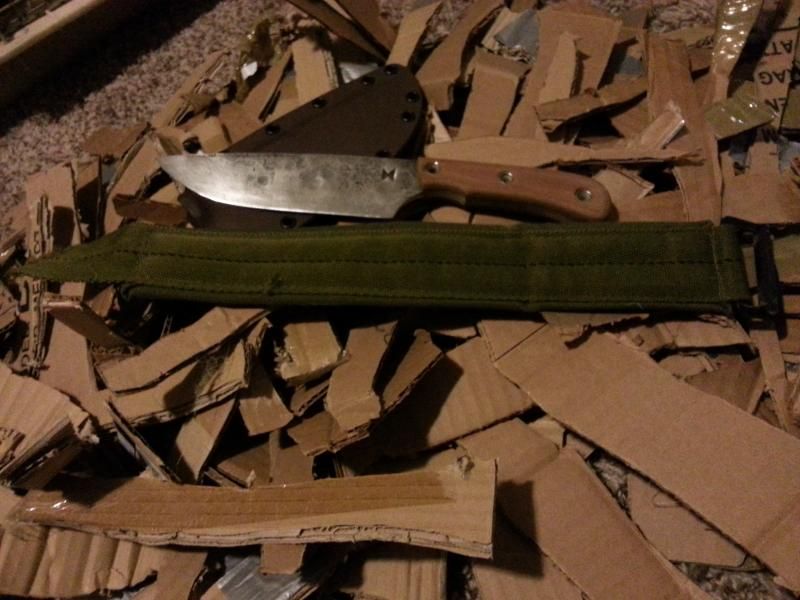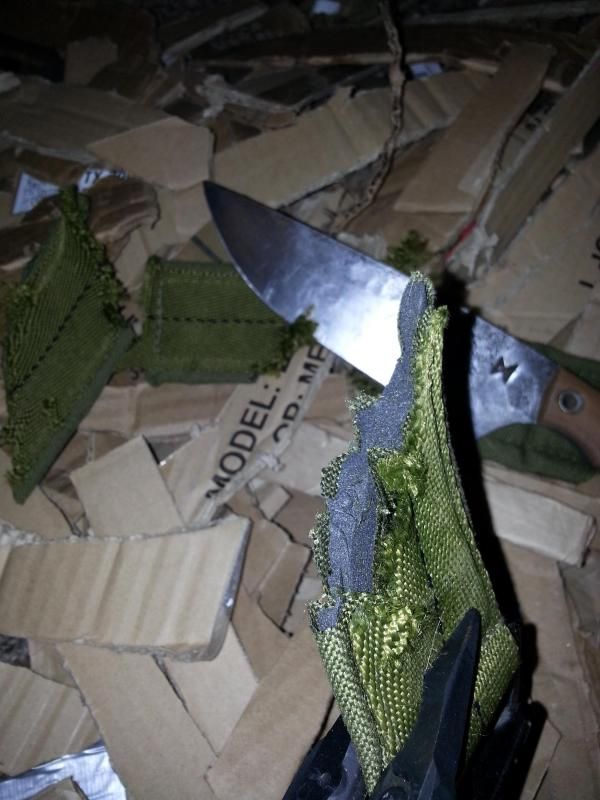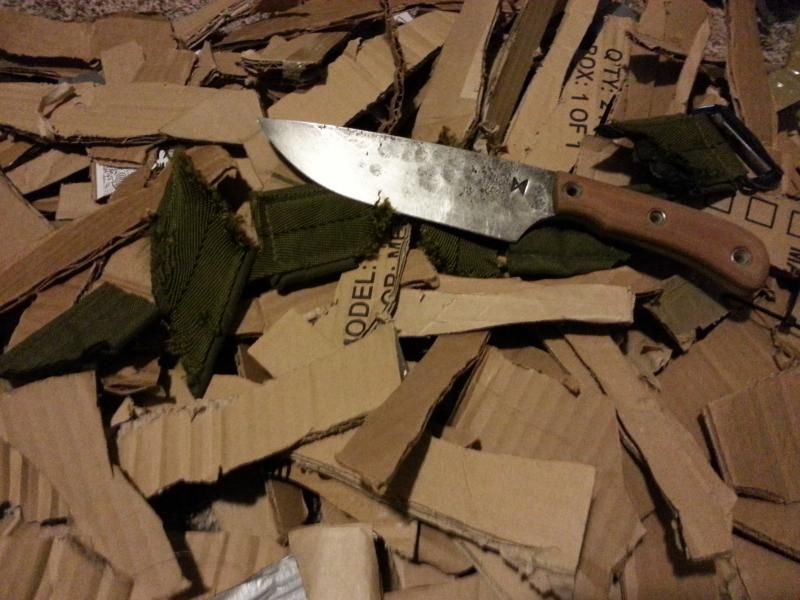 After all of this the knife would still cut paper but with noticeable dragging and tearing as to be expected.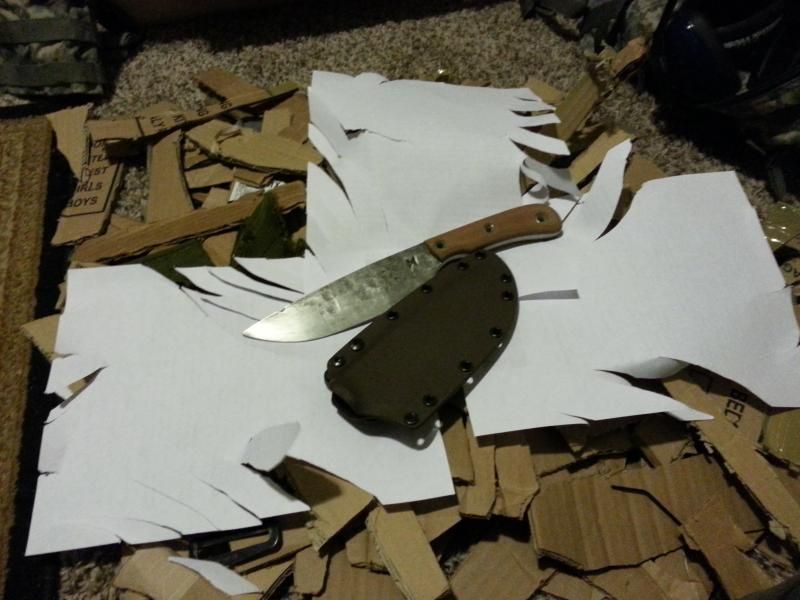 Even after all the testing and never touching up the blade it would still make some decent feathersticks and shavings.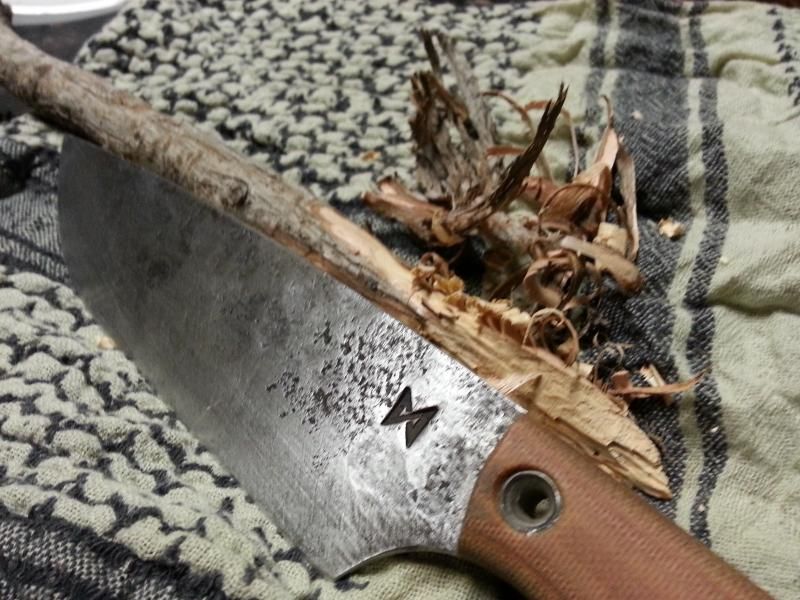 Bottom line this is an awesome knife, I have never tested the blades of any of my knives this hard before but seeing how I experienced chips or dulling doing much less I wouldn't expect any of my factory made knives to hold an edge this well. This is by far my favorite knife, after some passes on a fine wet stone the edge is back to shaving sharp.