It's me again! For those who have forgotten or didn't see the first time around, I'm an australian designer currently collaborating with Khukuri House Handicraft Industry on the production of a $100 zombie/apocalypse khukuri, working with the feedback and input from various members of this very forum. Previous threads can be found here for development etc.
http://www.zombiehunters.org/forum/view ... 3&t=105392
" onclick="window.open(this.href);return false;
viewtopic.php?f=33&t=101203
http://ww42.zombiehunters.org/forum/vie
" onclick="window.open(this.href);return false; ... 3&t=101743
Been a while since my last update but things have been slow. There are a few things in this world that can't be sped up and seemingly (Unless JoergS can rig up an intercontinental khukuri slingshot) mailing khukuris from nepal to australia is one of those things.
However progress has been made. I've given the knife a hell of a beating and will list some of the things I've put it through right here, in order of craziness.
Delimbed many trees, ranging from pine trees to the dreaded Red Ironbark.
Debarked branches
Hacked branches into smaller pieces
Split enough logs for three fires. It handled this very well indeed, better than my hatchet and with practice, almost as good as my small axe.
Cut up tree roots.
Carved stakes, hammered in said stakes with the pommel and side of the blade (preferred).
Made feathersticks and shavings.
Batonned through some logs like a pro. The sharpened back edge doesn't provide as much difficulty as many of you had assumed. Indeed, it does cut into the baton, but instead of getting stuck it just blasts chips out of the baton. This shows that not all the power is getting transferred, but it still works pretty awesomely.
Stabbed, split, cut and chopped many many grapefruit, oranges and lemons as well as some milk jugs full of water. The knife performed these tasks very well, and swings with the back edge proved effective as well. I'd expect even better performance from the 8mm blade instead of the 10mm blade.
Food prep stuff. It worked, but the blade is a bit too thick to expect it to perform like a chef's knife.
Hacked through wood with nails in it.
Punched a few trees witht he integral hand guard. It protected my hand amazingly in all tests and didn't even bend.
Sliced up a paint can. Upon seeing this occur, my friend proceeded to STAB THE KNIFE THROUGH AN OLD 44 GALLON DRUM. These old ones are crazy thick, but it still went in about half of the knife's length.
Split multiple sheep skulls in half like they weren't even there.
Hacked a hole in a door, fireman style.
Cut a door away from the hinges by destroying the wood on either side of the hinge then kicking it in.
Smashed some windows with both the pommel and the knife point.
Used the skullcrusher pommel to split an old brick in half. Eventually.
Cracked open 4 bottles of Porter and proceeded to drink them while doing that stuff.
So yeah, pretty safe to say the knife's been given a thrashing. The heat treat is pretty much perfect. After doing everything listed above over two days, the only damage to the blade was a tiny little bit of rolling at the tip from when it went into the thick steel drum. Pretty understandable considering what it was put through. I fixed it in about five seconds with a file and contemplated suggesting a change to the heat treat at the point but decided that a slightly bent point was better than a snapped or chipped point.
ZERO rolling along the edge and it never "needed" to be resharpened over the two days. Came with an above average working edge which I used until i got bored of it. Sharpened it up a bit more with a slightly serrated knife steel, but found that the belly of the knife was cutting into my steel due to hardness. A bit of emery paper sorted that out and got it pretty damn sharp, but I didn't have my lansky kit on me to get it crazy sharp. I don't doubt it could get there and stay there for quite a while.
Bottle opener is a tad dangerous, but it's dangerous in an awesome kind of way.
Fit and finish was glorious. A few scratches near where the blade joins the guard, but that's just some wobbles to be expected the first time the kamis have made a knife like this. Satin Blade finish is top notch, non reflective, sturdy and easy to maintain. Even though I exposed the high carbon blade to a lot of citric acid, it has not rusted and has only gained a mild darkening of the blade near the belly. This looks a bit like blood spatters and is awesome.
BUT IF IT'S SO PERFECT THEN WHY ISN'T IT IN PRODUCTION YET FUGGLESBYYYYYY???!!!!!1!
Because it's not quite perfect yet. the skull crusher pommel had been forged thinner for balance, but this has left it looking a little flimsy. Production scourges will be full thickness through the tang, with holes drilled in tang at points to lighten it instead.
The sheath is a little bit loose, once again understandable for a new blade shape, but the wooden blocks aren't joined well enough for my liking which could lead to the point going out the side on entry. Production Scourges will have their blocks flush with each other and be glued to make sure. They'll also maybe have a stainless shath cap instead of brass. There's no brass on the rest of the knife and it looks a bit out of place.
The handle contours are barely even there. This leads to the whole handle feeling a bit off and overly large in the hand. Production scourges will be properly contoured so the handle interfaces with the human hand as designed and as sexily as possible.
Finally, Production Scourges will be 8mm thick instead of 10mm thick. The thickness it's at now isn't overly bad at all. However, the handle is designed for three grips, a hammer grip up to the guard being less front heavy and for combat, a pommel biased hammer grip being very front heavy for heavy chopping and a relaxed intermediate grip for regular chopping and big swings in combat. Right now the extra weight messes this up, with the guard biased hammer grip being for general chopping and with the pommel biased hammer grip being reserved for bodybuilders/giants. A thinner blade will correct this, give better agility in combat and will increase cutting performance for everything but splitting logs.
My full list of exacting recommendations is with saroj right now and he's working feverishly away at getting them all in place so it's perfect before they hit the market.
No videos of the above feats unfortunately, I simply didn't have time on my short little trip back to the old hometown of Albury.
I have however organised a video test and review with none other than ZombieGoBOOM, which is fully super crazy awesome.
For those who aren't familiar with these guys, they're a group of friends who test out various popular store-bought weapons and of course improvised weapons on youtube
http://www.youtube.com/user/ZombieGoBoomTV/videos
" onclick="window.open(this.href);return false;
Think if it like infotainment! You learn about the science of how a plank of wood, wrapped in chains and set on fire affects the human skull, while being entertained by watching a flaming, chain wrapped plank of wood explode a human skull!
I'm a huge fan and though the show has had a bit of a shakeup with a new host, the ballistics skull analogues are just getting better and better and that's what it's all about.
You can find those guys here.
http://www.youtube.com/user/ZombieGoBoomTV/videos
" onclick="window.open(this.href);return false;
The video should be up in a few weeks, but in the meantime I'll leave you guys with some arty shots I took of me and the knife hanging out at an abandoned industrial estate which will replace the wacky coffee mug and plastics handcuffs one on the KHHI site right now.
http://www.thekhukurihouse.com/catalog/ ... 3937f65111
" onclick="window.open(this.href);return false;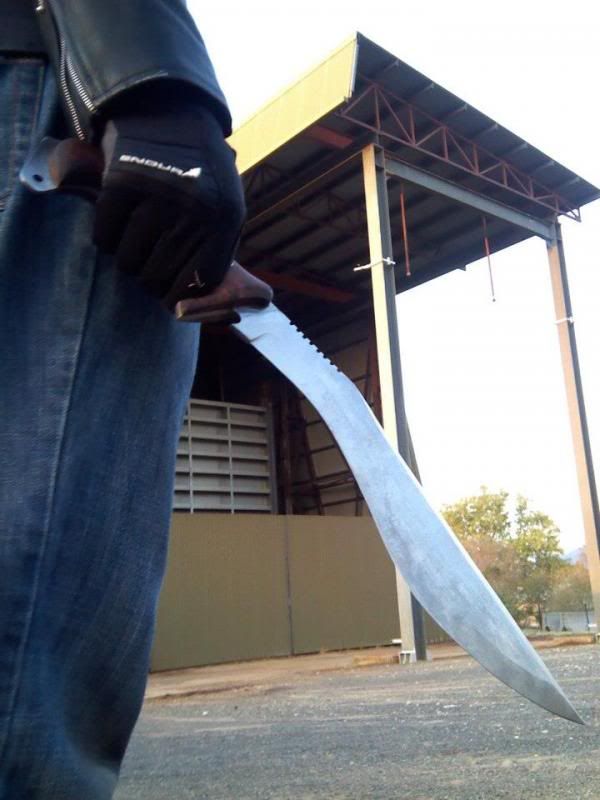 Finally, I did have the time to take a photo of a skull being split in two just before sunset.
Note that it is merely a lowly sheep skull, leaving me outdone by the badarse coyote (?) skull Stormcrow used in his most recent Zombie Cleaver.