shrapnel wrote:
How is a zombie Graboid any different than a regular one? I've never seen the movie, but, if they attack people, what's the difference?
You've never seen Tremors?????
Hmmmm... Okay.
There are three varieties of Graboid shown in the films. The standard Graboid, seen in all four films, is a subterranean animal, resembling a gigantic worm or grub, with a serpentine body ,four massive, black, armored beaks on its head, and no eyes. It also has several spikes on its sides that it uses to push itself along underground.
It sense movement thru ground vibrations....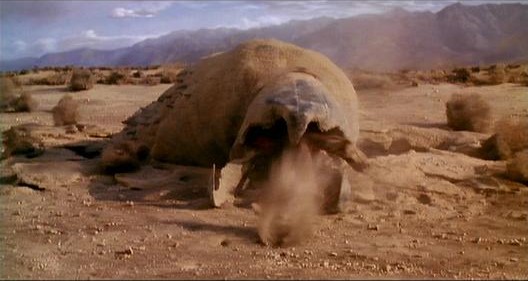 The Graboid reaches maturity then dies, giving birth to two/three or more young, these are mobile, bipedal and they sense thru infrared by sensors on their heads... The attack anything that gives off warmth...
the third variant is slightly more bizarre, much like the second gen, they have a few extra special enhancements...
they can fly and belch fire from their ass. Yep, they fart fire...
for now, we'll concentrate on the first type, the 40 foot long worm that burrows under the ground at speeds about 20 to 30 miles per hour, but can double that in bursts.
Zombiefied, they're probably a lot slower, but equally deadly, and more'n likely smell really bad. Also, the primary way of killing Graboids was to sucker them into ingesting explosives, but zombie graboids probably won't be as easy to trick.
Also graboids could be sent scattering by explosive sounds that hurt them, thru their sensitivity to noise, Zombie Graboids won't be so susceptible... So instead of being so dumb that they are smart, they get dumber and become genius...
They're skin is worm like but super tough, and they primarily stick underground until right before they grab at you with one of several prehensile tongues which have little mouths at each end and are used for dragging you down and into the primary mouth.
I would assume that upon their dying/zombiefication, they'll probably release the 2nd generation ones, which are fast and much tougher hides...
So basically anything under a 50 cal will at best dent them.
However, they have at best a decentralized nervous system, so the brain kinda trails all the way back... Destroying the brain with one shot is nigh impossible.... The second gen seems to have a more normal brain structure... But the hide is even thicker...
One caveat, they can't travel thru solid rock and Perfection is surrounded by granite mountains.
But you have to get there first... By then you'll have the other generations to deal with...