doitnstyle1 wrote:
Yep. I guess i'll run down to my friendly neighborhood WalMart and pick up a mine sweeper down the mine sweeper isle. There is a plenty of selection there.
You don't take into consideration that there will be some kind of coverup that always happens with some kind of disaster.

Yeah, I'm opening that can of worms. I have personally witnessed that.
I would not expect you or I to personally go pick up a mine sweeper. However in the interest of preserving the nation, I would expect the military to respond to the crisis of zombies roaming the streets. They would have easy access to mine sweepers.
However, us civilians do have an option, brush clearers. Which are pretty much the civilian version of a mine sweeper.
This is a military mine sweeper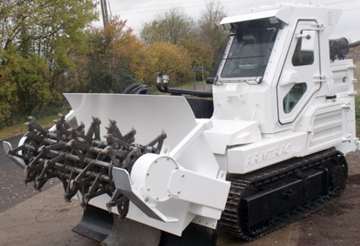 This is a civilian brush clearer
You might have noticed I did mention there are other things besides minesweepers right? I even discussed wood chippers.
ineffableone wrote:
But there is all sorts of other heavy equipment, construction and demolition machines, mining and logging machines, etc.. Another favorite is we all know zombies are attracted to sound right? Well set up a wood chipper in a street and turn it on and go hide in a near by build and watch the fun as zombies feed themselves in making zombie puree.
So just trying to dismiss things by saying Walmart doesn't sell minesweepers is really not being honest.
_________________
"

Once a man has seen society's black underbelly, he can never turn his back on it. Never pretend, like you do, that it doesn't exist

"

"

None of you seem to understand. I'm not locked in here with you. You're locked in here with ME!

"
ZS Wiki
ZS Acronyms
Gun Self Defense Counter